Put Central America on the Map in Schools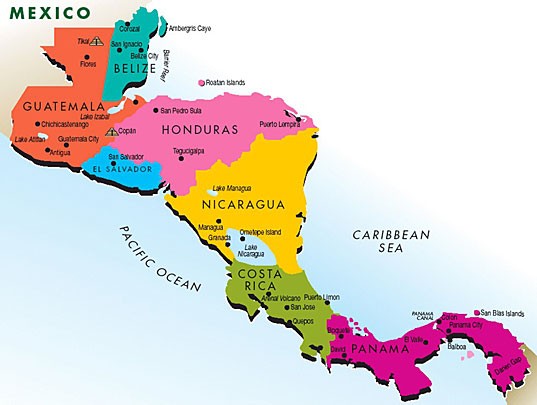 More than four million Central Americans reside in the United States today, yet the lack of resources in most schools on Central American heritage make the rich history and literature of the region invisible. Also missing from the curriculum is the direct connection between U.S. foreign policy and Central American immigration to the United States. People from Guatemala, Nicaragua, El Salvador, and Honduras moved in large numbers to the United States during the 1960s-1990s, when U.S.-supported military dictatorships waged repressive wars against their populations.
Therefore, Teaching for Change has launched a campaign to encourage and support teaching about Central America. We have collected lessons, book lists, biographies of noted historical figures, and readings for free use by classroom teachers.
---
Featured Resources
---
---


 Introductory Slideshow
As an introduction, we suggest the slide show below. It can be used in various ways: a screen saver; visual background for a readers theater; selected slides to introduce a new Central American historical figure each day of the month; or as background during the class study of Central America. There is a companion collection of readings for each Central American historical figure featured in the slideshow.
Download Presentation (PDF) (PowerPoint)
To accompany the slides, we have prepared a collection of poetry and prose for each featured individual.  As outlined on the attachment, these can be used for students to read aloud, radio theater, writing prompts, and more. Download the poetry and prose in PDF here.
This is Teaching for Change's second "Ask Me About" campaign with provocative buttons to encourage interest in the topic and online resources. We begin with the history and literature of Central American activists from the 20th century. The focus of our study is the Central American countries of El Salvador, Guatemala, and Nicaragua. Over time Teaching for Change will expand the resources to include other time periods, themes, and countries of the region. This campaign draws on resources from Teaching for Change's own history. Teaching for Change was founded in the 1980s as the Network of Educators on Central America to address the needs of a rapidly growing population of Central American students and increase public awareness about U.S. foreign policy in the region.
---
Get Involved
---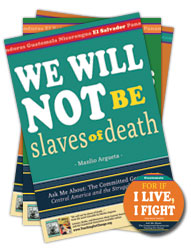 Help us give teachers and parents the tools to teach Central American history and multicultural education all year long – not just during celebratory months and holidays.
For a donation of $10 or more you can receive your very own Central America button. Each button comes with a brief description of an author and a poem so you can share Central America's history and literature with others.
Give today for your Central America button. For a gift of $50, Teaching for Change will donate a set of 20 copies of Rediscovering America to a middle or high school teacher.
---
Committed Generation
---
Many of the writers we feature are members of what is called the "Committed Generation." Convinced that the writer must serve as the fulcrum of change in word and deed, authors of the Committed Generation not only wrote tirelessly about the struggles in Central America but also played an active role in social justice movements themselves. Many were exiled and some died in their efforts. Their writing and activism continue to serve as a vision of hope for people in Central America and all over the world.
The Committed Generation wrote to bring to light the injustices that prevailed in their countries: the need for land reform, recognition of indigenous and women's rights, exploitative labor practices, environmental destruction, political repression and violence, and U.S. interference in the region. Too often we think of poetry, novels, and plays as entertainment: romanticized, apolitical, and an escape from the world. These writers believed that their words needed to help their readers delve more deeply into the world, both its deepest injustices and the beauty of their hope.
Writers of the Committed Generation wrote about important themes in the region's history:
indigenous rights
women's rights
labor
land reform
environmental justice
political repression and violence
U.S. intervention
As a generation of primarily young writers concerned about the world around them, we hope that the stories of the Committed Generation serve to interest and inspire students today.