Sanctuary Schools Resolution in D.C.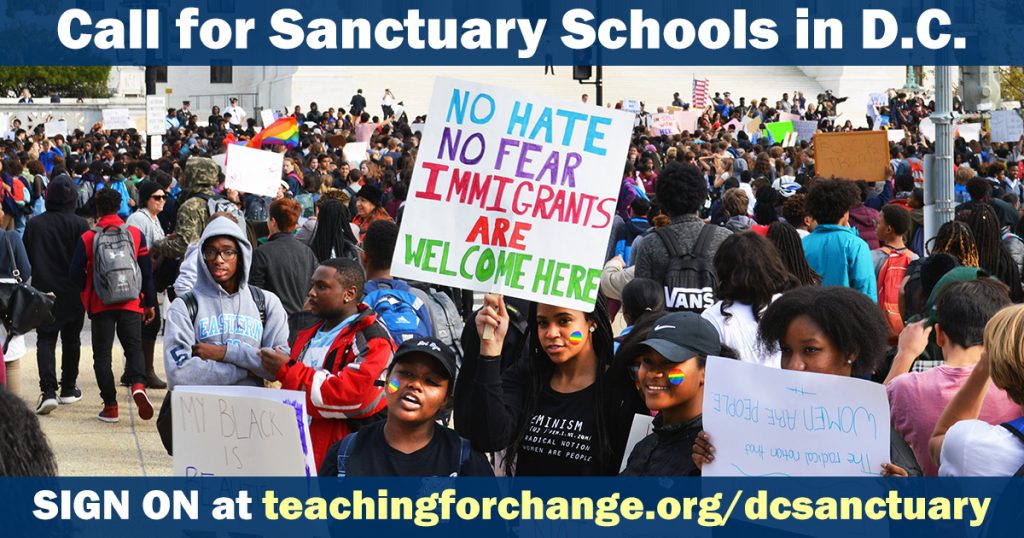 In the current political climate in which the President is threatening to increase harassment of immigrants and deportations of undocumented immigrants, we must publicly demonstrate our commitment to all our students and families—especially those without legal documentation. Ask DC Public Schools and local education agencies (LEAs/charter schools) operating within the District of Columbia to stand as sanctuary schools/safe zones. Sign on below.
We propose for DC Public Schools and LEAs/charter schools to sign a resolution to:
Make a declaration of sanctuary
Assign a unit to handle law enforcement
Restrict access to school property
Limit information collection and sharing
Establish a rapid response team
Review and uphold a bullying-free environment
Affirm the academic freedom of educators to discuss the sanctuary policy
Disseminate this information
On February 14, 2017, Teaching for Change, whose constituents include D.C. educators and immigrant families, sent a proposal addressed to Mayor Muriel Bowser, Deputy Mayor for Education Jennifer Niles, and other D.C. officials requesting that DC Public Schools and LEAs adopt sanctuary/safe zone policies. The letter includes proposed resolutions for both sectors with language adapted from the National Education Association that was reviewed by the Washington Lawyers' Committee for Civil Rights and Urban Affairs. Special thanks to Amrita Wassan, a D.C. high school teacher, and Cathy Reilly of S.H.A.P.P.E. and the Coalition for DC Public Schools and Communities (C4DC), who contributed to the proposal.
This effort was informed by SMART members of Many Languages One Voice (MLOV), a youth-led advocacy and organizing body in D.C., who will continue to press for a full ban of ICE from schools and other locations in which immigrants may be targeted. We requested a public response from the Deputy Mayor for Education by February 24, 2017. Sign on below.
Download Materials:
If you and/or your organization would like to sign on in support of this request for robust sanctuary/safe zone policies for DC Public Schools and charters, please add your information below. Each charter school/LEA can adopt this resolution. Email ts@teachingforchange.org to request MS Word versions of the documents. See the complete list of individuals and organizations who have signed onto the letter here.