In Conversation: Kye Allums and Dave Zirin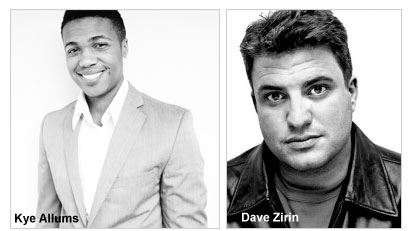 Allums and Zirin will tackle LGBTQ issues in sports, trans athletes, transgender rights and issues (especially in the sports world). Kye Allums recently made history by becoming the first openly transgender player in NCAA history to suit up in a basketball game. Dave Zirin has written several books on the collision of sports and politics, most recently Game Over: How Politics Has Turned the Sports World Upside Down.
Excerpt from Dave Zirin's article,
"Kye Allums: What's Next After Making History."
Dave's full article

"So what happens next? George Washington's Kye Allums made history last weekend by becoming the first openly transgender player in NCAA hoops history to suit up in a game when the Colonials played a pair of games in a tournament in Minnesota.
…Yes, Allums should be able to look forward to playing his season with minimal tension. But, to look ahead, the implications of Kye Allums' public and proud existence are even more profound for the future of amateur sports. Dr. Ann Travers, a sports sociologist at Simon Fraser University in Vancouver said, "The presence of openly transgender athletes in sport tears at the normalcy of the idea that we have to have boy athletes on one side and girl athletes on the other — and that this is the most effective way to group people who want to play sports. The assumption that there are only two sexes has no basis in science and is, rather, a product of culture. Kye Allums' participation on an NCAA women's team inherently necessitates a challenge to this custom of segregating people according to assumptions about sex difference. This situation is critical not just to protect both his rights to an equal education and sport participation, but because it will have bearing on all future transgender athletes."
Sponsored by Amnesty International USA, Ford's Theatre's Lincoln Legacy Project, Busboys and Poets, and Teaching for Change in conjunction with Ford's Theatre production of The Laramie Project (playing Sept. 27-Oct. 27). More info here.