Interns Explore D.C. Beyond the Monuments
This summer, Teaching for Change welcomed six new interns to the office. Throughout the summer, the interns will be providing weekly updates on their activities. The summer 2017 interns are:  Maria Brescia-Weiler, Katelyn Campbell, Marvin Clark, Khalila Lomax, Briana Payton, and Matt Smee. (Read bios here.)
On their first day, we had them take our DC History quiz. This was good preparation for a week of exploring the city through trips to forum, schools, and museums. Each week or so one of the interns will report on their activities.

Week Two
By Briana Payton
This week, the five interns were up to lots of different activities both in the office and around the city, so I'll share the highlights person by person.
Marvin and Matthew decided to take a break from roaming the town and focus on making headway on relaxing but fun projects back at the office–namely pleasure reading for change. All of the interns have chosen books to read and review for TFC's Social Justice reading list. The list is full book suggestions for teachers and students who want to read writings that explore history, culture, and life in a fun and uniquely informative way. Marvin said books he has been reading, such as Ghetto Cowboy by G. Neri have already taught him some "unexpected but worthwhile lessons."
Matt also added and updated reviews on the TFC site, noting he had the privilege of reviewing three D.C. teen-written and illustrated picture books published through Reach Inc. and ShoutMouse Press. We are not only promoting books for teens, but also by them, because some students learn best by teaching their own truths.
Katelyn was out and about the entirety of Wednesday, spending the day at the newly opened National Museum of African American History and Culture (NMAAHC) and attended an event in the evening entitled, "Woke! Black Resistance to US Domestic and Foreign Policy." Of the visit to the museum, Katelyn said it left her head spinning for several hours afterward since it was so rich in content. She called out one particularly poignant exhibit,
"After visiting the Emmett Till Memorial and one of the formerly segregated train cars, I was ready to take some quiet moments for reflection in the contemplation room." Overall she said time in this museum would be remembered as one of her "defining moments in D.C." Moreover, Katelyn described the evening event as memorable in its own way:
The room was packed as the panel opened with a poem, performed by a DC native, about the beauty of Blackness. Over the course of the panel, presenters shared the history of Black women in the Black radical tradition, as well as strategies for intervention through organizing domestically and abroad.
She was struck by remarks from Ajamu Baraka — the 2016 Vice Presidential Candidate for the Green Party, who reminded everyone not to think of struggles for justice solely in a United States context, a habit we can easily fall into since there are so many domestic battlegrounds. But justice is universal and we can be empowered by approaching it as such.
As for me, the most exciting part of my second week at TFC was going out to interview students (and a teacher) at Capital City Public Charter School's junior class about their experience with social justice education. Maria, another TFC intern joined me and we both learned a lot about social justice projects students carried out like a book on their experiences with race, equity workshops for their school and a food justice summit. .Some of the interviewees closing reflections on their various projects were, "After learning at Capital City, I feel like I'm more self aware about my rights and who I am and how I'm different from other races and how I should be proud of who I am," "After learning at Capital City, I've just been a lot more open minded to other things and other people," and from their teacher, "After learning about micro-aggressions at Capital City, I feel more thoughtful or intentional about how what I say and do might be impacting other people."
Later that day I also attended an event with Katelyn and Maria at Ballou High School that was a celebration and reflection on the way that their graduating high school class had a 100% rate of applying and receiving acceptance to a University (a great accomplish albeit tempered by a lower graduation rate). The event brought together students, educators, and nonprofit leaders to discuss what led to this historic success at Ballou and what could be done to build on it and reach accomplish even greater goals. I think the most meaningful part of this for me was hearing from the students who spoke so poignantly about how they were able to accomplish their goals through support from each other, mentors in their community, and different programs that provided them with opportunities to pursue their passions.
Overall, it was an exciting week here at TFC, and we are excited for what the rest of the summer holds!

Week One
By Katelyn Campbell
This year's Teaching for Change summer interns spent our first week getting to learn about everything from the stories of Black female domestic workers fighting for fair wages to the ways community schools support youth, teachers, and parents alike. Here are highlights from the week and what we're learning about the District and beyond.
Monday: Community School Awards and Symposium
Interns Marvin, Matt, and I kicked off the week at the Coalition for Community Schools and the Institute for Educational Leadership's celebration of community schools around the United States. The symposium highlighted the ways six schools have provided fully-rounded services to their students in the midst of budget cuts, changing demographics, and increasing threats to immigrant student safety, all while keeping in mind the constant push to improve test scores. But, as Pennsylvania Secretary of Education Pedro Rivera pointed out, "In education, we've become too reliant on single measures to identify success and failure."
According to the Coalition, "A community school is both a place and a set of partnerships between the school and other community resources. Its integrated focus on academics, health and social services, youth and community development and community engagement leads to improved student learning, stronger families and healthier communities."  
Community schools exist around the United States, and continue to demonstrate the power of successful community-school partnerships. Marvin shared,
Since my junior year in high school I've wanted to affect change in the public education system without knowing how exactly. Learning about the community school model, its benefits, successes, and most importantly the people behind them brought me one step closer to the answer.
Also a highlight — Marvin, a native of the Bronx, got the opportunity to meet New York's Deputy Mayor, Richard Buery.
---
Tuesday: African American Civil War Museum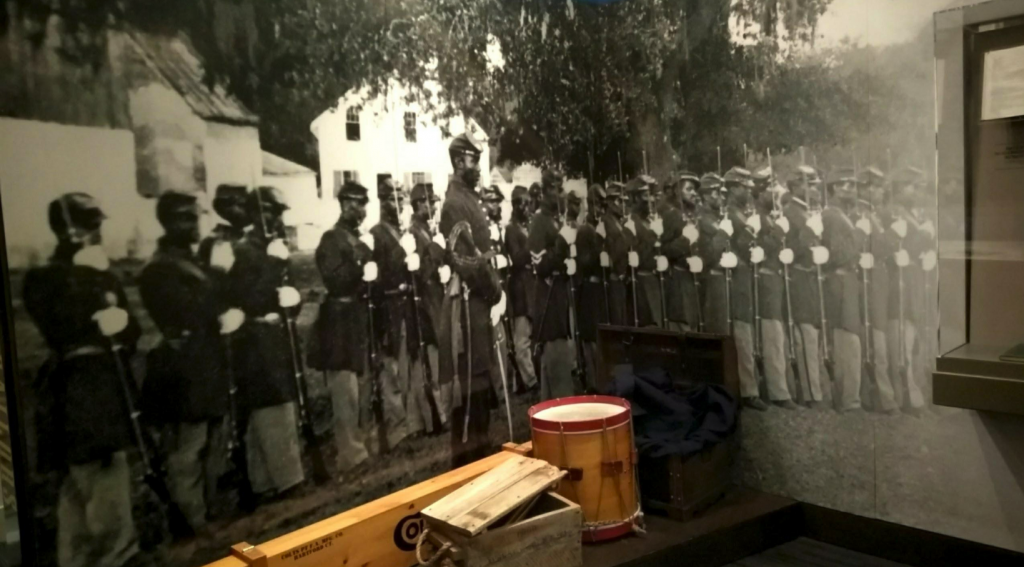 One of DC's huge assets is its strong neighborhoods. On Tuesday, Marvin and I set out to explore the U Street neighborhood around the Teaching for Change office. We spent part of the afternoon just a few blocks away at the African American Civil War Museum. This pocket of history doesn't pull any punches — it honestly chronicles the lives and struggles of African Americans from the first years of slavery in the Americas through the Civil Rights Movement. I was particularly excited when we reached one of the panels about Reconstruction, which referred to efforts by white supremacists to suppress Black voters' rights as terrorism. Where often Reconstruction is glossed over in high school history classes as a failure led by forgettable presidents not worth mentioning, this panel in particular illuminated a vital portion of the violent history of voter suppression in the United States.
---
Wednesday: State of Black Workers in America Conference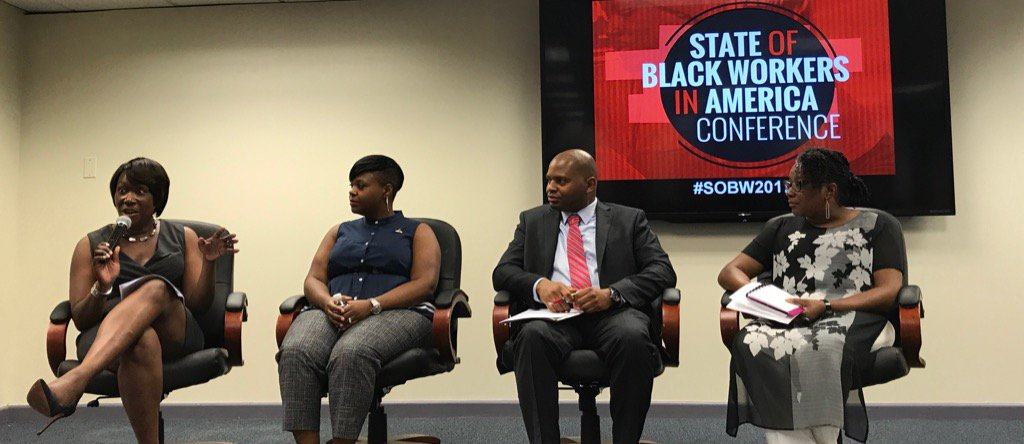 What could be a better Wednesday than a day spent hearing panels moderated by the likes of Alicia Garza, Joy-Ann Reid, and Tom Perez and including the voices of Black female domestic workers, labor organizers, and experts in the field? That was Marvin and I's introduction to Howard University's campus during our visit for the State of Black Workers in America conference. Throughout the day, we learned about the systemic devaluation of the labor of Black women domestic workers' jobs, the promise and complications of apprenticeship programs in the United States, and about racism within labor unions. But, as former AFL-CIO Racial Justice Committee member Carmen Berkley said, "The state of Black workers is resilient because we don't have a choice."
Some retweet-worthy quotes from the conference:
"In my profession we've done a bad job — we've been chasing Trump supporters around asking are you sorry yet?" – Joy-Ann Reid.
"Slavery is not a thing of the past. Slavery continues today. Slavery is not just about chains and whips. Slavery is about power." – Alicia Garza.
"I don't like the term second chance because it implies that you had a fair first chance." – Tom Perez.
"There is no difference between civil rights and labor rights. They are the same thing." – Derrick Johnson.
---
Thursday: The Color of Law and World in DC
Marvin and I once again tag-teamed in the morning for a talk by Richard Rothstein, the author of The Color of Law, which explores the history of policy support for segregation in the United States. In addition to the author, Representative Gwen Moore (D-Wisc.) and Ted Shaw, former President of the NAACP Legal Defense and Educational Fund and current Director of the Center for Civil Rights at the University of North Carolina at Chapel Hill Law School gave remarks.
The room was PACKED to the gills with listeners despite the simultaneous ongoing testimony of former FBI Director James Comey. Rothstein was frank during his talk — by exposing the history of government sponsorship of segregation of housing projects and allowance of restrictive covenants is just the beginning. As Rothstein says, "Letting bygones by bygones is not a constitutional principle." All of us are responsible for actively working to undo the outcomes of segregationist policies and practices.
Later that evening, Marvin and Maria attended one of the World in DC Project's showcase at Roosevelt High School. The World in DC is a collaboration between DC Public Schools and Project Zero that uses the diversity of the city to help students paint a picture of a broader world. During the visit, Marvin said,
I had the privilege of hearing teachers explain how the globally influenced lessons they provided their students have reshaped the way they conceive the world. We need more passionate teachers ready to prepare their students for the globally influenced world they will be entering.
---
Friday: Social Justice Books & Field Day
The day began with all the interns learning how to add book reviews to the Social Justice Books database from web designer Mykella Palmer.
Friday afternoon took Marvin and Briana outside for Field Day at a local elementary school that Teaching for Change partners with. Briana certainly had a fun start to her first day — while outside, she helped organize relay races, soccer games, and rounds of duck, duck, goose. None of us have been out of elementary school that long, Briana said she definitely broke a sweat playing with the students,
The kids were so full of energy despite the heat. I think I kept up with them pretty well, but I'd be lying if I said I didn't imbibe almost a quart of water afterward.
---
Sunday: Sharing Stories from Our Classrooms
Week one culminated with a celebration for teachers who participated in the Stories from Our Classrooms program. Marvin, Matt, and I got to meet many of the teacher participants, as well as hearing excerpts from one of each teacher's pieces they'd written over the course of the program. Each story was powerful in its own way — from hearing one teacher share her experience with struggling to balance the need for social emotional learning with test scores, to another teacher's story about the lack of teachers and students of color in private schools, I felt myself beaming with pride at how much each person cared about their students.