Training and Professional Development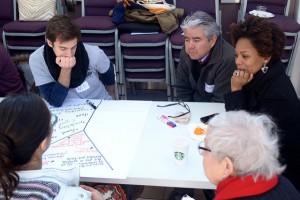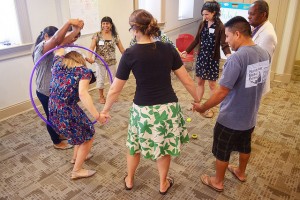 Professional Development for Teachers and School Staff
Background
Over 40 years of research shows us that involving families and the community contributes to children's academic and social success. Despite this knowledge, schools and policymakers continue to grapple with ways to effectively engage all groups of parents in the education of their children. Many immigrant, low income and ethnic minority families (95% of the DC public school student population) do not feel welcome at their children's school, let alone involved, and are marginalized from formal engagement in their child's school. Parents are viewed as obstacles to their children's progress and are often blamed for any shortcomings.
Teaching for Change has developed a highly successful approach to parent-school engagement which successfully addresses the limitations of a one-size fits all approach. Tellin' Stories has been recognized by the Harvard Family Research Project's National Family, School, and Community Engagement Working Group as one of the most effective approaches in the country for engaging traditionally marginalized parents (2010). Our work is informed by research on best practices for engaging parents to improve student achievement; but most importantly, our work is field-developed and tested with the families so when theory and research conflict with families' knowledge and experience, we revise our project to best meet the needs of our constituents.
Tellin' Stories is a unique approach to parent engagement that begins with community building as the basis for leadership and collective action. When parents feel they have the power to change and control their circumstances, their children tend to do better in school. When schools work with families to develop connections, families become powerful allies and advocates for public education. All school staff, from the principal to the custodian, can benefit from learning more about how to work effectively with parents and community members.
For more information, email: Allyson Criner Brown, Associate Director, acbrown@teachingforchange.org.
Professional Development and Consulting
Download Professional Development and Consultation information as a PDF.
Teaching for Change offers professional development and consulting for schools and school districts to implement a family engagement approach based research and best practices learned from our work in schools for more than 15 years.
Featured Professional Development Workshop: Between Families and Schools: Creating Meaningful Relationships. This full-day workshop engages participants in rethinking their assumptions about parent involvement and why traditional approaches are often unsuccessful. Creative and effective alternatives are offered as participants develop strategies to effectively build relationships with parents. This workshop is tailored to the needs of participants and is particularly useful for teachers, school staff and administrators.
Other Professional Development and Consulting Topics include:
Connecting Family Engagement to Academic Success
Develop a Strong Family Engagement Work Plan
Creating a Welcoming School Climate
Creating a Family-Friendly Parent Center
Learn to be a Great Parent Coordinator
Build a Better Back to School Night
Designing Parent-Principal Chit Chats that Parents Want to Attend
Effective Academic Parent-Teacher Dialogues
Improving Parent-Teacher Communication
How to Share Data with Parents
Develop a Family Literacy Program in Your School
Demystifying Parent Outreach and Recruitment
Cultural Sharing and Community Building with Parents
The Secrets to Engaging Parent Meetings
Attendance, Testing, and ELL: How to Turn the Tough Topics into Engaging Parent Meetings
---
Quotes From Tellin' Stories Partners:
---
"The teachers really helped us [Spanish-speaking parents] learn how to help our kids with reading. We were closed to those activities and opportunities before, but now they are open to us."
Parent, Thomson Elementary
"I like that the teachers and the principal keep an open door policy, and that we can tell them our concerns and questions and they are listening to us."
Parent, Thomson Elementary
"There's a lot more openness. Parents feel they can come in, ask questions about the homework or something else, and really interact with the teachers. Before, they may have never even come in the door."
Teacher, Thomson Elementary
"I think most of the benefit has been with the kids. They see their parents in the building, especially the first graders, and they are excited about learning every day. They know their parents know what they are learning and are connected to their school."
Principal, Thomson Elementary
"We're definitely realizing that parent engagement looks different for different parents… and we've also realized that parent engagement is not just about activities."
Principal, Thomson Elementary
"Parents are WAY more involved, comfortable, and active here [at Orr] than before Teaching for Change started working with us. And way more so than I've seen in other schools."
Teacher, Orr Elementary
"After sharing our concerns, I have seen a change in some of the teachers' attitudes. They are more friendly toward us and other parents."
Parent, CAPCS Amos II
"[With Teaching for Change] we've been able to have more conversations, to build connections with our parents."
Academy Leader, CAPCS Amos II