Parent Organizing
Tellin' Stories, our parent organizing program, uses the power of story to connect people.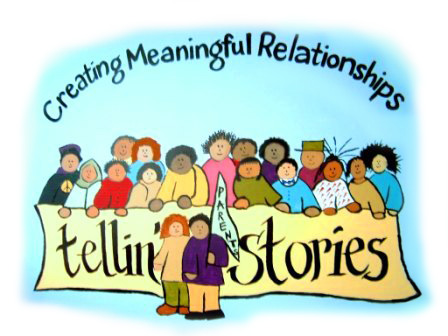 Tellin' Stories is the parent organizing program of Teaching for Change. We believe that for schools to provide the quality education our children deserve, families, schools and communities must be involved as purposeful partners in the education process.
Teaching for Change developed what we call the Tellin' Stories approach to engage families and staff using the power of story to connect people from diverse backgrounds, to pass on valuable information and experiences and to organize collective action. Tellin' Stories works with parents to create and implement action plans that affect the academic achievement and environment of neighborhood schools through relationship building (creating a story quilt), weekly meetings, workshops, trainings, and grassroots organizing. The most gratifying aspect of our work is that Tellin' Stories, parents, educators, community members, and partner organizations are redefining the vision of school communities by helping those who are traditionally excluded from the decision-making process become a central part of it.
Tellin' Stories Approach
We implement our Tellin' Stories approach at three levels:
Comprehensive Work in D.C. Public Schools transforms parent-school relationships through a focus on community building, providing weekly workshops for parents and teachers/staff, facilitating principal-parent dialogues, community asset mapping, roving readers, establishing academic-based parent-teacher meetings and visits, identifying school-based obstacles to academic achievement, and engaging parents in actions to address those obstacles.
Cross-City Parent Leadership trains parent coordinators and parent leaders from local public schools to develop their leadership and organizing skills. Parent leaders expand their understanding of educational issues, enhance their leadership and organizing skills, develop parent-engagement strategies to take citywide and back to individual schools, and have the potential to build cross-city alliances that work towards system-wide improvements. Read more.
National Training on the Tellin' Stories approach and methodology for parent coordinators and school staff. For example, we have offered training for the St. Louis (MO) Public Schools, Newport News and Hampton (VA) Public Schools,  the National Education Association, and the Maryland State Parental Information Resource Center.
Read more about how our nationally recognized approach works in schools.
View this 12-minute film produced by the National Education Association.
Tellin' Stories was featured in Rethinking Schools.
Recent News
Parents Tell Councilmember Catania: Our Children Deserve Classrooms
March 19, 2014 - Orr (DCPS) parents invited David Catania, Councilmember and chair of the Education Committee, to hear their stories and tour the building which badly needs modernization. Nearly 30 parents attended with their children, along with teachers and members of the local community. Parents expressed their concerns about the safety of the playground; stagnant air and poor natural lighting; places where the building is crumbling; and, most significantly, the open floor plan (in which there are no walls separating classrooms or hallways). The modernization was slated to begin eight years ago but has been delayed every year since. Read more.
---
No Place to Hide: Orr Elementary Needs Modernization Now!
March 6, 2014 - Isaiah Lyles was shocked as he watched his daughter Da'Vonna and her pre-Kindergarten classmates attempt to hide in plain sight from an "active shooter" during a safety drill. This day in January, Orr Elementary (DCPS) was among the schools participating in a safety assessment after the anniversary of the shooting at Sandy Hook Elementary in Newtown, Conn. Orr, which was built in the 1970s, has an open floor plan, so there are no walls in the halls or separating classrooms. Read More.
---
Parents and Teachers Swap Stories About What Children Can Do
February 20, 2014 - The third grade team at Thomson Elementary (DCPS) planned two grade level dialogues for the evening of February 20, 2014 – one immediately after school and one at 5pm to accommodate the differences in parents' schedules. They began with an ice breaker in which parents and teachers had to partner up and play a tag-like game called "Person to Person" collectively in English, Spanish, and Mandarin depending on the leader. After a good laugh and lots of moving around, the parents and teachers sat together at the table. Read More.
---
Teaching for Change Featured at NCPIE.
April 19, 2013 - On Wednesday, April 24th, Teaching for Change will present our approach to turning the tables on parent-school relations at the monthly National Coalition for Parent Involvement in Education (NCPIE) meeting. América Calderón, bilingual parent organizer, and Allyson Criner Brown, associate director, of Teaching for Change, will present recent research about Teaching for Change's approach to parent-school engagement called Tellin' Stories. Read More.
---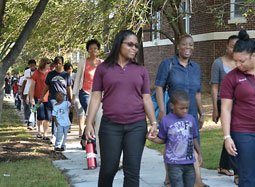 Community Walks Featured as "High-Touch" Strategy in Education Leadership Journal
July 1, 2013 - In an article for ASCD's Education Leadership, noted family engagement expert and author of Beyond the Bake Sale: The Essential Guide to Family-School Partnerships, Anne Henderson, challenges school leaders to build strong relationships with their families over the summer months by planning a Community Walk, a signature activity pioneered by the Tellin' Stories Project of Teaching for Change. Read More.
---
Successful Examples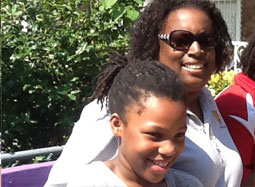 After nine years at Orr Elementary (DCPS) in Washington, D.C.'s historic Fairlawn neighborhood, principal Michelle Edwards has retired to forge a new path in her career. Three years ago, Mrs. Edwards invited the Tellin' Stories Project of Teaching for Change to partner with Orr Elementary and develop a comprehensive family engagement program. She worked closely with Teaching for Change's parent organizers and Orr's staff, teachers, and parents to build a welcoming, inclusive school climate at Orr that supports student learning and meaningful parent engagement. Mrs. Edwards will truly be missed at Orr Elementary.
---
For many schools, parent-teacher conferences, back-to-school night, and report card day are the only attempts to bring parents and teachers together. Typically, these meetings do little to foster sustainable parental engagement and sometimes the format even hinders meaningful collaboration.Teaching for Change's Tellin' Stories initiative offers a powerful alternative with its signature activity, parent-teacher grade level dialogues. Grade level dialogues are structured conversations between parents and teachers regarding students' academic success.
---
Teaching for Change was successful in our to effort to help E.L. Haynes Public Charter School (in D.C.) expand and deepen parent engagement. Over the course of six weeks in the fall of 2010, parents created a quilt depicting their hopes and dreams for their children. E.L. Haynes was one of two schools selected in D.C. to demonstrate and document our approach to parent engagement in 2010-2011.