2021 NEH Institute on the Grassroots History of Civil Rights Movement
Summer 2021 ONLINE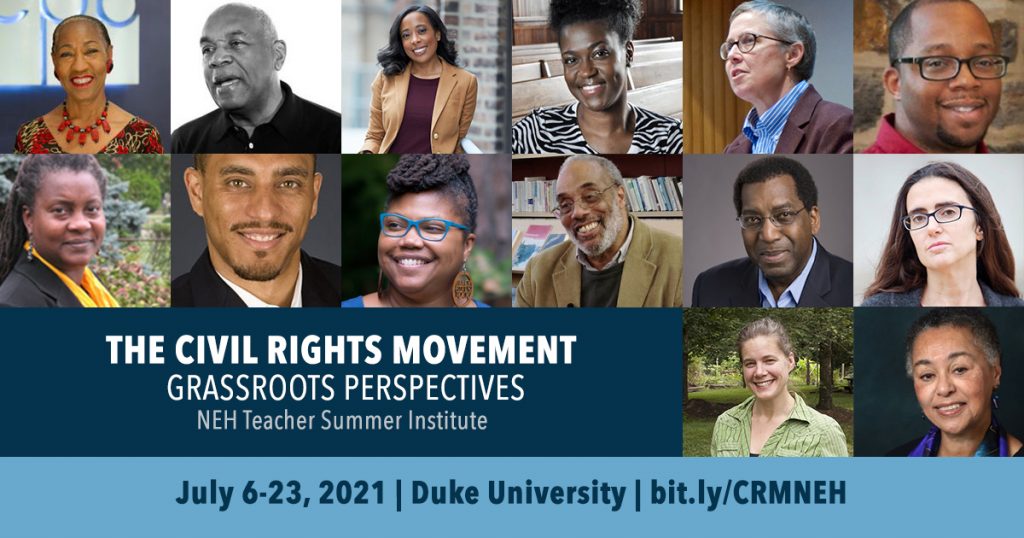 Teaching for Change partnered with a team of scholars, SNCC veterans, Duke University's Center for Documentary Studies, and the SNCC Legacy Project on a National Endowment for the Humanities (NEH) Teacher Institute, The Civil Rights Movement: Grassroots Perspectives.
Participants (classroom teachers and school librarians in grades 5 – 12) learned the bottom-up history of the Civil Rights Movement and received resources and strategies to bring it home to their students. They had the unique opportunity to learn directly from the people who made the Civil Rights Movement happen, and from the leading scholars of the era. Here are some of the participant reflections:
Everything has been so monumental. One of the largest things for me has just been the community gained here. It's been amazing to work in a collective of justice minded educators (I'm tearing up thinking about this group!!). On a content level, I am still ruminating on everything Dr. Hasan Kwame Jeffries shared, and ALL of the stories from Ms. Judy Richardson. It has been such a powerful combination of both organizers and historians. The combination of both of these perspectives has been so powerful.
This experience was transformative and energizing. It is critical to be among a group of like-minded educators to gain strength, learn, and build support for liberatory education. I loved being able to learn about freedom schools from a mix of SNCC activists and scholars. I have soooo many pages of notes to be able to reflect on specific, new understandings. The facilitators were the most responsive group of facilitators I've ever had. I gained greater confidence and a deeper desire to use more Zinn materials and SNCC digital resources in my teaching. I also feel so much more confident asking questions that will help students be aware of and combat the dominant narratives of this teaching.
This institute was one of the best I've attended. The discussion, films, and activities were valuable for me as a teacher as well as for my practice. I appreciated the time we were given to collaborate with one another and even though talking about civil rights demonstrations and the atrocities caused by whiteness were tough on my spirit the details and resources I learned about in the midst of it were invaluable. I got an opportunity to ask people I've watched on TED Talks and seen in films questions about their experiences. I got to indulge in detailed research and met some phenomenal educators who are now my friends. Thank you for this experience. It is bitter-sweet to end here and somehow I don't see this as an end.
These narratives served as the focus of the institute:
The Civil Rights Movement was a primary force for the expansion of democracy for all.
The Movement was based on the work of thousands of local "ordinary" people who both organized and sustained it.
Women and youth were a fundamental part of the leadership and the  troops of the Movement.
The tradition of protest grew out of a long history of activism and resistance in the Black community.
The co-directors were SNCC veteran Judy Richardson and Duke professor Wesley Hogan. Presenters included Charlie Cobb, Ashley Farmer, Hasan Kwame Jeffries, Jeanne Theoharis. In addition to the scholars and veterans, we were joined by Zinn Education Project curriculum writer and teacher organizer Ursula Wolfe-Rocca who worked with the participants to develop lessons based on the institute themes. The 2021 institute was modeled on the 2018 NEH Institute titled "Grassroots Perspectives on the Civil Rights Movement (1940-1980)."
We will share here daily highlights from throughout the three weeks, including insights from the presenters, lessons, and teacher reflections. Note that these will be completed by the end of April 2022.
Week One: July 6 – 9 | 1940-1954
Day One: Tuesday, July 6
The song "Woke Up This Morning" by the Freedom Singers greeted thirty educators from around the country as they logged in via Zoom for the first day of the 2021 NEH Teachers Summer Institute.
SNCC veteran and institute co-director, Judy Richardson, said over the music. "We're all here today, and we're going to get to introductions in a moment. But go ahead and get up and sing with us — this is the way we like to start our work!"
Richardson and co-director Wesley Hogan stood up in the Teaching for Change office in DC, dancing and singing along. "Woke up this morning with our minds stayed on freedom!" The educators shook out any remaining morning sleepiness and joined in clapping: "Ain't no harm to keep your mind stayed on freedom . . ." While it was the second "Teaching the Grassroots Civil Rights Movement" NEH Teachers' Institute, it was the first institute led remotely. 
After the song, Hogan shared how despite being online, we could create the space we need. She recalled a time in 2003 when Civil Rights Movement veterans Bob Moses and Staughton Lynd shifted the dynamics in an academic conference by rearranging the chairs from rows to a circle.
I'm going to start with a story. It's April 4, 2003. The scene is a cold, cavernous, beige conference room where 70 or so chairs had been set up in rows, facing a lectern and a table for panelists.
This was for a session on the 1964 Mississippi Freedom Schools at the Organization of American Historians annual conference in downtown Memphis. My co-panelists were freedom movement organizing legend Bob Moses and former freedom school director Staughton Lynd.
Bob and Staughton, as they told me to call them, were in their late 60s, early 70s, with low-key but powerful energy, and very spry. When they arrived, they wordlessly moved together to rearrange the chairs in a gigantic circle.
Attendees who showed up 30 minutes later for the "panel" found themselves asked to sit in a huge 70-person circle with Moses, Lynd, and me. Some people turned on their heels and left. Those who stayed didn't just hear, but participated, face-to-face, in the most basic human form of teaching and learning — the circle.
In retrospect, that simple move, to rearrange the chairs from rows into a circle in the Memphis Convention Center, opened space that stays open for me to this day. We shifted from an industrial-style lecture format to one of sharing, and acknowledging one another's human-ness. Bob and Staughton invited us into a relational, instead of transactional, learning environment.
Hogan encouraged the participants to imagine that they, too, now sat in a circle where they could learn from and grow alongside one another for the next three weeks. 
Today, Judy and I want to invite you into a similar three week circle. We're artificially set up in a Zoom grid. Yet I'm going to ask you to imagine when you see the Zoom grid, to pull us mentally into a circle.
So if you could for a moment, I'd like to invite you to a grounding of that three week circle.
Hogan recognized the history of the space and the people in the room. She said,
Imagine yourself where you are now, feet on the ground. If you'd like, [pause], share the names (in the chat) of the Native people you know who've stewarded the land we each are on. Here at Teaching for Change in DC, at 11th and T Streets NW, we work from the ancestral home of the Nako-chank /Anacostan/Piscataway people, as well as twelve other nations who have taken care of the peninsula over millennia. Today in Washington, diverse and vibrant Native communities make Washington their home, and we offer this Institute from a place of gratitude and honor for these Indigenous people's stewardship of the land.
All of us in the room, spread out as we are over three time zones, have each lived through 18 months unlike any many of us have been in. So I'm particularly grateful for you all who have mentored and taught young people throughout that period, who as Ella Baker reminded us, are the same young people who sometimes have the courage when we fail, and as Ms. Baker said, "If we can but shed some light, as they carry us through the gale," Judy and I invite you each to bring in all of these wholly unique experiences, sharing and learning together for this Institute.
To get to know each other, there was a roll call with slides of each participant (see sample below).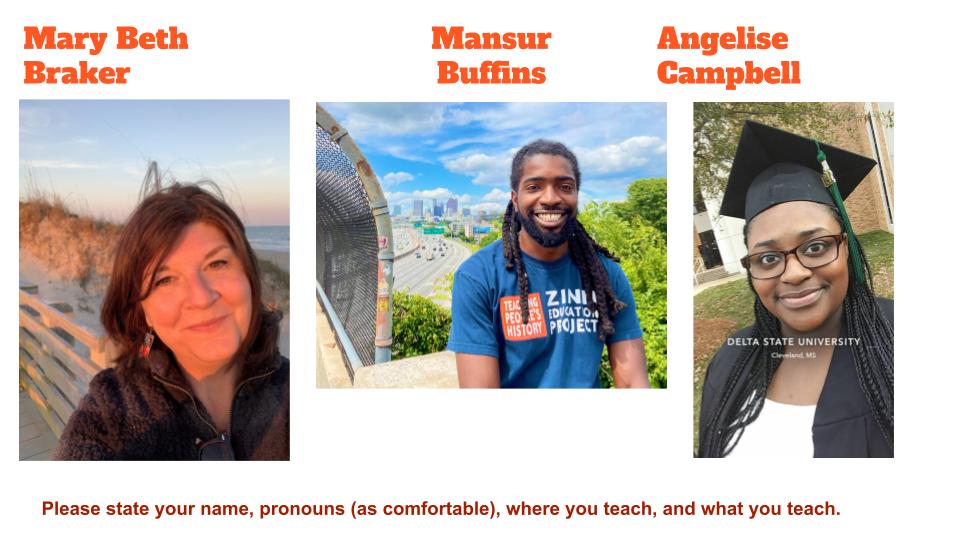 D.C. high school teacher Yolanda Whitted wrote in the chat, "I found my people!
The roll call was followed by a writing activity where everyone wrote, on the cutout of a footprint, "in whose shoes am I walking for justice" or "a stand I have taken in these shoes for justice." Here are a few examples, 
I walk in the footsteps of Elijah and Virginia Relf, who unselfishly and courageously fed and housed Freedom Riders in Montgomery, Alabama. I walk in the footsteps of Bessie Hartley McMeans, who kept her guns locked and loaded to protect her family in Fort Deposit, Alabama: Bloody Lowndes. I walk in the footsteps of my momma, who was one of the first Black teachers to integrate Alabama Public Schools. And of course, I walk in the footsteps of all my ancestors whose shoulders I stand on, who made a way out of no way. Thank you for all the legacies left far and near. — Ami Relf
I walk in the footsteps of my great grandfather, Judge Nathan J. Kaufman. As a young man he was President of Union Local 142 in Detroit, Michigan during the 1930's and 40's.  Before and during the war, he wrote affidavits to secure the safety of his relatives and friends attempting to flee Nazi Germany.  He was a man who believed deeply in the rights of workers and went on to become a judge for the Michigan Court of Appeals. — Ben Williams
If my shoes could talk they would tell the stories of resistance of Jose Rizal, Larry Itliong, Isabella Garcia, Marcelino Mamaradlo, and Constancia Patenio that my mother' s generation forgot or tried to ignore, that I grew up embarrassed of. Now my shoes try to stomp the trail, wake the Earth that my ancestors walked upon. — Destiny Andrews
To continue to get to know each other, they met in small groups to respond to a series of prompts (an online version of concentric circles.) The questions included:
One thing you did between school ending and the start of this institute.
2. Favorite book, film, trip, podcast, or any other resource on the Civil Rights Movement
3. How have the recent anti-history education (anti-CRT) bills impacted you and/or your school?
4. What got you into being a teacher?
The next breakout group question (with time to write first) served as an introduction for the lesson that followed and a theme for the institute:
Write about a time in your life related to voting. It could be the first time you voted, or someone in your family voted, or voting rights organizing you've done. It could be a moment of epiphany related to voting or its history.
Participants engaged in the mixer lesson from Who Gets to Vote? Teaching About the Struggle for Voting Rights in the United States. 
New York high school teacher Lori Sandler commented afterwards,
Laws on their face may not appear racist, but the impact . . . is clearly designed to limit people's ability to vote.
Teachers concluded the day by sharing, on a Padlet, lesson ideas they might work on the institute. They also completed the daily evaluation. The comments included,
I really enjoyed getting to know everyone in the breakout rooms. I liked the activities that were associated with the breakout rooms. It allowed space to learn about where everyone is coming from. I also like the Voting Rights Mixer activity. I do a similar one by Bill Bigelow on the Mexican American War, but didn't know how to do that in my class virtually. This was great!
The most exciting part for me was the beginning 4 breakout rooms where we just got to answer big questions with a few colleagues. One of the things I was most excited about was just meeting other amazing educators and I was so inspired by the people I met. The google slides collaboration where we talked about whose footsteps we walked in was another really great activity that I thought taught me so much about the different ways everyone has interacted with civil rights.
Ms. Judy's story of her work was a real moment of connection that we could feel across the distance. I'm excited for the many opportunities with the scholars when the magic of this was so evident. I was amazed at how smoothly all the links came out, that the different forums, whether Padlets, articles, or google docs, allowed for some great integration and engagement. Overall a very smooth running day and it felt like a community was being built through the different break out rooms (very smooth and efficient for that), the roll call, and the Padlets. I'm excited and grateful to be part of this for the next fourteen days.
Day 2: Wednesday, July 7
"Ain't Gonna Let Nobody Turn Me Around," sung by SNCC youth organizers in an Albany church, greeted participants as they arrived for day two. Richardson explained that for the members of SNCC, singing transformed political space. She added that freedom songs tore through police lines and picket signs, demanding change and the liberation of Black folks within the democratic process. 
Freedom Struggles: African Americans and World War I
Hogan introduced the guest speaker, Dr. Adriane Lentz-Smith, a leading scholar on the First World War, and in particular, the social history of race and intersectional identities globally at that time. Lentz-Smith is author of Freedom Struggles: African Americans and World War I, the article, "The Unbearable Whiteness of Grand Strategy,"  and "The Laws Have Hurt Me: Violence, Violation, and Black Women's Struggles for Civil Rights."
Here is a recording of Dr. Lentz-Smith's presentation.
Afterwards, participant Osceola asked Lentz-Smith if she could speak to the legacy of Black Buffalo Soldiers who rebelled in the Philippine-American War. Others asked about the limitations of tying one's human rights to one's citizenship and asked, should people not demand rights on the merits of one's humanity instead?
In their reflections, participants noted,
I also loved Dr. Lentz-Smith's presentation on African Americans and WWI. I always begin the CRM with my students discussing WW2, but didn't think to connect the movement of Black soldiers in the WWI in the fight for freedom.
I love that she started her presentation with a personal story about what her parents were going through during the Civil Rights Movement. I related to her initial disappointment and eventual realization that her parents were resisting white supremacy the best way they knew how.
I LOVED that lesson by Professor Lentz-Smith. Her work is amazing and I think it spoke to a legacy of international pressure to make the U.S. face its uncomfortable truths. Secondly, she also allowed me to get more insight into the question of freedom through citizenship.
Dirt and Deeds
Richardson introduced the documentary film, "Dirt and Deeds in Mississippi." Watching the film allowed participants to see that land ownership in rural Mississippi was foundational to the success of the Black Freedom Movement. Black land owners housed SNCC participants, bailed activists out with property bonds, were often the first to register to vote, and advocated for their community's right to do so. Black farmers not only supported the movement, they also had to wage a continual fight against banks and local politicians who tried to cheat them from their land in the 1960s. 
Richardson explained that such challenges have not stopped. As of 2021, banks were still pressuring Congress not to provide COVID-based debt relief to Black farmers, claiming such a program would "cut into [banks] profits and hurt investors."  
Participants noted,
Witnessing the generous and brave humanity of the Black landowners who housed the Freedom Summer volunteers at risk to their land, equipment, and lives was a powerful learning for me. The spirit of collectivism and unity moved me and felt in stark contrast to so much of what the construction of whiteness values. It just got me thinking about how to honor the spirit of deep community now, in these times, recognizing that – just like then – it's probably the only thing that's going to keep us moving forward. I also noted the vast and long-term (3 years!!) of networking, trust-building, outreach that Bob Moses did BEFORE Freedom Summer, and it made me reflect on union-building in our non-union state.
I will carry forward the ideals and concepts of the documentary which showed how the power of land ownership and self defense provided by Black farmers in Mississippi impacted and sustained the movement. Everyone needs to hear this message.
The film made me think a lot about the framing of the Civil Rights movement and how schools don't acknowledge the real extent to which it was a revolutionary, often armed struggle. If we can compare this movement to other revolutions, I wonder if that might help students understand the extent to which it WASN'T just a peaceful protest or the result of one man making a speech. They could see the goal as overturning a power structure (not just voting) and the work as ongoing. I also think about the question of "legitimate" uses of violence. I found Adrian Lentz-Smith's definition of a state as "the entity that has a lock on the legitimate use of violence" as helpful when thinking about what we are and are not supposed to say when we teach Black resistance in U.S. history.
Day 3: Thursday, July 8
Morning song: This Little Light of Mine, sung by Sweet Honey in the Rock.
Wolfe-Rocca invited participants to discuss insights from "The Political Uses and Misuses of Civil Rights History and Memorialization in the Present" from A More Beautiful and Terrible History. On a Padlet, each educator posted one powerful quotation with comments on the quote, explaining why they selected it for sharing. Then they commented on each other's quote selections, adding additional thoughts.
Destiny Andrews selected,
The task here is to explicitly show that the civil rights movement was never what is now believed about it…the heart of the struggle, its most iconic people and moments, and the breadth of its vision, leaders, strategies, struggles, and accomplishments are far different from our popular renderings of them.
Hollie Blake selected,
But this national fable of the civil rights movement became a weapon some used against these new movements for justice, as comparison after comparison was made to the civil rights movement to make BLM wanting.
These and dozens more quotes led to rich insights on silent discussion on the padlet.
Textbook Critique
Educators were then invited to consider these insights as they read and critiqued two textbook excerpts:
Martin Luther King, Jr. and Growing Movement from a National Geographic 2019 U.S. history textbook
Freedom Now about Rosa Parks from a Glencoe 2010 U.S. history textbook
One of the participants noted in her end of the day reflections,
I really enjoyed the Theoharis reading assignment with the textbook analysis. Helping students analyze textbook history can be very valuable for helping dispel misconceptions and myths and can easily be a transferable skill that can be applied for analyzing any source students encounter these days.
Ella Baker
The rest of the day focused on a study of the life and wisdom of Ella Baker. Richardson introduced and shared the documentary film Fundi: The Story of Ella Baker.
Richardson and Hogan shared key lessons to learn from Baker's work.
Build clear, purposeful relationships with each person, based in respect and love
As SNCC activist and Freedom Singer Bernice Johnson Reagon later explained, "in the middle of the most intense movement crisis, Miss Baker would always ask you about your person, your home, your children, your food, your thinking." This is how she taught everyone "that no movement could exist without individuals," and that any movement's organization had to take care of the people who made up the movement. In all this, she was "extremely matter-of-fact," focused always on "[how] did this action here that you were doing really affect the long range or overall goal of the movement, or of people?"  Yet, in its ultimate application, Baker's persistent interest in the personal aspects of people's lives served as more than an organizing method. It was the social cornerstone of political life: for a movement to be democratic, one had to work with its people in a democratic manner."
2. Young people come first. Fight adultism — it's everywhere, in all of us. "These youngsters….had gone beyond the kinds of stances I had suggested" [Fundi] "To me young people come first, they have the courage where we fail, and if I can but share some light as they carry us through the gale."
Wesley told the story of Nona Perry, working with the Ella Baker Center in Oakland. As a middle and high schooler, Perry loved learning but did "not want to go to school because we supposed to go to school and get education, but the education is not accurately [reflecting] how we feel inside, and it's not connecting back to our culture. It's not teaching us where we come from as people." Perry called such behavior from teachers and administrators "adultism" – the act of minimizing or dismissing the good ideas of young people simply because they were young. Adultism, she reflected, repeatedly and continuously deflated students. Adultism meant that children across the country entered school as one would enter prison, rather than enter it as a ticket to a wider world of experience and knowledge. (See for example Metzger, A Prison Called School and Goyal, Schools on Trial) Ms. Baker said: "I would take an idea from the youngest in the group if I thought it was an idea."
3. Struggle must be engaged by the struggler. Support young people as they figure out what they need and how to get it. Cheerlead, don't fix. Builds people's sense of possibility, capacity. "What do you plan to do about it?" is what Ella Baker says to the little boy in her family. "Let's come up with a plan." Baker "taught us that we had to be resilient. Just because you fall down, doesn't mean you don't keep getting up." Baker routinely – even doggedly — insisted "the salvation of a person and a people must come from within." For her, the key was that "the struggle must be engaged by the struggler."[ii]
The centrality of this lesson is hard to overstate. So many compassionate people try to help others by doing for them. From nonprofits, to social services, to foundations. Baker's blueprint differed. Victoria Gray Adams defined what she learned from Baker this way: "The struggle must be engaged by the struggler, in cooperation with significant others having the compassion and needed elements which they themselves do not possess." Baker herself noted "we have rights only as long as we are willing to struggle for them."
How am I centering my belief that my students can work out problems on their own? How am I supporting them? What am I doing to control my own urge to "fix" or "help" rather than nurture their own capacity?
4. Everyone has something to contribute, from the farmer to the fur-coated socialite. Look for that in everyone.
Which young people in the room am I avoiding dealing with today and why? How can I seek out that child's input tomorrow/later this week?
5. Trust people, and that means ask questions instead of telling them what to think. Help students clarify what they're thinking. Ask questions more often than giving lectures.
Day 4: Friday, July 9
The speaker for the day was Jeanne Theoharis, the author of multiple books on the civil rights and Black Power movements, including A More Beautiful and Terrible History: The Uses and Misuses of Civil Rights History, and The Rebellious Life of Mrs. Rosa Parks, 
Zack Wilson, a high school educator based in San Antonio, Texas, interviewed Theoharis, exploring common misconceptions of civil rights activists like Rosa Parks and Martin Luther King Jr., and the erasure of the powerful legacy of women in the movement. 
When asked what resonated with him from their conversation, Wilson said, "A huge takeaway was the idea that the Civil Rights Movement was happening all around the country; to erase that history is to perpetuate white supremacy."
Wilson highlighted the 1964 New York City School Boycott, where nearly half a million NYC school children boycotted school to detest segregation in the school systems. "… We saw this in the school system for the most liberal city in America [and it] is because white parents didn't want their kids to go to Black schools, they didn't want to share their wealth and resources with Black kids. . .  They exist in this scarcity mindset; they leave black kids behind- they did that in the seventies and are doing it now."
Theoharis and Wilson also discussed the necessity of uplifting the women in the movement whose names often go unsung and stories unknown. When we consider Ella Baker, Coretta Scott King, Rosa Parks, and so many other Black women of the movement, we must accredit them and the diversity within their work. 
Theoharis noted for example that Rosa Parks would likely be upset that in 2013, President Obama traveled to dedicate a statue of Parks herself instead of standing outside the Supreme Court the very day it decided Shelby v. Holder. "She would not want a statue commemorating a long-ago action, but recommitment to the Voting Rights Act," affirming the right to vote for all citizens.
Theoharis illuminated a deep respect for "the kind of steadfastness Rosa Parks had — to have to do that [advocacy] over and over again, and feel really crazy — that is steadfastness."  In conclusion, Theoharis urged classroom teachers to invite students to consider Rosa Parks in new ways:
1. What did you learn about Parks before this class?
2. How does it change what you thought you knew?
3. Why do you think you didn't learn about this before?
This is always a critical conversation, she noted — students become able to see, "Why did I learn that? And what did I think when I learned that?"
Participant Reflections
The discussion on how we elevate Dr. King to this level of celebrity that no other leader could attain, and how that makes it difficult for us to imagine a new type of leader in the current moment of activism really stood out to me. I often think about leaders of the movement and how non-hierarchical organizing seems to me today, and while there's a lot of benefits to that, I hadn't considered the narrative of elevating civil rights leaders of the 60s to this status that current leaders could never attain. It makes me think about the current narrative of the movement differently.
Centering Black women activists as intellectuals was powerful!
I am always very appreciative of scholars that work in partnership with K-12 educators. It is so important to find ways for younger students to engage with current scholarship. I have only seen the level of commitment you clearly have to this from a small handful of professors at this level. I feel your love and respect for our students and K-12 educators.
Dr. Theoharis was so generous in sharing methodology and resources with us in both the large and small groups. I really loved her response to our questions. Dr. Theoharis really made me pause and reflect on how much Mrs. Parks lost in the years post 1956. I learned so much about Rosa Parks the fighter today. Looking forward to reading the young readers edition of her book.
Week Two: July 12 – 16, 1955-1965
Day 5: Monday, July 12
This institute took place in the midst not only of a pandemic, but also of intense battles over voting rights and an increase in voter suppression laws and practices.  The focus for July 12 was on connecting the voting rights struggle of the 1960s to contemporary organizing. 
Richardson began with Story Corps' powerful two minute video of Theresa Burroughs' struggle to register to vote in Hale County, Alabama in the 1960s. "I knew it shouldn't have been this hard," Burroughs recalled. 
Hogan and Richardson introduced Nsé Ufot, chief executive offers of the New Georgia Project and its affiliate, New Georgia Project Action Fund (NGP AF). Ufot leads both organizations with a data-informed approach and a commitment to developing tools that leverage technology with the goal of making it easier for every voter to engage in every election. Richardson called Ufot "A modern day version of the best of us in SNCC" who "knows how to do real grassroots organizing. She grounds her organization in organizing for the long-haul, not just for the next election. That's the only way you hold elected officials accountable after they get in." 
Hogan added, Ufot "demystifies voting — how to do it, and why it matters." In her presentation, Ufot said,
We decided it was our responsibility and our duty to go out to meet that sophistication with our own. We build mobile apps and video games designed to demystify government and how it works, and elections and how they work. We have Freedom Schools and gaming to cut through the noise and make up for the gaps in civic education.
Indeed. Amid a pandemic, advocates and community organizers hit the streets, and record numbers of people registered to vote in the 2020 election. Ufot noted,
We are not just a large scale voter registration project. Stacey Abrams was not standing on street corners registering people by herself. Recruitment and how we bring people in to the work that we do, and how we build power.
Centering her conversation on uplifting and honoring community voices and grassroots power in the South, Ufot described four lenses that the New Georgia project uses in its work: "Love, information, power and innovation." 
Following her presentation, educators asked question. Here are a few.
Rachel: "How do you adjust your messaging when people say they don't care about voting for the "lesser of two evils"? 
Ufot: "It's much less important about what's going on in the White House, than what is going on in your house. If there are changes that you want to see, you can't leave any tool off the table. If you think direct action and protesting, that's fine do that and voting. Voting is the least thing that you can do to bring about the thing that you want to see. Some people talk about voting as harm reduction. In 2016, people completely withdrew, and we got what we got. Our folks stayed home. The least thing that you can do is vote, and grow up, and mature, and this is only part of what we do, also do the other things. You're not electing your friends, this is not your homie. We need to fix the reality that 60% of the city of Atlanta's budget goes to the police, and we're not any safer and they say they can't fix the roads. Voting is harm reduction.
Zach: How do you cross different constituencies to get people to vote for their interests when they have a real sticking point on something like abortion? 
Ufot: We tease out what people care about most. It's not one conversation. It's not transactional, where i'm calling and texting annoying you and acting like we are cool, because i want you to vote for my candidate.  That is not our ambition. We are not here to elect Democrats, we are here to bring about the world that our families and communities deserve. So we are having regular conversations with the same people, and over time
Wesley: do you have a strategy for undocumented folks inclusion even though they can't vote? 
Ufot: Yes, undocumented people and formerly incarcerated folks and people under 18. Yes, absolutely! These folks volunteer with us, doing outreach, the only thing they can't do is register people to vote, but they can do literally everything else. You don't have to be a US citizen to be an extraordinary graphic designer. 
Watch the video of Nsé Ufot's full talk below.
Participants reflection on what they learned and appreciated about Ufot's presentation.
Nsé Ufot was such an impassioned, funny, and knowledgeable speaker, and I felt that so many of the concepts and ideas she discussed in reference to working on voter registration, activism, etc. can really apply to our classrooms as well, and I am really excited to figure out how I can work this into my pedagogy. I'm thinking about the ideas of language and rhetoric, culture, etc.
Nsé Ufot was very inspiring. Reminds me of the lack of start and end date to the civil rights movement– we are still fighting, still organizing.
It was really inspiring to listen to Nsé Ufot speak this morning. I love the point that she made and that was reiterated in the afternoon film — organization among the people rather than a single leader.
Was great to hear more about the New Georgia Project and make connections to what we have been learning about SNCC. Nice through lines to the present.
I was so inspired by the refrains of knowing your community, listening and organizing for them, and not just assuming you know what people need. It's an important lesson that we always have to keep in mind when we're organizing for our neighbors.
The words, "There is no Messiah" will reverberate in me for a long time to come. Thank you for the work you are doing in Georgia. It gives me hope that it can be replicated in Alabama.
Nse really was able to present a strong case without guilt-tripping and proselytizing. Her presentation really stood out in terms of getting young folks in the game.
I was SUPER excited by our speaker and everything she shared about bringing grassroots organizing into the 21st century. What Nse said about moving past transactional community organizing was a GAMECHANGER for me. Seriously. This has inspired me to diversify the type of speakers that I bring into my classroom. I've focused on bringing artists, poets, parents and grandparents, politicians, etc. But I need to bring in at least a couple of activist organizers. This has emboldened me.
Every.moment.with Nse Ufot, including the 15 minute small-group chat. I loved the four guiding principles she shared, especially LOVE AS A RENEWABLE ENERGY!! Yes:-) She re-ignited my commitment to every unit this year ending with some kind of civic engagement learning opportunity or advocacy project.
Selma and the Right to Vote
The question was posed:
If we focus on young people, how does this change what we know about the famous Selma Campaign?
The group watched the 20-minute National Park Service documentary, The Way to Freedom: Selma and the Making of the Movement.  
After the film, teachers had many ideas on how they might teach with this film:
TJ

Climate change, BLM, we sometimes struggle getting students to understand the opposition they will face. If you're willing to walk out for climate change, are you willing to do the Saturday detention that comes with it? What's the sacrifice that you're willing to make? The film shows what folks actually risked to achieve their goals:  jail time, hardship.

Hollie

You don't have to be Martin Luther King or Rosa Parks to change the world! That is something I really want to bring back. 

Sarada 

Not only do you not have to be extraordinary, but we need you to keep bringing this change, because what is happening today, with people pushing back on voting rights, we need you to keep pushing. 

Wesley Sometimes the places where the opposition is the most intense, the movement is also is the most deeply rooted and powerful. The Movement for Black Lives recentered who we were focusing on in the nation between 2013-2020. That can be really helpful when people only have the metric of "how many policies did you get passed."
Ami

described how inspired she has been by watching young people in her school after George Floyd was murdered. The Black teachers put out a manifesto, and the young people followed, and then fought for their vision at board meetings and in other public settings. 

Tangela

teaches children to look at economic justice: let's don't buy an X Y or Z if that company is doing something harmful. Let's take a week, and see what we can do at the end of a month, "Can we take those $7 you would have spent at this company, and drop it somewhere else?" It's important for them to see that they can make a contribution. 
Hogan recommended teachers ask their students to do oral histories with the young people who are active – it changes who they think makes history. You can change in their heads, who are the changemakers? Who should be in the history books? That can be powerful after the organizing has taken place. 
The group discussed how people decide, at different points in their lives, how much risk to take. They watched the Eyes on the Prize segment, "Bridge to Freedom" and discussed the tension inside the Civil Rights Movement (and every other movement since) between organizing people at the grassroots, versus mobilizing people around a march or a demonstration.  
Day 6: Tuesday, July 13
Teaching With Archives
John Gartrell, the director of the John Hope Franklin Research Center for African and African American History & Culture at Duke University, introduced an interactive lesson that led participants through the use of primary sources. Having spent over a decade in university archives, John Gartrell illuminated the importance of representation within archives and their necessity to teach hard history. As an editorial board member of the SNCC Digital Gateway, Gartrell is passionate about preserving "all" histories. At Duke, he has become a national leader in community- and movement-archive building.
He asked us: What history are we able to unveil when we allow ourselves and our students access to primary sources directly from activists and organizers?
Eyes on the Prize
In the afternoon, Judy workshopped Eyes on the Prize with the group, the 14 hour iconic series she played a key part in working on as a producer, editor, and interviewer in the 1980s and 1990s. The first Eyes series, six hours, aired in 1987. It covered the years 1954-1965, ending with the Selma-to-Montgomery march. Eyes II, 8 hours, aired in 1990, covering Malcolm X to the 1980s, when Harold Washington was elected mayor of Chicago. The groundbreaking series won many awards, including 6 Emmys. Told through the experiences those who actually experienced the events! (Scholars were not on air, but only behind the scenes). Judy notes that Eyes highlights the role of women and young people as leaders in the movement. Blackside, a Black-owned film production company making the series led by Henry Hampton. Judy was its first full time staff member. 
Tangela: "Other people have movie stars and sports celebrities as their heroes, but for me, Movement people were the rock stars of my world. This is incredible to hear the stories from behind the scenes." (min. 35) 
Julian talked about using Eyes clip with Jo Ann Robinson sharing how she mimeographed flyers for the Montgomery Bus Boycott, and then does a role play with students centered on the challenges organizers faced in 1955. "It goes so far beyond the folks that kids typically know about, and shows students how many people needed to be involved to make things like this happen." (min. 39)
Turquoise uses Eyes with kindergarten and first graders, who then uses cardboard boxes to build scenes that they saw, adding their own captions. One year, for example, they created the Edmund Pettis bridge, people on the bridge, and then caption bubbles for them, and then wrote a highway marker. "It is amazing to see how their minds work – builds their literacy, writing, and storytelling skills." (min. 47)
Day 7: Wednesday, July 14
TJ Whitaker shared his experience working with young people as leaders in the last few years:
Summer 2016 — boys and girls returning from municipal fireworks, street in front of their high school, police set up barricades, didn't believe the kids lived in the school district , herded kids out of town into Irvington from Maplewood. Police had attacked some of students. 

We supported students, calling for release of municipal video, stayed with those students, it took us a year, NJ Supreme Court, citizens should have access , everything came out students had told the truth, student who sued, got settlement. At the end of that process, co-founded among 5 schools, "we should develop a freedom school."

Using Zoom –people came from all over — — we grew from 6 members, 10 or 11 mostly young teachers to many more. We did a lot of intergenerational mentoring

Racial justice education for students, parents, teachers, professional development workshops for educators, workshops with students, book parties, authors come in, organized demonstrations, "Teachers for Black Lives," Now we do Saturday School since 2020, once a month, Saturdays.
Wesley gave a brief overview of youth activism since 2010 based on her book, On The Freedom Side: How Five Decades of Youth Activists Have Remixed American History. She shared this list of primary source resources (social media posts, films, podcasts, etc) for teaching the Movement for Black Lives, Standing Rock/Indigenous youth water protectors, Immigration rights and other youth movements since 2010.
She shared some key points with the group about youth activism:
Adultism

is everywhere. This is the sometimes unintentional, and often unconscious,

bias against youth as political innovators in the US

over the last sixty years. Trump directly belittling Greta Thunberg is typical. it's the condescension that shows up when white so-called moderates tell 26 year old Bob Moses that Black citizens were happy with things as they were and did not want to vote or when youth working for a path to citizenship put forward the Dream Act in 2001, were told "let us handle it" by Congress, and we still don't have a path for these young people, who are now in their 30s and early 40s in 2021.

Psychologist Alison Gopnik calls

children the "Research & Development division of humanity." — young people inventing new political tools serve a similar function in the public sphere — young people are the "research and development" division of politics.  Great innovations do not come out of the garages of old folks homes – but from youth.

 
D'Atra Jackson, the national BYP100 chair, said earlier this week, "We don't have a healthcare system, we have a capitalist system that provides a process of deciding who has access to healthcare and who does not. We don't have a justice system, we have a capitalist system that provides a process for deciding who gets punished, and who does not. We don't have an education system, we have a capitalist system that provides a process of deciding who has access to quality education and who does not." Kids know that. They see that. They experience that. They can't unknow it, unsee it. We have to put them in a position where they feel empowered to act to bring about their visions of a just world, and develop their talents.
Day 8: Thursday, July 15
Tougaloo professor and historian Dr. Daphne Chamberlain talked about the role of children and young people in the Mississippi movement. "The first time I found out what happened to fourteen-year-old Emmett Till I was ten years old. I looked like him. It happened in the state of Mississippi where I lived. And he was not much older than me. I begged my parents, 'please let's leave here.' Those began some of the most crucial conversations around race, and around history, and I developed a passion to want to learn more." It pushes our children to think critically and analytically about these moments in our history, she shared. She discussed textbook limits, historical amnesia, and how to make sure children can see themselves as civic actors in the history that they're learning. The questions she asks her students are at min. 6-8. Children are missing from the national narrative of the civil rights movement, she related. We have to put them back in. She also talked about what happened to the children after the movement (min. 39-42).
Day 9: Friday, July 16
Freedom Schools and sncc
After watching the film Freedom Song, we talked about our responses to the film, and how we might use it in our classrooms.
During lunch, we had a break out room to talk about the anti-CRT laws around the nation. The many heads of white supremacy have reared themselves throughout 2020 and 2021.  Now, they gnash their teeth at our education systems, objecting to teaching the truth and threatening the livelihoods of thousands of teachers around the country.  So when we met within a breakout room on July 16th, we sat a boundary of anonymity.  "It feels like a witch hunt."
Charles Payne
Dr. Charles Payne is a professor at Rutgers University Newark and author of I've Got the Light of Freedom: the Organizing Tradition in the Mississippi Civil Rights Movement (1995). Below is his talk with the Institute participants, where he talked about
What led up to Freedom Summer (4m-22m)

The Summer itself (22m-38m) and its aftermath (38m-52)

The unresolved dilemmas about community and democracy highlighted by Freedom Summer (52-on)

Freedom schools in Newark in the 2020s, (1:20 on) Mississippi in 1964

How to deal with neo-Confederate (anti-CRT) laws today  (47m-52)
Week Three: July 19-23, 1966-1980
Day 10: Monday, July 19
Judy Richardson introduced the speaker for the day, Charlie Cobb is a journalist, author, professor and SNCC veteran.
What I most admire about Charlie is that he has retained the same core principles and humanity that he had in SNCC. Charlie is, above all else, a man of deep integrity. . .  Charlie Cobb represents the best of us.
Georgia high school teacher Mansur Buffins interviewed Mr. Cobb. Below is their conversation.
When he arrived in Mississippi as a SNCC volunteer, Cobb was struck by the number of new brick and mortar schools built for Black children. Yet, as he began working within them, he found that many of the classrooms were all but empty, lacking educational support and materials that the white schools had.  These hollow buildings allowed for the preservation of the "separate but equal" illusion in segregated Mississippi.  This was the denial of access to education for Black youth in attempts to maintain power through intentionally keeping youth ignorant.
… and this still happens all over the country," said Cobb. 
Mansur Buffins asked, "How can teachers and organizers bring the concept of freedom schools into modern day?"
Though the mid 19th century was a different day, Cobb reiterated the necessity of uplifting the community and allowing autonomy of community members to name the things that they need from their education.  The conversation carried itself upon the necessity of advocacy for change both within the classroom and nationwide. 
"There is a tradition of educating children both inside and outside of the traditional public school structure,"  said Cobb. 
While we find ourselves dismantling the bureaucracy in public education, it is necessary that a space is cultivated for youth to learn not only within educational institutions, but in the communities that they belong to. This work takes time. It takes intention, and it takes community members as well as educators engaging in work to dismantle these systems. 
"If I've learned anything from the black freedom struggle in the South, it's that it's slow! You put one foot in front of the other and you step forward." 
Later that afternoon, Ursula led us in a McCarthyism lesson.
Day 11: Tuesday, July 20
Dr. Jeffries asks #NEHCRM participants think about the Black Freedom Movement as a constellation. On a clear night, outside a city, the sky is plastered w/ stars — "That's what the movement was. Resistance is omnipresent even as different stars burn at different intensities." pic.twitter.com/3z7B8MuWjp

— Ursula Wolfe-Rocca (@LadyOfSardines) July 20, 2021
"We have one charge, and that's all we've got to do: teach the truth." –@ProfJeffries in this great #NEHCRM q&a reminding us to #TeachTruth pic.twitter.com/UXm83Y4tXP

— Allison Raven (@AllisonGRaven) July 20, 2021
Day 12: Wednesday July 21
Love hearing Judy Richardson celebrate her comrade, Jennifer Lawson, in her intro to today's #NEHCRM guests, Lawson and Courtland Cox. pic.twitter.com/3hIHvxPdM6

— Ursula Wolfe-Rocca (@LadyOfSardines) July 21, 2021
Courtland Cox (with Jennifer Lawson) on what made SNCC different in Lowndes County: "We believed the people who have the problem are the people who ought to create the solution." Another great #NEHCRM day! @SNCC60th pic.twitter.com/yMiS8ctfYT

— Allison Raven (@AllisonGRaven) July 21, 2021
Day 13: Thursday, July 22
Day 14: Friday, July 23
Posted: February 11, 2021