2021 Indigenous Peoples' Day Curriculum Teach-In
Indigenous Land: Stewardship, Relationships, and Responsibility
Saturday, September 25, 2021 |

12:30PM–3:00PM ET (9:30AM-12:00PM PT)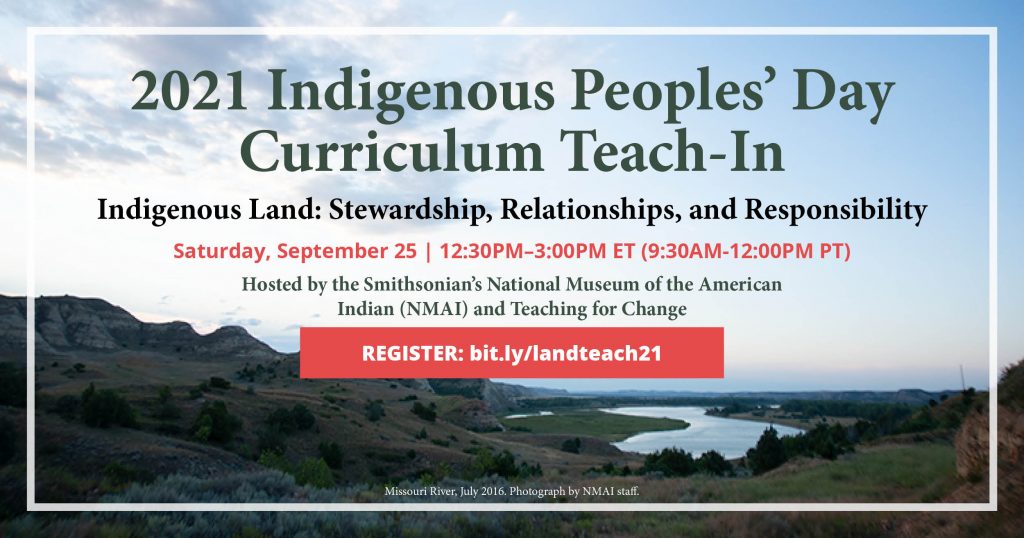 The Smithsonian's National Museum of the American Indian (NMAI) and Teaching for Change host a day of online conversation, curriculum sharing, and ideas exchange.  
NMAI education experts, Teaching for Change, and K–12 teachers will share curriculum and teaching strategies and explore the NMAI's Essential Understandings for teaching about Indigenous peoples' histories and their experiences around land justice today. The keynote speaker will discuss land rights issues and the relationship between Indigenous knowledge and the land. Workshops will feature classroom resources from the NMAI's online education portal Native Knowledge 360° and the Zinn Education Project's Teach Climate Justice Campaign. The teach-in will be held online via Zoom.
The rivers, trees, and other plants have existed and been governed by natural laws for millennia. What if they had legal, sovereign rights, too? How can we honor the land? What relationships with the land can we mend through Indigenous thinking and practices? Discuss, be inspired, and connect with your curriculum!
ASL interpretation will be provided for the keynote speaker and selected workshop sessions. Registration cost is $10. Register below.
If you are registered for the teach-in and need assistance, please contact aacosta at teaching for change dot org.
Keynote Speaker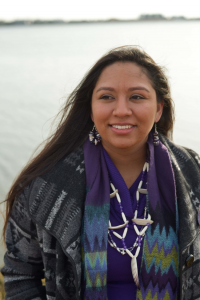 What does it mean to think beyond nature? How would our approach to the climate crisis shift if we were to view Earth as a living relative with protections under law? Dr. Kelsey Leonard (Shinnecock) will explore the emerging area of Earth law, explain its connection to Indigenous law, and chart a path forward for our shared sustainable future.
Dr. Kelsey Leonard is a water scientist, legal scholar, policy expert, and enrolled citizen of the Shinnecock Nation. She is the Canada Research Chair in Indigenous Waters, Climate, and Sustainability and Assistant Professor in the School of Environment, Resources, and Sustainability at the University of Waterloo. Her work focuses on Indigenous water justice and its climatic, territorial, and governance underpinnings for our shared sustainable future. Dr. Leonard represents the Shinnecock Nation on the Mid-Atlantic Committee on the Ocean, which is charged with protecting America's ocean ecosystems and coastlines. Dr. Leonard has been instrumental in safeguarding the interests of Indigenous nations for environmental planning and builds Indigenous science and knowledge into new solutions for sustainable water and ocean governance.
Workshops
Making Land Acknowledgement Meaningful (K-12)
Native Voices in Children's Literature (K-8)
Inka Road, Bridge, and Landscapes (5-8)
Pipeline Protests: Putting Climate Civil Disobedience into the Curriculum (7-12)
Virtual Field Trip Demonstration: American Indian Removal (4-12)
"Nothing Was Discovered, Everything Was Already Loved": Critical Conceptions of Land (K-8)
Workshop DESCRIPTIONS
Making Land Acknowledgment Meaningful
What are land acknowledgments supposed to accomplish and why do we do them? In this interactive session, we will explore these questions and more as we discuss strategies to make your land acknowledgment more thoughtful and respectful to the Indigenous people of your region. Our discussion will deepen your understanding of Native land stewardship as you consider your own relationship to the land around you. This session will also include key concepts of Native cultures and land relationships you can embed into your classroom throughout the year. Facilitated by Renée Gokey, educator and NMAI Teacher Services Coordinator, enrolled Eastern Shawnee. Recommended for teachers of K–12.
Native Voices in Children's Literature
In this session, teachers will be introduced to children's books by Native writers, criteria for evaluating children's books about Native peoples, and suggestions for using books at story time or for more in-depth cross-disciplinary studies. Using books by Native writers, teachers and students gain insight to Native ways of caring for Indigenous lands that span the entire continent of North America. This includes books like We Are Water Protectors (Lindstrom and Goade, 2020), which depicts Indigenous resistance to the exploitation of the land. Facilitated by Debbie Reese, educator and founder of American Indians in Children's Literature, enrolled Nambé Owingeh. Recommended for teachers of grades K–8.
Inka Road, Bridge, and Landscapes
This session will focus on the Quechua communities in the Andes of South America—the Indigenous descendants of the Inka Empire—and how they have used their knowledge of the local environment in great feats of innovative engineering that have enabled them to live sustainably for hundreds of years. Join science educator Dr. Isabel Hawkins to delve into The Great Inka Road: How Can a Road System Be an Example of Innovation? This Native Knowledge 360° online lesson highlights Inka-period engineering accomplishments and their continued legacy in the present day. Recommended for teachers of grades 5–8.
Pipeline Protests: Putting Climate Civil Disobedience into the Curriculum (Necessity Film)
This workshop is built around the documentary film Necessity: Oil, Water, and Climate Resistance, which details the story of multiple cohorts of climate activists, Indigenous leaders in the Climate Justice Movement, valve turners using civil disobedience to stop the flow of oil, and the legal team that uses the "necessity defense" in the courts. Participants will engage with excerpts from the film and experience a mixer role play based on the real-life subjects of the film. Attendees will receive a classroom-ready curriculum suitable for multiple content areas in grades 7–12 and adapted for online instruction. Facilitated by Ursula Wolfe-Rocca, high-school teacher and Zinn Education Project curriculum writer/teacher organizer.
Virtual Field Trip Demonstration: American Indian Removal
What would you do to protect the things you value? American Indian tribal leaders were faced with this dilemma following the passage of the 1830 Indian Removal Act. In this program, students will consider this question themselves and draw on their own experiences to come to a decision. By examining their own feelings and opinions, students will be better positioned to empathize with the choices American Indian tribal leaders made when faced with Removal.
Learn more about the Indian Removal Act of 1830.
Understand that in response to the Indian Removal Act, Native nations acted strategically and had to make many difficult choices in order to protect their people, homelands, and rights.
Examine your own feelings and opinions through an empathy-building activity where you're faced with a government mandate to move.
Recommended for teachers of grades 4–12. Limit of 100 participants.
Facilitated by Michaela Pavlat, NMAI cultural interpreter and a member of the Sault Ste. Marie Tribe of Chippewa Indians and Gabrielle Lee (Kanaka Maoli), NMAI cultural interpreter.
"Nothing Was Discovered, Everything Was Already Loved": Critical Conceptions of Land in K–12 Curriculum
Inspired by the late Monacan poet Karenne Wood's critique of discovery, this workshop provides educators with tools to challenge colonial understandings of land in K–12 curricula as well as resources to support meaningful, anticolonial curricular alternatives. After unpacking specific examples of colonial logics within a curriculum, educators will learn about Indigenous peoples' ongoing struggles to protect their homelands and strategies to teach about and support such efforts. Presented by Leilani Sabzalian (Alutiiq), co-author of Teaching Critically About Lewis and Clark: Challenging Dominant Narratives in K–12 Curriculum. Recommended for teachers of grades K–8.
---