Teaching for Change in 2022
We are pleased to share selected Teaching for Change highlights from 2022. Our work is made possible by the ongoing support of allies like you. Help us deepen our impact by sharing these stories (as well as our resources) as we continue building social justice, starting in the classroom.
Please make a donation to ensure we can continue this work in 2023.
---
Defending Teachers' Right to Teach Truth
In the face of well-funded, right-wing attacks on teaching honestly about U.S. history and current events, we mobilized and supported teachers. Nationally, our Zinn Education Project (with Rethinking Schools) organized the pledge to Teach Truth Days of Action in June and co-sponsored the African American Policy Forum #BooksUnbanned tour. These were the only national public events to protest the anti-history education legislation. In D.C., we hosted a second year of Teach Truth rallies in collaboration with the African American Civil War Memorial and Museum.
---
Teach-Ins with the Smithsonian
This was ALL incredibly educational and sadly, I did not know much prior to this event. Thank you for such important courses and awareness for educators.
This is one of the best PD's I have been to. I appreciate all of the information shared in the sessions. I can't wait to see what the next teach-in holds!
These comments were from the more than 400 teachers who attended the annual Indigenous Peoples' Day Teach-In that we co-host with the Smithsonian National Museum of the American Indian (NMAI). This year's theme was treaties and sovereignty with a keynote by Rebecca Nagle (Cherokee) and two rounds of workshops featuring classroom resources from the NMAI's online education portal Native Knowledge 360° and the Zinn Education Project. Read more.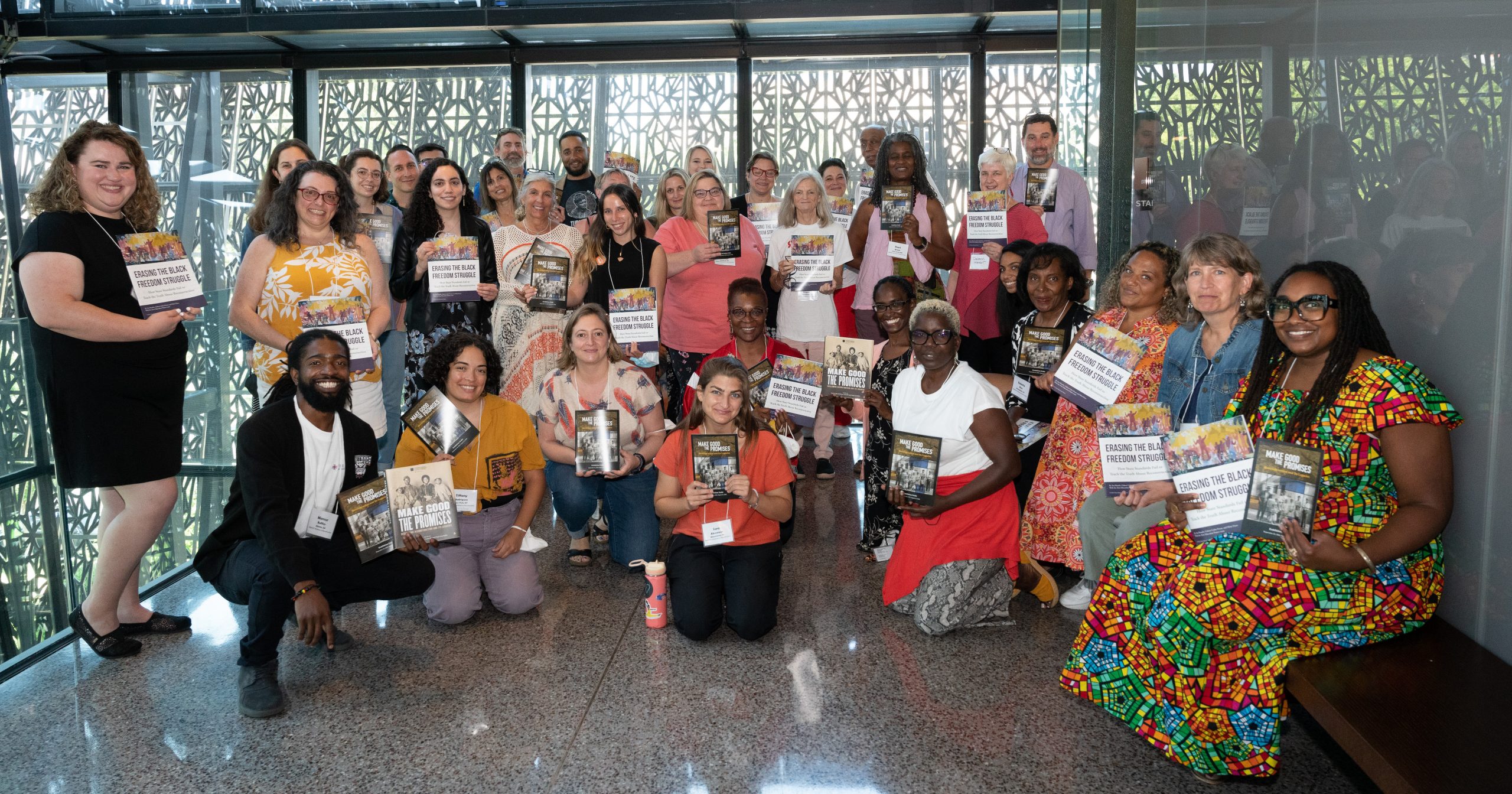 Teaching for Change's Zinn Education Project partnered with the Smithsonian National Museum of African American History and Culture for a two-day workshop in the museum on teaching about the Reconstruction era. Read more.
---
Fifth Annual D.C. Black Lives Matter at School Week of Action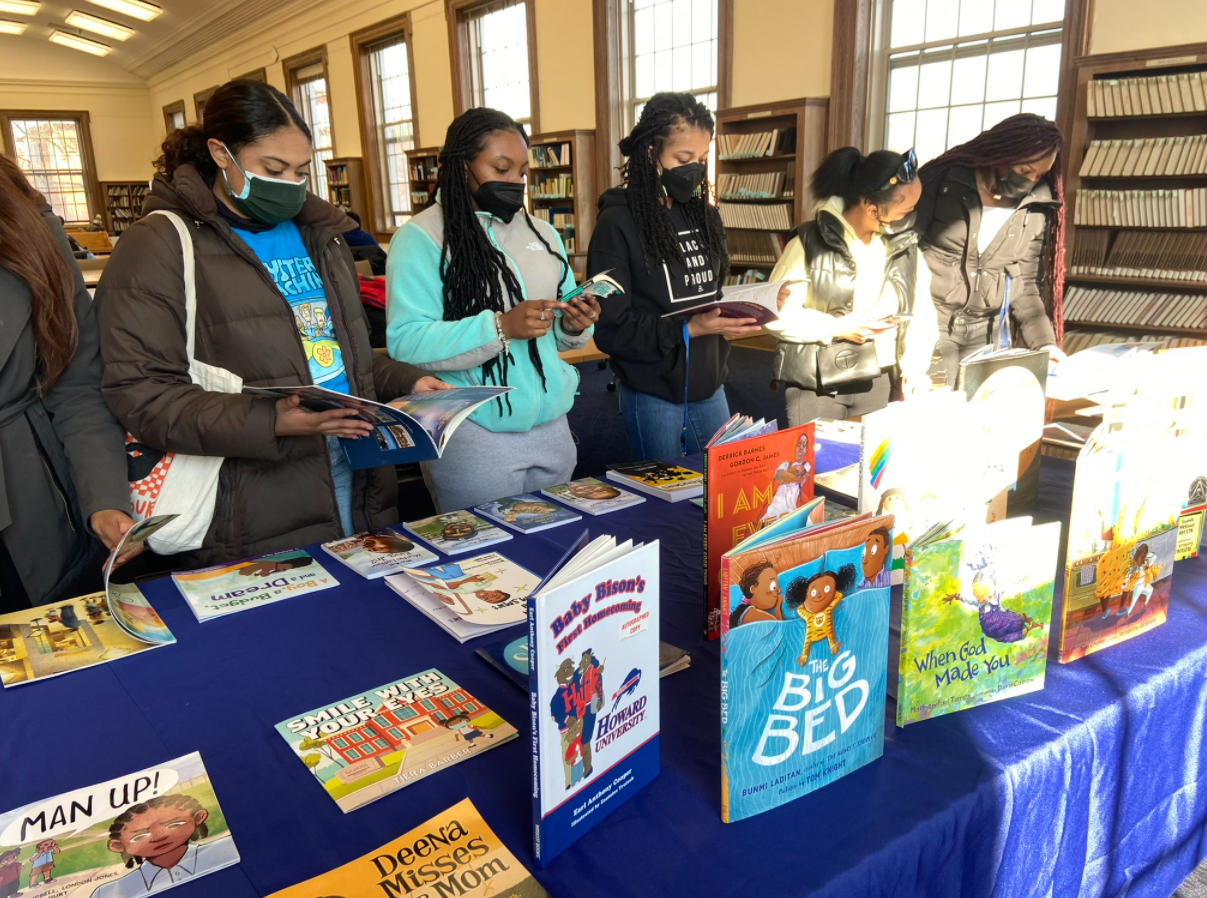 D.C. Area Educators for Social Justice (DCAESJ) continued to nurture and grow the ways in which we uplift the 13 guiding principles and national demands of Black Lives Matter at School. In January, we held the fifth annual Black Lives Matter at School virtual curriculum fair. Hundreds of people from across the country gathered virtually to prepare for the Week of Action and Year of Purpose
Participants benefited from welcoming remarks by BLM at School representative Tamara Anderson and Howard University professor Dr. Katherine Norris, an opportunity to review Black Lives Matter at School resources, and thirteen interactive curriculum workshops.
Thanks to donations by publishers, curriculum fair participants who completed the evaluation were entered for a chance to win one of 50 books for children or young adults and educators who submitted teaching stories during the week of action received a book related to the Black Lives Matter at School 13 Guiding Principles. Teachers received books in exchange for sharing stories from their classrooms.
---
Teach Central America
We hired our first Teach Central America campaign program specialist, Jonathan Peraza Campos.
In October, we coordinated the fourth annual Teach Central America Week. Hundreds of educators from 38 U.S. states, D.C., and Costa Rica signed up to participate, using free lessons and resources from TeachingCentralAmerica.org. Organizations across the country endorsed the week and publishers donated books to give to teachers who shared stories.
For example, Sally Stanhope, a social studies teacher at Chamblee High School, used "Central America: An Introductory Lesson" with her students to help them learn about U.S. involvement in Central America and the activists who fought for democracy and popular sovereignty in their respective countries. Most of Stanhope's ESOL students are Guatemalan, so she focused the lesson on Guatemalan freedom fighters like Rigoberta Menchú Tum, Otto René Castillo, Irma Flaquer Azurdia, and Jacobo Árbenz Guzmán. Read more.
---
Social Justice Books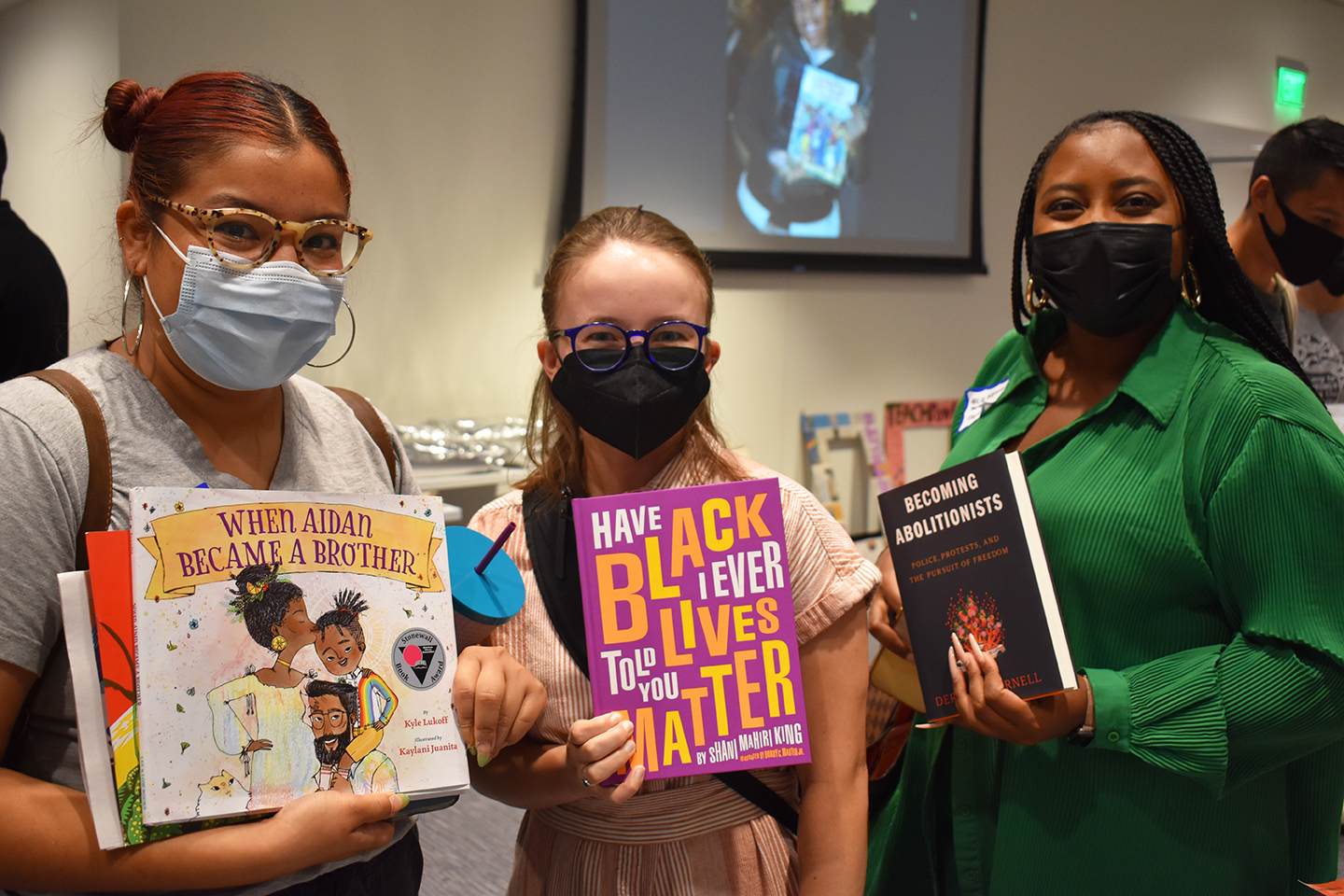 Our Social Justice Books website continues to be a destination for teachers, librarians, and parents looking for guidance on book selection. In concert with our other programs, we featured books on Reconstruction and by Howard Zinn.
Our staff and advisors published articles about how the book bans are leading to a disproportionate censorship of books by authors of color. As we do every year, we reviewed titles, bringing our total to close to 550 reviews and adding dozens of titles to recommended lists.
---
Teach the Beat: Bringing Go-Go to D.C. Students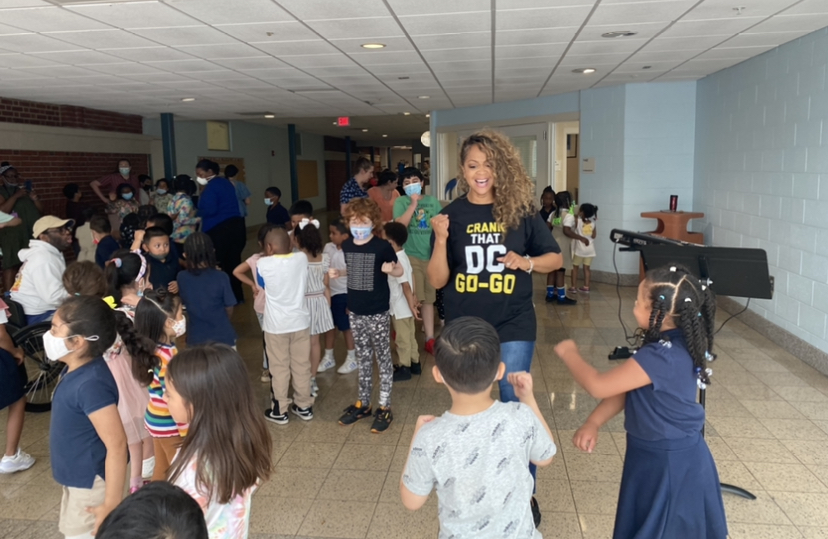 More than 500 students and dozens of educators in 22 classrooms across all eight wards in D.C. and all grade levels learned more about the official music of D.C. through our Teach the Beat program. Teach the Beat go-go artists are being invited to present in more city based arts programs as a result of our campaign.
There is also a new partnership with the basketball team, Capital City Go-Go! In November, we introduced Teach the Beat at a game during D.C Public Library's Go-Go Preservation Week.
---
D.C. Area Educators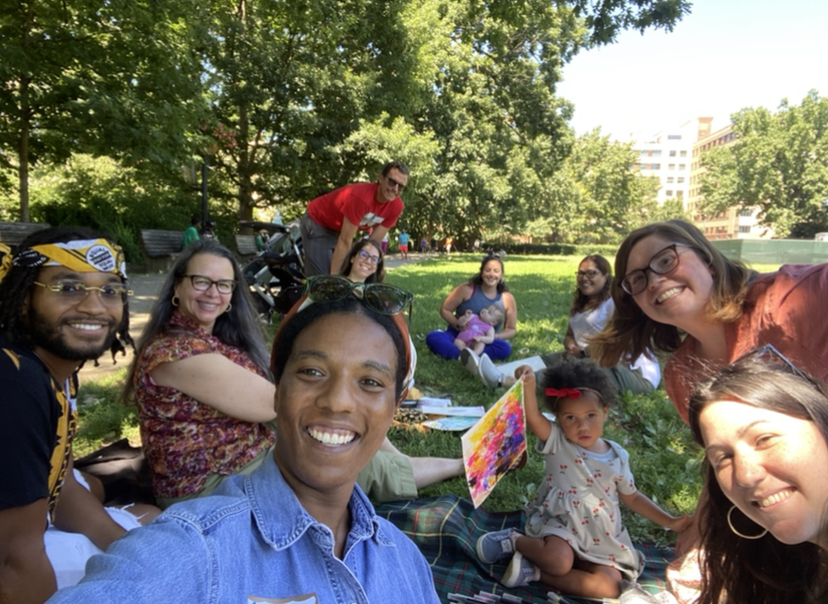 D.C. area teacher working groups continued to meet monthly. There are three teacher-led working groups: early childhood, elementary, and middle/high school. Working group members discussed teaching challenges and collaborated on lessons. This year they held a workshop on Critical Whiteness Studies, planned for the Black Lives Matter at School Week of Action and Teach Central America Week, presented at the Social Justice Curriculum Fair, spoke out at the Teach Truth Day of Action, and explored new area museum exhibits. They held public events to recruit new members.
For the 11th year, we brought filmmakers to D.C. schools during International Filmfest DC. We facilitated nine classroom visits on documentaries about Alma Thomas, locally driven restoration in Puerto Rico after Hurricane Maria, a Black and queer owned coffee house in D.C., and more. Read about this year's visits.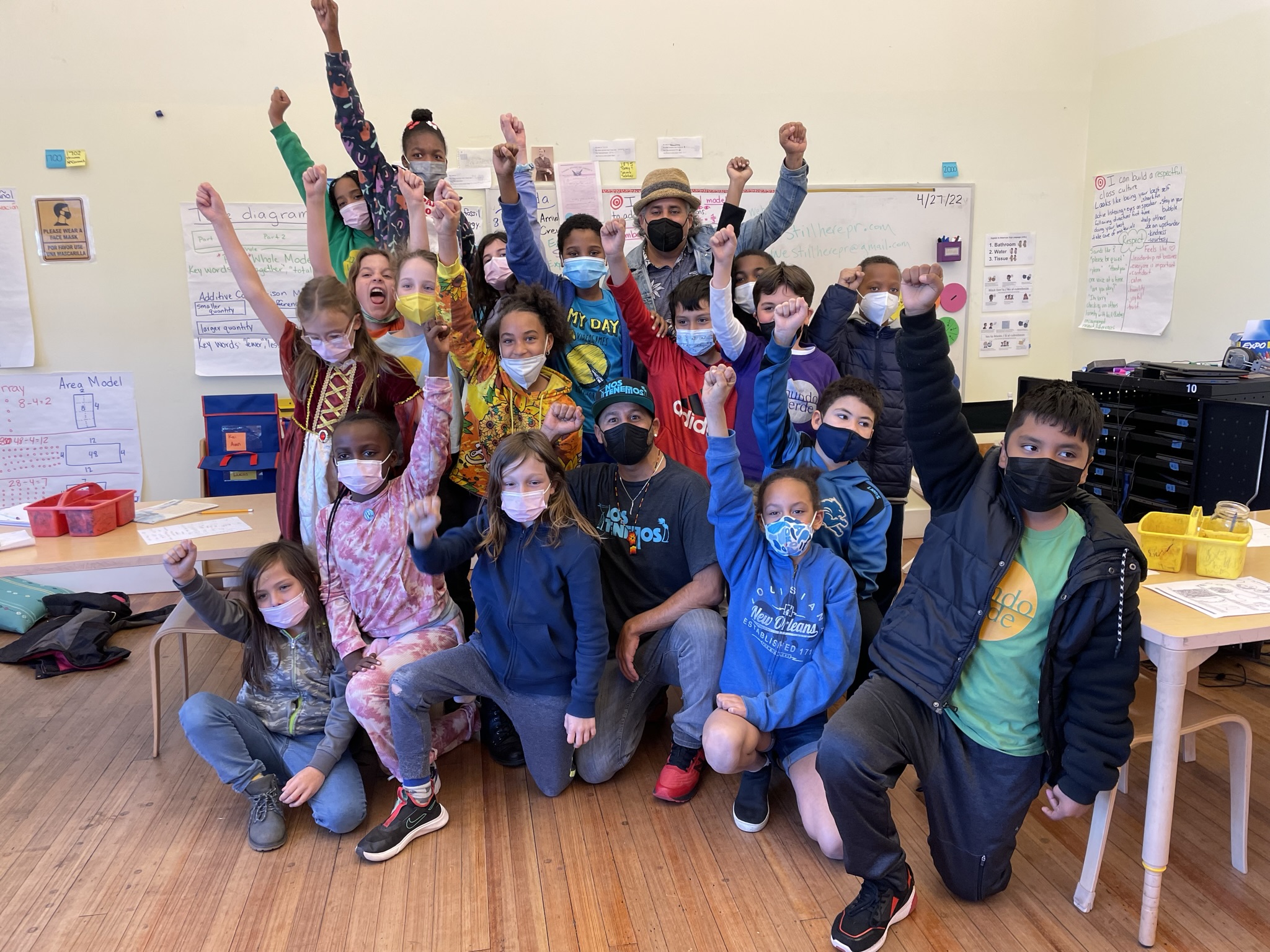 ---
Inaugural Social Justice Curriculum Fair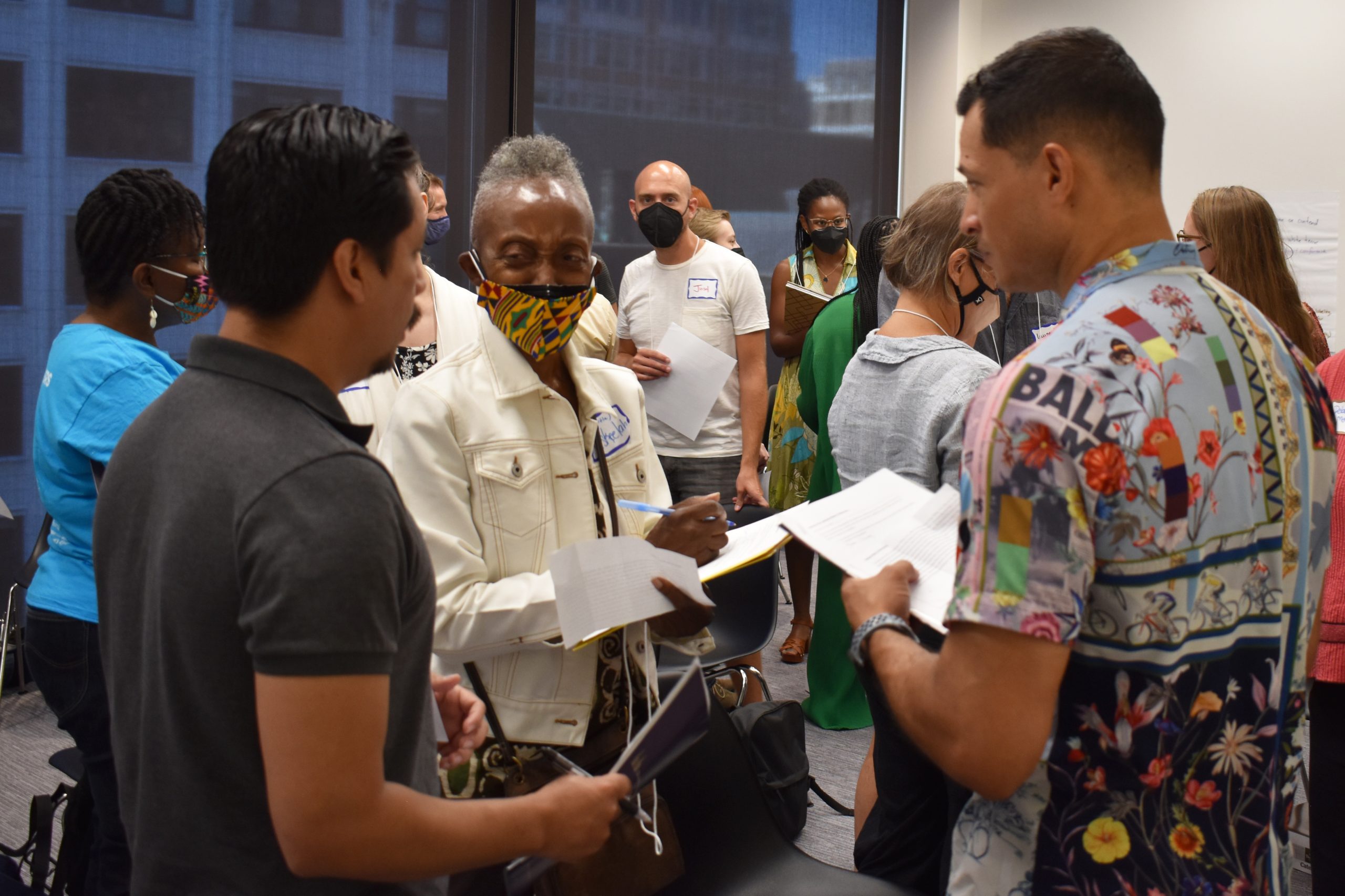 In August, the D.C. Area Educators for Social Justice (DCAESJ) hosted its inaugural Social Justice Curriculum Fair at the Martin Luther King Jr. Memorial Library in Washington, D.C. Educators from the D.C. metro area gathered to learn about local organizations supporting social justice education, participate in workshops across subjects and grade levels, and learn about DCAESJ in preparation for the 2022–2023 school year.
There were workshops on Reconstruction, Columbus, queer pedagogy, local history, wellness, student advocacy, and more.  Breakfast and lunch were provided and everyone walked away with a children's or young adult book of their choice. Read more.
---
Zinn Education Project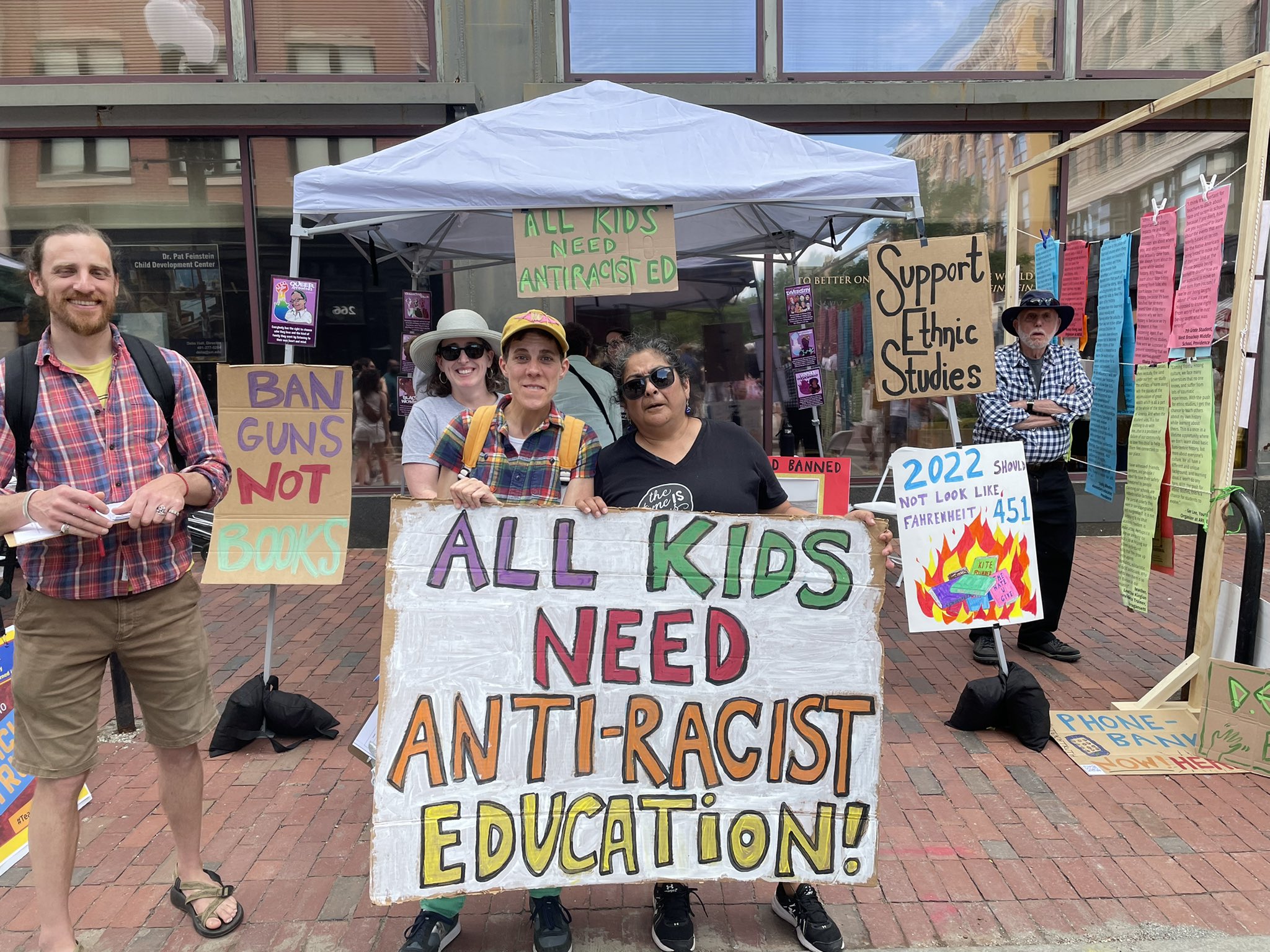 Our Zinn Education Project (with Rethinking Schools) reached the milestone of 151,000 teachers registered to use our people's history lessons! We developed lessons for the book and documentary film, The Rebellious Life of Mrs. Rosa Parks; released the first national report on the teaching of Reconstruction, which received widespread media coverage; engaged thousands of teachers in online classes with historians of the Black Freedom Struggle; formed and supported a third round of 100 Teaching for Black Lives teacher study groups; and more.
---
Howard Zinn

This year marked the Howard Zinn Centennial. We produced an anniversary toolkit for groups around the country, highlighted Zinn's books beyond A People's History of the United States, and co-hosted public events during the anniversary week in August with special guests, including Imani Perry, Alice Walker, Martin Espada, and Kidada Williams. Our Zinn Education Project highlighted Zinn's writing about prisons, his extensive correspondence with prisoners, and the continuum of people's historians who came before and after Zinn.
---
New Staff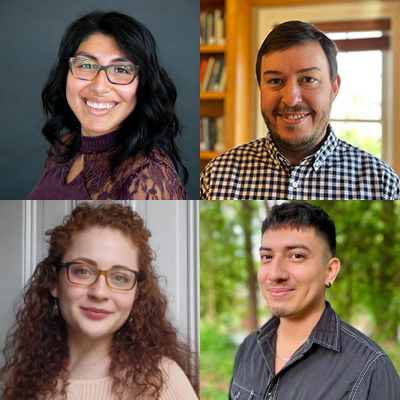 We welcomed staff members into several new roles this year: Jonathan Peraza Campos as Central America program specialist, Aileen Tapia as events administrator, and Julia Salcedo as Zinn Education Project Teaching for Black Lives study group administrator. We also welcomed Joshua Davidson as Zinn Education Project communications associate to the team.
---
In the News
Teaching for Change was featured in YES! Magazine and USA Today.
The Zinn Education Project was featured in Time Magazine, The Seattle Times, YES! Magazine, Daily Beast, Alternet, The Progressive, Edutopia, and more.
---
In Memory
This was a year of mourning for many people who have informed and inspired our work.
There are too many to name them all. Instead, we will shout out a few whom we were closest to in person: Askia Muhammad, Judy Kelly, Colia L. Liddell Lafayette Clark, Jeffrey Perry, Charles Sherrod, Fred Ross Jr., Julia Reichert, Staughton Lynd, and Gwendolyn Midlo Hall.
---
View PDF of Year End Highlights
Posted: December 19, 2022