2022 Indigenous Peoples' Day Curriculum Teach-In Highlights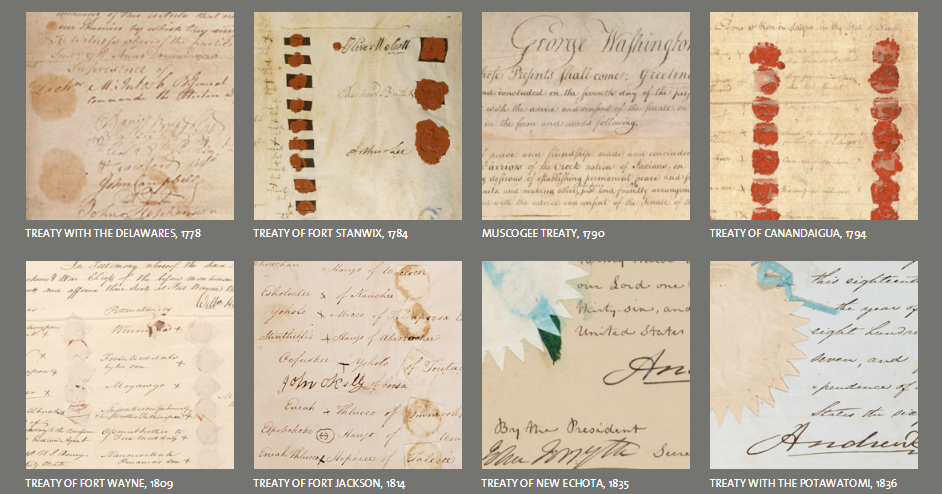 On Saturday, October 1, 2022, the Smithsonian's National Museum of the American Indian (NMAI) and Teaching for Change hosted an online teach-in with the theme sovereignty and treaties. More than 400 teachers from all over the United States and some internationally attended the keynote by Rebecca Nagle (Cherokee) and two rounds of interactive workshops featuring classroom resources from the NMAI's online education portal Native Knowledge 360° and the Zinn Education Project.
Staff members from NMAI and Teaching for Change and K–12 teachers offered workshops for teaching about Indigenous peoples' histories and their experiences around treaties and sovereignty today.
Here are some of the participant reflections on the teach-in, followed by descriptions of the sessions.
We need to ensure the complete history of America is taught and no longer "erased" from our history books. Indigenous America has centuries of knowledge that we need to teach to our children.
This was ALL incredibly educational and sadly, I did not know much prior to this event. Thank you for such important courses and awareness for educators.
This is one of the best PD's I have been to. I appreciate all of the information shared in the sessions. I can't wait to see what the next teach-in holds!
It is so important to prioritize teaching Native American history because Native American history is United States history. The erasure of Native American narratives from school denies teaching the truth about our country and the world.  We need to bring this back.
Thank you for offering this virtually. It allows so many more people to participate. Please maintain my information for your mailing list. I'd eagerly attend any programs that you facilitate. Well done!
Read below to learn more about each session and see videos from selected workshops. Resources from each session are here.
---
Keynote Speaker
Rebecca Nagle
What is tribal sovereignty? How does our understanding of sovereignty impact the rights of Native Nations? Rebecca Nagle correlates how the lack of Native representation in United States politics and media perpetuates the erasure of power of Native Nations and their voters. While United States colonialism and laws have dramatically impacted Natives' rights to self-determination and self-governance, Nagle notes that "Tribal sovereignty is not something that is given to tribes; they are inherent because the Native Nations existed since time immemorial." 
Participants were asked in the closing evaluation to share what they learned from the keynote. Here are some of the responses:
Rebecca Nagle was so clear in defining sovereignty, which can be such a hard topic to understand and apply to Indigenous communities.
I was really challenged by all the questions posed about policy that I realized I do not know the answers to.  I am so inspired to get to work even more!
Just reconfirmed the fact that there are vast gaps of knowledge of Native history, sovereignty, and identity in American "popular" knowledge. We have so much work to do. Rebecca Nagle is an excellent presenter.
I learned how little representation Indigenous people have even though they have a large political footprint, especially in places like Arizona. I wonder if they are continued to be omitted from social and political discussion because their inclusion (numbers, values, rights) would upset traditional power structures.
The meaning of tribal sovereignty and the need to see Native voices recognized in the media/society overall, especially to recognize their political power.
---
Workshops
Indigenous Central America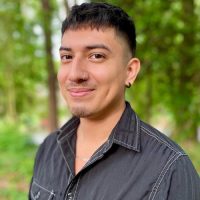 Jonathan Peraza Campos, middle school teacher and Teach Central America program specialist with Teaching for Change, facilitated this interactive session to provide teachers with strategies and resources for introducing the Indigenous history of Central America in their classroom. Participants explored the Quiche Maya ancestral story, including the Popol Vuh and the Maya origin story, which highlights the importance of corn and nature to the Maya. They also learned about the Garifuna and other Indigenous communities throughout Central America and made connections to Indigenous communities and the challenges they face today.
A great blend of sharing info, providing opportunities for others to share in chat and in breakout rooms; beautiful ending for the session with the reading of the poem.
The presenter was so articulate and passionate. Such a gifted teacher!
I appreciate the deep dig into the cultures of the Indigenous peoples of Central America.  The resources from the map to the videos are great.  There is so much I need to learn.
So many resources to use! I loved the map and Teach Central America website. I am currently teaching a unit on the Aztec, Maya, and Inca, and I am so excited to have so many resources to use to teach students about the Maya and Central America!
The richness of the Central American region of the world. Wow! This session was wonderful and I learned so much about how to approach my curriculum through a different lens.
I am excited to look into the Living Mayan Time website that was shared to find resources to connect to my science curriculum. Learning about Berta Caceres was inspiring.
---
The Tulsa Race Massacre and Black-Native History in Oklahoma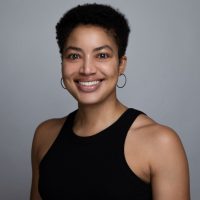 Alaina Roberts, author of I've Been Here All the While: Black Freedom on Native Land and award-winning African American, Chickasaw, and Choctaw historian, facilitated this workshop on one of the most brutal episodes in U.S. history — the Tulsa Race Massacre. Through an examination of primary documents, session participants deconstructed the massacre and its aftermath through the eyes of those who experienced it. To understand why the massacre occurred, participants learned the history of this culturally dynamic place: Why did so many African Americans flock to Oklahoma after the Civil War? How were they able to accumulate so much wealth that their Tulsa neighborhood became known as "Black Wall Street"? What was the Indigenous history of the region and what were the complex interactions between American Indian communities and incoming Black settlers?
Our speaker gave us an in-depth history lesson of Oklahoma tribes and enslavement of black peoples. It was a very interesting presentation.
Presentation was very thoughtful and organized, packed with resources and contextualization.
Great overview of the history leading up to the Tulsa Race Riots that gives me more understanding of the whole situation.
The discussion was poignant and direct without attacking anyone. It was educational and allowed sharing knowledge from attendees.
EXTREMELY important focus on how we must understand that all history is complex and how what we THINK we know is actually not the whole truth. In this case, the history of the Tulsa Race Massacre was seen in light of the hidden/unknown facts about Indigenous/Cherokee slave owners as part of the history of Black Wall Street and the Tulsa Race Massacre.
After attending the workshop by Alaina Roberts earlier in September, this was a great follow up to reinforce what I learned there. I am excited to explore more about how the U.S. government used the Civil War and Reconstruction era policies to further encroach on Native land and displace Native Peoples, especially as it pertains to the Five Tribes.
---
Teaching Treaties: Fort Wayne and the Coming of the War of 1812
Tiferet Ani, high school social studies educator and curriculum developer, led participants in a lesson that demonstrates how to use historical and contemporary sources to explore the meaning and legacy of treaties. The session included an analysis of the 1809 Fort Wayne Treaty and a look at a piece of treaty-themed artwork by renowned multi-media artist Shan Goshorn. By exploring these sources with students in the classroom, teachers can emphasize the critical importance of treaties in preserving tribal sovereignty and advancing cultural identities. Participants left the workshop with a classroom-ready lesson that demonstrates how Indigenous histories are an integral part of contextualizing global events such as the War of 1812.
Fabulous — VERY rich with resources.  Loved the breakout room! 
I loved the arc of the lesson and how adaptable it can be for my classes.
It was a brief introduction to treaties, but we got lots of resources to share and work with. The title of the exhibit at the Smithsonian ("Bad Acts, Bad Paper") basically sums it up. Native tribes always got the short end of the stick.
A wealth of resources I can use with my own teaching; a teaching approach — the arc of inquiry — so very important. Stimulated my own thinking about how to teach about sovereignty using local treaties and resources in much the same manner
That art piece!!! Opening "hook" artist/basket piece — will 100% be exploring further and incorporating. Gained that citation/thread to pull and great resources overall. First year teaching and the see-think-wonder exercise put helpful language to a process I've been practicing on instinct but haven't really organized into a succinct lesson plan 🙂 Seeing what materials were necessary and *sufficient to provide the students. * I usually worry I'm going overboard on context with the kids; good to remember and see being effective that they don't need TONS to be able to dig in in good ways.
---
Pipeline Protests: Putting Climate Civil Disobedience Into the Curriculum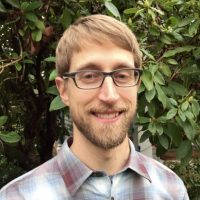 Tim Swinehart, co-editor of A People's Curriculum for the Earth: Teaching Climate Change and the Environmental Crisis and high school teacher, facilitated this workshop built around the documentary film Necessity: Oil, Water, and Climate Resistance. Necessity details the story of multiple climate activists, including Indigenous leaders in the climate justice movement, valve turners who use civil disobedience to stop the flow of oil, and legal teams that use the "necessity defense" in the courts. Participants deepened their understanding of this intricate story through role-play exercises where they took on the perspectives of real-life subjects from the film. 
This workshop was awesome. Loved the protocol of role playing as it related to the real individuals doing serious work in climate activism. Incredibly well done
The model lesson is so replicable! I will be sharing with my teachers.
Excellent direct resource/lesson plan that can be adapted for classroom use very easily.
I'll definitely be using the documentary. I've taught about DAPL before, so I'm glad to have another resource that discusses Enbridge, as well. The assignment modeled for us was interesting and dynamic.
A strong lesson plan covering the topics presented in the session. A chance to practice the lesson from a student perspective. The knowledge that the film Necessity exists is super-valuable. I hadn't yet heard of it before this conference. Also, a touching "thank you for the solidarity" from a participant who happened to be a member of an American Indian tribe at the close of the session warmed my heart and inspired me to act in solidarity with Indigenous peoples' challenges (as a white woman educator) even more.
I really appreciated the stated objective of connecting ourselves and our students to place. When we care about a place, we can use that as a springboard for justice and activism on behalf of that place and the peoples to inhabit and value that place.
The role playing exercise was very interesting and valuable. Very effective communication of the stakeholders in this particular crisis transferable to all climate crises naturally affecting Indigenous communities and their right to exist. Good to connect the keynote with this study.
---
Taíno: Native Heritage and Identity in the Caribbean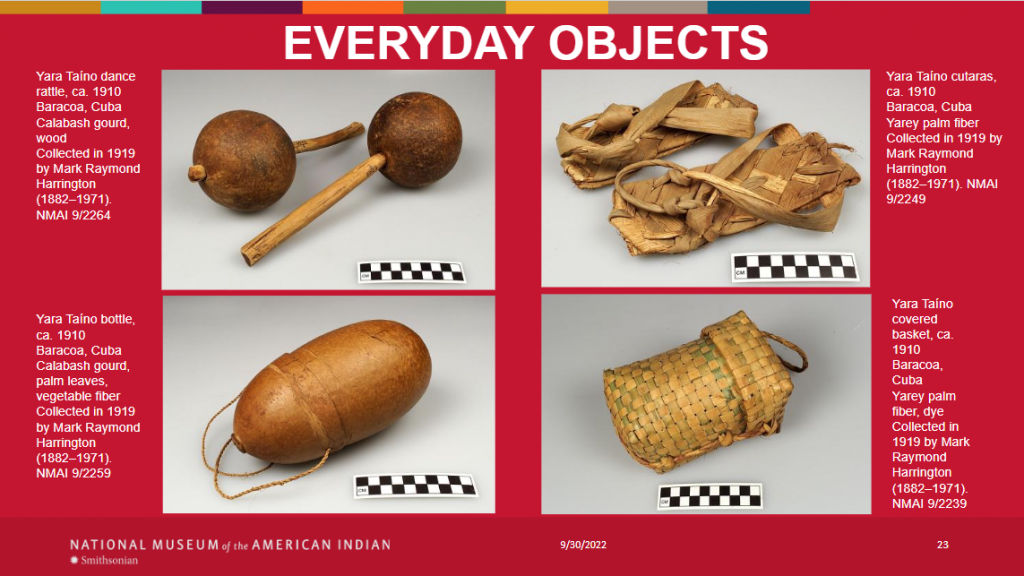 Bert Correa (Taíno), videographer and museum program specialist in the education department for the Smithsonian National Museum of the American Indian (NMAI) in New York, facilitated this workshop that explored the rural roots of the Taíno movement and the living legacies of Native peoples throughout the Spanish-speaking Caribbean islands and their U.S. diasporas. Participants learned about key resources created by NMAI to introduce Taíno history and contemporary culture into their classrooms. They also were informed about updates to the popular lesson "The People vs. Columbus, et al." 
I knew very little about Taíno people and this gave me a good starting point
I learned so much about the rich history of the Taínos and their persevering history to this day. I am excited to teach about these peoples and all of their contributions that they have made.
I learned some details about Taíno culture that were new to me and loved how the presenter included information about modern Taíno culture.
This was a fascinating session that provided so many resources, which I will be using in my classroom! Again, the discussion of traditional foods and conucos was so interesting and will be useful in lesson development in my classroom.
I've been exposed to Taíno history in small doses but this helped put many facts together. And your sessions always spur me on to learn more and more!
This was incredibly detailed! I learned so much it's hard to single out one fact — so well researched!
[I learned about] the importance of introducing the Taíno people BEFORE entering into the conversation about Columbus.
---
Exploring American Indigenous History in the 20th Century with Indian No More by Charlene Willing McManis and Traci Sorell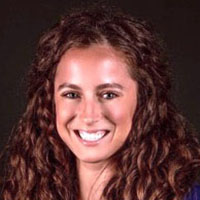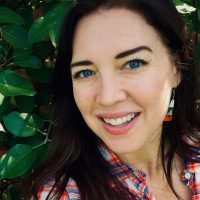 Elise McMullen-Ciotti (Cherokee), editor at Tu Books, and Katie Potter, senior literacy manager at Lee & Low Books, discussed the historical background and curricular applications of the award-winning middle grade novel Indian No More. McMullen-Ciotti and Potter noted that this book is the first children's book to center the experience of Indigenous people during the "Termination Era" (1953-1968), and urged everyone to study this period, plus learn about Indigenous people and the Civil Rights Movement. They also discussed the development of the book with Charlene Willing McManis and the challenges they faced as Cherokee women attempting to accurately tell the story of an Umpqua girl and her family. The development and publishing of this story exemplifies "gadugi," a Cherokee concept of "working together for the benefit of the community." Participants came away from the session with teaching strategies for Indian No More and ideas for teaching about Native peoples and communities within a contemporary context.
I am so excited to use this book in our curriculum! I also appreciate the numerous resources that were shared in this workshop along with Leeandlow.com. Such an informative session that is easily applicable in the classroom.
I can't wait to order multiple copies of this book for my elementary library! I loved how they mentioned that not all Native American tribes are the same and how Tracy felt like she could not tell the story of another tribe without going there and researching and talking to the memory keepers. Beautifully told.
The most important thing I gained was a teaching guide for the book, along with some great historical information that will help me guide my students in developing their background knowledge on native peoples in the 1950s.
---
Exploring Indigenous History, Resilience, and Community with The People Shall Continue by Simon J. Ortiz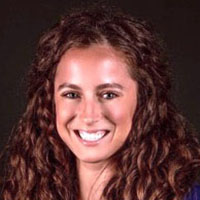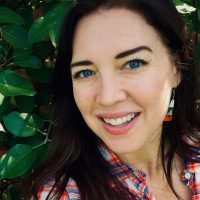 Elise McMullen-Ciotti (Cherokee), editor at Tu Books, and Katie Potter, senior literacy manager at Lee & Low Books, discussed the historical background and curricular applications of The People Shall Continue. Republished for its fortieth anniversary, this powerful story by renowned Acoma Pueblo poet and storyteller Simon J. Ortiz traces the history of Indigenous people of North America from the time of creation to the present. McMullen-Ciotti shared a moving and personal account of growing up being proud of her heritage and what it meant to be a native person in relation to the poetry of Ortiz. Participants came away from the session with teaching strategies for The People Shall Continue, incorporating themes of continued resilience and community among Indigenous peoples. 
The resources from the presenters and the attendees were so valuable.  I have some great sources to share with my colleagues.
I did not know about this book before this training. I am so happy to know of it. All the comments I wrote for the first workshop apply to this one. Teacher guide, interweaving the content of this book to different curricular areas of what I teach, and a shared sense of optimism and looking into the future shared by the presenters (thank you, Elise, for your personal stories!) and fellow attendees.
I appreciated the opportunity to connect with other educators to share resources regarding a children's book about Indigenous cultures. I was also able to connect with someone in my state of Michigan about the possibility of continuing the conversation in our region.
---