Uncovering A Secret History of Coffee, Coca, and Cola

Teaching for Change co-hosted author-illustrator Ricardo Cortés on a panel about his new illustrated book, A Secret History of Coffee, Coca & Cola (Akashic Books, 2012) on Jan. 9, 2013.  Cortés was joined by Sanho Tree, Director of the Drug Policy Project at the Institute for Policy Studies, and Coletta Youngers, Senior Fellow with the Washington Office on Latin America. Using a good mix of anecdotal history and policy discussion, each panelist demonstrated that current regulations on plants and their byproducts are hypocritical and ineffective.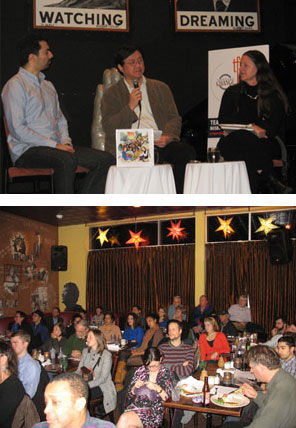 All three panelists were keen to highlight the racism inherent within international drug conventions that ban the growth and use of plants used by indigenous peoples. For instance, the multinational corporation Coca Cola has been given an exemption by the U.S. and other countries to use derivatives from the coca plant, but indigenous populations, who have used safe and mild coca products for centuries, are banned from growing the plant.
Although cocaine is derived from the coca plant, nearly fifty years of systemic attempts to eradicate the coca plant in South America have not curtailed the trade in cocaine – in fact, production has increased in the countries where eradication has been the long-term policy.
The cocaine-trade from Bolivia, however, has decreased after their people (and former coca farmer, President Evo Morales) stood up to U.S. pressure to eradicate plants, declaring their rights to the plant's historical uses while also creating new coca products (like toothpaste!). The panel discussed the need for real drug policy overhaul on a case by case basis, rather than a one-size-fits-all policy for all plants and drugs.
The Langston Room at Busboys and Poets was filled to capacity for this stimulating conversation. The event was co-sponsored by Teaching for Change, Busboys and Poets, the Institute for Policy Studies, and the Washington Office on Latin America.
Watch Full Program on CSpan's BookTV.
---
Photos by Netfa Freeman.