Funders
Our appreciation to the institutions below who make our work possible. Also see our donors.
Current Foundation Funders
Anonymous (2011 – present)
Ben's Chili Bowl Foundation (2015 – present)
The Morris and Gwendolyn Cafritz Foundation (1991, 2000 – present)
Communities for Just Schools Fund (2017 – present)
CREDO (Working Assets) (2001, 2012, 2015, 2021, 2022)
Newell Brands
Seattle Foundation
Share Fund (2012 – present) (via Greater Washington Community Foundation)
Silicon Valley Foundation
Taste of Salt Fund (via Greater Washington Community Foundation)
Former Foundation Funders
Anonymous Foundations (2004-2006, 2010-2011)
Arca Foundation (1990-1992)
Brimstone Fund (2000)
Capital One Services, Inc (2005)
Caipirinha Foundation (2009)
Columbus Foundation (2002-2010)
Community Foundation for the National Capitol Region
D.C. Commission on the Arts and Humanities (2001, 2009, 2020)
D.C. Children's Youth Investment Trust Corporation (2006-2016)
D.C. Mayor's Office on Latino Affairs (1992, 2018)
Fannie Mae Foundation (2005)
Flamboyan Foundation (2011)
Georgia Avenue Family Support Collaborative (2004)
Hazen Foundation (1999)
Horning Family Foundation (2011, 2018) (via Greater Washington Community Foundation)
Humanities Council of Washington, D.C. (1990-2005, 2014)
Initiative to Strengthen Neighborhood Inter-group Assets (1998)
MetLife Foundation (2001)
Meyer Foundation (2012-2013, 2018 – 2021)
Anita Mishler Foundation (1991-1994)
William J. and Dorothy K. O'Neill Foundation (2018 – 2020)
Open Society Foundations (2015)
Panta Rhea Foundation (2014)
Peace Development Fund (1991)
Peppercorn Foundation (2003-2009)
W.K. Kellogg Foundation (1991, 2008 – 2020)
Spencer Foundation (2000-2002)
Schumann Fund for New Jersey (2008-2010)
Staples Foundation for Learning (2008-2009)
Hattie M. Strong Foundation (1991-2002, 2004-2007)
Target Foundation (2008-2009)
Taste of Salt Foundation (2007-2009)
Theodore Roosevelt Bank (1991)
Threshold Foundation (2001, 2005)
Tides Foundation (2001)
Virginia Humanities Council (1991-1992)
Veatch Unitarian Universalist (1991-1992)
Weissberg Foundation (2000-2003)
Wendling Foundation (1997-2005)
Pro-Bono Support
Individuals
Organizations
As a Cafritz Foundation grantee, Teaching for Change receives pro-bono access to Catchafire, a skills-based volunteer matching resource. The impact is invaluable, as summarized in the graphic below. In a number of cases, the volunteers have continued to provide support beyond the original project.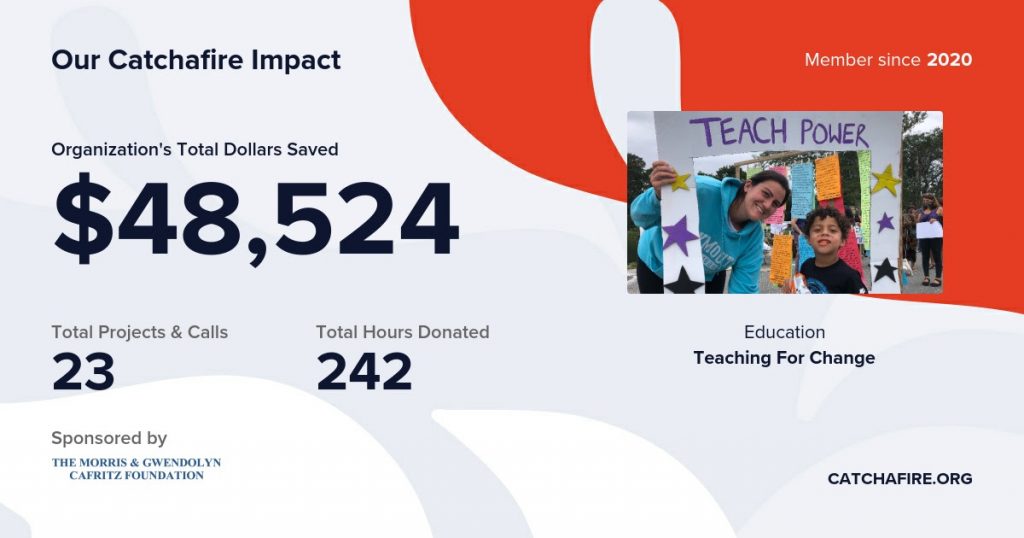 Teaching for Change hosts a Communities for Just Schools Fund Education A-New Fellow who works with our DC Area Educators for Social Justice half-time.
Teaching for Change was selected for pro-bono representation by the Orrick law firm, thanks to the services of the D.C. Bar Pro Bono Program.