Interns and Volunteers
Teaching for Change's mission is advanced not only by our staff and board, but also by the dedicated focus on special projects by interns, fellows, and volunteers. Our current interns are: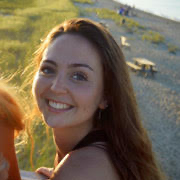 Nell Fredericks
Nell Fredericks is a junior at the University of Southern California in Los Angeles. She is acquiring a Bachelor of Arts in Philosophy, Politics, and Law, as well as a minor in Education. Nell was born and raised in Boston, Massachusetts, and her interest in education stems from her experiences as a student in the Boston Public Schools for 13 years. After transitioning from a public to private institution, Nell's passion for education reform and justice grew. She is particularly interested in shaping curriculum and strengthening and extending access to professional development services, and has aspirations of creating more equitable policy on a larger scale. At USC, Nell is involved in the undergraduate student government, a pre-law fraternity, an academic journal, and the club softball team. She also helped out at a middle school within the Los Angeles Unified School District, nearby USC. Nell is very excited to be involved with Teaching For Change to help foster social justice in the classroom.
Nell is excited to serve with Teaching for Change in support of digitizing historical timelines, website support, and supporting our D.C. Area Educators for Social Justice working groups.
Learn more about our former interns and volunteers.