Interns and Volunteers
Teaching for Change's mission is advanced not only by our staff and board, but also by the dedicated focus on special projects by interns and volunteers. If you're interested in an internship, check out our current openings. In 2017, our interns are:
Sarah Cornelius
Sarah Cornelius is a Philly native and recent graduate of the University of Pennsylvania where her studies centered on the intersection of political theory and education, specifically the complex role of schools in creating engaged and liberated democratic citizens. She believes that when armed with the right resources and pedagogy, educators can empower students to transform the systems of power that schools so often perpetuate.
As a participant in the Truman Scholar Summer Institute, she looks forward to working with Teaching for Change and the Zinn Education Project to create resources for teachers that capture the empowering potential of history told from a people's perspective. As an undergraduate, Sarah worked to cultivate more equitable educational opportunities for students as an intern with the School District of Philadelphia, Philadelphia's Mayor's Office of Community Empowerment and Opportunity, and Penn's Netter Center for Community Partnerships.
Soon, she plans to bring some of the materials from Teaching for Change into her own classroom as a middle school teacher.
---
Kathleen Nganga
Kathleen Nganga is a senior political science major and history minor at Northwestern University. In addition to her major and minor, she draws upon sociology, African American studies, and African studies in her research.
Kathleen is committed to improving political and educational outcomes for underserved groups. Her research focuses on marginalization, policy responsiveness, as well as political mobilization and conflict.
She was named a 2018 Carnegie Endowment for International Peace James C. Gaither Junior Fellows, a Truman Scholar in 2017, and a Mellon Mays Undergraduate Fellow in 2016. She studied Swahili as a 2016 FLAS recipient and was a Posner Research Fellow in 2015.
---
Abby Saul
Abby Saul is a rising senior at Swarthmore College majoring in Peace and Conflict Studies and Spanish Literature. Her interests include social movements, Jewish history, Israel/Palestine, and testimonial literature. Her Peace and Conflict Studies senior thesis investigates contemporary Jewish-American identity and the role of Jewish-American anti-Occupation activists in the broader solidarity movement for Palestinian liberation.
She is a core member of Swarthmore Students for Justice in Palestine and was formerly a core member of Swarthmore Mountain Justice, which spearheaded the College's fossil fuel divestment campaign. She is also an organizer with IfNotNow where she coordinates projects to sustain the digital infrastructure and clear communication of the mass, decentralized movement.
She has previously worked with the Grandmothers of Plaza de Mayo in Buenos Aires and is deeply interested in how we can build a more just world through our telling of history. Her internship will be with the Zinn Education Project.
---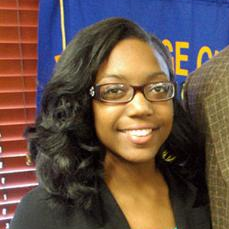 Vershunda Coleman
Vershunda Coleman is majoring in mathematics education at Jackson State University. She writes, "Though my major is mathematics education, Civil Rights history and local history has always been a passion of mine.
I was born and raised in McComb, Mississippi. I love to call my hometown a "diamond in the rough." I have the opportunity to say that I helped my peers, my community, and even some of the United States come to this conclusion. During my high school career, I joined an organization called the Young Peoples Project (YPP). YPP pushed for people to know the history and the significance of certain places in McComb that played significant roles in the Civil Rights Movement.
We brought life to a significant event that took place in McComb, MS during this time. We did what any historian would have done. We documented it by creating a documentary. We knew that this documentary would live long after our time. We placed it into the National History Day competition, where we won first place at the regional and state level and got the opportunity to place in nationals. It was in those moments that I fell in love. The feedback that was received was phenomenal. From that moment on I think that I was destined to do things like this.
I chose to attend Jackson State University because of Jackson's historical background (me being right down the road from the Mississippi Department of Archives just topped everything off). College gave me the ideal classroom setting. I have had math teachers give me a history lesson with mathematics incorporated. Teachers like that have shown me that the sky is the limit in a classroom setting.
As a future secondary educator, I plan to operate analogously. The Civil Rights Movement is so broad, and there is so much to learn and find out. Soon, I plan to get the Young Peoples Project back up and active again so other students can have the thrill and excitement that I had when my local history was presented to me.
During my internship with Teaching for Change, I hope to gain more knowledge and learn more stories while learning how other teachers incorporate history into their classroom."
---
Learn more about our former interns and volunteers >>