After-School Special: True stories by and about educators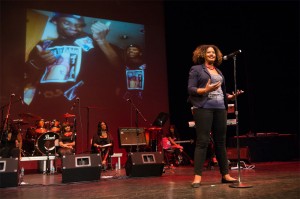 For Teacher Appreciation Week, SpeakeasyDC and Teaching for Change present After-School Special: A Night of True Stories By and About Educators.  
A cast of storytellers from schools across the DMV share true tales from inside and outside the classroom.
The show will be Friday, May 9, 2014 at the Atlas Performing Arts Center.
The pre-show reception is at 6:30 PM and the show starts at 8:00 PM.
THE CAST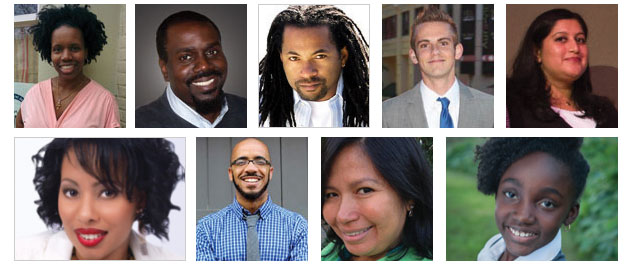 From left to right: Allyson Criner Brown, Timothy Jones, DJ EZ Street (Host), Chris Obermeyer,
Ritija Gupta, Savanna Flakes, Clint Smith, Viky Sosa, Ahriana Merryweather
Get $20.00 discounted tickets when you use the code teach4change at checkout.
Bring your ticket stub to Teaching for Change's Bookstore in Busboys and Poets (14th and V) through May 31 for a 20% discount off your book purchase. (Not valid for the restaurant)
---
Watch Allyson Criner Brown, Teaching for Change project manager, and Amy Saidman, the artistic executive director of SpeakeasyDC, discuss the After-School Special on Let's Talk Live.
(Click image below to view video).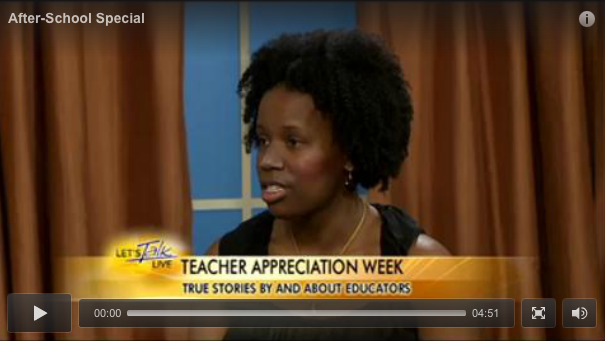 ---
Help us spread the word!
Download and print these fliers.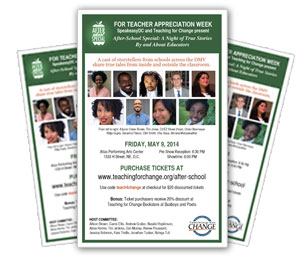 Download as PDF | Download as JPEG
---
HOST COMMITTEE:
Allison Brown, Carrie Ellis, Andrew Graber, Natalie Hopkinson, Alicia Horton, Tim Jenkins, Don Murray, Renee Poussaint, Jessica Solomon, Kate Tindle, Jonathan Tucker, Nzinga Tull