América Calderón, ¡Presente!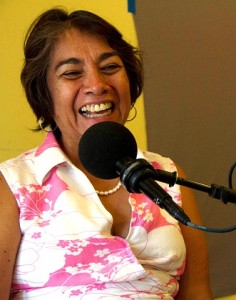 América Libertad Calderón, Teaching for Change senior parent organizer and lifelong fighter for justice, passed away on April 17, 2014 in Guatemala after a year long battle with cancer.
América joined the Teaching for Change staff in February, 2008 as senior parent organizer for D.C. area schools and national training. Here is the profile she wrote at the time for our website:
Usually, I am asked if I was named because of the "country" so I use my name to educate people that America is not a country but a continent. I am from Guatemala. I was forced to flee my country in 1982. For the first six months in the U.S.A., I did not get a bed because I thought the "revolution" was going to win and we could go back soon. Twenty five years later, I am still here, we did not win the revolution, nothing has changed back in my country, but I got a bed. I started working for Teaching for Change with the Tellin' Stories Project in February 2008 as a program manager and community organizer. I like working with such a diverse group of women in a collaborative, supportive way that I could not get anywhere else.  I love biking to work, swimming, and my passion is doing ceramics. My great accomplishments are my three children.
The power of América's work stemmed from her commitment to surface the voices and stories of everyone in a school, particularly those families and teachers who are often silenced and marginalized by policy makers and central administration.
América's approach to parent engagement was shaped by her background in popular education and a deep commitment to the rights of all children to a quality education.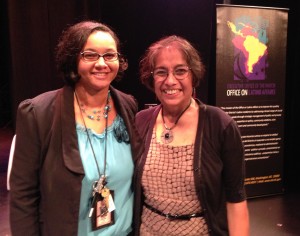 América was formally recognized with a "Dedication Award" for her work with families in schools from the D.C. Mayor's Office on Latino Affairs on October 17, 2013. Read more about the award and see photos.
The impact of América's organizing was also recognized and made evident by the large community that rallied to her side on a daily basis during her illness this past year. Family, friends, and comrades in the United States and Guatemala came together to cook meals, play cards, assist with doctor's visits, share memories, take trips to the beach (with America in a wheelbarrow), and much more. America's children orchestrated this international network.
América emailed periodic updates and reflections. She wrote about how she continued to surface stories from her bedside in Guatemala:
I have started a practice with my visitors. I ask everybody to share a story with me. Usually, my visitors are long-distance cousins. They are the children or grandchildren from my grandmother's siblings. They visit me and we share stories. As you know, the project that I worked with is called Tellin' Stories and whenever we went to a new school we would start with the parents sharing their own stories. It was very powerful. This approach is also working with my family and friends. One friend told me that she became a nun after graduating from high school. She did the first two years of training. But when she had to return home, she met an old sweetheart and forgot all about becoming a nun. Later on, she became part of the revolutionary movement. So stories come and stories go and I enjoy all of them.
We also received encouragement to make the most of every day:
I keep thinking about how lucky I am of having all of you in my life. As I said in other emails, love heals and this is very true in my case. Therefore, my friends, don't forget to enjoy your day. Stop what you are doing. Think about the blessings in your life, enjoy the small walk, your family, friends, neighbors, 'make sex,' and enjoy life. Love, America
América was deeply loved. She will continue to be an inspiration to us all.
 
Here are just a few stories that highlight
the impact and quality of América Calderón's work.
| | |
| --- | --- |
|   | DCPS Parents and Students at Immigration Reform Rally. More than 60 parents and students walked from one of the schools we work with, Thomson ES (DCPS), to the mall for the April 10, 2013 Immigration Reform Rally. There they joined thousands more people outside the U.S. Capitol. Teaching for Change's senior parent organizer, America Calderon, helped organize this after school action field trip. Read more and see video clip. |
---
| | |
| --- | --- |
| | Dangerous Legal Status Precedent Averted. In mid-August of 2012, Teaching for Change staff member America Calderon saw a new requirement on the form for parents enrolling their children in afterschool programs: bring in proof of U.S. legal status. América immediately took action. Within three days, the forms were changed. DCPS sent a note to all afterschool coordinators stating that: "Citizenship Requirements are currently suspended!!" Read more. |
---
| | |
| --- | --- |
| | Shifting School Staff Parent Engagement Strategies. Head Start parent coordinator Victoria Hightower shared, "My best meeting ever was the first workshop we had with América. Teaching for Change came to [Head Start] to teach us about parental engagement and I saw the light. I want my parents to feel how I felt at that meeting." Hightower was one of 20 participants in "How to Have Better Parent Meetings," a Teaching for Change Cross-City Parent Coordinator Training session led by Teaching for Change's senior parent organizer, América Calderón. Read more. |
---
| | |
| --- | --- |
| | Latino Literature for Children. América Calderón was selected as one of five national committee members for the Américas Book Award for Children's and Young Adult Literature, the first award for Latino Children's Literature in the United States. "I feel honored to participate as a member of the América's Award committee," said Ms. Calderón. "As a native Guatemalan working in schools with large immigrant populations, I have a particular interest in ensuring that the stories of the immigrant Latino communities are given visibility."  Read more. |
---
| | |
| --- | --- |
| | Latino Parent Leadership Program. With a grant from the D.C. Mayor's Office on Latino Affairs (OLA) to Teaching for Change, América Calderón designed and piloted a special training series designed to empower and equip Latino parents to advocate for their families and act as liaisons in their school communities. Calderón facilitated the training on Saturdays entirely in Spanish. The parents were honored at OLA's Noche Cultural & Award Ceremony in October 2012 as "Padres Embajadores por la Educación." Read more. |
---
| | |
| --- | --- |
| | Meaningful Parent-School Dialogues. Parent and principal dialogues were one of many activities led by Teaching for Change parent organizer América Calderón during the 2012-2013 school year at Strong John Thomson Elementary (D.C. Public Schools). Read more about the beginning dialogue with Principal Carmen Shepherd on a variety of parent concerns including the budget, new faculty, changing math strategies, and the DC CAS scores. |
---