Parent Organizer América Calderón Wins Dedication Award
For many parents in Washington, D.C.'s Latino community, América Calderón is the person who inspired and pushed them to speak up for their children. In her five years of organizing in D.C. schools with Teaching for Change, Calderón has built a reputation for going above and beyond for the parents and schools she serves.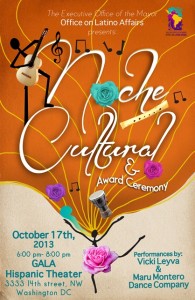 On October 17, 2013, the Mayor's Office of Latino Affairs (OLA) presented the Mayor's Dedication Award to Calderón at the annual Noche Cultural celebration and community awards ceremony. The Dedication Award is given to an individual who champions and contributes to the Latino community of the District of Columbia. A committee chooses the winner based on nominations from community stakeholders and an analysis of the nominees' contributions.
Forced to flee her native Guatemala and build a new life in the United States, many parents can relate to Calderón, a mother of three and grandmother.
Josué Salmerón, grants program manager for OLA, explains, "América does so much more than a 'job.' She's a mentor, a community leader, a parent, and more."
Calderón has been an activist for most of her life. In the 1980s and 1990s, she edited a weekly paper highlighting the human rights violations of the Guatemalan Civil War and worked as a paralegal with an immigration law firm. In 2006 she began working with the Central American Resource Center (CARECEN). In 2008, joined Teaching for Change family as a bilingual parent organizer for the Tellin' Stories project. She is also a certified interpreter who provides her services to the community, and she remains passionate about language access and immigrant rights.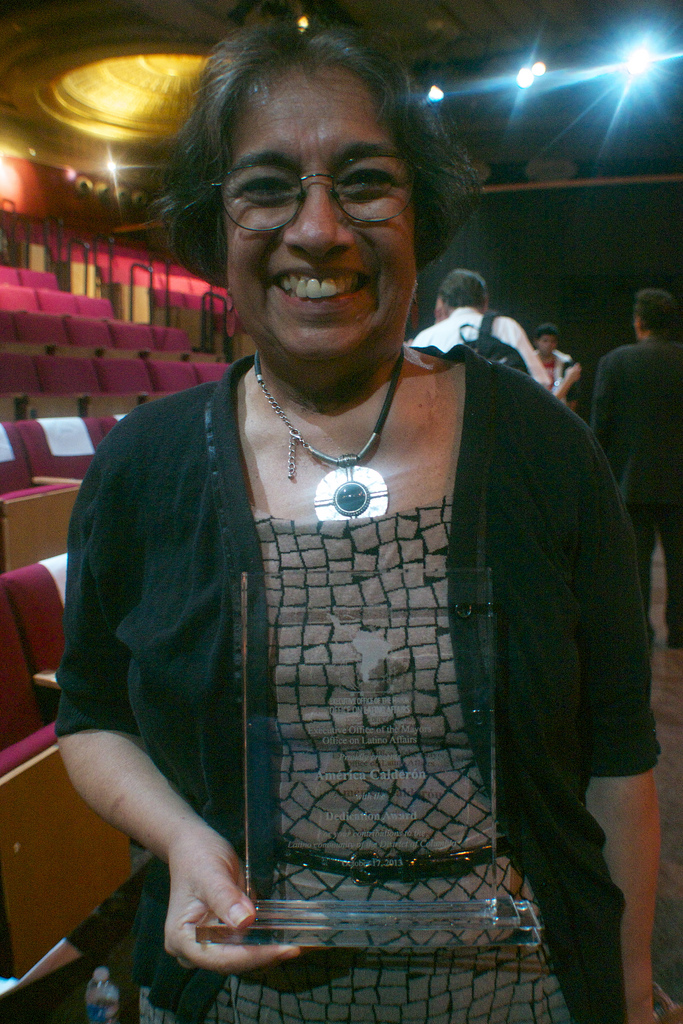 Many friends and loved ones came to the Noche Cultural ceremony at GALA Hispanic Theatre. They gave a standing ovation as Calderón took the stage. Before accepting her award, she quipped, "I bet you didn't know I brought my own cheerleaders."
Calderón dedicated the award to the parents she has served and built relationships with through her activism. in her acceptance speech she said:
I want to recognize tonight the presence of Ms. Shepherd, Thomson ES principal and the parents of Brightwood and Thomson. Thank you for coming.  Tonight, I am standing here humbled by this award.  Thank you OLA  and Mayor Gray for this recognition. However, this award belongs to the Latino parents in the schools who despite not knowing the system nor the language, they are present in their children's lives. They suffer indifference and discrimination, but I have witnessed their dedication to get a better education for their children. Therefore, I offer this award to them. Margaret Chase Smith said: "Public Service must be more than doing a job efficiently and honestly.  It must be a complete dedication to the people…"  Thank you!
Teaching for Change is very proud to have América Calderón as part of our team – and we're not the only ones.
 América is my inspiration. Teaching for Change worked with me, and América trusted me and gave me the push to go. She's like a mother to me and I'm so proud of her. –Brenda Girón, parent coordinator at Brightwood Education Campus
Thank you America, you've been a great friend, great mentor, we appreciate your help. Thank you for helping my family at Brightwood Education Campus, we wish you well and we love you. –Jacqueline Vivas, parent at Brightwood Education Campus
She helped me and my mom a lot. She's a wonderful woman and really strong and brave for everything she's been through. — Jessica Sanchez, student at Brightwood Education Campus
Sra. América, mis sinceros agradecimientos a usted por haber compartido buenos momentos trabajando por la comunidad. Recuerdo cuando vine a D.C. y nos reuniamos despues del trabajo para crear la sombrilla de diferentes organizaciones del area de DC. Una gran experiencia la aprecío y reconozco el trabajo que ha venido realizando. Con un cariño especial. –Sabina Ramirez, friend
I think it is a wonderful thing, and it's a grand moment for her to receive this kind of recognition. Because she's a real worker in the community, for many, many years, and also she's a wonderful human being. I'm very happy for her. –Hugo Medrano, co-founder and producing artistic director of GALA Hispanic Theatre
She's just so wonderful. She's been an educator to so many people—[she's] worked with so many youth who needed help and communicated with parents in schools, in terms of keeping kids in school and exciting them about being in school. Making them feel important, and loving them. Felicitaiones, América. –Rebecca Read Medrano, co-founder and executive director of GALA Hispanic Theatre
Photos by Jazelle Hunt.