Teaching for Change fellow Amy Rothschild raises a key question about universal pre-K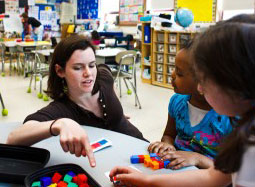 What will early childhood education look like in New York in coming years? New York City Mayor Bill de Blasio has proposed citywide universal pre-K, funded by a tax the state legislature would have to approve. Then, in his recent 2014 State of the State address, Governor Andrew Cuomo baffled political observers by proposing a plan even more ambitious than de Blasio's—statewide full-day prekindergarten—while remaining silent on funding, even reaffirming his commitment to cutting, not raising, taxes. But in this political game of cat and mouse, another question needs to be asked: Will de Blasio and others advocate for a truly universal pre-K program?
In his inaugural address, de Blasio restated his pitch for universal pre-K. "We will ask the very wealthy to pay a little more in taxes so that we can offer full-day universal pre-K . . . And when we say 'a little more,' we can rightly emphasize the 'little.'" Hoping to assuage fears of Robin Hood-style banditry, he proposed wealthy people pay what he said amounts to "about the cost of a small soy latte at your local Starbucks." Americans are used to hearing how much child welfare their spare change can buy, usually from charitable organizations. Why did a leading progressive populist make this latte appeal?