James Loewen Sets the Record Straight on Civil War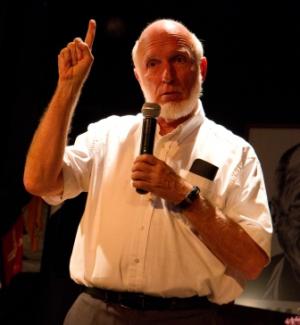 On September 20, 2010, James Loewen, author of Lies My Teacher Told Me, spoke to a full house at Busboys and Poets about his new book The Confederate and Neo-Confederate Reader: "The Great Truth" About the "Lost Cause" (University Press of Mississippi, 2010). The event was coordinated by Teaching for Change Bookstore at Busboys and Poets. Co-edited with Edward H. Sebesta, this book is a collection of primary documents on the Civil War. Loewen explained that, "the declarations supplied by the 11 Confederate states as they left the union are among the most important documents in the history of our nation." Yet not only do textbooks avoid the documents, "the accounts they provide contradict the historical record." The result is widespread misinformation about the cause of the Civil War.
Loewen opened the evening with a one-question, multiple choice survey, explaining that everyone had to vote and that they could only vote once. The question was: "Why did the Southern states secede?" and the audience had to select from four options: slavery, states' rights, election of Lincoln, tariffs and taxes. At Busboys and Poets, the majority selected slavery. Loewen said this response was highly unusual. He has conducted this survey with audiences across the country and the vast majority (including teachers) selected states' rights as the cause. Only 15 percent named the most correct answer, the preservation of slavery, as the key factor. In his talk he described when the myth of states' rights as the cause developed and why.
There was a lively discussion following his talk, with audience members thanking Loewen for providing this invaluable resource and asking how to help use the book to shift public understanding. A fifth grade teacher from EL Haynes Public Charter School, Brigham Kiplinger, said that when people tell him the motive is "states' rights", he asks them, "Which states' rights?" Invariably they respond "The right to own slaves." This answer helps him point out that therefore slavery was really the root cause or motive.
Author Richard Morris wrote about the event on his blog and commented, "Once again, Barbara and I were delighted to travel to Busboys & Poets at 14th and V Streets in Washington, D.C. on Monday evening to hear this consummate truth-teller make another compelling presentation to a packed audience."
The book has been a best-seller at the Teaching for Change Bookstore and is available from our webstore.
Special thanks to photographer Jack Gordon for the photos. www.jackontheroad.com
Posted: September 19, 2010