Virginia Educators Explore Beyond Heroes and Holidays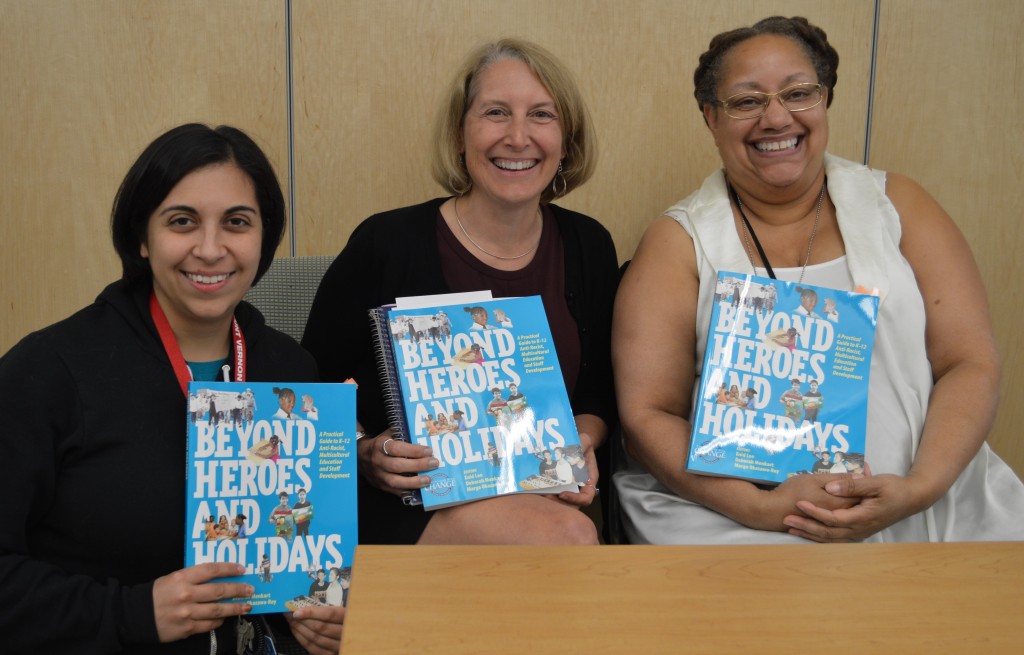 The challenge was to introduce 35 educators to their new copies of Beyond Heroes and Holidays: A Practical Guide to K-12 Anti-Racist, Multicultural Education and Staff Development  in 75 minutes.
Alexandria City Public Schools had purchased Beyond Heroes and Holidays as a mentor text for each participant in the Teaching for Change facilitated workshop on engaging in culturally responsive pedagogy.
Here is how we approached this short introduction to a hefty book and deep topic.
Introductions
Teachers and administrators came from all over Alexandria City Public Schools (ACPS), so they took a few minutes to get to know their colleagues at their table. Everyone wrote a "six-word essay" to describe themselves and share in groups of four. This turned out to be an effective way to keep introductions concise and also lay the ground work for the next exercise
James Banks' Four Approaches to Multicultural Education
The title for Beyond Heroes and Holidays was coined by professor and author James Banks, a scholar in the field of multicultural education.
A core article in the Beyond Heroes and Holidays is Banks' outline of four approaches to multicultural education. The approaches (Contributions, Additive, Transformative, Social Action) allow educators to reflect critically on their own classroom, school, and district.
Each table of four participants received a description from the article by Banks about one of the approaches (or levels). Their task was to read and discuss the level until they had a good understanding of it.
Then they were invited to write a six-word essay to summarize their "level" for peers at the other tables. As a prompt, participants read some of Michele Norris's six-word essays on race to see how deep content can be conveyed in a few well-selected words.
Here are examples of the excellent six-word essays developed at the tables about their respective level.
Contributions  
We must, therefore we do.
Taking on culture, checking the box.
Seasoning the curriculum. No thought required.
Additive
Continuing mainstream narrative. Not changing lives.
Learning cultures, not connections.
Viewing ethnic content from mainstream perspective.
Transformative
Multiple perspectives. Critical thinking. Now what?
Curricular concepts from multiple perspectives.
Social Action
Understand. Question social issues. Do something!
Sample Classroom Lesson: Central America 101
Now to put the levels into practice with a culturally responsive lesson. The facilitator asked, "How many people of note from Central American history or literature can you name?" Despite the fact that ACPS has a large percentage of students from Central America, most participants could name one person at best, many none at all. This changed after they engaged in an abbreviated version of our introductory lesson on Central America.
Participants stepped into the roles of activists, politicians, and poets. After the lesson, they reflected on not only what they learned about Central American history, but also how to rank this activity on Banks' list of approaches.
In the debrief, the general agreement was that despite the fact that it was highly interactive and relevant, it would only rank as "Contributions" if done as a stand-alone lesson. Adding an elective course on Central American history or literature would move the ranking up to "Additive." Infusing Central American history and literature in the required history and literature courses would be "Transformative." Adding the engagement of students in social action about the Central American refugee crisis or the lack of representation of Central Americans in the curriculum would bring this to level four, "Social Action."
Quiet Time to Read
Knowing how busy everyone would be when they left the workshop and went home, a short but dedicated time was built in for participants to read their new book.
Five core articles from Beyond Heroes and Holidays were suggested, however participants could read whatever caught their interest. The suggestions were:
Anti-Racist Education: Pulling Together to Close the Gaps (page 3)
Language Diversity and Learning (page 154)
Redefining the Norm: Early Childhood Anti-Bias Strategies (page 198)
The Institutionalization of Racism (page 241)
Where I'm From: Inviting Student Lives into the Classroom (page 392)
Feedback
The overwhelming response in the closing evaluations was that people learned a lot but wanted more time and a slower pace. Here are a few of the comments:
This workshop left me thinking about how I can change. I'd like a part two. Thanks for the book.
I loved the framework to examine where we are and where we need to go.
I am leaving with ideas and eager to implement them in my classroom.
Thought-provoking content and engaging instruction.
We at Teaching for Change appreciated the opportunity to collaborate with the leadership and staff of Alexandria City Public Schools in their quest to go "beyond heroes and holidays."
Posted: November 30, 2015