Bob Moses and Taylor Branch in Conversation About the Freedom Movement
Two Events on Wednesday, November 6, 2013
Busboys and Poets (14th and V Streets NW)
5-7 PM Moving Beyond the Achievement Gap: Establishing a universal right to vote and quality public school education as a constitutional right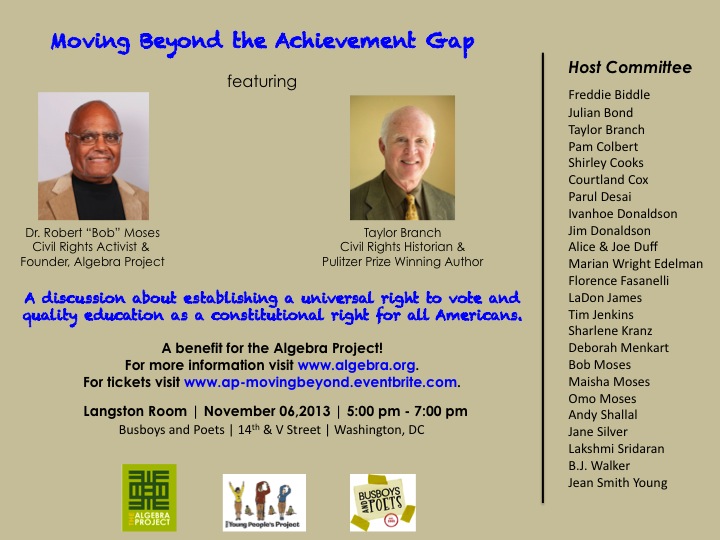 Attendees will enjoy a reception and a presentation by Bob Moses and Taylor Branch. The evening will feature a short talk by Bob and Taylor regarding their views the ongoing struggle for constitutional personhood for children and adults in the U.S.A., followed by Q&A, hosted by B. J. Walker of the Algebra Project Board and Albert Sykes of the Young People's Project.
This event is a special benefit for the Algebra Project.
The suggested donation is $35 for an individual, $60 for two people, and $15 for students. Reserve tickets here.
For more information, contact Ben Moynihan at the Algebra Project.
7:30-8:45 PM Talk and Book Signing by Bob Moses and Taylor Branch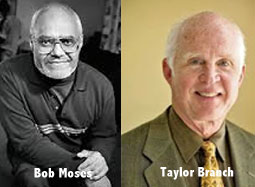 As part of Teaching for Change's "Ask Me About 1963: Beyond I Have a Dream" campaign, we will co-host a conversation with Bob Moses and Taylor Branch about their books and the Freedom Movement of 1963 and 1964.
In his young adult life, Bob Moses was a pivotal organizer for the civil rights movement as field secretary for the Student Non-Violent Coordinating Committee (SNCC), and was director of SNCC's Mississippi Project. Currently Moses runs the Algebra Project, based on the belief that mathematics literacy is key to educational access and citizenship today. Together with Danny Glover, Moses and others launched a national discussion calling for an amendment to the U.S. Constitution for Quality Public School Education as a Civil Right.
Bob Moses and Taylor Branch will discuss Branch's latest book, The King Years: Historic Moments in the Civil Rights Movement, written for young adults.
Branch has identified eighteen essential moments from the Civil Rights Movement, and providing selections from his trilogy, has placed each moment in historical context with a newly written introduction.
Free and open to the public.
Posted: September 19, 2013