Our Publications
To fill a void found in traditional curricula, Teaching for Change has published several books and DVDs. All are available for sale at SocialJusticeBooks.org.

A Practical Guide to K-12 Multicultural, Anti-Racist Education and Staff Development
Beyond Heroes and Holidays is an interdisciplinary guide for teachers, administrators, students, and parents. Through lessons and readings, we share examples of how educators, staff, students, and parents can work together to transform the curriculum, rather than simply adding to current frameworks. We also go beyond the classroom to address issues such as tracking, parent/school relations, and language policies. There are readings and activities for pre- and in-service staff development. Read more.
A Resource Guide for Classrooms and Communities
As one of the most commonly taught stories of people's struggles for social justice, the Civil Rights Movement has the capacity to help students develop a critical analysis of United States history and strategies for change. However, the empowering potential is often lost in a trivial pursuit of names and dates. Putting the Movement Back into Civil Rights Teaching, published by Teaching for Change and PRRAC, provides lessons and articles for K-12 educators on how to go beyond a heroes approach to the Civil Rights Movement.
The book includes interactive and interdisciplinary lessons, readings, writings, photographs, graphics, and interviews, with sections on education, labor, citizenship, culture, and reflections on teaching about the Civil Rights Movement. Read more.
Teaching the Caribbean Experience
The Caribbean has been a major source of immigrants to the United States and Canada for over a century. The past three decades have seen a further surge in Caribbean immigration, so that the region is now the leading source of legal migrants to a number of U.S. cities and states. People of Caribbean origin are an economic and cultural force in such cities as New York, Hartford, Boston, Chicago, Miami, Toronto and Montreal, and in many smaller cities and towns as well.
Despite this pervasive presence, most Caribbean communities have been, at best, invisible to the mainstream culture, noticed only on such occasions as Carnival or the Puerto Rican parade. At worst, they are subject to the negative stereotyping and scapegoating of immigrants that is gathering force across the country. Read more.
Between Families and Schools: Creating Meaningful Relationships
Teaching for Change is pleased to announce a new edition of Between Families and Schools: Building Meaningful Relationships, available for digital download. The publication addresses two key questions facing schools today: "How do we get more parents involved in our schools?" and "How do we enhance collaboration and communication between parents and teachers?"
Between Families and Schools is based on the findings of an action research project on family engagement, complete with stories, suggested actions, and questions to investigate within school communities. Read more.
Films
 Booklets and PDF Downloads
Teaching for Change is the lead distributor for: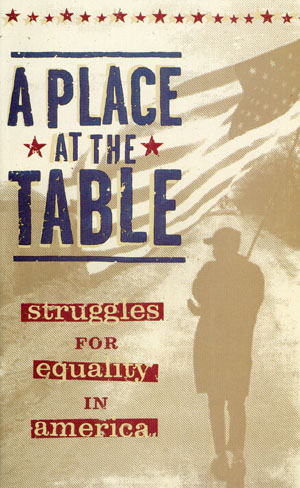 A Place at the Table
Struggles for Equality in America

Scarves of Many Colors
Muslim Women and the Veil