Caribbean Connections: Puerto Rico
Caribbean Connections: Puerto Rico introduces students to the history, economy, environment, and culture of Puerto Rico through essays, poetry, and fiction.
The second edition of our book Caribbean Connections: Puerto Rico has been out of print since 2006. In light of the crisis on the island after Hurricane Maria, we have redesigned and placed the book online for free download by classroom teachers. We hope it helps fill the gap in the curriculum and the silence in the media about Puerto Rico. With only a few exceptions, please keep mind that it has not been updated since 2006.
We recommend the readings at #PRsyllabus and programs on Democracy Now for current news. In addition, Dr. Marilisa Jimenez Garcia has prepared an invaluable supplemental resource list called "Puerto Rican Children's Literature for Social Justice: A Bibliography for Educators." At Social Justice Books there is a list of recommended books about Puerto Rico and a list of films and organizations.
Please make a donation so that we can produce an updated edition of Caribbean Connections: Puerto Rico that reflects the developments of the last decade. A team of professors and classroom teachers is already working on contemporary lessons and readings for an updated edition. We will post the new resources online as they become available.
In addition to support for the book, we encourage direct support for people in Puerto Rico. Here are recommendations: "Puerto Rico Still Needs Our Help. Here's What You Can Do."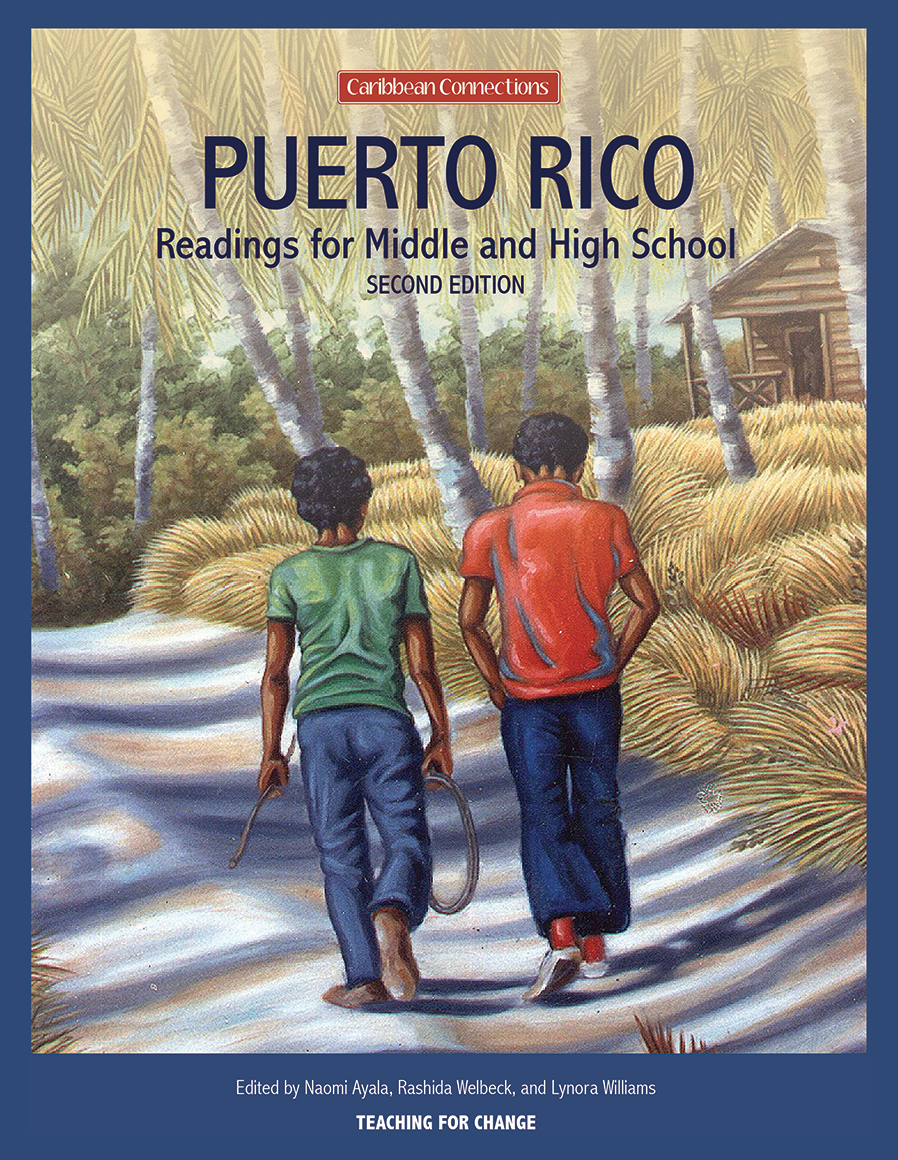 New Lesson:
We have just posted "Teaching about the Taínos, Columbus, and Indigenous Peoples' Day in a Middle School English Language Learners Classroom" by Alicia Lopez. This is an advance copy of the lesson that will be in the new edition of Caribbean Connections: Puerto Rico. Please let us know if you use it.
Table of Contents
Acknowledgements
Introduction
Part 1: History and Geography
Puerto Rico at a Glance
A Brief History of Puerto Rico
Important Dates in Puerto Rican History
The Death of Salcedo/La muerte de Salcedo
Carabali/Carabalí
Part 2: Identity
Introduction
Child of the Americas
Borincan Lament/Lamento Borincano
Black and Latino
Arturo Alfonso: Our Forgotten Scholar
Our Mother's Struggle Has Shown Us the Way
Quinceañera
A Warrior Am I
In the Shade of the Níspero Tree
The Puerto Rican Coquí
In My Old San Juan/En la calle San Sebastián
Part 3: Government, Economy and Civic Life
Introduction
Political Status: Three Perspectives

Colonialism Denies Our Rights
Commonwealth, A Middle Ground
Statehood Would Mean a Better Future

The Economy of Puerto Rico
A Lead Box That Couldn't Be Opened
Part 4: Land and Environment
Introduction
The Bees Are Back!
Doña Licha's Island
Purita Gil Pérez Fights for Clean Air
Ocean Venture
Vieques Chronology
Community Fights for Its Land
My Experience in Vieques
Vieques: Victories and Challenges
Part 5: Culture and Traditions
Introduction
The Puerto Rican Vejigante
Customs and Traditions of the Tabaqueros
Coca-Cola and Coco Frío
Dulce De Naranja
Bomba
Danza
Bumbún and The Beginnings of La Plena
Plena is Work, Plena is Song/Plena, Canto, y Trabajo
Salsa: The Past, Present, and Future