Additional Teaching for Change Titles
Books, Booklets, and PDF Downloads
Collective Memory: The African Presence in Latin America
Download PDF:
Part 1
(8 MB) |
Part 2
(8 MB).
1993. 15 pages.
A brief study guide with a the focus on the "maroons," those Africans who escaped slavery and established independent communities within colonial Latin America. The specific study is of the history and culture of Esmeraldas, a province in northwestern Ecuador where African traditions can still be seen and felt. The publication was created to coincide with the March-April 1993 U.S. tour of Juan Garcia Salazar, an Afro-Ecuadorian who collects and studies oral poetry, myths, rituals, folk medicine, music and household artifacts of Afro-Ecuadorian communities. One short story from Ecuador in both Spanish and English is included.

Inside the Volcano: A Curriculum on Nicaragua
Download PDF
(14 MB).
Edited by Bill Bigelow and Jeff Edmundson
1990. 130 pages.
This teaching guide includes lessons on land distribution in Nicaragua before the revolution, the Sandinistas, the involvement of the United States, the literacy campaign, Ben Linder, and the Honduran connection."Bigelow and Edmundson have provided an excellent tool for teaching about Nicaragua and Central America in general.
Inside the Volcano
gives teachers and students a historical context for current events." — Tom Mooney, former president of the Cincinnati Federation of Teachers, AFT
Of Secret Wars and Roses/De las guerras secretas y las rosas
Download PDF:
Part 1
(11 MB) |
Part 2
(8 MB) |
Part 3
(7 MB) |
Part 4
(10 MB).
By Dinorah Sandoval
1990. 64 pages.
Short story and study guide for secondary social studies, English, Spanish and advanced ESL classes.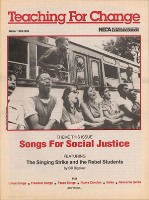 Songs for Social Justice
1992. 32 pages.
Song lyrics (some in Spanish) with annotations, teaching ideas and resource guide to help use songs in an interdisciplinary approach to history, language arts and music.
Wilfredo: A Boy from El Salvador
Download PDF
.
1991. 50 pages.
Original edition by the Los Angeles Teachers' Committee on Central America. Adapted from
Got Me a Story To Tell
, edited by Sylvia Yee and Kisa Kokin, 1977. This edition was published by Teaching for Change.
Films and Posters
Anti-Bias Curriculum Film
1990. 30 min.
This film, produced as a companion to the
Anti-Bias Curriculum
book, now
Anti-Bias Education
, includes interviews with educators about themes addressed in the book, and scenes from the classroom of anti-bias education in action. Although the classroom scenes were filmed in the late 1980s, they still provide very useful examples for professional development, reflection, and dialogue.
Watch now
.
Equity in Early Childhood Education Film
2006. 26 min.
Three Washington, D.C. teachers demonstrate how they promote equity and literacy through shared reading, literacy choice time, portfolio development, music and songs, mobile alphabet, letter and sound recognition, child autobiographical book development, and more.
Buy now
.
Teaching About the Montgomery Bus Boycott Film
2006. 15 min.
First grade teacher Maggie Nolan Donovan (SNCC veteran) introduces her students to the desegregation of the buses, placing Rosa Parks in the context of the larger community efforts. The lesson involves families, promotes literacy, and culminates with a student-authored play. It is one of the best examples on film of how to teach a people's history of the Civil Rights Movement to young children. Filmed at Ezra H. Baker Elementary School, West Dennis, Massachusetts. Production by David Hopwood. Funded by LEARN, a federally funded PT3 Project.
Watch now
.
Rethinking Columbus Powerpoint (temporarily out of print)
By Bill Bigelow.
2000. 54 slides + 10 pp. script.
This PowerPoint and script provide a critique of the story of the "discovery of America" as it is told in children's literature and textbooks. This PowerPoint is ideal for workshops for teachers or students on critiquing bias in textbooks and literature. The DVD contains 54 images in a PowerPoint format, and a ten page printable guide.
Teaching for Change is the lead distributor for: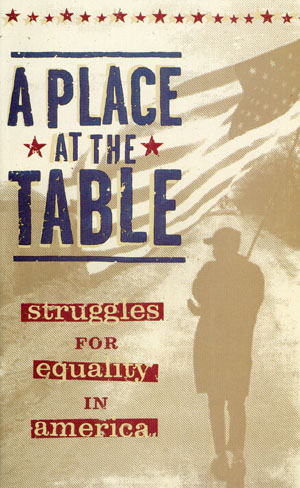 A Place at the Table: Struggles for Equality in America
Published by Teaching Tolerance.
2000. 48 pages.
The student textbook examines the courageous efforts of some "unsung heroes" who toppled barriers in education, voting, employment, housing, and other areas to participate more fully in democracy.
The book contains stories of women and men who crossed ethnic, racial, religious, and other divides to help further the cause of justice.
Receive a copy of A Place at the Table with a donation of $10 or more to Teaching for Change.
Get Real Comics – Set of 4
Available for sale on our webstore
.
The
Get Real Comics
is an ad-free, award-winning series that helps kids 8-14 explore issues such as gender, sexuality, self-esteem, race, violence, friendship, and family.
Available for sale as individual set of 4 or class sets of 25. Read more.

Scarves of Many Colors: Muslim Women and the Veil (CD and Booklet)
By Bigelow, Bill, Childs, Sandra, Diamond, Norm, Dickerson, Diana, Jan Haaken
54 pages and 24 min.
This award-winning CD and an accompanying curriculum engage students in thinking critically about stereotypes of "covered" Islamic women. The audiotape introduces a range of U.S. and Middle Eastern women who tell stories and offer insight.
The curriculum offers four classroom-tested lessons, including an excellent role play/tribunal on "Women and the Veil," with accompanying student handouts. Ideal for Global Studies, psychology, sociology, women's studies, world history, or teacher education.
Unfortunately, this title is out of print.