Bookstore
Multicultural and social justice books for all ages.
From 2005 to April, 2015, Teaching for Change operated one of the best brick and mortar multicultural bookstores on the East Coast at Busboys and Poets (14th & V). For ten years, Teaching for Change drew on its experience in multicultural literature for the classroom and its wide network of people in the D.C. metro area to establish a successful indie bookstore that received widespread praise from teachers, parents, authors, and community members for its carefully curated collection. As Perseus Books Group representative Eric Stragar explained:
The Teaching for Change Bookstore at Busboys and Poets plays a unique and vital role as the only provider of such a strong collection of multicultural and social justice books in virtually the entire East Coast and it is really the only one of its kind in the greater bookstore community.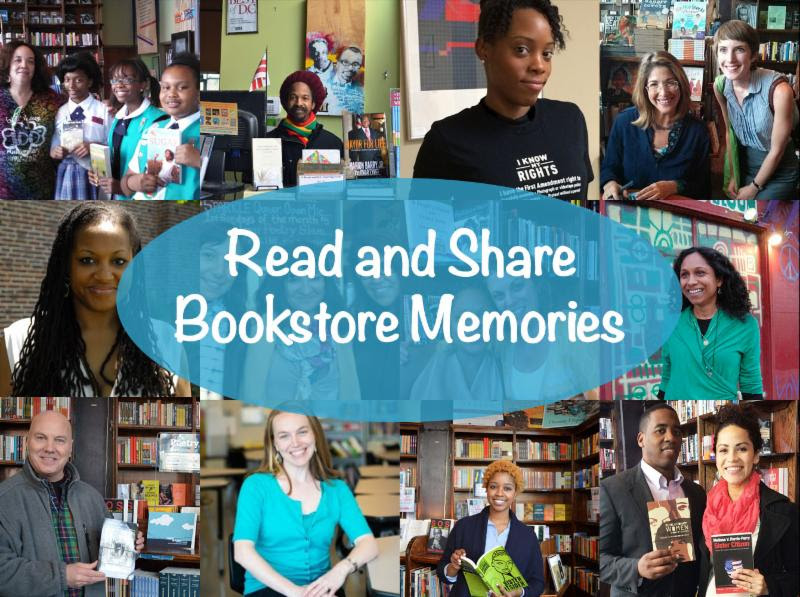 Teaching for Change executive director Deborah Menkart explained the decision to close the bookstore:
As our national teacher and parent programs expand and the Busboys and Poets locations increase with new partner Politics and Prose, we decided it was time to pass on the operations of the bookstore at 14th & V. This was a very difficult decision, but it is necessary for Teaching for Change to continue to grow. We are proud of the role we have played in building a destination progressive bookstore in D.C. This is not a goodbye. We hope to collaborate with Busboys and Poets and Politics and Prose on author events. We will also continue to review and recommend books for key themes in the classroom and current events through our Social Justice Books website.
In ten years of operation, there was one major critic of the bookstore. Rush Limbaugh devoted a show in 2014 to tell his listeners that the Teaching for Change Bookstore was racist because it prioritizes children's books by or about people of color and refused to carry his children's titles in the bookstore. In a time when fewer than 10% of children's books published are by or about people of color, close to 9 out of 10 the children's books sold by Teaching for Change at Busboys and Poets (14&V) are by or about people of color. As elementary school teacher and children's book author Paula Young Shelton said, "If Rush Limbaugh is mad then you must be doing something very right!"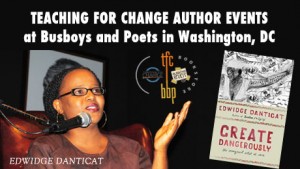 Teaching for Change also played a central role in scheduling, coordinating co-sponsorships, promoting, and hosting nearly 600 events with authors including Simeon Booker, Octavia Butler, Charles Cobb Jr., Edwidge Danticat, Junot Diaz, Lisa Delpit, Bill Fletcher Jr., Eloise Greenfield, Natalie Hopkinson, Clarence Lusane, Bob Moses, George Pelecanos, Barbara Ransby,  John Sayles, Paula Young Shelton, Shirley Sherrod, Ronald Takaki, Howard Zinn, and countless more.  View our author event photo gallery. The authors, attendees, and co-sponsors became part of the growing Busboys and Poets community.
"Teaching for Change has played a key role in shaping Busboys and Poets' identity as a venue for cutting edge ideas, progressive literature, and thoughtful conversations with authors and community members," explains founder and owner Andy Shallal.
Bookstore Press and Videos
Teaching for Change's Bookstore through the Eyes of a Backpack Journalist. 

| | |
| --- | --- |
| | Shelf-Awareness featured Teaching for Change's Bookstore in a full-length article. Read more. |
| | Front Porch interviewed our Bookstore Manager. Read more. |
| | A number of people wrote to the Washington City Paper in response to statements about our bookstore. Here are their comments. |
Social Justice Books
We continue to review and recommend children's books to ensure access to: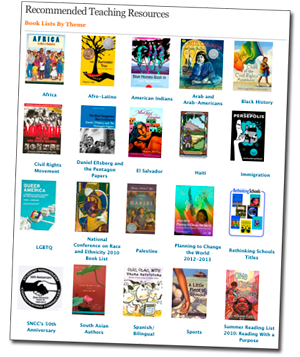 High-quality progressive politics, poetry and literature
Young adult fiction with real-world themes
Multicultural titles for pre-K-12 teachers and parents
Independent publishers
Works detailing a "people's history" – including that of African Americans, Latinos/as, Asian Americans, Arab Americans, Native Americans, labor activists, international populations, and women.
View our selection of new books and recommended resources online.
Support Independent Bookstores and Public Libraries
The survival of independent bookstores and related author events requires an engaged, local-loving customer base. Boycott Amazon. Read more.