Bringing Parents Back to the Table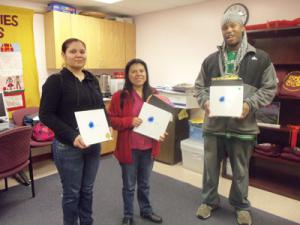 "I feel more confident because of the Tellin' Stories meetings – I can approach the principal and the teachers… What I didn't do when my other children were in school, I'm doing now," says Olga Salazar, a parent from Thomson Elementary (DCPS) in Washington, DC.
Using Teaching for Change's unique approach to family engagement, Thomson has seen more parents participating this year than in recent memory. Parents volunteer in the classrooms, meet regularly with the principal to discuss academics, assist with meals, help in the library, and read books to students in classrooms.
Interim principal Carmen Shepherd noted that, "Parents feel more welcome and involved in the life of the school on a daily basis." In the past, many parents viewed the school as an unwelcoming place.
Thomson Elementary is the latest school to partner with the Tellin' Stories Project of Teaching for Change, and parents are more than excited about reconnecting with the school.
More than 170 parents attended Thomson's Back to School Night in September, which was redesigned this year with the help of Tellin' Stories parent organizers. Dozens of parents attended the Welcome Back Breakfast in September and the academic-based workshops held since then. More than 100 students' parents came to grade level parent-teacher meetings in March to discuss student progress and the upcoming DC CAS tests. Mrs. Shepherd noted the help from Tellin' Stories in building relationships with parents to get them to come to the school "has been a huge step in the right direction."
The Tellin' Stories approach begins with community building as the basis for meaningful parent engagement. Parents at Thomson participated in the signature story quilting series in the fall semester and have continued to engage with the school.
The Tellin' Stories Project at Thomson Elementary is funded in part through generous grants from the DC Children and Youth Investment Trust Corporation, the Mayor's Office on Latino Affairs, from The Morris and Gwendolyn Cafritz Foundation, and an anonymous foundation.