Introduction to Caribbean Connections: Puerto Rico – Third Edition
By Dr. Marilisa Jiménez García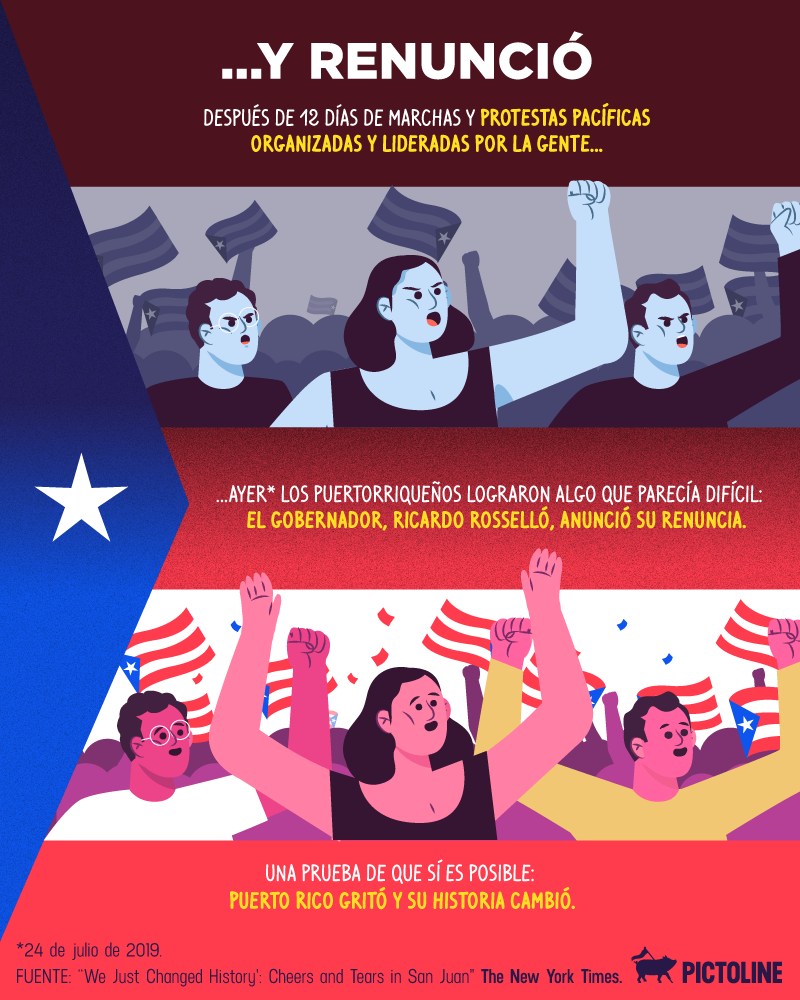 En Julio del 2019—todo cambió. For 12 days, Puerto Ricans from every political party took to the streets through the archipelago calling for the resignation of Governor Ricardo Rosselló. Published by the Centro de Periodismo Investigativo, a series of chats between himself and major figures in his cabinet—riddled with abusive language about Puerto Rico's most vulnerable communities and underlining fraud of federal recovery funds—exposed a chain of corruption. Other members of the Rosselló administration including the Secretary of Education, Julia Keleher, and Secretary of Health, Ángela Ávila-Marrero, were also arrested in early July 2019  for charges of federal fraud. Keleher's policies for privatization led to the closing of over 40 percent of Puerto Rico's schools.
On July 24, 2019, Puerto Rican's protesting in front of governor's mansion, and throughout the world, rejoiced at Rosselló's announcement of his resignation. This was also the eve of the anniversary of the U.S. invasion of Puerto Rico, the Cerro Maravilla murders, and Puerto Rican Constitution. Rosselló is the first governor to resign in Puerto Rico's history of elected officials, and he did so under the cries of a Puerto Rican people who demanded government accountability and self-determination, among other things. Months later, on January 7, 2020, the south of Puerto Rico was rocked by a 6.4 earthquake, and ongoing aftershocks felt throughout the archipelago. Houses, schools, and landmarks collapsed. Many Puerto Ricans in the South continue sleeping in the streets for fear of houses collapsing and schools remain closed — many schools unable to house students safely. The very foundations of the Puerto Rican nation continue to shake as the people once again take to the streets demanding the canceling of the odious public debt, government accountability, the possible resignation of now Governor Wanda Vasquez, and new political solutions for Puerto Rico. It is in this context that the third edition of Caribbean Connections: Puerto Rico is released to educators.
I first learned about Teaching for Change's Caribbean Connections: Puerto Rico at the Free Minds, Free People (FMFP) conference in Baltimore in June 2016. I was looking for curriculum resources available for K-12 teachers on Latinx Studies and specifically Puerto Rico. As a researcher and teacher grounded in Puerto Rican Studies, I often find myself having to explain the history of Puerto Rico to colleagues in the various institutions where I have taught. Even after attending a Master's program, I never read a book by a Puerto Rican author until I began my doctoral program. At the University of Florida in 2009, I began my work on Puerto Rican literature for youth as a way of looking at how our histories were told through children's and young adult texts, given the lack of instruction on U.S. colonialism and imperialism in the U.S. public school system. In turn, I was also interested in how we told our stories, subverting the tropes and stereotypes prevalent in dominant culture. After meeting Deborah Menkart at the Teaching for Change resource table at FMFP, we began a conversation about the resources Teaching for Change had available for classroom teachers on Puerto Rico.
I began to think about the possibilities for expanding on an existing project which required updating—the past edition of this book. The first resource which came out of that meeting was the 2017 list of book recommendations titled, "Puerto Rican Children's Literature for Social Justice: A Bibliography for Educators," which was published on the in early September 2017. Little did anyone know that by late September 2017, Puerto Rico would suffer the aftermath of two Hurricanes, Irma and Maria. The list was shared by educators in this context, and I began receiving emails from educators and authors thanking me for sharing this work at such a critical moment. I also began looking for a group of scholars which could speak to the current issues in the field of Puerto Rican Studies as it intersects with K-12 instruction through critical essays and lessons.
As Ricardo Gabriel writes in his foreword, oftentimes, in our theorizing in academia, we forget the important roots of ethnic studies in the K-12 classroom. Moreover, I would also say academics outside of those in education, often neglect the intellectual space of K-12 classrooms—the exchange between teachers and students and the role of young people in creating their own curriculum materials and pedagogies—as ground zero for the formation and sustaining of social movements. In 1983, Asela Rodríguez de Laguna wrote in her preface to Literature and Society of the Puerto Rican People: A Syllabus for Secondary School that "very little has been done to create a strong curriculum in Puerto Rican literature at the high school level… Most efforts, however, have been limited to the social sciences, not the humanities. And while Puerto Rican history and culture have been relegated to schools with Bilingual Programs, specifically at the elementary level, Puerto Rican literature has been neglected at both the elementary and secondary level" (iii).
In the 21st century, the struggle to holistically include Puerto Rican stories and epistemologies in K-12 classrooms persists. Data and demographics remain important, but we need stories and faces to go with the numbers. One takeaway from the controversy over the death toll, which I emphasized in my panel participation at the 2018 Education Anew conference in San Juan on school privatization and disaster capitalization, is that Puerto Rican lives are not seen as counting dead or alive. This edition aims to give practical tools and classroom solutions for K-12 instructors, specifically middle and high school, as a way of putting theory to practice. Yet, we emphasize stories—stories from our classrooms, stories from those in Puerto Rico and those in the diaspora, stories from our young people. Wherever possible we have also drawn from our work with students.
The 2019 edition has been updated to reflect events in the recent decade, including economic and environmental, such as government bankruptcy in 2016, the appointment of Congressionally-appointed Federal Oversight Board, and the aftermath of Hurricanes Irma and Maria, and where possible, the recent earthquakes.
This new edition contains current readings and series of lessons created by educators on topics encompassing Puerto Rican history, environment, and conceptions of race. The idea of creating a group of lessons on Puerto Rico and social justice, which I affectionately refer to as "mini-lessons," was inspired by my research on Ernesto Galarza's creation of Mini-Libros. Galarza created a collection of books for young people written as a response to teacher demand for more resources for Chicano students in the late 1940s, during the early Chicano movement.
Like the mini-libros, the lessons are meant to provide accessible and critical classroom solutions for teachers working with students on Puerto Rican history and culture. Where possible, the lessons ask students to engage with contemporary popular culture and media as a means of working with history and critical theory on issues pertaining to Puerto Rico and its past and present diasporas.
How can we use our teaching to build bridges which help support and sustain social justice movements in Puerto Rico and its diaspora? How can we teach about U.S. colonialism and its continued influence on our communities and stories? Moreover, how can we teach about the history of Puerto Ricans "outside the textbook"? The third edition, including lessons and readings, was guided by certain criteria which I have gathered from years of research on Puerto Rican youth literature and culture. Stories and storytelling in Puerto Rican traditions often undergird a strong desire to foster critical literacy and activities—an understanding that so much more exists outside of the text. For example, some stories might lead us to question whose stories and bodies are left out of traditional history and literature. Through learning from the intellectual and creative lives of Puerto Rican authors and storytellers such as Pura Belpré and Nicholasa Mohr, I have gathered certain guiding principles for choosing texts and classroom materials to "Teach Puerto Rico." The principles also reflect the work of gathering anti-racist, anti-sexist, and anti-imperialist materials which might appear in both U.S. and Puerto Rican traditions. Though these principles are not meant to be a formula or monolith, teaching Puerto Rico involves:
Teaching collective and community histories as opposed to individual heroism—even more important in the context of the current people's movement which ousted the governor and continues fighting against austerity measures and colonial corruption.
Breaking stagnant stereotypes (even folkloric) and essentialist identity paradigms.
Choosing narratives with self-determined characters.
Centering Afro and Indigenous Boricua histories.
Teaching intellectual histories through stories that emphasize the intellectual contributions of Puerto Rican people.
Centering environmental issues and struggles as affecting everyday aspects of life
Teaching stories that focus on Puerto Rico today, so students grapple with living histories and literacies growing up in our communities today. For example, educators can teach all the different "texts" Puerto Rican's used to protest during the Summer of 2019, from trap to horseback riding to dance, each physical and written demonstration speaks to how today's critical literacies are elevated by our communities who are choosing texts and materials that don't talk down to our young people. Indeed, choosing texts that show the political, social, cultural, and intellectual engagement and influence of young people.
The materials in Caribbean Connections: Puerto Rico are principally designed for use by students in grades 9-12, but many can be used by students in lower grades, as well as by students in the college or community college setting. We are interested in building a strong pipeline of educational justice from K-12 into higher education. This new edition also adds the elements of lessons from educators working in the field.
---
Work Cited
Rodriguez de Laguna, A. (1983) "Preface." Literature and Society of the Puerto Rican People: A Syllabus for Secondary School. Rutgers, The State University of New Jersey, Newark: Images and Identities.
---
Marilisa Jiménez García is an interdisciplinary scholar specializing in Latino/a literature and culture. She is an assistant professor of English at Lehigh University and a member of the See What We See coalition. She has a Ph.D in English from the University of Florida and a M.A. in English and B.S. in Journalism from the University of Miami. She was born in Bayamon, Puerto Rico.
Marilisa's research on Latinx literature have appeared in Latino Studies, CENTRO: A Journal of Puerto Rican Studies, The Lion and the Unicorn, and Children's Literature. Her forthcoming book, Side by Side: U.S. Empire, Puerto Rico and the Roots of American Youth Literature and Culture (University Press of Mississippi) examines the history of colonialism in Puerto Rico through an analysis of youth literature and culture both in the archipelago and in the diaspora. Her dissertation on Puerto Rican children's literature won the 2012 Puerto Rican Studies Association. She is also a Cultivating New Voices Among Scholars of Color Fellowship recipient from the National Council for Teachers of English (NCTE).
Marilisa seeks to create pathways in her research between the multiple fields of Latinx Studies, Puerto Rican Studies, children's and young adult literature, comparative literature, and education. Her work with Teaching for Change seeks to bring together research and practical tools for classroom teachers advocating for social justice. She has worked as a classroom volunteer in Miami and New York City public schools and with The Children's Defense Fund Freedom School's book selection committee.
Marilisa was interviewed by Edwin Mayorga for USALA podcast on September 1, 2019.
| | |
| --- | --- |
| | This piece is from the upcoming third edition of Caribbean Connections: Puerto Rico, edited by Marilisa Jiménez García, which introduces students to the history, economy, environment, and culture of Puerto Rico through essays, poetry, and fiction. |
Posted: September 6, 2019