Carter Conference 2019: Teaching about the Beauty, Power, and Resistance of Black History
By Cierra Kaler-Jones
"The good news is…we know how to teach hard history. All we have to have is the courage to teach it." — Professor Hasan Jeffries
On July 26 and 27, more than 250 educators gathered in Columbia, Missouri at the 2019 Carter Center for K-12 Black History Education Conference to share strategies, resources, and lessons around the theme 400 Years and Counting: Teaching Slavery and its Afterlife. Conference host Dr. LaGarrett King opened by explaining that although teaching about enslavement is difficult, the aim of the conference is to help educators think about crafting curriculum and honing pedagogical strategies that 1) humanize enslaved Africans by teaching about the many ways they resisted, showed joy, and executed agency, 2) criticize the institution of slavery and those who yielded power that were both directly and indirectly involved in creating and continuing the dehumanizing act of slavery and 3) connect how the institution of slavery continues to pervade and plague society today.
Presenters shared an array of innovative, interactive activities and approaches to have deep and meaningful conversations with students about Black history. In a session on Histematics, the term Philadelphia educator and tutor Akil Parker uses to describe the merging of teaching Black history and mathematical concepts, Parker shared,
Histematics is my attempt to formalize and codify a different approach to both history and mathematics where a complementary relationship is created and where insurrection in one subject cannot exist without the other.
For example, Parker wrote a math equation on the board, where a significant number came out to be 1954. Parker uses significant numbers, like this one, to then have a discussion with students about key events related to that date, such as Brown v. Board of Education of Topeka. Parker strategically creates math problems to embed historical lessons into the answers.
"We don't always have to compartmentalize education. We can blur the lines between subjects." #Cartercon19 #TeachBlackHistory #Histematics pic.twitter.com/p0aATuACWI

— Cierra Kaler-Jones (@_cierrajade_) July 26, 2019
In another session on Teaching about Black Women Artist-Activists through Picture Books for Children and Youth, Christina King refuted the dominant narrative that's often taught in school that highlights just a few Black women in Black history. There are many Black women who forged paths of expression, resistance, and joy through art. King asked,
Where are the Black women artists when we teach about Black history?
She showcased numerous books, including Ella Fitzgerald: The Tale of a Vocal Virtuosa and The Legendary Miss Lena Horne as examples of children's literature that can be used in the classroom to highlight varied stories of Black women in an array of fields, namely the arts.
Many of the presentations focused on race and representation in the curriculum. Teaching for Change's executive director Deborah Menkart presented two sessions at the conference. The first engaged participants in the Resistance 101 lesson, where students are able to "meet" activists throughout United States history and current activists through a mixer. Students step into the role of the activist and then have conversations with others to learn more about how they may be similar or different. Some of the figures include Bree Newsome, Paul Robeson, Audre Lorde, Mary Beth Tinker, Linda Sarsour, Henry Highland Garnet, and Emma Tenayuca.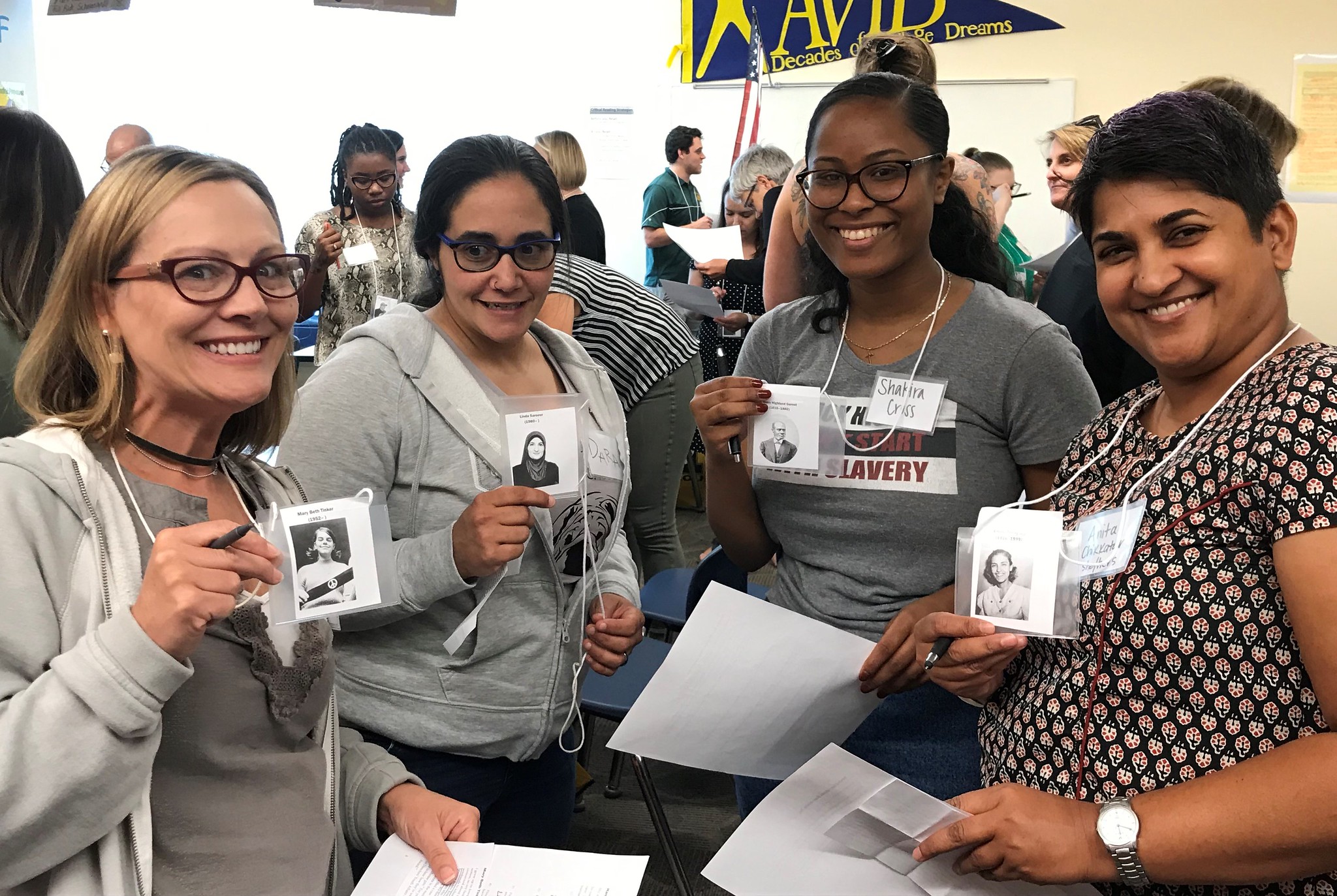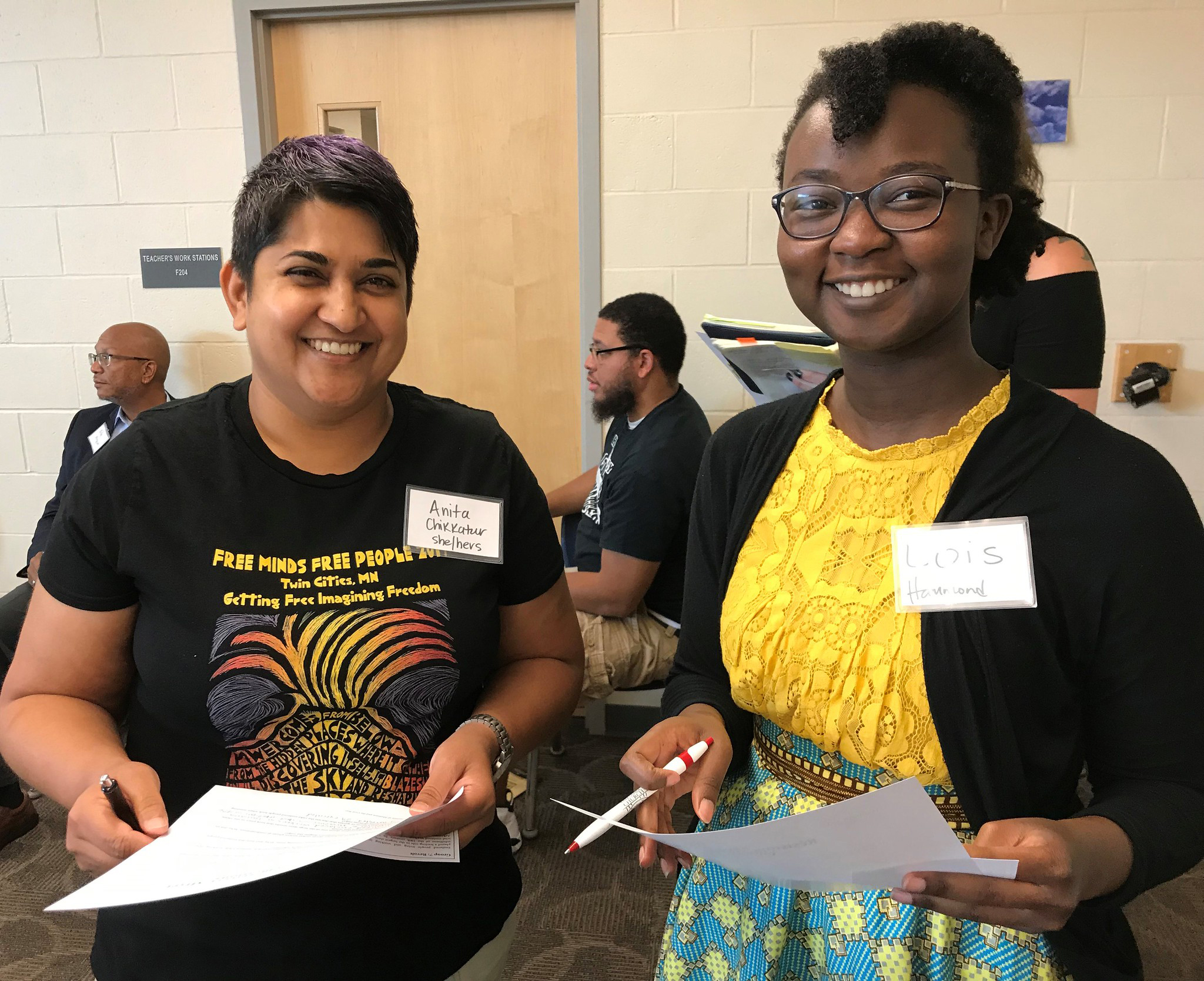 In her second session, Menkart shared a lesson that explores the history of Freedom Schools in Mississippi through primary documents and oral histories from the Civil Rights Teaching website. This lesson gives students and teachers an opportunity to explore and re-imagine the purpose and direction of public education today — an education that can be liberatory and centered on social justice. She also showed a preview of a documentary film by Catherine Murphy on Freedom Schools.
In another session, Adam Sanchez of Rethinking Schools shared the Poetry of Defiance lesson he wrote, which introduces students to the many ways that enslaved people resisted, countering the narrative that often depicts enslaved people as either compliant or content. At the end of the lesson, participants wrote a powerful, collective poem that reframed the deficit narrative and instead made resistance visible.
Dr. Ebony Elizabeth Thomas gave a moving presentation on her book, The Dark Fantastic: Race and the Imagination from Harry Potter to the Hunger Games. Thomas began with a critical examination of her own favorite books when she was a child, pausing to note that none of them included characters that looked like her.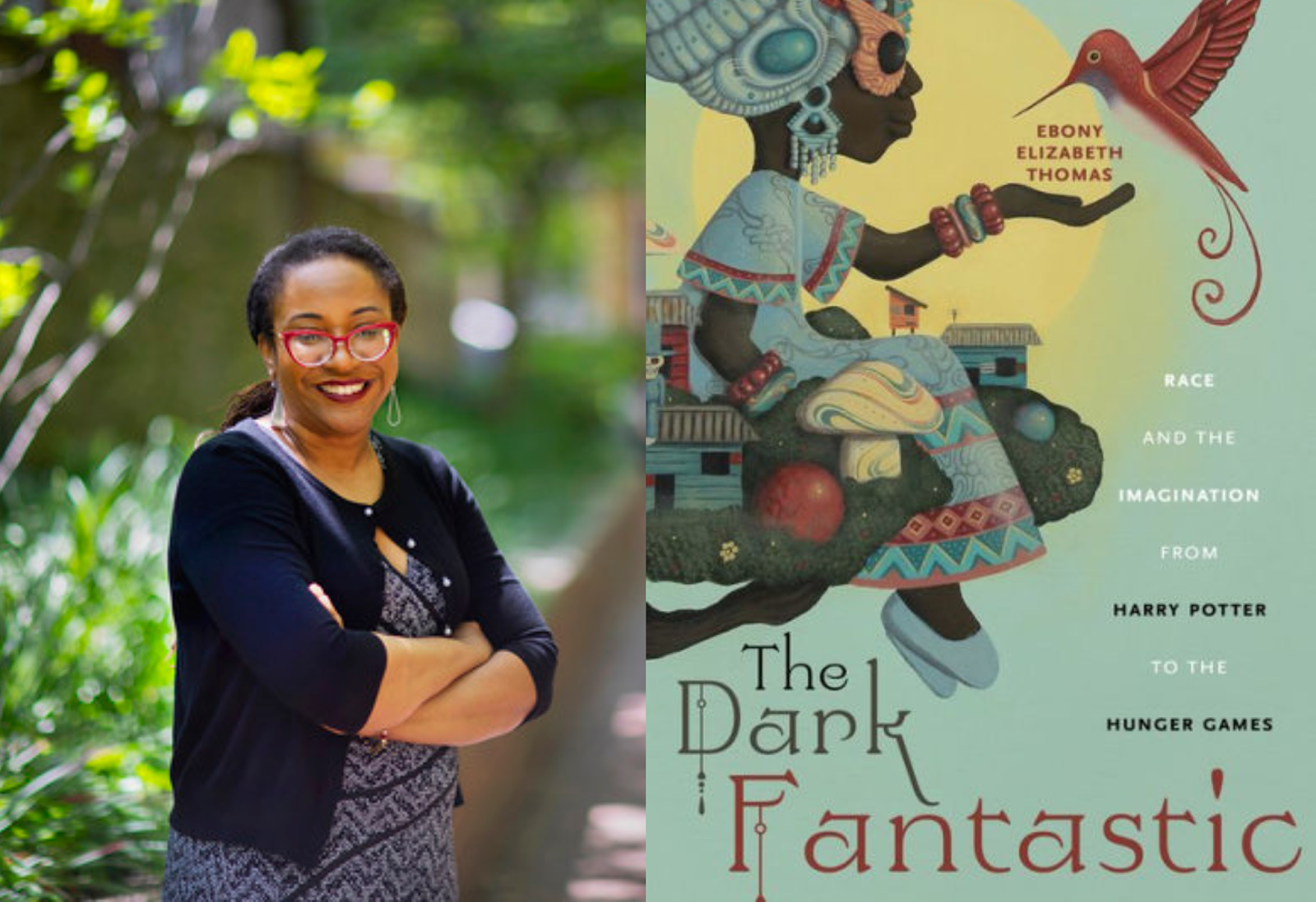 She explained when students do not see themselves reflected in the curriculum, it affects them in various ways, including causing them to internalize narratives that are a deficit or missing, a loss of self-esteem, and could even contribute to Black students rejecting reading altogether. She posed the question,
Are the conditions, themselves, equal enough for us to make conclusions about Black students' reading?
Further, she describes, in literature, specifically fiction, when the Black body shows up where it's not supposed to be, it's regarded as a spectacle and causes people to hesitate. The dilemma is most often resolved by enacting narrative violence against the Dark Other. Our imagined worlds then become reality or become a lens for how we view the world through the underlying messages taught in what we read and consume. In sum, this dehumanization of Black bodies teaches students that Black people, or characters, are only relegated to a few stereotypes and that violence maintains a social hierarchy. Thomas challenges,
Where is our children's place for escape?
This resounding question relates deeply to Professor Hassan Jeffries' presentation on Teaching Hard History During Hard Times. He told the story of what it was like to bring a group of undergraduate students to James Madison's Montpelier as a learning tool. As a strategy to teach hard history, he says,
One of the most powerful ways to get students to connect with the past is literally letting them hold history in their hands.
POWERFUL talk by @ProfJeffries at #CARTERCON19 on teaching hard history during hard times. Starts with description of trip with his students to historic site — President James Madison's Montpelier. A "slave labor camp" (typically called "plantation.") #teachoutsidetextbook pic.twitter.com/0kEAGOwMXE

— Zinn Ed Project (@ZinnEdProject) July 27, 2019
What's so profound about this particular experience is that when he toured the site before bringing students, he noted something jarring during his preliminary visit. He was invited to Montpelier to review how they taught Madison's history and difficult past. When he first arrived at Montpelier the tour guide encouraged him to feel the bricks in Madison's library, where the Bill of Rights was written. He quickly realized that his hand was too large to fit into the fingerprints. He reflected,
All the bricks were made by enslaved children — the children he claimed to have ownership over. You can put your hand into the fingerprints. The bricks serve as the foundation that houses the library in which the Bill of Rights was written. The fundamental aspect of our democracy literally rests on a foundation made by enslaved children.
Dr. Thomas' question echoes,
Where is our children's place for escape?
As educators across the country share strategies to teach Black history, this conference had a resounding message — that teaching students about Black history must include accurate, authentic, and affirming representations of Black resistance and joy while working to dismantle racist structures and narratives that continue to pervade society. Our teachings must encourage student's imaginations, enable them to see themselves reflected in the content, and give them a place to dream up and fight for a new reality, while not glancing over hard history so that it doesn't continue to repeat itself. As Jeffries remarked during his talk,
We're accused of being revisionists when were just trying to get back to the truth.
Photos from Day 2 of the Carter Center for K-12 Black History Education's #CARTERCON19 pic.twitter.com/J9MjOMtegZ

— Mizzou Education (@MizzouEducation) July 27, 2019
---
Cierra Kaler-Jones is the Education Anew Fellow with Communities for Just Schools Fund and Teaching for Change. She is also a Ph.D. student at the University of Maryland – College Park studying minority and urban education.