Child of the Civil Rights Movement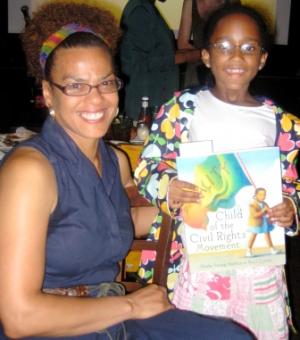 Paula Young Shelton, author of Child of the Civil Rights Movement, provided a dynamic reading of her book while projecting images of the gorgeous illustrations on the screen at Busboys and Poets on June 16, 2010. She interspersed the reading with suggestions about how to use the book to help children explore a variety of issues including fairness, discrimination, who is in our "village," race, geography, how to speak out, and more.
Maurice Sykes, executive director of the Early Childhood Leadership Institute at UDC, introduced the session as part of a series of events at Busboys and Poets on social justice in early childhood education. He referenced the guiding principles presented by Ann Pelo earlier this year from her book, Rethinking Early Childhood Education.
Following Paula Young Shelton's reading the audience asked questions about instructional issues and her experience writing the book. One parent said there was a debate at her child's school about at what age is it appropriate to introduce topics such as enslavement and the Civil Rights Movement. Paula responded, "A lot of people think that Civil Rights is too difficult of a concept for young children; it's not. They know what's fair and what's not fair. They get it."
Two elementary school aged girls asked the author a few questions – including how long it took her to write the book and whether she was nervous when she was presenting. Paula Young Shelton ended by saying that she hopes to produce another book, this one on the Poor People's Campaign.
The attendees thoroughly enjoyed the presentation, as indicated by the following comments:
"I loved the life she brought to her book reading and the approach she took with explaining a very complicated topic. I wish she could have been my teacher!" Heather Fluit, Truman Scholar, South Dakota
"I more than enjoyed Paula Young Shelton's reading of her children's book, Child of the Civil Rights Movement at Busboys and Poets. She is a dynamic reader, as great first grade teachers must be, and had young and old enthralled with her intimate memories of the experiences she and her sisters shared during the Civil Rights Movement. As she herself said, calling Martin Luther King Jr. "Uncle Martin" brings a personal face to a historical super-hero. She also did a great job of sharing and discussing ways of building curriculum around the Civil Rights Movement that goes beyond the marches and develops a consciousness of fairness and justice in very young children. It was a great evening." – Elizabeth Kenyon, Special Education teacher, DC
Photos by Heather Fluit.