Civil Rights Education Reform in Mississippi
Teaching for Change is honored to be working with partners in Mississippi on enhancing and deepening the approach to teaching and learning about the Civil Rights Movement, with a focus on local history. This is a statewide initiative with a current focus on historic McComb, Mississippi.
Background
The Mississippi Department of Education (MDE) announced the new United States history framework in August 2009 that integrates civil rights and human rights education into the K – 12 Mississippi social studies curriculum, as referenced by Senate Bill 2718.
The Department has engaged various partners to assist with teacher training and curriculum development for this new framework, including the Fannie Lou Hamer National Institute on Citizenship and Democracy at Jackson State University, the William Winter Institute for Racial Reconciliation at the University of Mississippi, and Teaching for Change , a national non-profit organization based in Washington, D.C. that specializes in K – 12 educational resources. The role of Teaching for Change in this partnership began with one-day teacher training workshops coordinated by the Mississippi Department of Education in various parts of the state. In addition, Teaching for Change is sharing lessons on civil rights and labor history and working to support their use in McComb, Miss.
Teaching for Change's work in McComb began in 2005 as part of a larger effort by the city, under Mayor Tommy Walman, and the school district to build bridges across racial lines, to promote dialogue, and to advance community relations. The school superintendent, Dr. Pat Cooper, asserted that part of the foundation for moving forward was an understanding of the city's civil rights and labor history.
The school district contracted with Teaching for Change to help weave lessons about civil rights and labor history into the curriculum, subject to final review and approval by the Mississippi Department of Education. Teaching for Change began by holding meetings with teachers, community members, and ministers. Each of these included people of all ages and races. Out of these sessions came the recommendation to focus on the areas listed below and to be sure that students had the opportunity to develop mutual understanding and skills in critical thinking, reading, writing, and problem-solving.
Current Work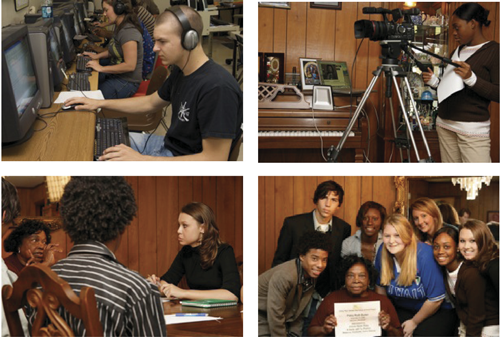 1. Students as historians – engaging students in the collection of local civil rights and labor oral history . The oral histories of elders, taped by McComb High School students, make a valuable contribution to the preservation and understanding of local history. They also promote intergenerational dialogue and provide students with a range of invaluable career skills such as filming, transcribing, researching, web design, public speaking, and documentation. The interviews will become part of a growing collection at the University of Southern Mississippi Center for Oral History and Cultural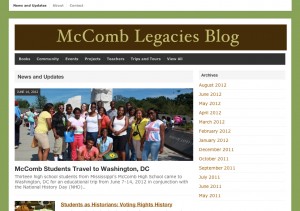 Heritage  and other archives. Excerpts can be used as teaching resources in various classes.
Students in McComb have already conducted a number of formal taped interviews with McComb elders, which can be viewed online . The students have consistently expressed the ir amazement at how much history they learned from the elders in their own home town. In turn, the elders have remarked on the professionalism and commitment of the young people. As the number of collected oral histories increases each year, students and elders will strengthen their community ties and continue to share important knowledge and resources.
2. Revision of the 8th grade U.S. history course. The teachers advocated for not just the addition of lessons on labor and civil rights history – but instead a full revision of the U.S. history course so that it would cover a wider span of history – from pre-Columbian to the 1970s with an emphasis on the role of ordinary women and men of all ages, races, and ethnicities in shaping history. Teaching for Change worked with the junior high school teachers to find and develop lessons that are interactive and hands-on, giving students a chance to practice skills of critical thinking, research, debate, and democratic engagement.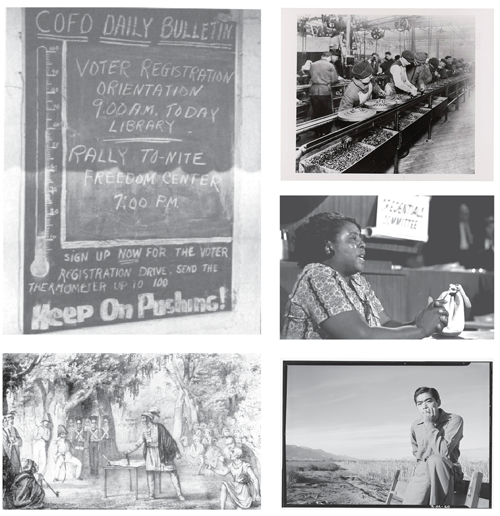 This approach allows students to see how major events and movements in history have affected ordinary people, shaping their values and their understanding of others. What factors, for instance, explain why a certain group believed and behaved as they did? What does this approach teach students about the need to understand, rather than rush to judge, their contemporaries?
While the course adds some lessons on the modern Civil Rights Movement (1954–1968), the entire context of the yearlong course is on the movements of all peoples for democracy and civil rights throughout the history of the United States, pre-Columbian through 1977. The course emphasizes the experiences of all the peoples of North America: people of color, women, and working-class whites, especially as told through the stories of their labor.
Teachers report that students are playing an active role in the pilot of the course, developing skills in reading, writing, speaking, debate, and analysis that will help them develop academically and as citizens.
3. Lessons for K–7 teachers . We have developed discrete, age-appropriate lessons aligned to the grade level themes and standards. For example, in Kindergarten there are recommended children's books on skin color and hair, in 2nd grade there is a lesson on the Montgomery Bus Boycott, and for 3rd grade there are lessons on how people have worked to protect the environment.
* * * * *
The lessons will be reviewed each year to determine which practices work best and what modifications are needed. Lessons developed in McComb will be available online for free for other districts to use or adapt to address the new U.S. history framework.
Teaching for Change has received support for this work from the W.K. Kellogg Foundation and from the  Southern Poverty Law Center .
* * * * *
For more information, contact Chauncey Spears , Office of Curriculum and Instruction, Mississippi Department of Education.
See October 8, 2009 news article in the Christian Science Monitor .