Freedom Movement Unsung Hero Clyde Kennard Honored on 50th Anniversary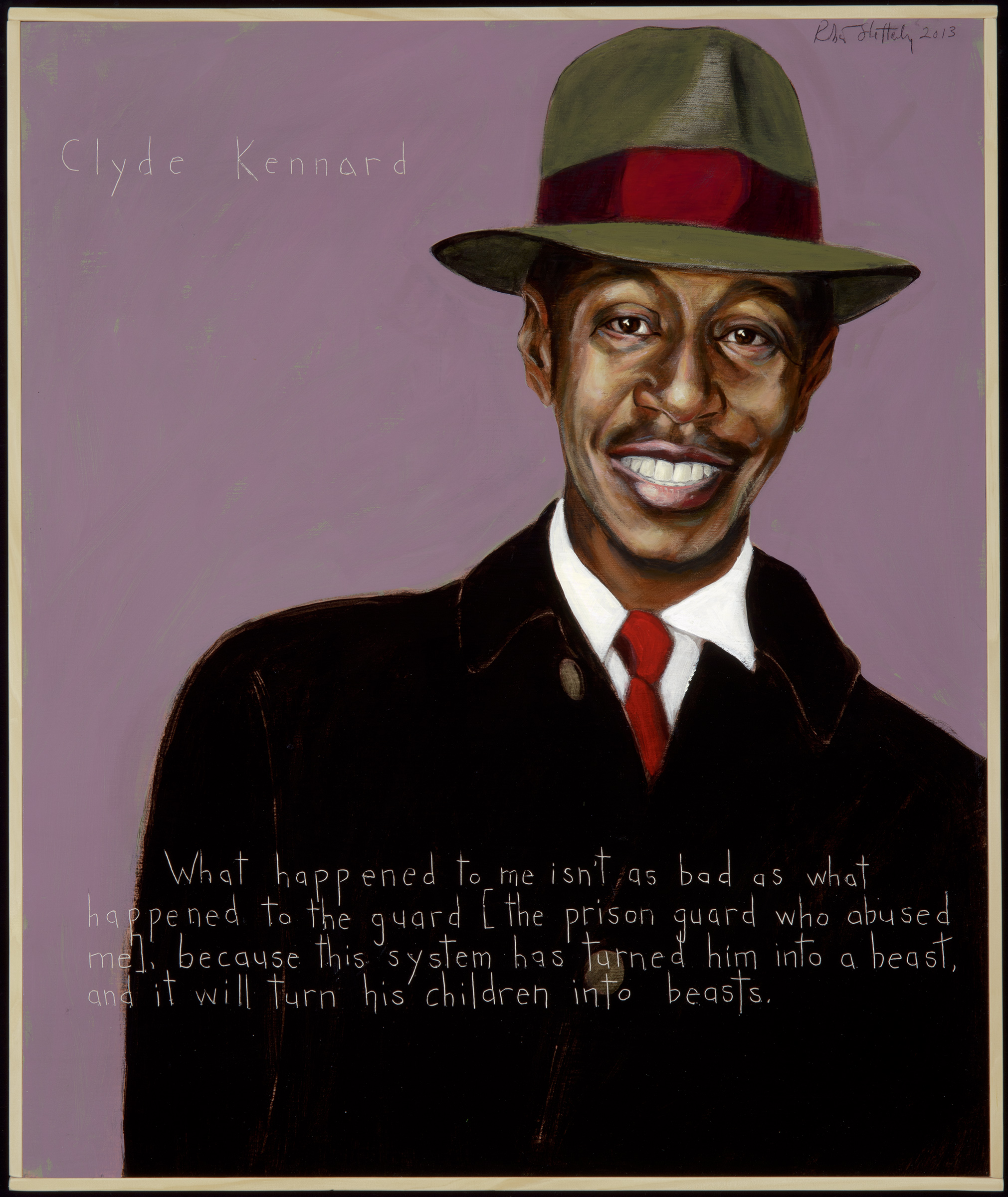 "Most basic to our beliefs about the race question in America today is that there can be no racial segregation without some racial discrimination, and that there cannot be a complete racial equalization without some racial integration.
"Now this principle is an easy one for us to follow, for it holds as true in human history, especially American History, as it does in logic. Reason tells us that two things, different in location, different in constitution, different in origin, and different in purpose cannot possibly be equal. History has verified this conclusion." – Clyde Kennard in letter to the editor of the Hattiesburg American, September 25, 1959
Korean War veteran Clyde Kennard wrote eloquent letters about the need for desegregation and his right to attend Mississippi Southern College (now the University of Southern Mississippi) in the 1950s. Instead of being admitted, the state of Mississippi framed him on criminal charges for a petty crime and sentenced him to seven years of hard labor at Parchman Penitentiary.
In response to a national campaign for his freedom, he was finally released as he was dying of cancer in January of 1963. Dick Gregory arranged for his trip to Chicago for medical care where he passed away less than six months later on July 4, 1963. Steven Drizin (Northwestern Law School) called the case "one of the saddest of the civil rights era because he was silenced by 'respectable' people – academics, politicians, lawyers, prosecutors, judges, businessmen – all acting under the 'color of law.'" Mississippi NAACP leader Medgar Evers declared, "Despite the overwhelming evidence in Clyde Kennard's favor, … the greatest mockery of justice took place …. In a court room of segregationists apparently resolved to put Kennard `legally away', the all-white jury found Kennard guilty as charged in only 10 minutes." [Quotes from article by Jerry Mitchell, read more here.]
Three Illinois high school students, their teacher,  the Center on Wrongful Convictions at Northwestern Law School, and journalist Jerry Mitchell dedicated years to finally getting Kennard's name cleared from the crime.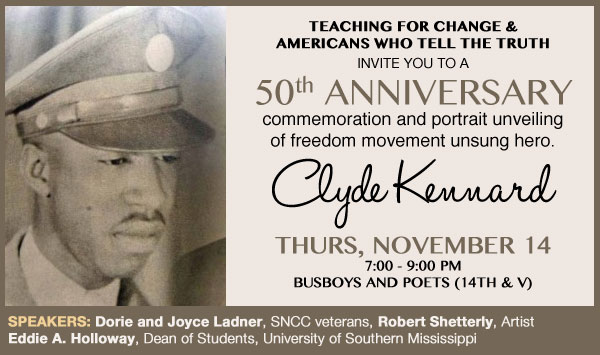 On this 50th anniversary, Teaching for Change co-hosted, with Americans Who Tell the Truth, an event to commemorate Kennard's life and legacy on November 14, 2013 at Busboys and Poets. The event  included presentations by special guests such as noted SNCC veterans Dorie and Joyce Ladner, activist comedian Dick Gregory, the Split This Rock DC Youth Slam Team, University of Southern Mississippi Dean of Students Eddie Holloway, and Khyla D. Craine from the NAACP.
The event also featured the unveiling of the portrait of Kennard by Robert Shetterly for the Americans Who Tell the Truth series. The Americans Who Tell the Truth series features hundreds of courageous truth tellers. As Shetterly explains, "I began painting this series of portraits after 9/11 as a way of to channel my anger and grief. In the process my respect and love for these people and their courage helped to transform that anger into hope and pride and allowed me to draw strength from this community of truth tellers, finding in them the courage, honesty, tolerance, generosity, wisdom and compassion that have made our country strong. One lesson that can be learned from all of these Americans is that the greatness of our country frequently depends not on the letter of the law, but the insistence of a single person that we adhere to the spirit of the law." Kennard's portrait joins other truth tellers from the southern freedom movement such as Ella Baker, Dick Gregory, Anne Braden, and John Lewis.
| | | | |
| --- | --- | --- | --- |
| Ella Baker. | Dick Gregory. | Anne Braden. | John Lewis. |