Equity and Family Engagement COVID-19 Resources – A Brief List
In a rejection of the term "social distancing," our colleague, Kwesi Rollins, of the Institute for Educational Leadership (IEL), recently stated that while we may have to be physically distant during this challenging time, it doesn't mean we can't and shouldn't remain socially connected.  Teaching for Change staff and social justice-minded educators across borders are also mindful that this is not a time to abandon equity as a guiding principle or strategy in our efforts to support students and families.
Here are some key resources that Teaching for Change staff recommend for educators and families adjusting to the abrupt switch to learning at home and engaging families from a distance: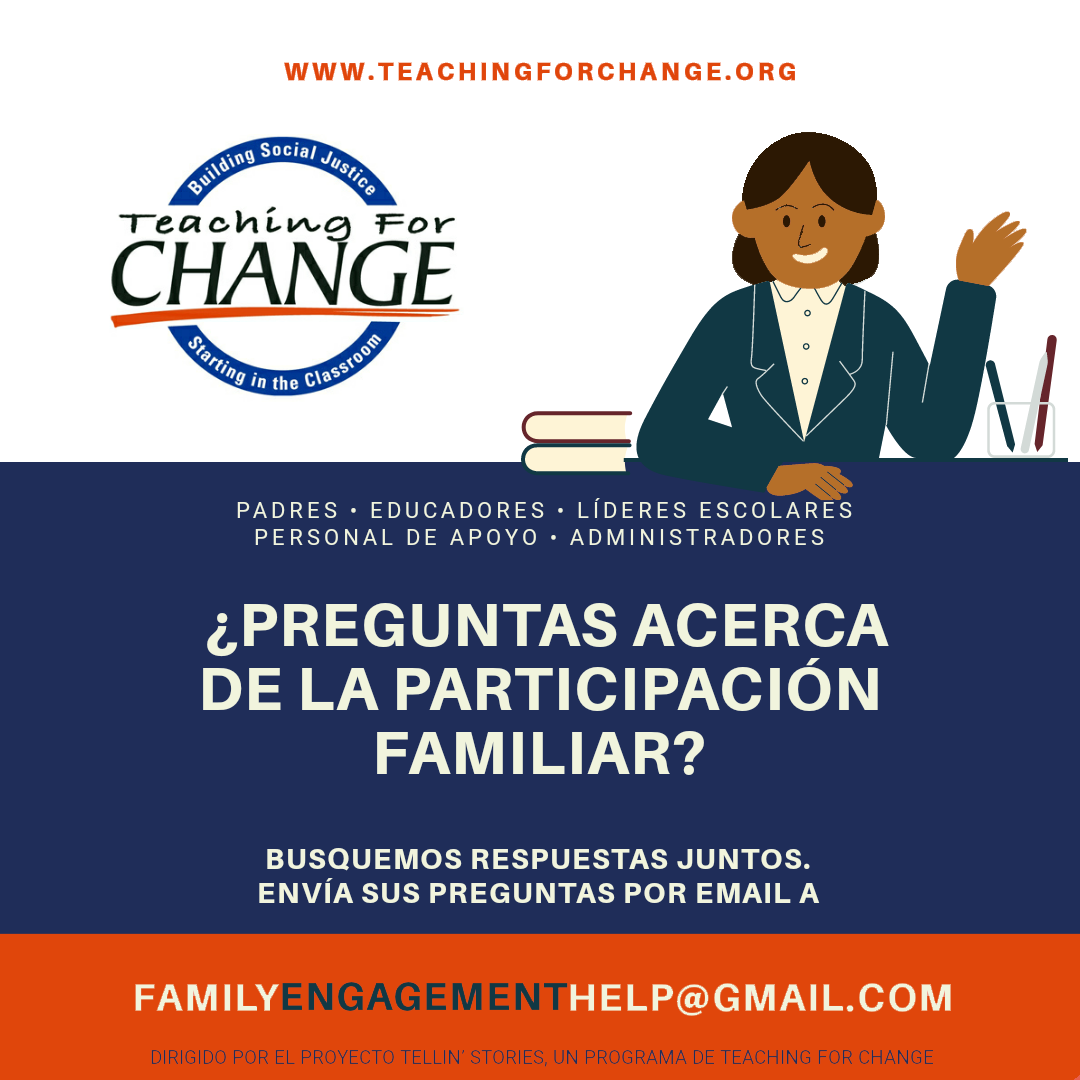 FamilyEngagementHelp@gmail.com: from Teaching for Change. Send us your questions and success stories to analyze and share. Our team regularly serves as thought partners for administrators and educators in DC Public Schools (DCPS). Let us help you think through your family engagement challenges.
Our school partners have been drawing on our approach to engage with families, including holding virtual Parent-Principal Chats with families.
Other principals have been hosting virtual pajama read alouds for their students, and looking for more ways to continue our signature activities of Roving Readers (parent-led multicultural read alouds) and Parent-Principal Chats.
Culturally Responsive-Sustaining Remote Education: from the Education Justice Research and Organizing Collaborative (EJ-ROC) of the NYU Metropolitan Center for Research on Equity and the Transformation of Schools. The page features guidance for educators who want to continue to center equity and culturally-responsive education in a remote learning environment, and remote learning/COVID-19 teaching resources as well. You can also find helpful family engagement resources on the site, such as guidance on a culturally-responsive approach to family engagement and tools for educators to listen to and learn from families, with sample calling scripts in English and Spanish.
Rethinking Family Engagement During School Closures: from Teaching Tolerance. Taking time to check assumptions about family engagement can make a huge difference in the lives of your students and their caregivers.
Institute for Educational Leadership (IEL) COVID-19 Resource Page: from our colleagues at IEL. Topics include access to basic needs, curriculum resources, resources for parents and caregivers, and more.
Teaching People's History in the Pandemic: from our Zinn Education Project (coordinated by Teaching for Change and Rethinking Schools). A list of student-friendly films, articles, lessons, podcasts, digital collections, and other resources for teaching people's history at home or via distance learning.
If you live in or work with families in Washington, D.C., please also take and share The People's Demands DC survey (available online in English and Spanish). Read more. Here are resources for distance learning for D.C. teachers and families.
The COVID-19 pandemic has made the deep inequities that have already existed in our education system all the more apparent. Now more than ever, we must ensure that our students and their families remain connected, supported, and heard.