Virtual Curriculum Fair: Black Lives Matter at School

On January 30, Teaching for Change and the Howard University School of Education co-hosted a virtual curriculum fair featuring workshops, keynote speakers, and time for educators to learn more about the
Black Lives Matter at School Week of Action
, taking place February 1-5, 2021.
Read about our 2020 and 2019 curriculum fairs.
The welcome, keynote, gallery hall instructions, and workshop sessions marked [ASL] had ASL interpretation.
---
Agenda Overview
11:00AM-11:30AM
11:30AM-11:45AM
11:50AM-12:35AM
12:45AM-1:20PM
1:20PM-1:30PM
Welcome and Keynote
Gallery Hall: Black Lives Matter in the Classroom
Workshop Session One (7 sessions)
Workshop Session Two (6 sessions)
Closing
---
Keynote Speakers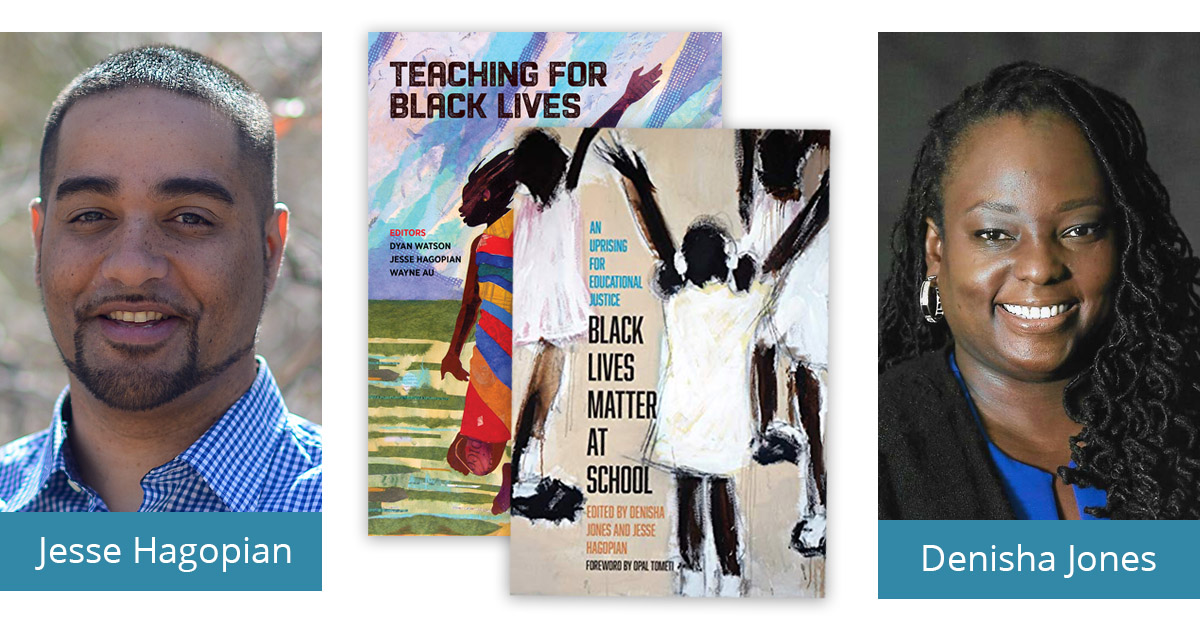 The keynote speakers for the curriculum fair are Jesse Hagopian and Denisha Jones, educators and editors of the new book, Black Lives Matter at School: An Uprising for Educational Justice. Jones and Hagopian are both members of the national Black Lives Matter at School steering committee. Jones is director of the Art of Teaching, graduate teacher education program, at Sarah Lawrence College, and previously worked as a kindergarten and preschool teacher, and a preschool director. Hagopian is a high school teacher, on the Zinn Education Project staff, and editor for Rethinking Schools magazine. He is the co-editor of Teaching for Black Lives and the editor of More Than a Score: The New Uprising Against High Stakes Testing.
---
Gallery Hall
View and comment on the gallery for the age group(s) you work with. There will be galleries for early childhood, elementary, middle school, high school, and adults/community organizations.
---
Workshop Session One
Teaching, Loving and Believing Black Girls [ASL]
All Ages
We will examine data from national research surrounding Black girls in classroom settings. We will offer strategies that can be implemented in the classroom to center Black girls' voices and the ways teachers can work to counteract biases and strengthen relationships.
Facilitated by Dr. Shari Berga, director of diversity and inclusion at Our Lady of Good Counsel High School in Olney, Maryland. Berga taught social studies in Prince George's County Public Schools for nine years.
Co-facilitated by Akailah Jenkins McIntyre, who has taught high school English and worked as a director of diversity and inclusion in the Baltimore and D.C. area. She is currently pursuing a PhD in Education Leadership.
Teaching about the Black Lives Matter 13 Guiding Principles in Early Childhood Classrooms
Early Childhood
Learn about how educators of preschool-aged children have incorporated the Black Lives Matter 13 guiding principles into the classroom. Explore resources including books and teaching ideas related to each principle using kid-friendly language.
Facilitated by Makai Kellogg, an anti-bias early childhood educator and equity and diversity coordinator at School for Friends in Washington, D.C. 
Resistance to Colonization through Reclamation of Culture and Community [ASL]
Elementary/Middle School
Fourth graders from Mundo Verde PCS will share their process for creating zines that incorporate historical fiction, informational writing and the arts to resist modern colonization. The process overview will include resources such as texts, videos, lessons and interviews of local DC organizers and resisters that can be incorporated into the classroom. The unit of study focuses on how modern and historical peoples — led primarily by Black and Indigenous people of color — have resisted colonization by reclaiming aspects of culture and community including language, food, land, music, movement, storytelling and spirituality/religion.
Facilitated by Dani McCormick, fourth grade teacher at Mundo Verde PCS and member of the Changemaker Collaborative's Educators for Equity, DC ACTS union, and Ward 1 mutual aid. 
Joy in Resistance: Teaching about Oppression with Hope and Inspiration [ASL]
Middle School/High School/Adult Education
Ida B. Wells Education Project educators will share pedagogical practices and resources to help social science educators encourage inspiration and efficacy in students when teaching about present day and historical oppression in ways that center Black humanity and empower students to challenge racism in their own lives. We will model classroom-tested activities and structure, sharing lessons from our Lovecraft Country Lesson Series and other activities, which focus on student-empowerment in exploring dark topics in American history. These activities include analyzing media images and developing media literacy, using Black-centered primary sources to build historical context, and extension activities that encourage positive engagement with movements for social change. Workshop participants are encouraged to view the lessons in the Lovecraft Country series before the workshop.
Co-facilitated by Peta Lindsay, Charla Johnson, and Cyrus Hampton. Peta Lindsay is director of the Ida B. Wells Education Project, an anti-racist collective of classroom educators. Lindsay is a grassroots organizer and U.S. History and African American studies teacher at Venice High School in Los Angeles. Charla Johnson, an Ida B. Wells Project board member, taught English Language Arts in Decatur, Georgia for thirteen years. A writer and activist no residing in New Orleans, Johnson has written and published works of fiction and non-fiction. Cyrus Hampton, an Ida B. Wells Project board member, is a classroom educator and the assistant director of the First-Year Writing Program at Howard University. Hampton has taught since 2006, with experience in classrooms PreK through college.
Teaching Black Women's Activism & Leadership
Middle School/ High School/Adult Education
The workshop will focus on highlighting the histories, activism, leadership, and legacies of Black women activists around the world, emphasizing the critical fact: history will always be incomplete when Black women's activism is overlooked, neglected, and untold. By interrogating and discussing the Black Women Radicals' database and our blog, Voices in Movement, the workshop will engage participants through an intersectional and transnational Black feminist approach in a critical discussion on why Black women's historical and contemporary activism should be incorporated at all education levels. Learning objectives include: 1) Understanding and interrogating Black women's radical activism in Africa and in the African Diaspora; 2) Critical dialogue on the institutional erasure of Black women's transnational activism and structural barriers to accessing Black women's intellectual, cultural, and political productions around the world and; 3) Discussion about digital resources and tools (like the database and the blog) that can be incorporated into syllabi, curriculum, and in community spaces to overcome educational and institutional erasure of Black women's historical and contemporary activism.
Facilitated by Jaimee A. Swift (she/her) founder, creator, and executive director of Black Women Radicals and the School for Black Feminist Politics. She is a Ph.D candidate at Howard University, with concentrations in Black Politics, International Relations, and Comparative Politics. 
Globalism and Restorative Justice: Shell Oil in the Niger Delta
Middle School/ High School/ Adult 
Participate in a current events role play centered on the Black Lives Matter principles of globalism and restorative justice, and get all the materials you need to bring the interactive role play into your classroom tomorrow! In 2020, the international court in the Hague, the Netherlands decided to investigate and prosecute more than 30 years of violence, pollution, and environmental damage in the Niger Delta region. Since international companies began to extract and export oil from this region, there have been hundreds of oil spills and many violent clashes between local people, oil workers, and government forces. Who is responsible for the pollution and violence? How can peace and justice be restored? As lawyers in the trial, you will present testimony, argue the facts, and represent your clients in front of a jury to determine who is responsible for conditions in the Niger Delta. This teaching activity engages students in critical thinking around the experience of Black people globally, the impact of oil and fossil fuel consumption on people's land and livelihood, and what needs to be done to repair the harm to the Niger Delta and its communities.
Facilitated by Natalie Stapert, humanities coordinator at Lowell School in Washington, D.C.
Reshaping Classroom Engineering Design for Conscious Action [ASL]
Middle School/High School
This interactive workshop has the goal of creating a dialogue around two topics: how to authentically incorporate social justice and anti-racist teaching practices into an engineering unit, and bringing engineering and design processes to fortify the actions that activists would take in everyday life. Participants will work with two frameworks for writing curriculum, one that focuses on engineering (from the Knowles Teachers Initiative) and the other that focuses on social justice (from the University of Illinois at Chicago), and will work in small groups to discuss and create an integrated framework for social justice in engineering. A question that participants and facilitators will grapple with is "Which will create a more authentic learning experience for our students: engineering solutions to social justice problems or maintaining a social justice stance in engineering challenges?" Facilitators will guide small discussion groups, provide curriculum examples that fit into these frameworks, and invite them to join a larger group, Knowles Engineering for Social Justice, to continue these conversations and create a community of STEM educators passionate about this work.
Co-facilitated by Emily Berman and Dr. Katey Shirey. Emily Berman is a physics teacher at Nicholas Senn High School in Chicago, Illinois. She is a senior fellow and a member of the Knowles Engineering Leadership Team. Shirey is an integrated STEAM education expert with experience bringing engineering and art into integrated-STEAM courses and programs around the world through her experience as a Knowles Teacher Initiative Senior Fellow and through her own STEAM education consulting service, edukatey, LLC.
Workshop Session Two
Black Books Matter: Books Written/Illustrated by Black Authors/Illustrators [ASL]
All Ages
Join school librarian K. C. Boyd as she leads educators, parents and caregivers in a lively presentation on why 'Black Books Matter.' Boyd will discuss the trends of the inequities of the selection of books by school systems across the country and how this impacts decision-making at the local level. Most importantly, Boyd will convey why daily reading makes a difference socially, emotionally and academically for our young people. An engaging and inspiring book talk will be provided where attendees can learn what's hot in K-12 books and rediscover timeless classics that all will enjoy. Most importantly, attendees will receive access to a trusted booklist that will influence book selection for mandatory reading material in schools, for leisure reading for K-12 readers and beyond.
Facilitated by K. C. Boyd, a school librarian with the D.C. public schools and member of the Washington Teachers' Union (WTU) Equity Collaborative. 
Mindful Moments: Radical Wellness for Black Lives [ASL]
All Ages

In this country, Black people have been experiencing collective trauma for hundreds of years. This manifests in our body and causes many illnesses and pain. We have to be radical (not unapologetic) when it comes to taking care of ourselves. In this workshop, participants will take time to explore their personal challenges with wellness and practice some strategies to begin using in their wellness practice. We will explore the three major functions of the brain and how trauma is stored in the body. Then we will explore mindful movement and breathing and reflect on the experience in our body. Participants will leave with a three step framework to practice radical wellness daily.
Facilitated by Dekebra Crowe, mindfulness educator and founder of DC Royal GEMS, a wellness education consulting firm based in Washington, D.C.
Stories of the Great Migration through the Artwork of Aaron Douglas [ASL]
Elementary/Middle school
Through the work of Aaron Douglas, students can learn about the history and lives of African Americans. The workshop will consist of " I notice, I wonder," putting stories to different images, and capturing the emotions of the subjects to see how African Americans made journey to urban cities outside of the south for various reasons. Students will learn about African American history and how that affected the largest inner-migration of an ethnic group in American history. Materials to have handy: white paper, scissors, pen/pencil, markers/color pencils, colored construction paper, circular objects, glue
Facilitated by Raphael Bonhomme, a D.C. public schools 3rd grade social studies, math, and science teacher.
COINTELPRO: Teaching the FBI's War on the Black Freedom Movement
Middle School/ High School/ Adult 
Participants in this workshop will explore a series of declassified documents from the FBI's counterintelligence programs aimed at the Black Freedom Movement. This exploration helps students understand that the FBI's campaign of destruction — which included legal harassment, media manipulation, blackmail, infiltration, and violence—targeted not just "radicals," like the Black Panthers and the Black Power movement, but also nonviolent organizations like SNCC, SCLC, and its leader, Martin Luther King Jr. After delving into the documents to gather evidence, workshop participants will brainstorm different ways they might use the documents in different settings for the Week of Action.
Facilitated by Ursula Wolfe-Rocca, high school social studies teacher in Oregon. She is also an editor at Rethinking Schools and an organizer and writer at the Zinn Education Project.
Black Women Organize: From the International Council of the Women of the Darker Races of the World, to STAR, and the Combahee River Collective
Middle School/High School/Adult 
In this interactive workshop, participants will examine how to bring the Black Lives Matter at School guiding principles of Black Women, Globalism, Queer Affirming, and Trans Affirming to life in the secondary classroom through case studies of the following organizations and some of the Black women who led them: the International Council of the Women of the Darker Races of the World (Mary Church Terrell), the Street Transvestite Action Revolutionaries (Marsha P. Johnson), and the Combahee River Collective (Barbara Smith).
Co-facilitated by Dr. Alana Murray and Tiferet Ani. Murray is an educator-activist who has taught world history on both the middle- and high-school levels and currently serves as a middle school principal at Shady Grove Middle School in Montgomery County, Maryland public schools. Ani is a social studies specialist for Montgomery County Public Schools and 9th grade U.S. History teacher at Northwood HS in Silver Spring.
"Go-Go City: Displacement & Protest in Washington, D.C.": A Documentary Film [ASL]
Middle School/High School/Adult 
For decades, Washington, D.C. has been a beacon for Black culture and community. Now, however, a wave of economic and cultural gentrification occurring at breakneck speed threatens to erase this history. "Go-Go City: Displacement & Protest in Washington, DC" dives into this rich and colorful tapestry and the forces behind the gentrification that stand to mute it. The film interweaves scenes of protest as displaced communities take to the streets to rally around the city's beloved go-go music. This documentary film can be a valuable tool for instructors interested in considering the protest movement for racial justice, the history of Washington, D.C., and the economic and cultural impacts of gentrification. In this workshop, participants will view part of the film and discuss how they may use this film in their classrooms. The film is free to access for all educators through the Bertelsmann Foundation.
Facilitated by Samuel George, documentary filmmaker and analyst for the Bertelsmann Foundation in Washington, D.C. He focuses on the intersection of economics, politics, the digital revolution and daily life.