Virtual Curriculum Fair: Black Lives Matter at School 2022
On Saturday, January 22, 2022 Teaching for Change will host a virtual curriculum fair featuring workshops, a keynote speaker, and time for educators to learn more about the Black Lives Matter at School Week of Action, taking place January 31-February 4, 2022.
Read about our D.C. area curriculum fair as well as our 2021, 2020, and 2019 curriculum fairs.
Workshops will include:
Art as Empathy: How an Ordinary D.C. Hero Invites Us to Discover Beauty Wherever We Are

Community Organizing 101: Outreach and Allies
Creating an Antiracist Classroom Library (with Lesson Plans) for YOUR Elementary Classroom
Culture as Resistance to Colonization: from 1619 to Today
Embodying and Practicing Empathy, Justice & Liberation through Slow Looking at Art
Forgotten Heroes Still Leave Their Mark: Lessons from the Reconstruction Era
How Black Educators Organized for Black Youth: The Virginia Interscholastic Association (1954 – 1970)
Justice Warriors: Stone Mountain and Restorative Justice
Kindred Spirits: Artists Hilda Wilkinson Brown and Lilian Thomas Burwell
Lift Every Voice: The Arts as Social Protest
Narratives of Black Heritage in the Science Curriculum: Introduction to Keystone Passage Book Series
"Riots," Racism, and the Police: Exploring a Century of Police Conduct and Racial Violence
Voices from the Underground Railroad
---
Agenda Overview
12:00PM-12:25PM
12:25PM-12:35PM
12:40PM-1:25PM
1:35PM-2:20PM
2:20PM-2:30PM
Welcome and Keynote
Gallery Hall: Black Lives Matter in the Classroom
Workshop Session One
Workshop Session Two
Evaluation and Closing
---
Free Books and InService Credit

Thanks to donations by publishers, participants who complete the evaluation will be entered for a chance to win one of 50 books for children or young adults related to the Black Lives Matter at School 13 Guiding Principles. Attendees can also receive a 2.5-hour professional development certificate.
---
Register
---
Workshop Descriptions
Workshops with ASL interpretation are marked [ASL].
SESSION ONE
Art as Empathy: How an Ordinary D.C. Hero Invites Us to Discover Beauty Wherever We Are. All ages.

This session invites participants to step into the color-filled world of trailblazer artist Alma Thomas and discover how Thomas' artistic perspective can inspire us to find beauty in our own neighborhoods and communities. During the session, the presenter will share examples of how the artist sought out beauty in her Washington, D.C., world through her art. During the second half of the workshop, participants will embody Alma Thomas's mindset and experiment with colors to create their own Thomas-inspired artworks. This session is for teachers interested in topics on nature or ecology, art, local D.C. history, and everyday heroes or role models. The session is geared for those with a comfort in artmaking as well as those new to the artmaking process. 
About the artist, Alma Thomas: At the age of 16, Thomas moved from Columbus, Georgia, to Washington, D.C., with her parents and three sisters, seeking relief from racial violence in the South and opportunities for Alma and her sisters to continue their formal education. Thomas became a trailblazer of many "firsts:" she was the first graduate of Howard University's fine arts department and the first woman African American artist to have a solo exhibition at the Whitney Museum of Art in New York. She inspired students at the former Shaw Junior High School during her 35 years teaching for D.C. Public Schools and actively worked as an artist throughout her life. Thomas became an important role model for women, African Americans, and artists. Participants should bring: a piece of paper (any size – can be scrap paper or even the back of a piece of junk mail); pencil; coloring materials such as colored pencils, markers, crayons, paint, watercolors, or even colorful scraps of paper; optional: a photograph of a favorite in your town or your neighborhood, such as a park or landmark (photo can be on your smartphone, this is meant just as a reference for the short art activity).
Dena Rapoport is a museum educator and coordinator of family programs at the National Gallery of Art. In this capacity, she helps students and families learn together and connect to creativity and to the process of art making. She holds a B.A. in History of Art from The Ohio State University and an M.A. in Art History from The George Washington University where she worked as a teaching assistant. Previously, Dena held positions at The Phillips Collection, the Corcoran Gallery of Art, and the National Museum of African Art. She previously attended the Harvard Project Zero Classroom Summer Institute and presented at NAEA and WISSIT. 
Community Organizing 101: Outreach and Allies. All ages.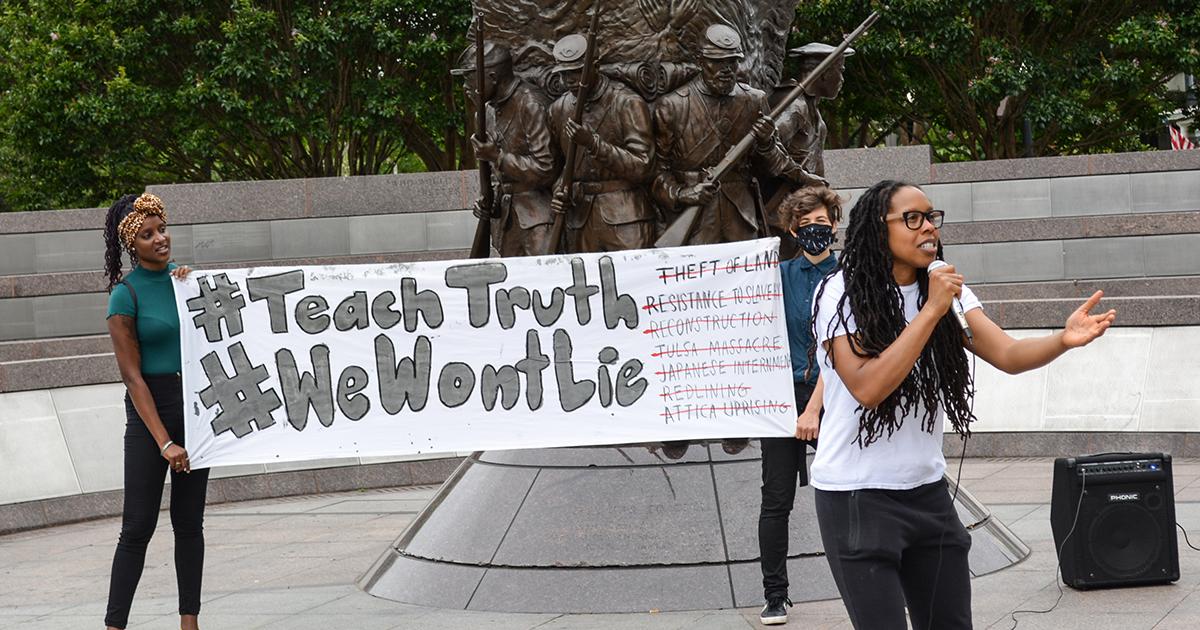 GOP lawmakers across the country are attempting to pass legislation to ban teaching the truth about our country's history and current events. Learn tips for how to increase the impact of your Teach Truth actions. Learn strategies to gain support from allies such as unions, CBOs, clergy, student organizations, youth groups, higher education groups, and progressive elected officials.
Debbie Wei is a long-time educator from Philadelphia. She is a national organizer for the Zinn Education Project. She currently works as a social studies curriculum coordinator in the School District of Philadelphia.
Tamara Anderson is an advocate for children and teens, an anti-racist trainer, a professional artist, editor, freelance journalist, and blogger with over 20 years of experience as an educator. A former Philadelphia school teacher, she is a Teach Truth Campaign Organizer with the Zinn Education Project and teaches at West Chester University in the Education Policy Department. Tamara is one of the founding steering committee members of the National Black Lives Matter Week of Action at Schools, a core member of the Racial Justice Organizing Committee, a core organizer of Philly-Black Lives Matter Week at Schools, Opt-Out Philly, and a diversity consultant for the American Association of Physics Teachers.
Culture as Resistance to Colonization: from 1619 to Today. [ASL] Elementary-Middle School.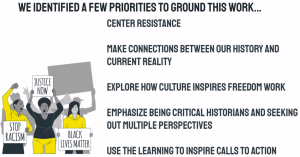 Learn how fourth graders explore ways, both modern and historical, that people have resisted colonization by reclaiming aspects of culture and community, including language, food, land, music, movement, storytelling and spirituality/religion. The fourth grade students are co-presenters and will share their process for creating zines that incorporate historical fiction, informational writing, and the arts to resist modern colonization. Workshop participants will receive access to the complete unit, including resources such as texts, videos, lessons, and interviews of local D.C. organizers and resistors that can be incorporated into the classroom.
Dani McCormick is in their 8th year teaching at Mundo Verde Public Charter School, a bilingual school focused on sustainability and social justice. They are currently a Pulitzer Center fellow and the political education chair of DCACTS union, and have served as a grade level team leader, family engagement leader, and Race and Equity Committee chair. Dani also organizes with Ward 1 Mutual Aid, DC Area Educators for Social Justice, Teaching for Black Lives study group, Black Lives Matter Week of Action in Schools, and DC ACTS.
Ali Schneiderman is a 4th grade lead teacher at Mundo Verde Public Charter School.
Forgotten Heroes Still Leave Their Mark: Lessons from the Reconstruction Era. [ASL] Middle School+.
Take a magical journey to the Reconstruction Era with Michelle Coles, the author of Black Was the Ink and civil rights attorney, and Justin Johnson, the book's illustrator and D.C. public school art teacher. Discover the  contributions of African Americans who served with distinction at the highest levels of government, including as Congressmen, U.S. Senators, Lt. Governors and more, even though the United States was only a few years removed from slavery. Meet the brave people who laid the groundwork for public education in the South, fought for equal rights for all citizens, ran successful businesses, and celebrated their ties to family and church after centuries of bondage. Reflect on how the progress of that era was derailed by domestic terrorists who silenced Black political participation through massacres and lynchings, often with impunity. Test your knowledge of the Reconstruction era and D.C.'s many relevant landmarks through a trivia game and participate in a short course on visual literacy with acclaimed local artist Justin Johnson.
Michelle Coles is a civil rights attorney and is the author of Black Was the Ink.
Justin Johnson is an art teacher in D.C. public schools and is the illustrator of Black Was the Ink.
Lift Every Voice: The Arts as Social Protest. Elementary-Middle School.
This workshop will provide participants with an examination of how the arts have been used throughout history as a means of documentation and social protest.  Participants will engage in kinesthetic, linguistic, and arts activities designed to deepen understanding and encourage self-expression. Participants will go into breakout rooms to participate in activities related to spoken word poetry, visual arts, theater arts, and music. Participants should bring a paper and crayons, pens, or markers.
Anne Smith is an author, poet, playwright, musician, and arts educator from Arlington, Virginia. She is the teacher of music at Samuel W. Tucker Elementary School in Alexandria, Virginia, where she also serves as the Equity Liaison. Anne majored in Music Therapy at Howard University and holds an M. Ed from Regent University, an Ed. S and an Ed. D from Liberty University.  She has written education materials for VH-1 and has presented at workshops and conferences across the country.
Voices from the Underground Railroad. [ASL]. Middle School-High School.
In this unit, the novel Copper Sun by Sharon Draper is used as an anchor text and paired with the television series Underground, along with poems, spirituals, newspaper articles, and other excerpts that tell the story of enslaved people who traveled the underground railroad. In addition to delving into the heroics of resisting oppression and escaping to freedom, students are introduced to legendary historical figures, including abolitionists, orators, and authors such as Harriet Tubman, Frederick Douglass, Olaudah Equiano, Sarah Gudger, and Harriet Jacobs. Throughout the unit, themes of heroism, perseverance, slavery, family, community, the role of Black women, identity, and freedom are explored. Students develop an understanding  of perspective, points of view, and are able to articulate how content is presented and analyzed in diverse formats.  Teachers will be introduced to resources for building an interdisciplinary unit as well as strategies and tools for analyzing text, film, and other literary mediums.  Together, we will explore instructional practices and strategies that foster critical thinking, cultural knowledge, and the ability to evaluate perspectives posed by various authors and texts.
J. Rance-Fisher has worked for the NYC Department of Education as a middle school administrator and English teacher for 16 years. She studied English and Literacy as a college student and believes the past and the future live juxtaposed in the stories of our people. It has always been her educational belief that classroom instruction should reflect the world around her students and works diligently to make learning relevant and engaging.
SESSION TWO
Creating an Antiracist Classroom Library (with Lesson Plans) for YOUR Elementary Classroom. Elementary.
Participants will walk through each step the Racial Justice Organizing Committee of Philadelphia's (RJOCP) Antiracist Library Campaign went through when selecting the books and creating activities that aligned to Black Lives Matter Principles, Demands for Radical Education (developed by Racial Justice Organizing Committee of Philadelphia), and Common Core standards. Participants will 1) be introduced to the purpose for the campaign, 2) talk about how to select texts for an antiracist library, 3) discuss how to create activities to accompany the texts that align to the BLM principles, as well as Common Core and other standards. Participants will use a preselected text with an online read aloud and will collectively design an activity plan to accompany the text.
Sarena Vogelsong is a recent graduate of West Chester University of Pennsylvania with an elementary and special education dual major. She has had field placements in the City of Philadelphia. She has volunteered internationally, with classroom experience in Uganda, Kenya, Guatemala, and Eleuthera. Vogelsong has worked for the Racial Justice Organizing Committee of Philadelphia since the spring of 2021, where she was able to create BLM at School Week of Action activities and resources for educators throughout the city of Philadelphia. Vogelsong also was a co-creator of the Antiracist Library Campaign, which gifted educators in the Philadelphia area with an Antiracist Library Set and accompanying lesson plans.
Embodying and Practicing Empathy, Justice & Liberation through Slow looking at Art. All ages.
Participants will use a hands-on protocol based on Stuart Hall's encoding/decoding theory (1993) and his definition of hegemonic viewpoints, as well as the slow looking framework (Tishman, 2017) to nurture a more inclusive, equitable, just, and empowering classroom. Participants will use systems thinking to look critically at art, explore its complexities, and find opportunities to enact change while bringing students' perspectives and representation to the center of the learning process. Participants will walk away with a practical guide to adapt and facilitate the protocol in the classroom, teacher-training workshops, and other anti-racist teaching initiatives. The ultimate goal of the protocol is to facilitate learning that chooses justice. Participants will be introduced to the theoretical underpinnings of the protocol they will use and the connection with the 13 Guiding Principles of Black Lives Matter at School Year of Purpose. They will then be divided into two groups (PreK-5th grade teachers and 6th-12th grade teachers). Each group will use the protocol with a piece of art in their breakout rooms and will document the process with the creation of a poem. Finally the group will come back together to share their poems.
Yerko Sepulveda is a Spanish teacher and the Diversity Council Coordinator at Hawken Upper School, in Cleveland, Ohio. He holds an M.A. in Applied Linguistics and an M.Ed. in Bilingual Education and Diversity Studies. He is a Ph.D. Candidate at Texas Tech University. His research concentrates on challenging power and equity pedagogy. He has led teacher-training workshops in Chile, Argentina, Colombia, Spain, England, and several states within the United States
Kamisha Morrisson is an experienced elementary educator of nearly 15 years. She earned her Master's in Early Childhood Education from Pacific Oaks College and Bachelor's in Graphic Design from Florida A&M University. She has worked in childcare centers, independent, and international schools with students from ages 2.5 to high school in various capacities. Currently, she teaches first grade in Cleveland, Ohio, where she also co-chairs the Lower School DEIJ Committee and facilitates affinity groups for students of color. She is an advocate of culturally responsive, anti-racist, experiential based pedagogies centered on student efficacy and agency.
How Black Educators Organized for Black Youth: The Virginia Interscholastic Association (1954 – 1970). [ASL] Middle-High School+.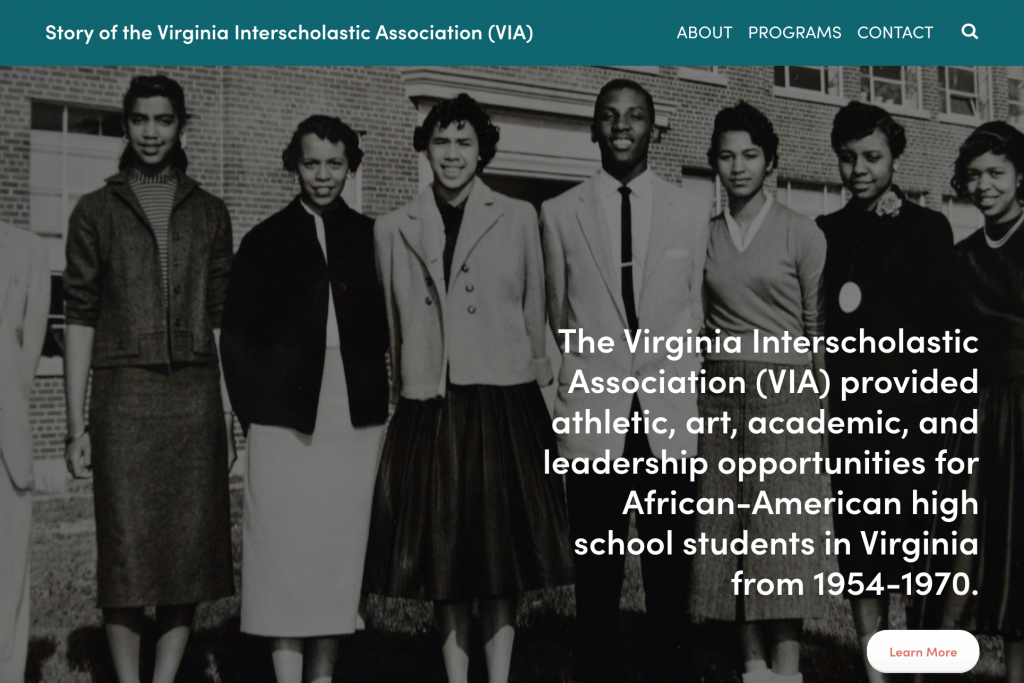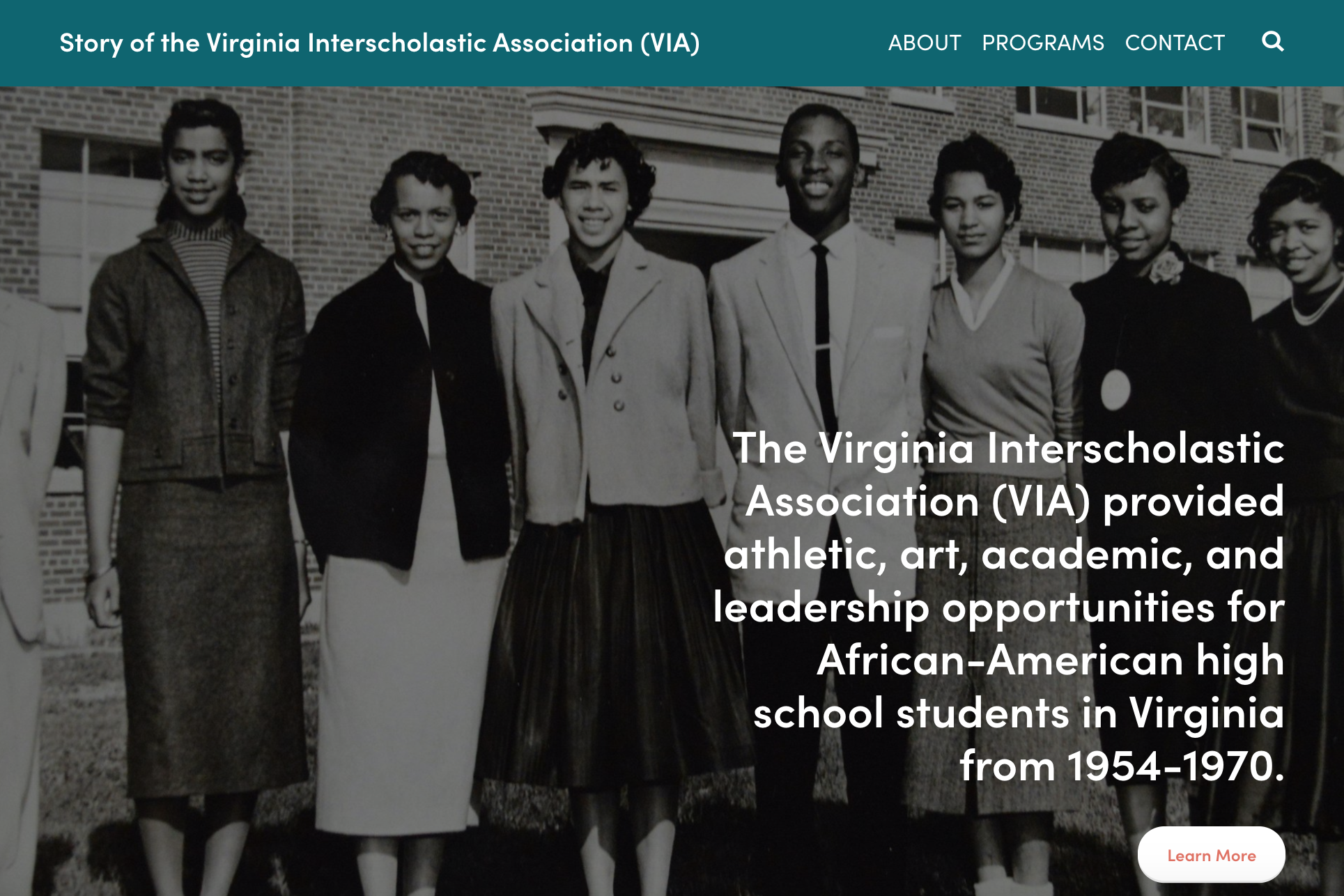 Created through the efforts of Black secondary school principals and administrators in 1954, the Virginia Interscholastic Association (VIA) provided enriching opportunities and activities to Black high schools that were otherwise inaccessible due to racial, social, and economic barriers. The VIA is a story about a vision for a society that acknowledged Black high school students for their intelligence, creative skills, and athletic abilities. The facilitators will engage participants with small group activities that use multiple primary sources found on the VIA's digital archive. Participants will discover how similar activities can be used in their classrooms to address the Black Lives Matter at School's 13 Guiding Principles.
Dr. Joshua K. Wright is an associate professor of history in the Global Studies Department at Trinity Washington University.  Before joining Trinity's faculty, he was a tenured associate professor of history and the Social Studies Teacher Education program coordinator at the University of Maryland Eastern Shore.  In 2013 he was among 30 faculty selected nationally to participate in a National Endowment for the Humanities Summer Institute, hosted by Henry Louis Gates Jr., on African American Struggles for Freedom and Civil Rights at Harvard University.  He is the author of Wake Up, Mr. West: Kanye West and the Double Consciousness of Black Celebrity and Empire and Black Images in Pop Culture. In 2021, he launched a new podcast series, Woke History, on NPR One and Delmarva Public Media.
Dr. Kristal Moore Clemons is a native of Chicago, Illinois, and a graduate of DePaul University having earned her B.A. in Women's Studies and Political Science. She earned an M.A. from Washington State University in American Studies and her PhD from the University of North Carolina at Chapel Hill in Education-Culture, Curriculum and Change. She currently serves as the national director of the Children's Defense Fund Freedom Schools. Prior to that role, she was a full-time professor of education at Virginia State University and Florida A&M.
Justice Warriors: Stone Mountain and Restorative Justice. Middle School-High School+.
Participants will learn how to engage students in an evidence-based, solution-oriented debate regarding the largest Confederate memorial in the world: the carving at Stone Mountain State Park in Georgia. To learn the process that they will facilitate with students, participants will examine excerpts from four primary and secondary documents in order to answer the question, "How could we change Stone Mountain Park so that it affirms Black lives and restorative justice?"
Sally Stanhope is an educator, humanitarian, and artist with a Master's degree with a concentration in world history from Georgia State University. She has published numerous articles and taught a variety of humanities classes that have ranged from standard curricula to courses she designed herself. She is now at Chamblee High School and working with the Stone Mountain Action Coalition to free Stone Mountain Park from its Lost Cause legacy.
Kindred Spirits: Artists Hilda Wilkinson Brown and Lilian Thomas Burwell. Middle School-High School+.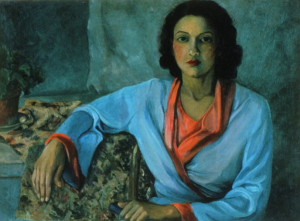 The new documentary, Kindred Spirits: Artists Hilda Wilkinson Brown and Lilian Thomas Burwell, shines a light on the lives and work of two unsung but accomplished African American women artists and art teachers who forged careers in segregated Washington, D.C., and who developed a unique bond as aunt and niece. Their life stories, works of art, and sources of inspiration are presented against the backdrop of a segregated society where marginalized Black artists seized educational opportunities, became prominent faculty members of African American schools, and established their own venues to exhibit and publish their work. Participants will learn how Kindred Spirits is a valuable tool for educators who teach African American and Washington, D.C. history, African American art history, and the visual arts. In the workshop, participants will view clips of the film, share their ideas on how the documentary can be used in the classroom, and discuss how the film can inspire students to research and document other overlooked Black artists through essays, poster presentations, and oral history videos and podcasts.  Participants will receive a study guide which includes post-screening questions for students, a list of suggested classroom activities, and supplemental reading material.
Cintia Cabib is an independent producer, videographer, and editor. Her documentaries have aired on public television stations nationwide, been screened at venues throughout the U.S., and been distributed to educational institutions, libraries, organizations, and individuals. Cintia's films shine a spotlight on local people, places, and history. Her documentaries include Labyrinth Journeys, A Community of Gardeners, and Carousel of Memories, which reveals the historical significance of Glen Echo Park's antique Dentzel carousel. Kindred Spirits is Cintia's latest documentary. Cintia is a recipient of the Maryland State Arts Council's 2021 Independent Artist Award.
Narratives of Black Heritage in the Science Curriculum: Introduction to Keystone Passage Book Series. [ASL] Early Childhood, Elementary, Middle School.
This workshop introduces students to a chapter book series titled Keystone Passage, which was created by Dr. Quinlan. With the emphasis on literacy and mathematics, sometimes the connections to science  are not so clear for the elementary school teacher. Even more disconnected are the narratives of Black heritage from the science curriculum. Dr. Quinlan will introduce you to her first two books, To Africa and Back and Day and Night on The Space Station, which capture both science ideas and the nuances and excitement of Black heritage and culture. As students develop their literacy and reading skills they become intrigued by science ideas and Black heritage. Dr. Quinlan will also talk about the accompanying curriculum materials that can be used in the classroom.  Her talk will introduce you to connections to understandings derived from Indigenous peoples that often go unacknowledged in science. In this presentation you will learn about the cultural resources of people of Black African heritage, such as African Rock Art, and come away with resources for classroom use. You will participate in a brief hands-on activity. For the hands-on activity, you are encouraged to sit at a kitchen table and have the following available, if possible: foods or other materials with color (i.e., any syrup, sugar or chocolate syrup, apple sauce, sand, chalk, dirt, ketchup, etc.) The books can be used by older grades to unpack Black culture, heritage, and science depending on the experience of the students.
Dr. Catherine Quinlan is Assistant Professor in Science Education in the Department of Curriculum and Instruction at Howard University School of Education. Dr. Quinlan is funded by the National Science Foundation to create curricula and products that are culturally representative of Blacks in America, with a focus on Gullah Geechee African Americans. Dr. Quinlan has made it her goal to bridge theory and practice using multidisciplinary and interdisciplinary approaches. Her desire for practical classroom products led her to capitalize on her scientific and cultural understandings in her newly launched chapter book series for elementary to early middle-aged students, titled Keystone Passage, which brings Black cultural representation into the formal and informal settings.
"Riots," Racism, and the Police: Exploring a Century of Police Conduct and Racial Violence. [ASL] Middle School-High School.
Participants will examine excerpts from reports about three major episodes of racial violence, the Chicago Riot of 1919, the "long, hot summer" of 1967, and the Ferguson Uprising of 2014, to analyze historical continuities. Participants will engage with each other in a series of small group tasks and discussions, Padlet activities, and finally, a discussion of how these documents might show up in their own curricula and classrooms.
Ursula Wolfe-Rocca has taught high school social studies since 2000. She is on the editorial board of Rethinking Schools and is a writer and organizer for the Zinn Education Project.
Register