Virtual Curriculum Fair: Black Lives Matter at School
Saturday, January 30, 2021
11:00AM-1:30PM ET (8:00AM-10:30AM PT)
Join Teaching for Change and the Howard University School of Education for a virtual curriculum fair featuring workshops, keynote speakers, and time for educators to learn more about the
Black Lives Matter at School Week of Action
, taking place February 1-5, 2021.
The virtual curriculum fair is free for all educators to attend, but donations are very welcomed and encouraged. Read about our 2020 and 2019 curriculum fairs.
---
Keynote Speakers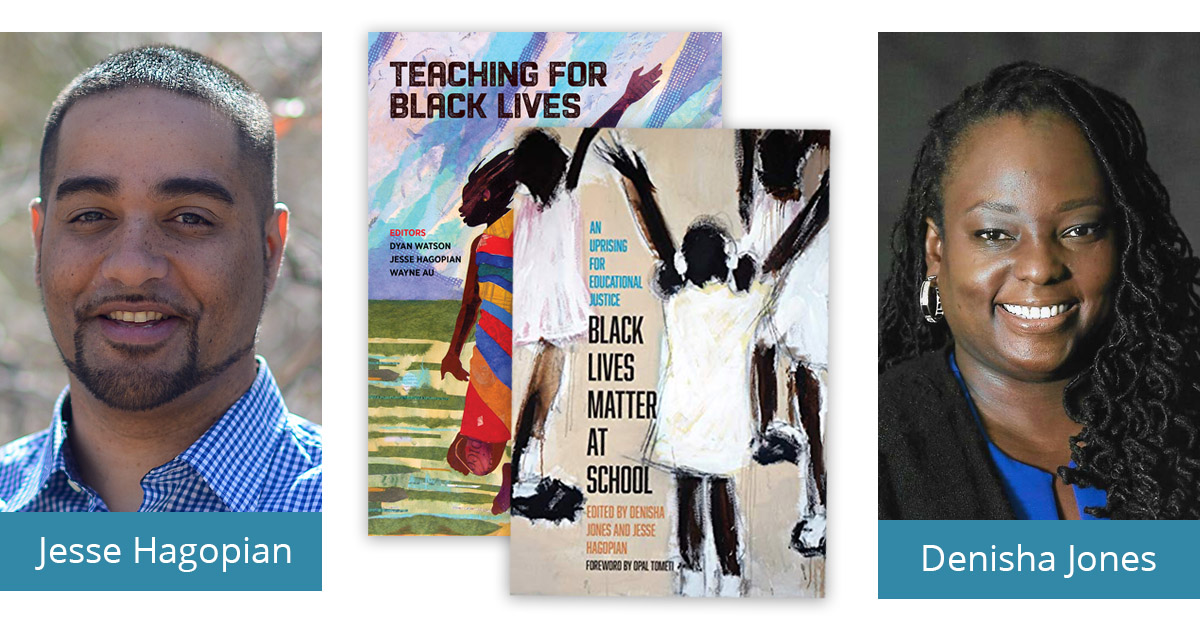 The keynote speakers for the curriculum fair are Jesse Hagopian and Denisha Jones, educators and editors of the new book, Black Lives Matter at School: An Uprising for Educational Justice. Jones and Hagopian are both members of the national Black Lives Matter at School steering committee. Jones is director of the Art of Teaching, graduate teacher education program, at Sarah Lawrence College, and previously worked as a kindergarten and preschool teacher, and a preschool director. Hagopian is a high school teacher, on the Zinn Education Project staff, and editor for Rethinking Schools magazine. He is the co-editor of Teaching for Black Lives and the editor of More Than a Score: The New Uprising Against High Stakes Testing.
---
Workshops
We are seeking proposals from educators for workshops that speak to the Black Lives Matter at School Year of Purpose, centering the 13 Guiding Principles and national demands. Relevant presentations are welcomed, as are curricular ideas, classroom strategies, theoretical frameworks that lead to praxis, presentations on community work, and other ideas for inspiring practice. Workshop sessions will be 30 or 45 minutes and held via Zoom. We will provide Zoom links for the presenters.
Here are just a few of workshops confirmed thus far:
Teaching, Loving and Believing Black Girls facilitated by Dr. Shari Berga, Director of Diversity & Inclusion at Our Lady of Good Counsel High School and Akailah Jenkins McIntyre of Reach Incorporated. This workshop will examine data from national research surrounding Black girls in classroom settings andl offer strategies that can be implemented in the classroom to center Black girls' voices, work to counteract biases, and strengthen relationships.
Resistance to Colonization through Reclamation of Culture and Community facilitated by Dani McCormick, fourth grade teacher at Mundo Verde PCS. Students will share their process for creating zines that incorporate historical fiction, informational writing, and the arts to resist modern colonization. The process overview will include resources such as texts, videos, lessons and interviews of local organizers that can be incorporated into the classroom.
Teaching Black Women's Activism & Leadership facilitated by Black Women Radicals This workshop will highlight the histories, activism, leadership, and legacies of Black women activists around the world. More importantly, the workshop emphasizes a critical fact: history will always be incomplete when Black women's activism is overlooked, neglected, and untold.
---
Register