Dads Read About Teamwork at Langdon Elementary
On November 13, 2019, seven enthusiastic Langdon Elementary (DCPS) parents – featuring an all-star group of Langdon fathers – came together to read Swimmy, by Leo Lionni, to three pre-K classes as a part of Teaching for Change's Roving Readers program. Swimmy is a story that celebrates difference and teaches about the power of community organizing and collective action. Roving Readers is a signature activity of Teaching for Change's nationally recognized family engagement approach in which parents lead multicultural and anti-bias read alouds in classrooms in multiple languages.
Students in each of the pre-K classes were excited to identify the different marine life mentioned in the story and discuss the concept of "teamwork" that Swimmy employs to organize his fellow fish and save them from being eaten by a much larger fish.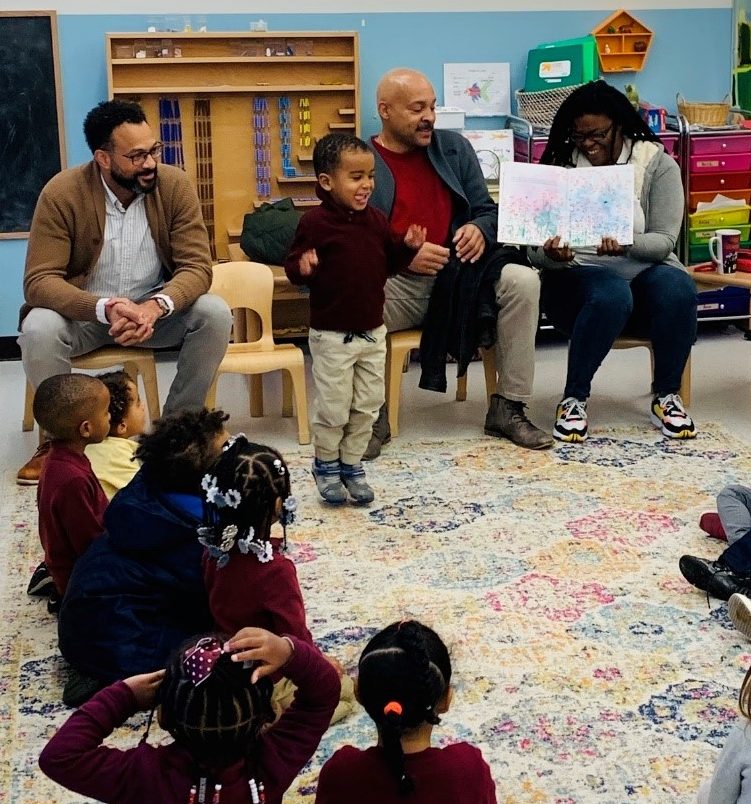 When we arrived at the last of the three classes, the parents agreed that they would have an all-dads read-aloud. The dads sat in a row in front of the excited pre-K3 and pre-K4 students while veteran teacher Ms. Scott looked on. The dads took turns reading a couple pages each, pausing occasionally to ask the students questions. Each time a student raised their hand to speak, Ms. Scott reminded them to "stand and present themselves." The students stood and proudly stated their full names before answering the parents' questions. The young students paid very close attention to the story and giggled gleefully when some of the dads made funny noises to imitate the marine animals in the story.
After the read aloud, Ms. Scott wanted to acknowledge all the dads. She thanked Mr. Dance and Mr. Young, who were the parents of two students in the class (their kids got up to give them hugs). She asked Mr. Good (who has a daughter in Ms. Goldberg's class) and Mr. Taylor (whose son is in Ms. Rilling's class) to present themselves, and thanked them for coming to read. Then she pointed out the last dad, Mr. Bradford. She said that she had worked with Mr. Bradford back when she was a new teacher, and seeing him that day "reminded her of her beginnings."
Research has shown that there are tremendous benefits for children when fathers read to them – not just parents, specifically fathers and father figures.
Dads, grandfathers, and father figures have been active participants in Roving Readers since Teaching for Change began the partnership with Langdon in the 2018-2019 school year. This was the first all-dads read aloud, and it was really beautiful to see each of them, with their different personalities and different reading styles, share that moment together.