2018 NEH Institute on Grassroots History of Civil Rights Movement: Daily Highlights
This summer, Teaching for Change was proud to partner with a team of scholars, veterans, and educators from the Duke University Franklin Humanities Institute, the SNCC Legacy Project, and Tougaloo College on a National Endowment for the Humanities (NEH) Teacher Institute, The Civil Rights Movement: Grassroots Perspectives from 1940-1980.
Thirty classroom teachers were selected from across the country to study the bottom-up history of the Civil Rights Movement, addressing key narratives that challenge the textbook version of history. They learned from people who were active in the Civil Rights Movement and from leading scholars of the era including William Chafe, Charles Cobb Jr., Courtland Cox, Emilye Crosby, Hasan Kwame Jeffries, Charles Payne, Barbara Ransby, Judy Richardson, and more. The institute was held in the Franklin Humanities Institute at Duke University.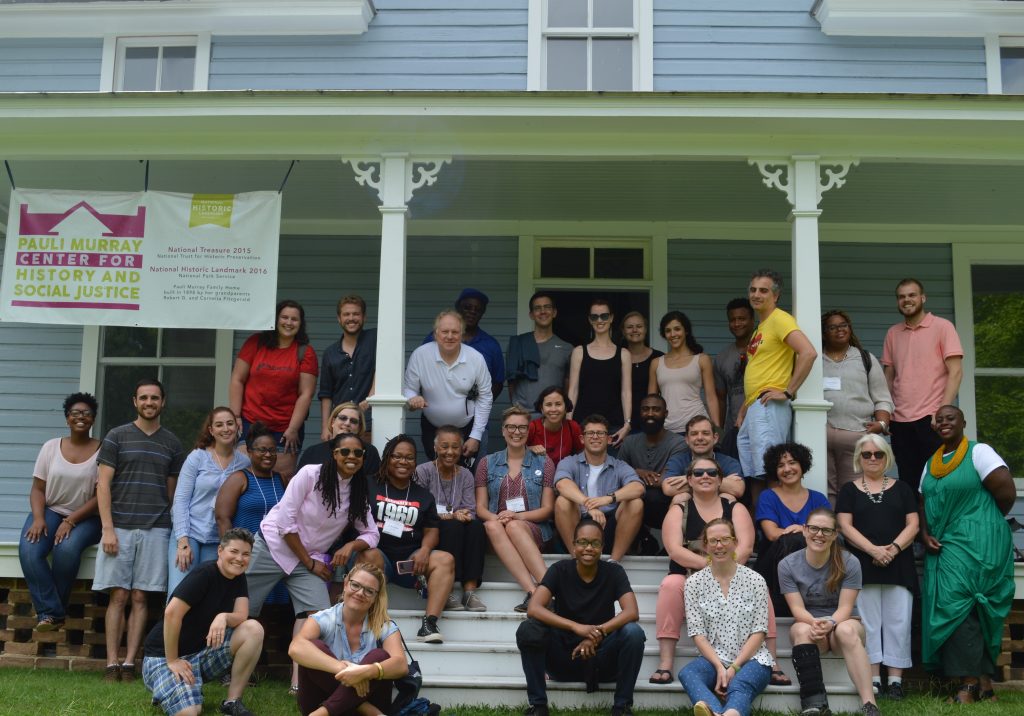 Some of the key narratives and themes that participants explored were:
The Movement was based on the work of thousands of local "ordinary" people who both organized and sustained it.
The Movement was not simply a series of spontaneous demonstrations—it was often carefully planned and executed.
The tradition of protest grew out of a long history of activism and resistance in the Black community.
and many more.
In their evaluations, teachers commented on how the institute changed them personally and how it will change their teaching. Here are just a few of their reflections:
The institute grew me. I have stepped out of everything that I thought I knew and I have been expanded. I feel more confident in teaching a narrative based on real people and their stories and not the mythical characterizations of history that focus on a protagonist and an antagonist. I have changed because I now see my classroom as a platform for change.
This institute has completely transformed how I think about the Civil Rights Movement and ultimately how I am going to teach it in the classroom. I have received so many resources to use for teaching this hard history. I am a part of the movement that will change the way history is being taught and preserved. We are making history. I am making history. Words cannot express how happy and powerful this program has made me feel. My life has changed.
I learned lessons about education, community-based engagement, and processes of social transformation that placed women front and center, and my mind soared throughout those talks —at times I felt lifted out of myself.
We share here daily highlights from throughout the three weeks, including insights from the presenters, field experiences, lessons, and teacher reflections.
Week One: July 9 – 13  1940-1954
Day One: Monday, July 9
A group sing of "Woke Up This Morning with My Mind Stayed on Freedom" started the day and set the tone for the next three weeks.
To get to know each other, the participants wrote on a paper cutout of a footprint, "in whose shoes am I walking for justice" or "a stand I have taken in these shoes for justice." D.C. teacher Jessica Rucker (in photo below) wrote,
I move in the spirit of Mildred Ann Wilkins, who in the 1940s migrated from Loudoun County, Virginia to Washington, D.C. as an act of resistance against the racial and economic (state-sanctioned) apartheid of the South. She sowed seeds of rebellion through her single audacious act . . .
The footprints were placed on the wall on a symbolic path of justice.
Black Activism Leading Up to 1940
Professor Adriane Lentz-Smith (author of Freedom Struggles: African Americans and World War I) gave a powerful presentation on how the history of African Americans in WWI has a direct connection to the modern Civil Rights Movement. She also critiqued the traditional narrative, noting:
To say that they tilted at windmills is too benign; windmills don't shoot back. Rather, they fought. They fought segregationists in the former Confederacy, Democrats in Washington, brutal police in towns and cities across the nation. . . . To treat their story as everyone's story is to understate their courage. To isolate their story, however, is to misrepresent their agitation as sui generis. . . . Change that "seemed to appear out of nowhere, was actually more than a century in the making." This was trench warfare, never a blitz.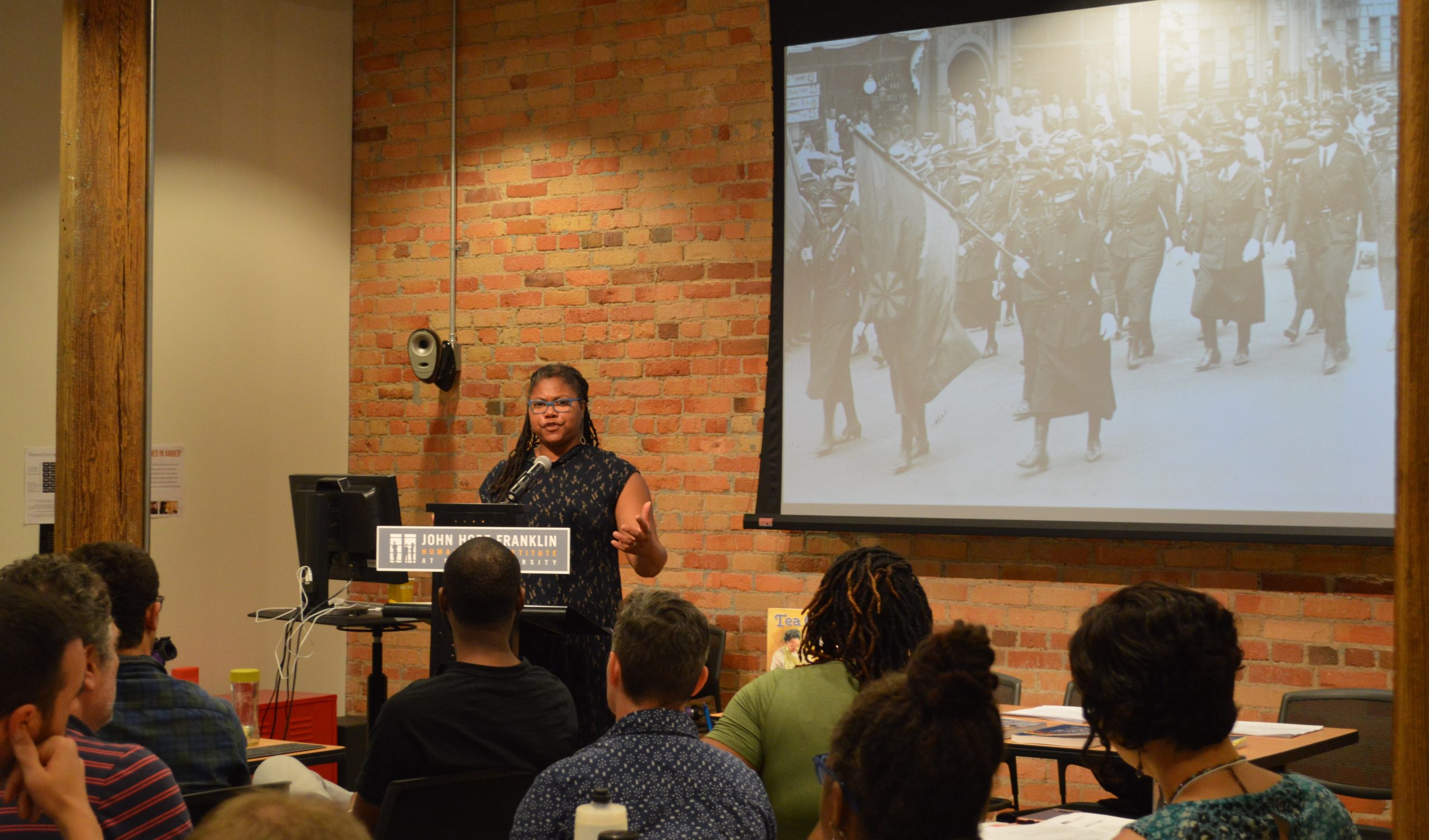 Lentz-Smith told the history through stories of her parents and teacher activist Kathryn Magnolia Johnson (1878-1955). Here are a few of the participants' reflections from the day:
Today's discussion urged me to think more deeply about the presence of civil rights activism before WW2, specifically during WW1. When I taught African-American Studies, I have pointed out the "Double V" Campaign that emerged during the WW2 era, yet this was an opportunity revisit that narrative to further ground the fact that the history of Black Freedom Struggle did not occur as a collection of "episodes" but rather as "flows" wherein a particular point in time is vitally connected to a prior era. Black activists and organizers during the '40s and '50s were mentored by those who had done similar work in the '10s, '20s, and '30s.
I learned that studying WWI is integral to understanding the Civil Rights Movement. I was reminded that narratives are at the heart of history.
The lecture on WWI by Adriane Lentz-Smith was amazing and I cannot wait to incorporate more early 20th century activism in my curriculum. Reflection and discussion time was also SO USEFUL since teachers are rarely afforded that opportunity.
People of the Civil Rights Movement
Each participant was given the name, photo, and short bio of one of the people featured on the SNCC Digital Gateway or CRMvet website. They engaged in a mixer activity to learn about the activism of their peers.
As a follow-up assignment, they composed "Write That I" poems about their individual, using the approach by Rethinking Schools editor Linda Christensen and information from the respective websites and their readings. Teachers took turns reading their poems to the group throughout the institute.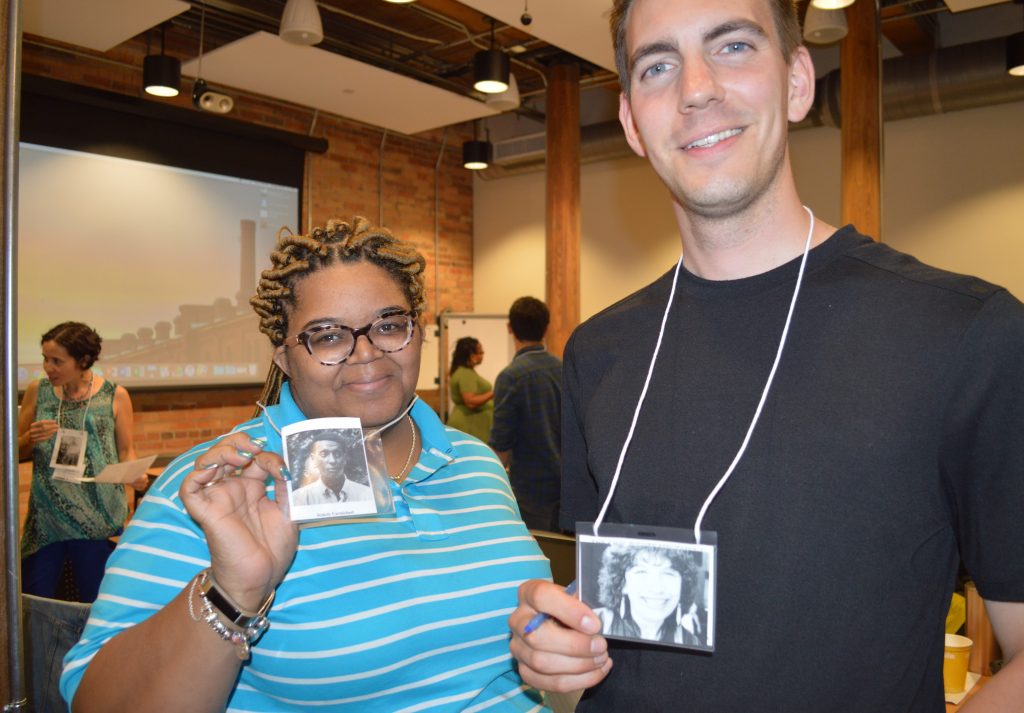 ---
Day Two: Tuesday, July 10
The full day was dedicated to a study of the life and work of Ms. Ella Baker.
Barbara Ransby was interviewed by Mark Anthony Neal about Ella Baker's life growing up in Littleton, North Carolina, her work in Harlem in the 1930s, the Highlander Center, and the network she built of activists in the South who helped support SNCC in the 1960s.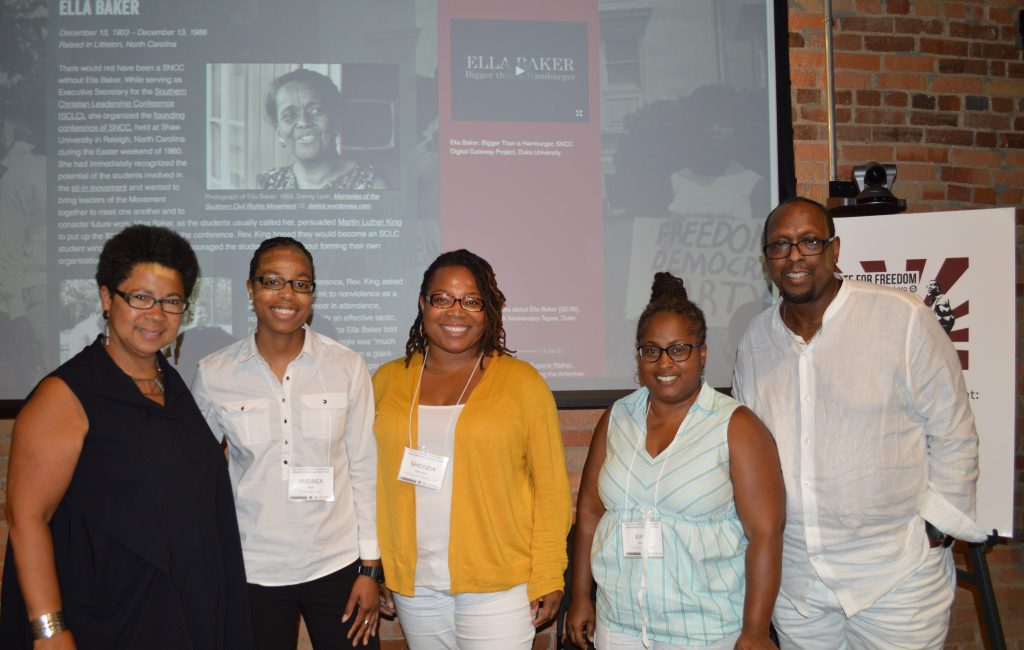 Ransby talked about Baker's classic quote, "Strong people don't need a strong leader" and noted that Baker was "committed more to a movement than an organization."
One teacher asked, "So much of her work was calling people into leadership roles. How did she do that?" Ransby responded that Baker,
C

ultivated relationships and trust through solidarity and humility.

Did actual training – flyers, building a campaign, etc.

Spoke to a crowd on the same level as the people; she did not elevate, preach, or self-promote.

Dealt with large numbers of people, while she nourished strengths in individuals.
3 Things for Students on Ella Baker: 1) Strong people don't need strong leaders. We can all be a leader. 2) Keep your curiosity and continue to ask questions 3) Keeping a long view of social change. There will be highs and lows in this work. #NEHCRM pic.twitter.com/TTT3BiQ8O5

— Ms. Bugay_MMS (@MsBugay_MMS) July 10, 2018
— Rosie Frascella (@Rosiefrascella) July 10, 2018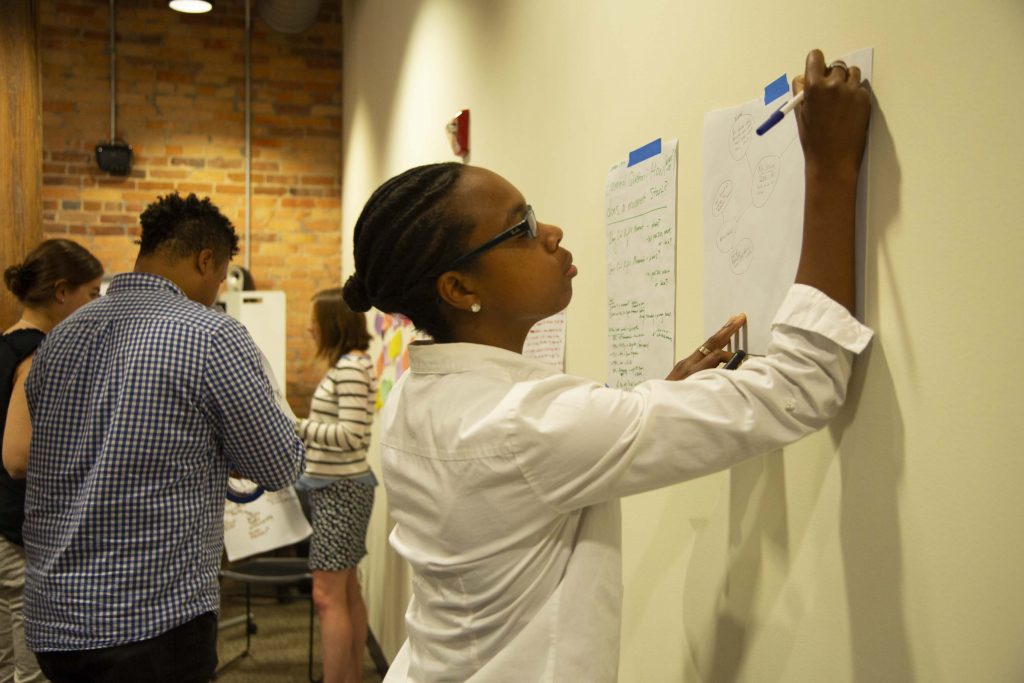 After the presentation and discussion, each teacher created a mini-poster to share ideas and questions about the lesson or unit they planned to work on throughout the institute. These were shared for feedback in a gallery walk.
The day closed with a viewing and discussion the film Fundi: The Story of Ella Baker led by Judy Richardson.
Teacher Reflections
Today I have been recalibrated on the direction I want to take in my life.
The conversation with Dr. Ransby and Dr. Neal was exceptional! I not only learned so much about Ms. Ella Jo Baker, but I learned more about the context in which she did her community organizing work. I really appreciated the emphasis that Ms. Baker was a "strategic political thinker" and that she was more committed to an expansive movement toward justice and equity and not a particular organization or set of organizations. The screening of Fundi was also incredible. I was grateful that we paused at certain points to have specific people and events pointed out. That was helpful.
I think Ella Baker is a great role model for teachers who want to pull the activists out of students and create "a strong people."
I learned so much today. 1. Strong people do not need strong leaders (I have all that I need, and so do students, to lead and guide movements to help change our communities most pressing issues), 2. Ms. Baker's curiosity pushed her to ask profound questions which informed her worldview and her strategies, 3. Ms. Baker was skilled at maintaining optimism about change and movement work even through moments of discouragement. She was very skilled at pushing through tough moments.
I had moments today when I felt such immense joy; an elevation of soul and spirit! It reminded me to also reach for the joy in times of immense struggle in order to sustain important parts of self.
I am beginning to understand that a movement starts with a seed. If I can't be the branches yet, I can be the seed.
---
Day Three: Wednesday, July 11
Danielle McGuire talked about the long history of Rosa Parks' work in civil rights organizing in Alabama during the 1940s. She described sexual violence throughout U.S. history with a focus on the civil rights era, including Parks' role as an anti-rape activist in the decade before the Montgomery Bus Boycott; her advocacy for Recy Taylor, survivor of a brutal rape in 1944; and the ways in which the modern Civil Rights Movement is rooted in the defense and protection of Black women's bodies.
McGuire helped historicize the #MeToo movement and Black women's roles as leaders in the fight against racial and sexual violence.
Black Farmers
Participants viewed and discussed Dirt & Deeds in Mississippi, a film about "a Mississippi Delta community called Mileston in which 100 sharecropping families gained control of 10,000 acres of some of the best land in the state as a result of a radical New Deal era experiment in the 1930s and, in turn, became leaders of the Civil Rights Movement in the 1960s."
The film is distributed by California Newsreel and narrated by Danny Glover. A number of the teachers said they plan to use it in the new school year because it highlights issues of land ownership and power that are missing from most curricula.
Songs for Liberation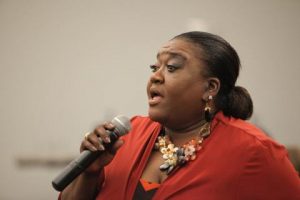 The day ended with a dynamic performance and lesson on the history of Freedom Songs by Mary D. Williams.
Teacher Reflections
The day fed my mind and soul! The lecture that emphasized sexual violence was a piece I had never thought to include in our class discussions of the vital role of women in the Movement. The connections that were shared are incredibly powerful and I will continue to reflect on how to include this into my unit design.
Professor McGuire's narrative of the Montgomery Bus Boycott was groundbreaking to me and changed the way that I understand the Civil Rights Movement. I need to do a better job at centering Black women in my teaching of the freedom struggle.
I began to see the Civil Rights Movement through the lens of gender and sexual violence. We can't understand the origins or the efficiency of the movement without understanding Black women's resistance. And the desire to be treated as human and have bodily integrity is fundamental to this resistance.
WHOA! The freedom song workshop this afternoon was unlike anything I have ever experienced! The combination of raw power, artistic talent, soul, and history was profound.
The performance by Professor Mary Williams was incredible, inspiring, and grounding. I really appreciated the energy that she brought out of me. I started using some music this year in class but haven't had youth SING in class, and this experience makes me think about the power of song as a source of inspiration, hope, motivation, and education.
---
Day Four: Thursday, July 12
Wesley Hogan (author of Many Minds, One Heart: SNCC's Dream for a New America) and Danita Mason-Hogans (Center for Documentary Studies) introduced a role play on non-violence and sit-ins. This was followed by a discussion with three veterans of the Chapel Hill sit-in: David Mason Jr., Reverend Albert Williams, and Clyde D. Perry. In their reflections, teachers noted:
Perhaps it will be sufficient to say nonviolence has an entirely new meaning for me. In a powerful sense!
I learned about the youth-led nature of the sit-ins that the Chapel Hill Nine did in 1960. They organized the sit-ins after seeing the Greensboro sit-ins on TV. Nine teenage boys decided to sit-in after talking after church. This wasn't a movement led by adults. The NAACP was there to support them with legal aid, but the planning and strategy was all from the youth.
Today, I learned (or was re-reminded), that nonviolence was one tactic—among a series of tactics—within a broader movement for justice and equity. This is a powerful reimagining for me. I often make nonviolence synonymous to the Civil Rights Movement. This is dangerous. In doing so, I diminish how strategic nonviolence was, as well as other tactics employed in tandem, in the context of winning legislative and moral victories.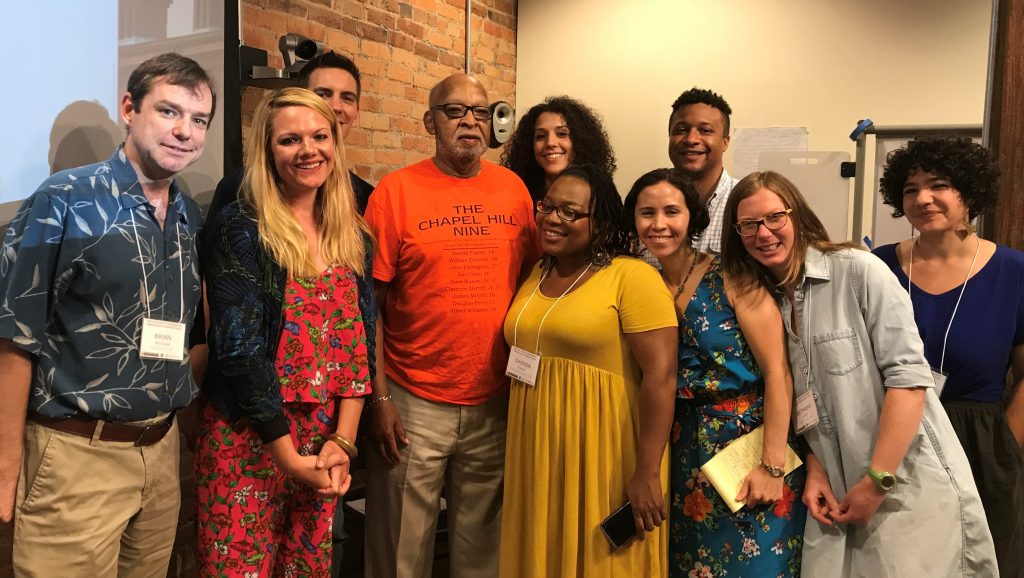 Archives
At noon, the group traveled by bus to Duke University's West Campus for lunch and to meet with John Gartrell, director of the John Hope Franklin Research Center at Rubenstein Library. Gartrell gave an overview of his own journey to becoming an archivist, the collection, and some of the politics of archiving. He then invited participants to explore a collection of primary documents he had ready for them, as pictured below.
Kids in a candy store or teachers in the archive? #NEHCRM @DukeLibraries @fhi_duke @duke pic.twitter.com/Kq4vBRPdlI

— Tracey Barrett (@traceyebarrett) July 12, 2018
Reception
The day ended with a reception in the Lilly Library on the East Campus with remarks from Dean Valerie Ashby.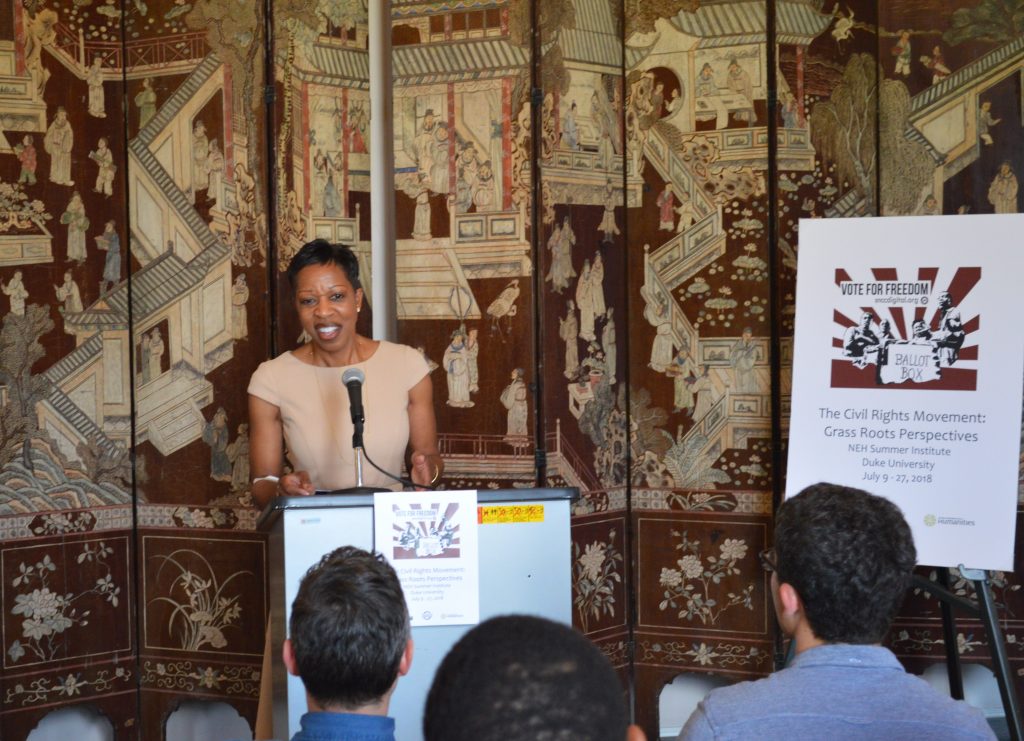 In her remarks, Ashby described what Duke had learned from SNCC,
And I have learned from the SNCC Legacy Project that university-based scholars alone don't have a monopoly on the best answers to "what made youth movements succeed" in the 1960s — in ending Jim Crow, and bringing about the Voting Rights Act of 1965. So we have been very pleased to see our Duke undergraduates, grad students, archivists, and scholars learning from the veterans of the SNCC Legacy Project over the last five years of partnership. The SNCC veterans have taught us in specific ways how to restructure a community-university partnership so that it is more democratic, and how we can learn and build archives with people who have different ideas and intellectual understandings from ours.
I know that is happening and will happen for you too in the weeks you are here: that you will be able to share your ideas with others, to teach and to listen, to deepen others' understanding as well as your own. We are so grateful to you taking your summer time to come here, and learn with us how to help young people feel like and act as if they are full citizens. We need all of you, and all of them, to bolster innovation, and intellectual empathy, and free and open inquiry as central to our future. Thank you…
---
Day Five: Friday, July 13
Robert Korstad, institute co-director and author of Civil Rights Unionism: Tobacco Workers and the Struggle for Democracy in the Mid-Twentieth-Century South, described the role of local people, unions, and churches in the 1943 uprising of tobacco workers in Winston-Salem, North Carolina. Korstad noted that there is a jazz opera, based on the story in Civil Rights Unionism, produced by Steve Jones and Elise Bryant. It is called "Love Songs from the Liberation Wars: The 1940s Tobacco Workers Struggle." On the following Monday morning, participants saw the trailer.
Greensboro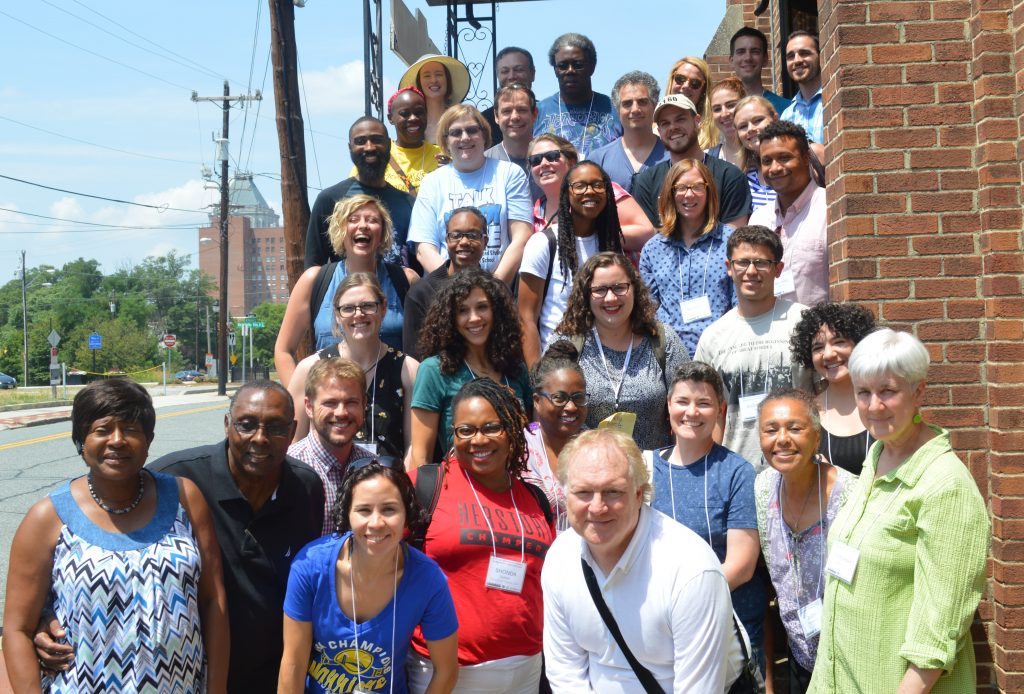 At 10:30, everyone boarded a bus to travel to Greensboro for a dialogue with Nelson and Joyce Johnson at the Beloved Community Center and to tour the International Civil Rights Museum.
Humbled to hear from and be in the presence of Lewis A. Brandon, who was a student organizer at NC A&T in the early 60s, along with fellow civil rights movement vets Joyce and Nelson Johnson here in Greensboro #Aggies #nehcrm #edchat pic.twitter.com/WntO3eVjxy

— Will Ehrenfeld (@WillEhrenfeld) July 13, 2018
---
Week Two: July 16 – 20 1955-1965
Day Six: Monday, July 16
Special guests were welcomed to the institute. They were Putting the Movement Back into Civil Rights Teaching editor Jenice View, journalist Melinda Anderson, and children's book author Kelly Starling Lyons. View came to work with teachers on their lessons. Anderson and Lyons were observors. 
Montgomery Bus Boycott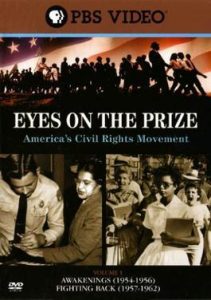 In the morning, filmmaker and institute co-director Judy Richardson introduced the long history of local Black activism that led up to the Montgomery Bus Boycott (MBB), including the roles of the Women's Political Council, the Brotherhood of Sleeping Car Porters, the "walkers," the Black press, the NAACP, and Claudette Colvin.
Richardson showed the Montgomery Bus Boycott segment from Eyes on the Prize.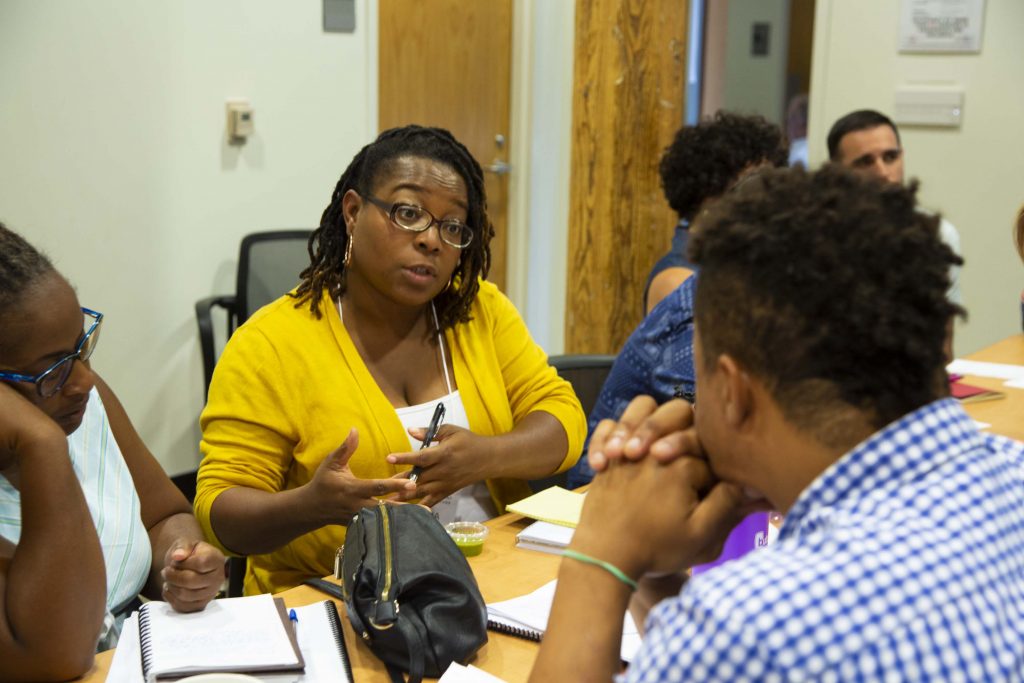 Participants discussed how to shift the narrative in the classroom about the commonly taught story of the MBB, taking into account the key institute themes: grassroots organizing by "ordinary people," the long history of the movement, and the emergence of leaders from the Movement.
Freedom Schools
In the afternoon, Deborah Menkart introduced a lesson on Freedom Schools. Teachers worked in small groups to examine primary documents in four categories: origins, curriculum, teachers, and students.
Documentary filmmaker Catherine Murphy showed a segment from her documentary-in-progress on Freedom Schools, featuring interviews with Hollis Watkins, Charlie Cobb, Dorie Ladner, and others. Following the film, participants brainstormed questions to address the following day with SNCC veteran Charles Cobb Jr. who wrote the original Freedom Schools proposal.
Teacher Reflections
I will be emphasizing the Montgomery Bus Boycott in my classes, using information from both today and McGuire's presentation. It has opened up a whole new lens for me in my teaching.
I learned a little bit about the lives of E.D. Nixon and Mary Burks and their involvement in the movement. I also learned that the strategy and organization of the Montgomery Bus Boycott was already in place prior to the boycott. While I have heard this before, today's documentary and discussion highlighted the extent to which this was true. I also learned and reflected on a different take on leadership, based on something that Judy said. She explained leadership as the constant flow of energy, commitment, and communication! I think this is such a different way of looking at leadership in the context of the movement and it would be really interesting for the students to examine.
Many participants noted, as is captured in the reflection below, how wonderful it was to have Judy Richardson's energy and insights throughout the institute.
Judy is just a treasure. I'm so grateful for her presence and energy. I really enjoyed hearing about the background of her Eyes on the Prize work.
---
Day Seven: Tuesday, July 17
The day began with a group sing of "This Little Light of Mine" and a screening of the very short StoryCorps animation on the fight for the right to vote called A More Perfect Union.
Billy Rutherford read his poem about Betita Martinez and Will Ehrenfeld about E.W. Steptoe.
Freedom Schools, Organizing, and Self-Defense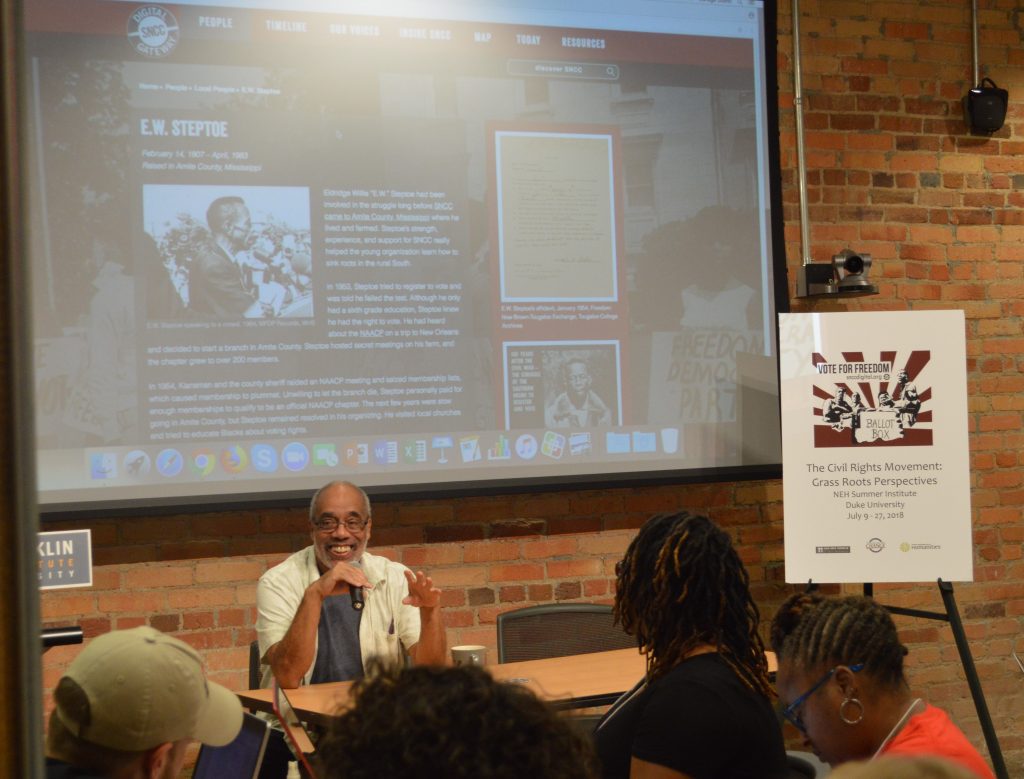 SNCC veteran and journalist Charles Cobb Jr. spent the day with the institute. His talk was divided into three sections:
Black Education and Freedom Schools
Organizing in Mississippi
Self-Defense in the Local Movement
In between the presentations, participants worked on their lessons and had consultations with Cobb.
When the institute ended at 4:30pm, some participants asked if he would continue the conversation. Cobb agreed, so they gathered chairs in a circle and talked for at least another hour.
Teacher Reflections
I thought I was very well-versed in the freedom movement in Mississippi, but I was on the edge of my seat listening to such a detailed inside perspective from an amazing activist and writer. Charlie Cobb is now one of my "heroes of Mississippi" because of his work as an activist and as a writer who tells the true history of the movement. I think we in Mississippi were blessed when he came to our state by accident and stayed in the struggle there for five years.
The entire day with Charlie Cobb was pretty incredible—always humbling to hear from veterans who have done this work. And I could have listened to his stories for days.
Cobb added another layer to the story of SNCC, most of which I was unaware. We teach it as an organization in less than 15 minutes. These resources, including the stories, have opened my ideas to a much larger — and important story.
The stories of C.O. Chinn, Hartman Turnbow, Mrs. Brewer, Hazel Palmer, and Joe McDonald will certainly become infused in my lesson plan going forward!
I learned more about freedom schools and self-defense today. One of the most important lessons was about what it takes to organize in a community – you gotta talk to people and LISTEN to people in order to build two-way trust and respect. I want to use this energy to drive my work with families and have been thinking the past few months of how to get more involved with the neighborhood and do home visits.
All of the little stories we heard will be great to draw students into the story of the movement. I appreciated Mr. Cobb's emphasis on both the quiet work of becoming part of the community and the communities' efforts to protect SNCC activists and members of Freedom Schools/Summer. There were some great quotes too. For example, "What are YOU gonna do?" It's a good reminder to not wait for something to happen but to MAKE it happen.
---
Day Eight: Wednesday, July 18
Eyes on the Prize: Medgar Evers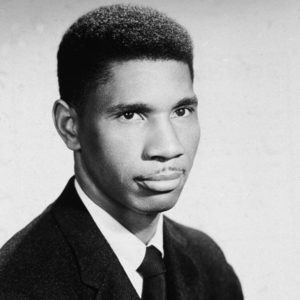 With Mississippi as the theme for the presentations on July 17 and 18 by Charles Cobb and Charles Payne, Judy Richardson showed the Eyes on the Prize segment on the murder of Medgar Evers. In light of the ongoing impact of institutionalized racism, and in particular the police and vigilante murders of African Americans—on top of all that the institute had introduced over the past week and a half—this film evoked very strong emotions. After some discussion, a number of participants requested time for racial affinity groups. The facilitators agreed and, with help from teacher Jessica Rucker, guiding questiofns were developed.
Affinity Groups
Affinity groups met for about 45 minutes and then came back as a full group to debrief. The Black affinity group had developed a list of commitments they asked the white group to discuss and commit to. Some of the points were:
Recognition of a "safe" space that makes people both comfortable and uncomfortable. The space is one in which people do not shy away from race.
Remember that you are white. Regardless of how much work you do, you will never understand what it means to walk this Earth in a Black body.
Listen to learn, not to respond. Be sensitive to other's opinions. Don't begin your response with, "I disagree…".
There was general agreement (although not full consensus) that the process was helpful and led to greater awareness of how this country's legacy of racism impacts all interactions—both in the institute and in everyone's classrooms. A second affinity group session the following week focused on how to create a respectful, sensitive, and affirming space in the classroom, in particular while teaching the history presented during the institute.
Red for Ed
In support of public school teachers and students, teachers wore "Red for Ed" on Wednesday and shared a group photo. In appreciation, the Durham Education Association sent delicious donuts the following week.
Today was hard history in every sense of the phrase. Honored to have the privilege to learn from others in order to better serve my students & my community. Also, honored to show NC teachers some love by wearing #redforED #NEHCRM pic.twitter.com/XhjgBLFvhj

— Jordan Dietrich (@Dietrich_JM) July 18, 2018
.
The Movement in Mississippi
Historian Charles Payne spoke about the building of the grassroots Mississippi movement, including the MFDP, with a focus on how people like Ella Baker, and older local activists like Fannie Lou Hamer, Amzie Moore, C.C. Bryant, and Herbert Lee became pillars of the struggle for voter registration in Mississippi.
Teacher Reflections
I have learned a great deal today! I really appreciated the statistics around registered Black voters from 1900 to the late 1940s and the case for why teaching about the modern Civil Rights Movement should start around the time of War War II. I also learned more about the practice and tactic of self-defense in the context of the number of Black people in the Deep South, particularly in Mississippi, who carried guns for protection and as an act of self-defense.
Today was a big day. I continued to position myself and my identity as a white teacher of Black students; I considered issues of race and gender that I had not before; I will teach Brown v. Board differently after today and need to rethink how I frame it.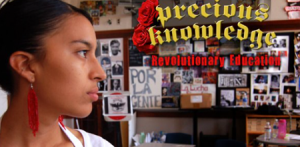 Evening: Movie Night
A group of teachers organized a screening of the documentary Precious Knowledge in the hotel. This optional movie night was followed by a discussion about the growth of ethnic studies courses in high schools across the country.
This was one of a number of Civil Rights Movement documentaries available to teachers on our institute library shelf and via Duke's Kanopy website.
---
Day Nine: Thursday, July 19
Mississippi Freedom Democratic Party
Charles Payne spoke about the Mississippi Freedom Democratic Party (MFDP) and how SNCC broke open the caste system in the American South between 1960 and 1965.
In the afternoon, participants worked on their lessons while others held consultations with Payne.
Notes from Presentation
Below are a teacher's notes from Payne's presentation.
Lessons from SNCC: Current students are losing a sense of politics as democratic process. It is not enough to make change for the poor – poor people have to be a part of the process. 

It is a matter of knowing the people you are working with—a genuine partnership, "an agenda that is jointly defined, driven." 

It is not about winning victories. The power structures will just take those back when you aren't looking/leave (Civil Rights Act, Voting Rights Act). 

Gains are not permanent if you don't develop people in the community to ensure long term success.

Brown v. Board is the most over-rated Supreme Court decision. Brown "did very little." Students should study Smith v. Allwright (1944), the case that legally eliminated the white primary.

Freedom Song
Judy Richardson introduced the film Freedom Song, explaining that while it is a Hollywood drama, it accurately portrays the story of SNCC in McComb, Mississippi.
Teacher Reflections
Dr. Payne's lecture was also really powerful. He's clearly brilliant, and I'm still thinking about MFDP, representation within parties, and my role in the school I work in. The final question he asked us, about who/what is privileged in the space we occupy in the classroom, the physical space of the classroom, and the curriculum was brilliant and is something I'll keep thinking about throughout the summer. I'm also thinking about the idea of overestimating the importance of political power, and to what extent I do so in my own curriculum and how to begin shifting that to include economic power too.
The concept of teachers/community organizers' need for gratitude from their students is something I will be grappling with and reflecting on for a long time. I am grateful for the question he posed to us: "What does your ego need? How does it fit into your ideal for social justice? How does it contradict your ideal for social justice?"
---
Day Ten: Friday, July 20
Greensboro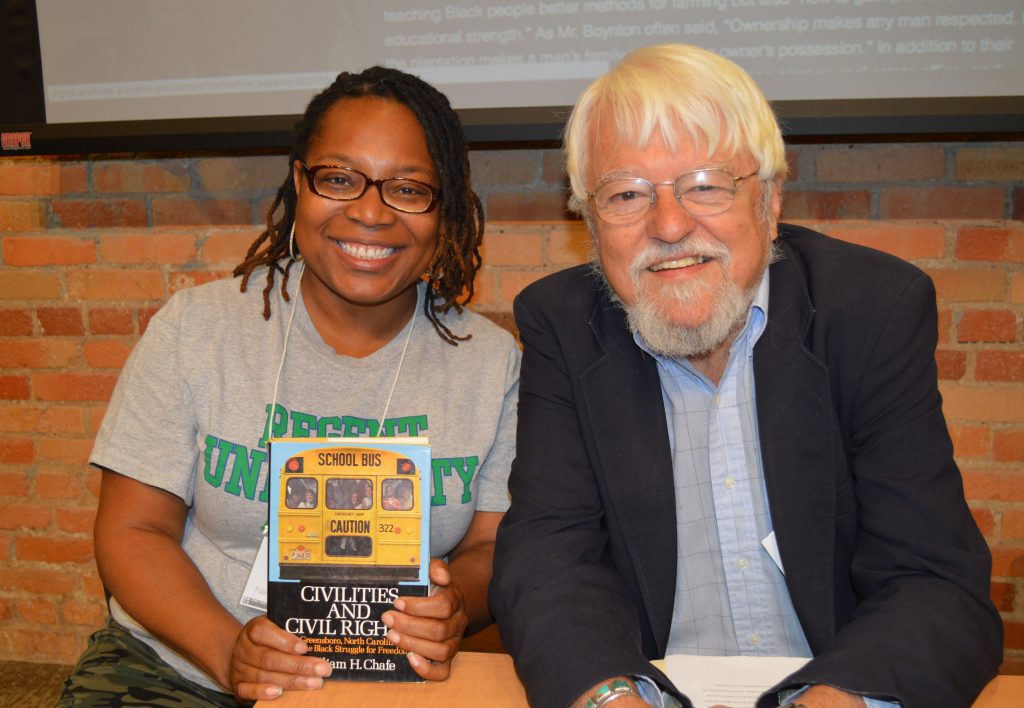 William Chafe (author of Civilities and Civil Rights: Greensboro, North Carolina and the Black Struggle for Freedom), described how the Greensboro movement evolved, with student demonstrators following the lessons they had learned from their high school teachers, their pastors, and their parents to stand up for their rights.
He also talked about the development of the oral history program at Duke University and some approaches to collecting oral histories.
Chafe's talk was followed by the 7-minute segment on the sit-ins in Durham from the documentary website, Counter Histories.
Teacher Ben Phillis mentioned that he heard the women at Bennett College played a role in the sit-ins.
Teacher and Bennett College alum Crystal Proctor shared some of that hidden history. Her aunt was a student at Bennett College during the sit-ins and had participated in meetings leading up to the action by the A. and T. College students on February 1, 1960.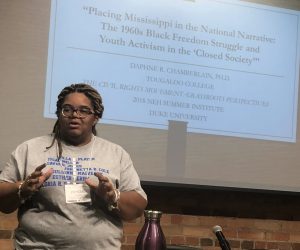 The afternoon session began with poetry by Bethany Hobbs about Anne Braden and Jessica Rucker about Annie Pearl Avery.
Rosie Frascella encouraged everyone to consider writing for the journal Rethinking Schools. She described that, in preparing for the article she had published on "Sacrifice Zones," it was important to keep notes on students commentaries and examples of their work.
Youth Activism
Tougaloo College Dean of Social Sciences Daphne Chamberlain gave a presentation, "Placing Mississippi in the National Narrative: The 1960s Black Freedom Struggle and Youth Activism in the 'Closed Society'."
As she walked up to the front of the room, shed dramatically recited a poem by Margaret Walker. Chamberlain explained, "I'm a product of the institution where I now teach." She added that Tougaloo College is on the land of the Boddie Plantation, so it "was once a field where people picked cotton and now it is a field of education."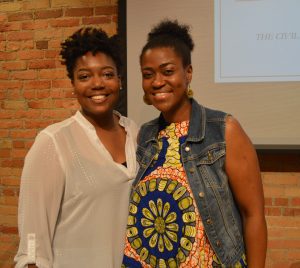 During her presentation, she noted that many of the people she described were so young in the Movement that they continue to be active today, such as Dr. Amos Brown who was in the NAACP Youth Council in Jackson and now sits on the NAACP board. She asked teachers to look up the history of HBCU Campbell College, which provided education for students who had protested and were not allowed to return to their high school unless they signed a promise not to protest.
Burglund Walkout
Jackson State University senior and institute intern Vershunda Coleman showed the film she and other students made about the Burglund Walkout for National History Day when she was in high school. She explained that before becoming involved in the McComb Legacies Project, she and her classmates had no idea that their hometown played such a pivotal role in state and national Civil Rights Movement history.
Regional Meetings
To help ensure that teachers from the institute can continue collaborating and engage their colleagues, we had them meet in regional groups for Durham, New York, Mississippi (with Professor Chamberlain), California, and the D.C. Metro area.
Teacher Reflections
Watching Vershunda's video was a great reminder of what can happen when you let students drive the learning.
Meeting with the regional groups proved useful and allowed us to contextualize the work of the institute in the daily work that should happen in the schools we teach.  
Terrific to see Ms. Vershunda Coleman's fabulous documentary and to be reminded of how much our students value history that is connected to their communities! Really appreciated Dr. Chamberlain's content, which will be so compelling for my students. Looking forward to develop this into a lesson.
Dr. Daphne Chamberlain's presentation was a great model for teaching AND learning — using images, poems, primary sources to teach us about the role of youth in activism was awesome.
I really appreciate how the organizers of the Institute review and implement evaluation feedback. It is evident that our feedback is thoughtfully considered each night and used to ensure our professional and personal needs are met the following day. I am really looking forward to affinity group discussions next week.
---
 Week Three: July 23-27 1966-1980
Day Eleven: Monday, July 23
Contested Memories
SUNY Geneseo Professor Emilye Crosby provided a presentation, "Looking the Devil in the Eye: Race Relations in Civil Rights Movement History and Memory (A Case Study of Claiborne County, Mississippi)." This was based on her first book, A Little Taste of Freedom: The Black Freedom Struggle in Claiborne County, Mississippi.  She read from oral histories of whites and Blacks in Claiborne County, which showed that "while they share a past, they do not share an understanding of the past." Crosby grew up in the African American community of Port Gibson and was the only white student in her middle school. 
Crosby highlighted the long history of African American organizing and resistance in Claiborne County, including by WWII veterans. In her close to 200 interviews, many of the white residents reflected their assumption that the resistance had only come from "outside agitators." The Black interviewees, however, told a different and more accurate story.
As with all the presenters, Crosby also offered consultations with teachers. (Each teacher indicated which scholar they would like a consultation with based on the content of their lesson. Others could listen in, but the designated teacher led the discussion.)
Women in SNCC
Judy Richardson and Emilye Crosby presented about women and gender roles in SNCC.
Morning session learning about the women of SNCC and gender roles in the movement with Dr. Emilye Crosby and Judy Richardson of SNCC @fhi_duke @teachingchange @snccdigital @PrincipalDM @SSTweetsAlot @wmpleejr #NEHCRM pic.twitter.com/YnqalFw5MD

— MissCProctor_18 (@misscproctor) July 23, 2018
Listening to Judy Richardson & @emilyecrosby talk about direct action, women in the CRM & Attica was a dream come true today. So appreciative of all the bad ass scholar & veterans I've learned from in the last few weeks. #NEHCRM pic.twitter.com/SH3LVZSgel

— Jordan Dietrich (@Dietrich_JM) July 24, 2018
Attica Uprising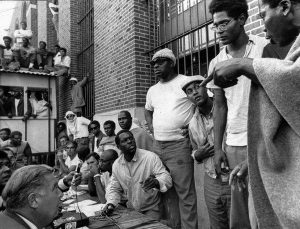 Richardson and Crosby showed the Eyes on the Prize excerpt on Attica for discussion with institute participants. For a number of people, this was the first time they had heard of the Attica Uprising. The day ended with affinity groups.
Teacher Reflections
Learning or hearing about the two parallel perspectives of white and black history from Dr. Crosby was amazing. Also, the affinity groups, in which I admit I thought were promoting separatism at first (I have since changed my mind) was wonderful. I am thankful for being able to relate to people with shared and not shared experiences, they have pushed me and challenged my own personal philosophies in so many ways. I have connected to a group of people that will be a part of my life. They have taught me so many sides and views different than my own. Thank you for allowing us to have this space.
I really appreciated how Dr. Crosby opened her presentation with her personal biography and explanation of how her identity and upbringing influence her pedagogy. She modeled the type of vulnerability that invites others (namely me) to do the same. As a teacher, it is important for me to experience other teachers inviting themselves, in a wholehearted way, to the teaching and learning process. The screening and post-discussion about the Attica Uprising was really helpful in expanding my perspectives about what a "Civil Rights" issue is. Also, the affinity group conversations were very useful. The opportunity to reflect on and celebrate the ways that our relationships with each other are creating the learning spaces we believe will help us become better teachers for our students was valuable. Also, it was great to celebrate the fact that the collective changes we asked for are happening because we are supporting and holding each other accountable as peers.
---
Day Twelve: Tuesday, July 24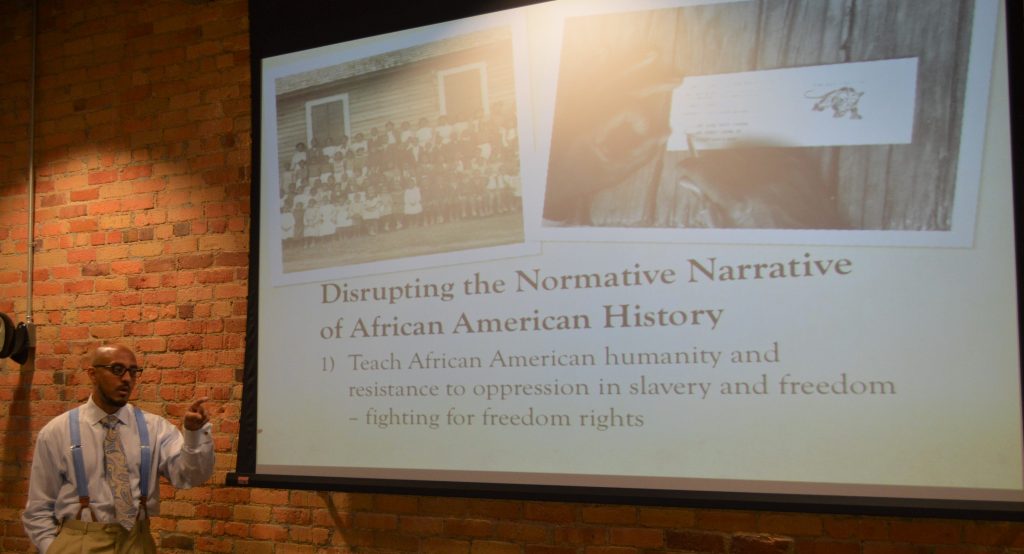 Historian Hasan Jeffries (author of Bloody Lowndes: Civil Rights and Black Power in Alabama's Black Belt) presented on the topic of teaching the "hard history" of all U.S. history, beginning with slavery and including Lowndes County.
Jeffries talked about the need to "disrupt the normative narrative of American history." For example, there is the myth that things in the U.S. have always gotten better; it is not an arc but an incline. Jeffries recommended that students examine the advances, but also the set backs and lost opportunities. For example, the Declaration of Independence could have ended slavery and extended equal rights to African Americans. Instead, the Declaration was a lost opportunity for the U.S. to live up to it's spoken ideals. The Reconstruction amendments given African Americans the right to vote, but what good is the vote if you have no money nor land?

"How are you all teaching hard history?" Thankful that @ProfJeffries took time to ask tough questions of us history teachers today at #NEHCRM. Threading some of them here for myself and hopefully others to consider. 1/ pic.twitter.com/Xl5arUHLG9

— Tracey Barrett (@traceyebarrett) July 25, 2018
Orangeburg Massacre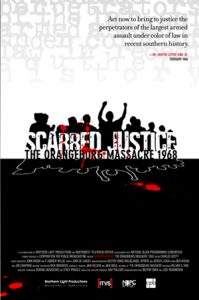 In the afternoon, Richardson introduced and screened the film Scarred Justice: The Orangeburg Massacre 1968. Jeffries and Richardson led a post-film discussion.
Teacher Reflections
I learned ways in which to teach the hard history. Jeffries' many points on disrupting both the narrative of American history AND the narrative of African American history makes me want to re-evaluate how I teach material in my classroom. During the question and answer session, the discussion of the power of language and the role of white teachers was especially helpful for me in re-imagining my classroom discussion and presentation—the idea of setting the context of the images of violence.
Some really valuable teaching ideas for challenging the traditional narrative. Specifically, when teaching slavery to start with resistance. Also, the five core concepts are really impacting my thinking (know content, students, self, school, community). In general, I'd like to be more transparent with my students about my pedagogical decisions and today gave me some really useful language for that. I can imagine starting a unit on slavery or Civil Rights with a discussion of WHY this is hard history. I feel much more prepared to do that now.
The Orangeburg Massacre video is a great teaching tool, especially since I knew nothing about it before. That whole video was a learning experience, and I plan to use it in comparison to Kent State (racism in reporting/national outrage/etc.).
Never heard of the Orangeburg Massacre, not had I really considered the idea of intentionally teaching the humanity of the people involved in historical events.
People's History Trivia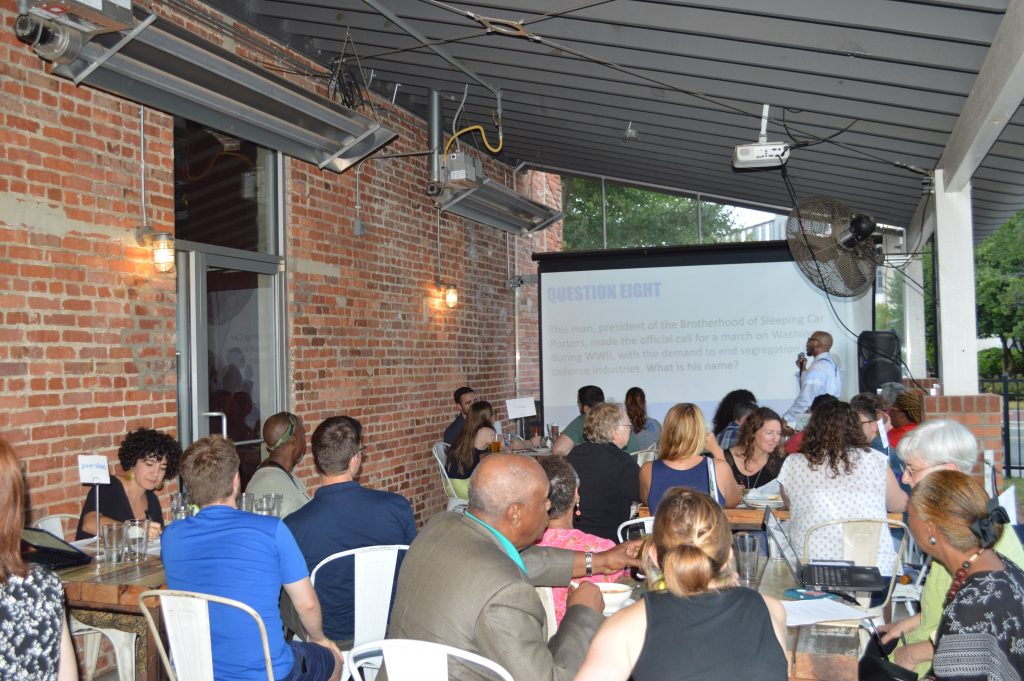 In the evening, teachers were invited to an (optional) Zinn Education Project People's History Trivia competition, moderated by Hasan Kwame Jeffries.
The event was held at Bull McCabe's Irish Pub on an outdoor covered patio. Teachers invited friends from the area and created names for their teams: The Bull Liberators, Zinn-Spired, Fusion Coalition, SNCCERS, Four Corners, and (the winners of first place) OK, Ladies–Now Let's Get…Zinn-formation.
The event provided an opportunity for laughter, spirited competition, and camaraderie. Everyone agreed that Hasan Kwame Jeffries was a wonderfully witty MC.
---
Day Thirteen: Wednesday, July 25
The day began with the song, Keep Your Eyes on the Prize, Hold On.
Lowndes County Freedom Organization
SNCC veterans Courtland Cox and Jennifer Lawson of SNCC shared the story of the Lowndes County Freedom Organization, a powerful example of how the Civil Rights Movement continued after the Voting Rights Act.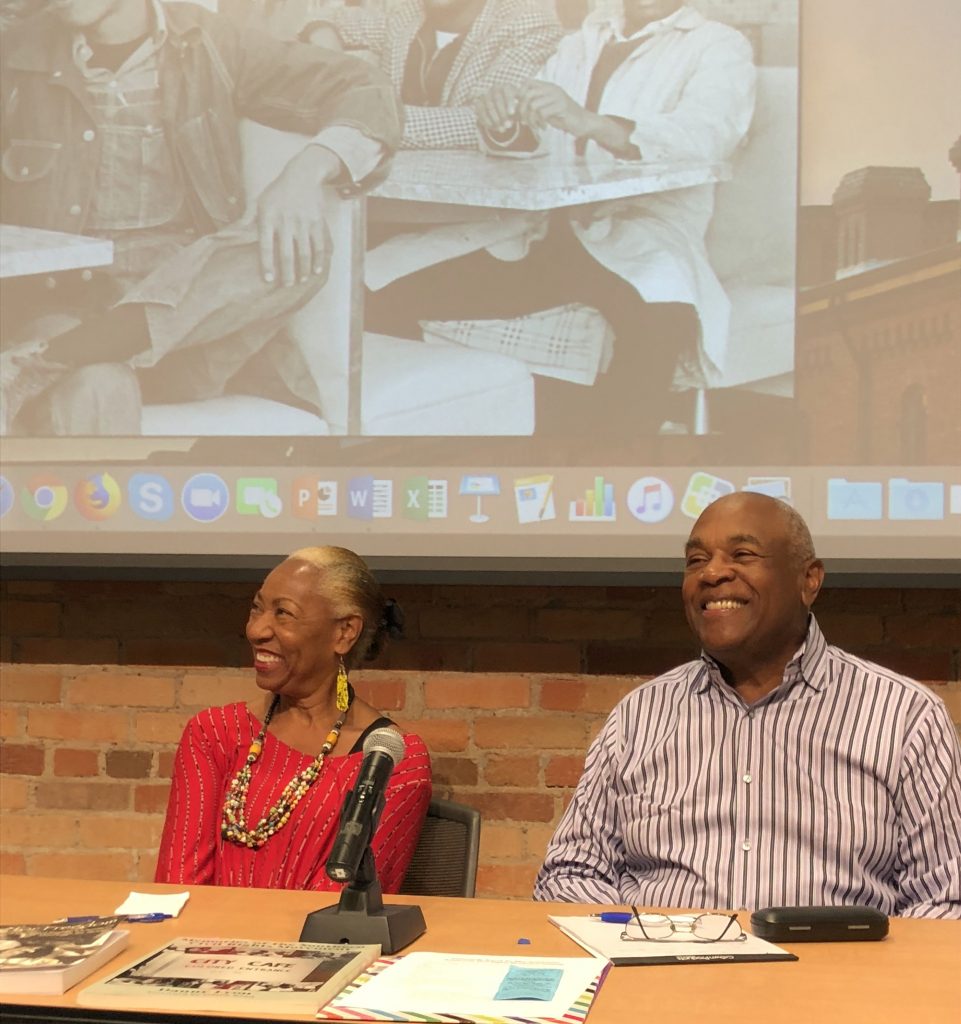 They began by asking everyone to picture them at the age they were in Lowndes — 19 and 20-years-old. When they arrived in Lowndes County, 5,000 Black people were eligible to vote, but there were only four registered voters. Their goal became "to get over 5,000 people to register, vote, and become the power of the county within months."
Courtland Cox: "What we did (with the Lowndes County Freedom Org) wasn't revolutionary, but who we did it with was." Billboard–yes, the black panther logo–designed by Jennifer Lawson, 53 years ago…two living legends from SNCC @snccdigital. Wow. #nehcrm pic.twitter.com/qf4vBS6iHV

— Will Ehrenfeld (@WillEhrenfeld) July 25, 2018
To introduce more films that teachers might want to consider for the classroom, trailers were shared for Freedom Never Dies – The Legacy of Harry T. Moore, Come Hell or High Water: The Battle for Turkey Creek, Freedom on My Mind, and Sighted Eyes/Feeling Heart: Lorraine Hansberry.
Pauli Murray
Barbara Lau did a presentation on Durham native Pauli Murray who was a historian, attorney, poet, activist, teacher, and Episcopal priest.
The group took a field trip to the Pauli Murray home, about a 20 minute walk from the Franklin Humanities Institute.
Eyes on the Prize: Fred Hampton and Mark Clark
Judy Richardson hosted an optional late afternoon screening and discussion of the Eyes on the Prize segment on the murders of Fred Hampton and Mark Clark called "A Nation of Law."
About half the participants stayed after the daily reflection to view and discuss the film.
Teacher Reflections
I really enjoyed the content we learned today! I am really grateful for the Institute and for the balance between learning about the Civil Rights Movement/Black Freedom struggle from both veterans and from scholars. This Movement is more human and accessible to me. I am not only growing intellectually, but also personally. 
The information about the Lowndes County Freedom Organization was absolutely incredible. I continued to learn about how community educating can be leveraged as a powerful tool of social transformation and empowerment. I also really connected to questions about how to teach my students about voting and politics in ways that incorporate paired visuals and text. I deeply appreciated what Mr. Cox said about teaching not just information, but also inspiration; I will connect my ever evolving pedagogy to this. Dr. Jeffries made a similar point yesterday. If the end goal is to create strong people and strong citizens, what do my students really need to learn?
The comic books that Jennifer and Courtland talked about were truly amazing. This was great pedagogy that I could replicate in my classroom. I knew nothing about Pauli Murray, and I plan to use her to teach about intersectionality in the movement.
---
Day Fourteen: Thursday, July 26
The day began with  a group sing of "Ella's Song: We Who Believe in Freedom Cannot Rest Until it Comes" written by Dr. Bernice Johnson Reagon and frequently performed by Sweet Honey in the Rock.
Teachers Lynne Schneider and Julie Yick read their "write that I" poems for C.C. Bryant and Harry T. Moore.
Teacher Will Ehrenfeld modeled a mini-lesson on the Question Formulation Technique from the Right Question Institute. With the upcoming presenters' topic of SNCC and Internationalism in mind, Will posted a statement by Bob Moses and had teachers work in small groups to compose as many questions as possible.
The South has got to be a looking glass, not a lightning rod. You've got to learn from the South if you're going to do anything about this country in relation to Vietnam.
He provided the QFT guidelines: "Ask as many questions as you can. Do not stop to discuss, judge, or answer any question. Write down every question exactly as it is stated." Each group came up with a long list of questions, from which Will had them select and share their top two. In a quick debrief, teachers talked about taking this back to their own classrooms since it puts the power of inquiry back into the hands of students. Will recommended the book Make Just One Change: Teach Students to Ask Their Own Questions to learn more.
Courtland Cox and Jennifer Lawson offered a presentation on SNCC and Internationalism. They began with the people they learned from, including:
Frantz Fanon
Shirley and W. E. B. Du Bois
Paul and Eslanda Robeson
C. L. R. James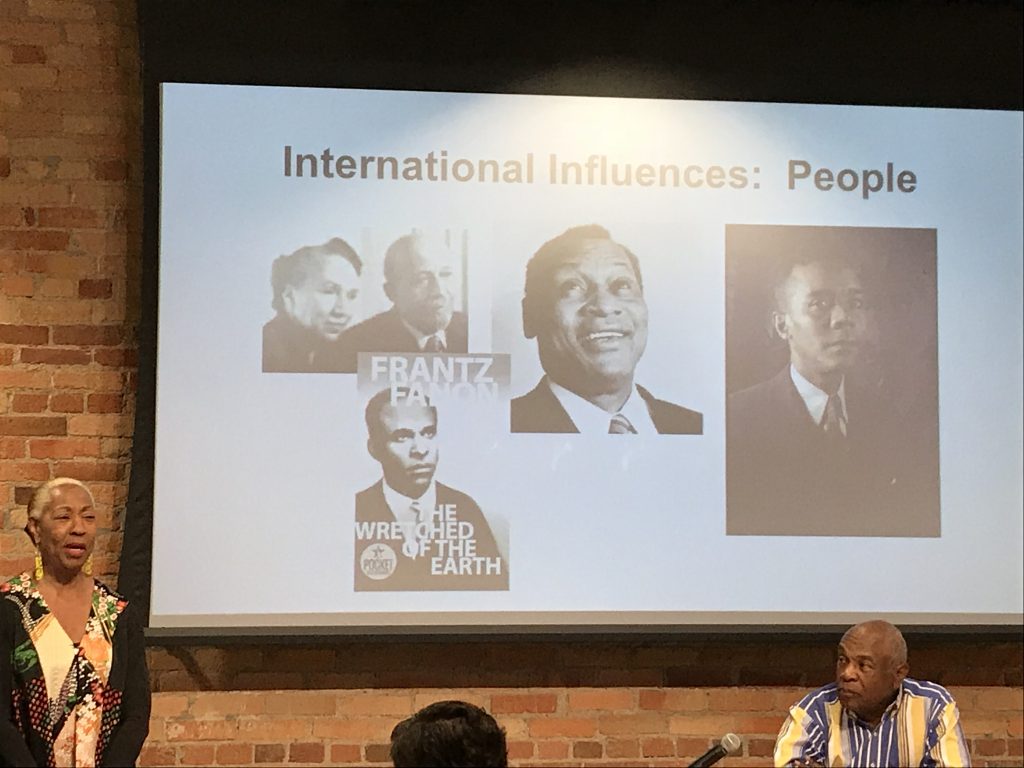 Lawson and Cox described the role of the Southern Freedom Movement in taking an early stand against the Vietnam War and the impact of the murder of Korean War veteran and Tuskegee student Sammy Younge Jr., while trying to use a whites-only restroom in 1966. Making the international connections in person, they described travels by SNCC activists to East Africa, Cuba, Palestine, and Vietnam.
Children's Books
Teachers engaged in a critical review of children's picture books about the Civil Rights Movement. Reading one book each and then talking in pairs, they compared the narrative in each children's book to what has been learned in the institute. Questions developed by teacher participant Aaron Broudo were used as a reference for the discussion. Participants then brainstormed strategies for engaging students in critiques of children's literature and in writing their own picture books.
---
Day Fifteen: Friday, July 27
The morning began with the NEH evaluation. Once completed, teachers met in pairs to share progress on their lesson and to get feedback.
For the closing activity, teachers gathered in a circle and read one line each from their impact statements, such as,
Deeply moved by the way the institute centered the lives of African American women and youth. I am inspired to contribute to production of Black liberation struggle for next generation.
I don't possess the vocabulary for how this has changed me. I came looking for the "win" for my students. I found that here and want to fully convey it in my classroom.
I will focus on the work of ordinary people so my students can see themselves as agents for change.
A deep reverence for the small unknown victories made me less cynical.
I will lead with humanity and resistance instead of using history as content to be learned.
I am empowered to initiate difficult conversations with my white colleagues about how our different perspectives of history are impacting our Black and brown students
and more.
Jazmynne Williams of Black Youth Project 100 (BYP100) led the group in a freedom song chant. The institute ended as it began—with the power of music and collective voices singing protest songs.

---
Coordination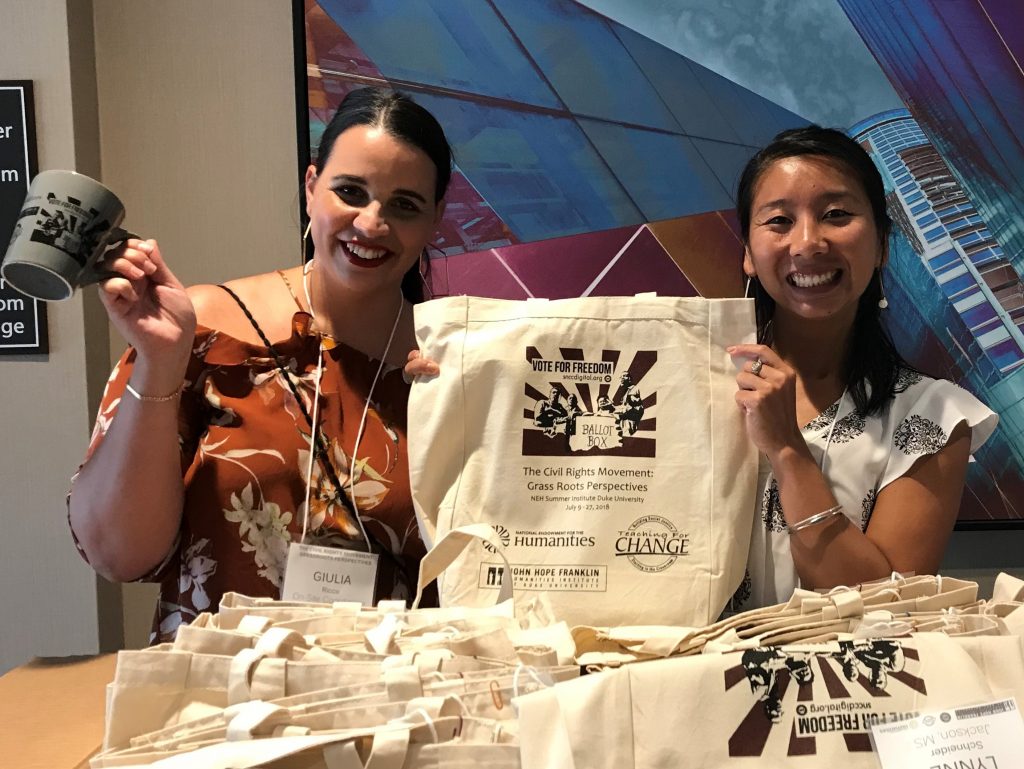 Doctoral students Giulia Ricco and Kayla Chee provided invaluable support with outreach, communications, advance preparation, and onsite logistics.