Daisy Bates: First Lady of Little Rock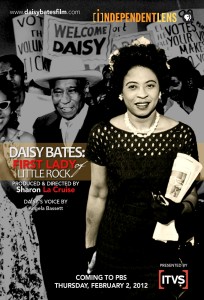 Daisy Bates became a household name in 1957 when she fought for the right of nine black students to attend the all-white Central High School in Little Rock, Arkansas.
As head of the Arkansas NAACP and advocate for the nine students, Bates would achieve instant fame as the drama played out on national television and in newspapers around the world. But that fame would prove fleeting and controversial.
A new film, Daisy Bates: First Lady of Little Rock takes viewers from her childhood to newspaperwoman to national Civil Rights figure to her last days in Little Rock.
Teaching for Change was honored to co-host the community film screenings in Washington, D.C. on Jan. 21 at Busboys and Poets and Jan. 22 at the Jewish Community Center of Sharon La Cruise's Daisy Bates: First Lady of Little Rock in support of ITVS's Women and Girls Lead Initiative.
The film was introduced by the co-editors of Putting the Movement Back Into Civil Rights Teaching Deborah Menkart (executive director, Teaching for Change) and Jenice View (assistant professor, George Mason University); and Julian Hipkins III, history teacher, Capital City Public Charter School. High school students were among the attendees, actively engaging in the small group discussions.
The film showing was sponsored by Independent Television Service (ITVS), WHUT, the Institute for Policy Studies, Busboys and Poets, Washington DC Jewish Community Center, and the Center for Social Media at American University.
Here are photos from the event at Busboys and Poets.