Teaching Central America
More than seven million Central Americans reside in the United States today, yet the lack of resources in most schools on Central American heritage make the rich history and literature of the region invisible. Also missing from the curriculum is the direct connection between U.S. foreign policy and Central American immigration to the United States. People from Guatemala, Nicaragua, El Salvador, and Honduras moved in large numbers to the United States during the 1960s-1990s, when U.S.-supported military dictatorships waged repressive wars against their populations.
Therefore, Teaching for Change has launched a dedicated website to encourage and support teaching about Central America. We have collected lessons, booklists, biographies of noted historical figures, and readings for free use by classroom teachers.
---
Make a Donation
---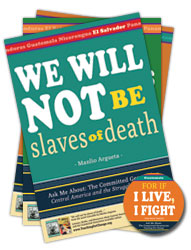 Help us give teachers and parents the tools to teach Central American history and multicultural education all year long – not just during celebratory months and holidays.
For a donation of $10 or more you can receive your very own Central America button. Each button comes with a brief description of an author and a poem so you can share Central America's history and literature with others.
Give today for your Central America button.