Teach the Beat: Go-Go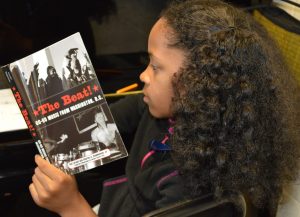 Teaching for Change is honored to work with D.C. area schools and the authors of The Beat! Go-Go Music from Washington, D.C. to develop lessons on the rich and unique history and music of go-go and to bring renowned go-go performers into D.C. area schools.
Teach the Beat: Go-Go Goes to School is designed to ensure that students learn the history and the various stylistic elements related to the go-go music genre, drawing on the vast array of performers in D.C., scholars, and the experience of teachers who grew up with go-go.
Go-Go Artists in the Classroom
Teach the Beat brings go-go performers and scholars into D.C. area schools to provide coaching in music, social studies, and language arts classrooms. Students perform with expert guidance, ask questions, and wear out the performers with requests for photos and autographs before they leave. Read about our classroom visits.

Lessons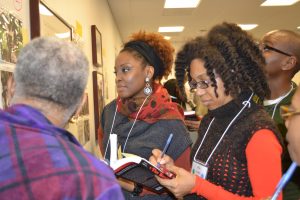 Teaching for Change has developed lessons that teachers can use to introduce go-go music to their students, including:
Meet the Beat introduces students to key people and issues in a unit of study on go-go in the DC metro area. The lesson format is a "mixer" or "meet and greet" where students take on the role of a key person, place, institution, or object.
The Go-Go Gallery Walk explores the history of go-go using text and images. The gallery walk includes information about bands, instruments, clubs, and other components that make up go-go.
Resources
Visit our website at teachthebeat.org to learn more about go-go, including people and groups, and book and video resources.
We recommend Unsung: Chuck Brown and G0-Go, the TV One documentary about Chuck Brown and the birth of go-go in Washington DC.
Background
Teach the Beat launched in July of 2011 with a forum for teachers at the Anacostia Museum with featured presenters Sweet Cherie and Sugar Bear. In 2013, the D.C. Commission on Arts and Humanities funded and hosted a groundbreaking full day seminar for DC teachers called Teach the Beat: Go-Go in DC. See video highlights below.
Making it Possible
Funding for Teach the Beat has been raised at special events and from individual donors.

Chuck Brown was the featured guest at house parties at the home of Steve and Sonya Coleman and the home of Charles Stephenson and Judith Burrell. There was also a go-go concert under the stars at the Anacostia Gallery. The DC Commission on the Arts and Humanities provided funding for a teacher institute in 2013 and to pilot classroom coaching visits by go-go artists in 2015. DC Public Schools funded 13 classroom visits in 2016.
---