Elizabeth Davis, ¡Presente!
The people of D.C. are in collective grief and mourning on the death of Washington Teacher Union president Elizabeth "Liz" A. Davis in a car accident on April 4, 2021. She has been a powerful presence in the lives thousands of students, teachers, and families through her unwavering dedication to radical teaching, righteous activism, and grassroots organizing.
Liz moved with her mother to D.C. from North Carolina to begin 4th grade in D.C. public schools. She attended Buchanan Elementary School, Hine Junior High School, Eastern High School, and the University of the District of Columbia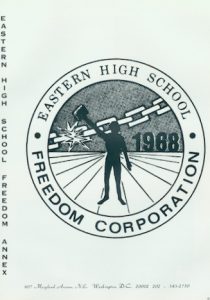 Her activism dates back to her days as part of the Modern Strivers at Eastern High School. The group's commitment to education for liberation and against police in schools were among the values that Liz carried on throughout her career. In 1970, the high school student president of the Modern Strivers testified at a hearing on violence in schools that "To truly prevent student unrest, the schools needed a new curriculum, one that does not prepare students for today's society, but rather a 'more sane [sic], human one.'" The students also ran their own Freedom School with courses on "Black history, Swahili, Black philosophy, Black literature, contemporary problems, economics, Black art and drama, third world studies and community organization." (Read more about the Modern Strivers.)
After being recruited by the superintendent to teach drafting at Jefferson Junior High School in 1972, the school's principal tried to bar her from the job because she was female. Liz shared this story in the National Teacher Initiative of StoryCorps:
My very first year teaching in Washington, D.C. I did not know I was one of the first female teachers teaching a non-traditional course for women called drafting. The principal asked me to return to personnel because he did not want a woman teaching a shop class in his school. . . Basically, I had to fill out a Title 9 form of sex discrimination which was not a good way to start out my first year as a teacher.
The second semester, the girls were informed they could not enter into any of the wood working or metal working or printing classes and I challenged that with another Title 9 complaint on behalf of my female students. I spent the rest of the year fighting for my job. [Listen to Liz's response on StoryCorps.]
During decades when many DCPS facilities were literally falling down around students and staff, Davis became known as a teacher who was unafraid to stand up to unsafe conditions — from water contaminated with unsafe levels of lead to tar fumes that were sickening students to teachers forced to stay in a school with a collapsed roof.
Liz was actively involved with many local and national education organizations including (but by no means limited to) Empower DC, Save Our Schools, the Ward 5 Education Council, the Delta Kappa Gamma International Society for Women Educators, the National Commission on Writing, the National Coalition of Education Activists, the DC Area Writing Project, Teaching for Change, DC VOICE, DC Jobs with Justice, and the National Writing Project. In 2013, Davis was elected president of the Washington Teachers' Union, Local 6 of the AFT.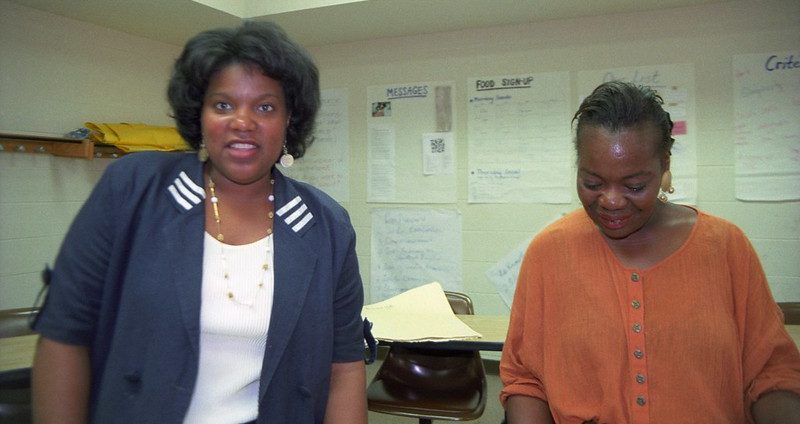 Our journey with Liz began with the D.C. Area Writing Project (DCAWP) in 1995. She was in the first cohort of 22 teachers in the DCAWP, a local site of the National Writing Project launched by DCPS, Howard University, and Teaching for Change. The instructors that first year were Pat Bradford and Linda Mauro. In addition to the teachers leading workshops based on their own work, guest presenters included Don Gallehr, Enid Lee, Orlando Taylor, and Renee Shea.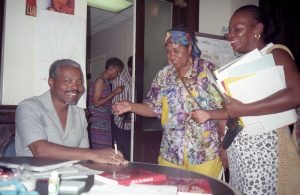 The DCAWP continues to this day at Howard University.
In 1996, Liz participated in the Teaching for Equity Summer Institute that we coordinated in collaboration with DCPS.
As a classroom teacher, Liz engaged her students in preserving an historical landmark. Her story, published in Putting the Movement Back into Civil Rights Teaching, begins:
For at least a decade in Washington, D.C., the school where I taught, the John Philip Sousa Middle School, would only make the news when a neighborhood shooting would occur. But the site of my vocation had a great and glorious history, I discovered — one directly connected to the Civil Rights Movement.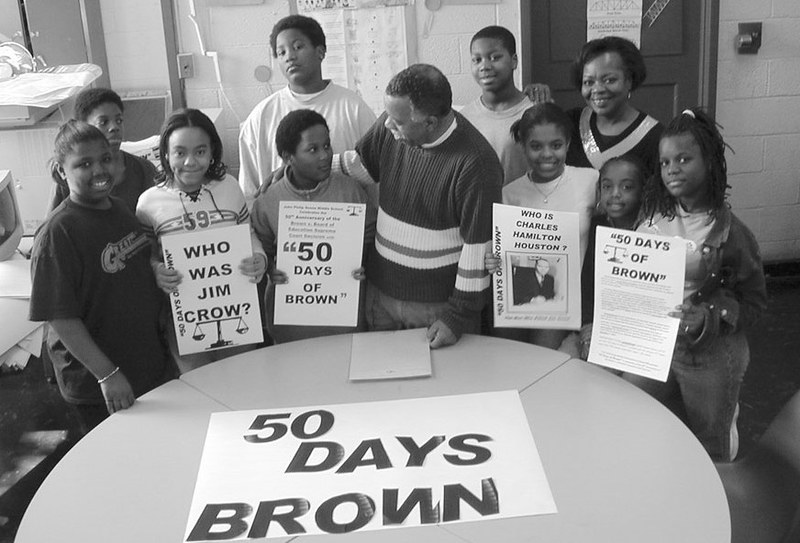 An article in The Washington Post in 2001 revealed that Sousa had been designated a landmark by the National Park Service for its role in the desegregation of public schools in the District of Columbia.
After sharing the article with each of my four technology education classes, my sixth-graders wanted to know "What is desegregation and why did it make Sousa a historic landmark?" My seventh- and eighth-graders wanted to know "Does this mean that Sousa will become a museum?" and "When and why was Sousa segregated?" "What does all this have to do with us right now?" Since I was unaware that Sousa was one of the schools cited in the famous 1954 Brown v. Board of Education Supreme Court decision, I had to conduct my research with my students: Students conducted internet searches, read, discussed, compared, and swapped research findings with one another. Although I perceived this as the perfect teachable moment, with built-in connections to the lives of my students, I never imagined that this effort would take on a life of its own as it continued to branch into different directions with broader and unexpected civil rights lessons before its completion. Continue reading at CivilRightsTeaching.org.
One group of students had shown no interest in learning about the history of Sousa. In a 2011 StoryCorps interview, Liz describes the creative and effective approach she used to hook them on the story of Bolling v. Sharpe. She told them about a boy who sued the principal of their school. The students said, "Mr. Lipscomb?" Liz notes that at the time, the students were not in love with the principal and as a matter of fact, nor was she. Liz responded, "I'm not going to tell you his name. But he told the student that he was too black to come to the school. So the student sued the principal." It is well worth listening to the 90- second clip below to find out what happened next and to hear Liz's description of her dialogue with the students.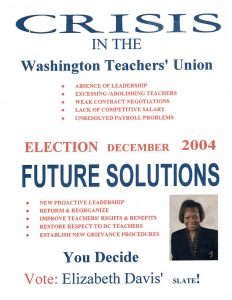 In 2004, Liz first ran for union office — one of many campaigns until her successful election in 2013.
At Teaching for Change, we encouraged every union member to vote in the face of concerted efforts by the union leadership to discourage full participation. We also shared Liz's social justice platform. It was quite a contrast to the incumbent's platform which promised to protect teachers' right to use corporal punishment, in a school district with about 95% African American and Latinx students.
In response, the Teaching for Change board chairs received a letter from the WTU leadership threatening our non-profit status. We were not violating any laws, but the letter gave us a taste of the hateful threats that Liz had to contend with as she advocated for needed changes in the school district and teachers' union.
Teachers learned from Liz how to make continued resistance the victory. Jesse Hagopian, co-editor of Teacher Unions and Social Justice, wrote:
This is heartbreaking. I got my start as a new teacher learning how to be a union activist with Liz. I will be forever grateful for the kindness Liz showed me and the boldness that she taught us all.

— Jesse Hagopian (@JessedHagopian) April 5, 2021

At the launch for Putting the Movement Back into Civil Rights Teaching on March 31, 2004, Liz was one of the speakers along with Dorothy Height, Jesse Jackson Jr., and Eloise Greenfield at the NCNW headquarters. (Photos below.)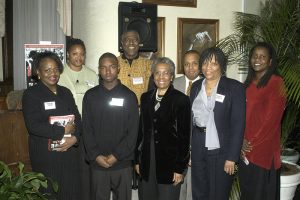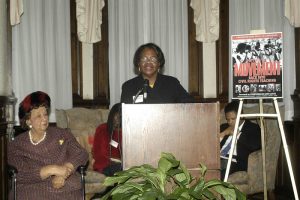 When Michelle Rhee was appointed chancellor of D.C. schools by the mayor in 2007, Liz bravely spoke out about the draconian nature of Rhee's policies. (Bravely because the Rhee administration was unabashedly punitive, firing staff and closing schools at will.) In 2008, Liz, Kerry Sylvia, and Mark Simon co-authored an op-ed in the Washington Post titled "Bargaining for Better Teaching" where they took both the chancellor and the Washington Teachers' Union to task for their failure to resolve union contract negotiations. Their piece outlined the specific issues they would have negotiated if they had really cared about students, teachers, and the quality of teaching and learning. (Read more via Mark Simon's Facebook post.)
In 2010, we co-hosted an event at Busboys and Poets on the anniversary of Howard Zinn's birth. It was a tribute to Zinn who had died in January of that year. Liz was one of the speakers along with Kenneth Carroll, Naomi Ayala, Fred Joiner, Dave Zirin, Lauren Cooper, Derrick Weston Brown, and Andy Shallal. Liz spoke about how Howard Zinn influenced her work with students at Sousa Middle School in DC — teaching her to make sure students take their education and activism outside school walls like Zinn did at Spelman. This belief became a reality when she worked with Sousa students to protect their school from demolition.
Finally, in 2013, Liz was elected president of the Washington Teachers' Union. As Mark Simon notes,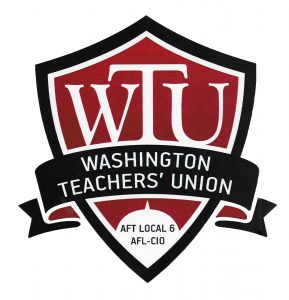 Liz Davis campaigned on a platform to transform the WTU to be the kind of union that challenges and engages the administration on its reform agenda; that opposes unjustified school closings; that challenges the design of the IMPACT teacher evaluation system rather than bureaucratically grieving individual cases; that fights to improve the quality of teaching and learning and for a more professional and respectful school climate; and one that is committed to changing internal processes to be more democratic and participatory. [Read full platform.] Liz won with a program of ideas for change.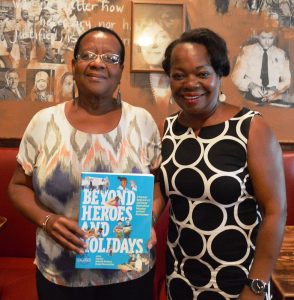 As WTU president, Liz ensured that the union worked for the rights of students and teachers alike as she built a social justice activist and learning community. She frequently hosted and co-hosted events with internationally recognized anti-racist educator Enid Lee, whom she had met at the 1995 DCAWP summer institute and remained close friends with ever since. The Algebra Project and Young People's Project enjoyed the support of the WTU once Liz was in office.
Liz committed the WTU to co-sponsor the Black Lives Matter at School Week of Action every year — a stance that many other local and national teacher unions have only recently caught up with. As with everything, Liz did not wait until it was safe or popular. She did it from the start, with no hesitation, because it was the right thing to do.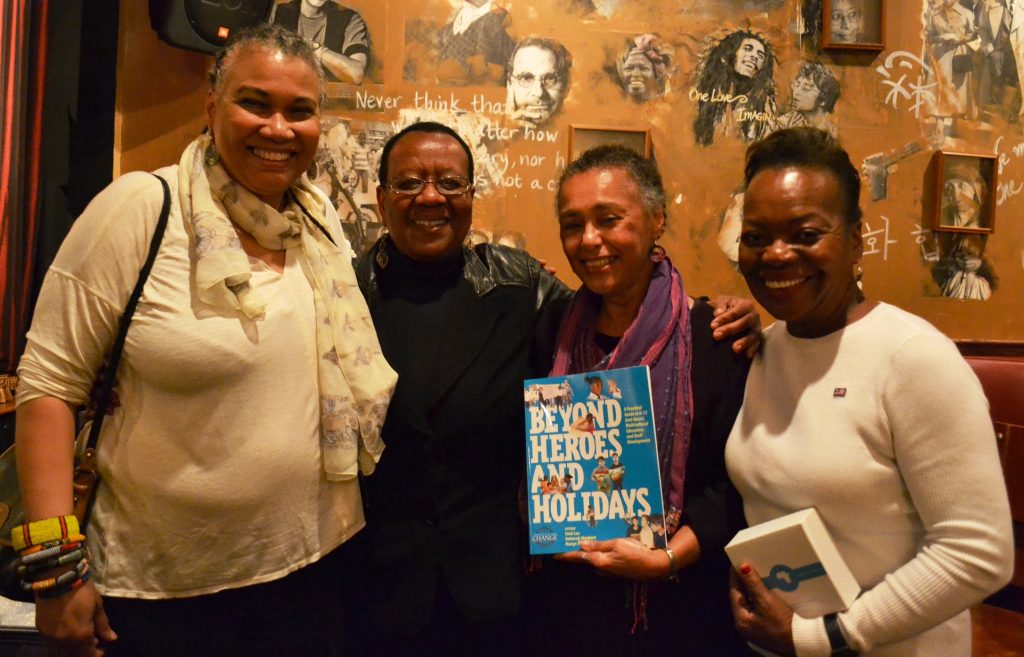 This last year was particularly challenging with round the clock negotiations with the school district about teaching in a pandemic. Liz continued to stand for what she believed in, regardless of the detractors.
She was a fierce and avid advocate for educators, parents & D.C. youth. She embodied education justice, rallied the voices of thousands for the sake of equity, especially during this pandemic AND she joined our fight for #PoliceFreeSchools despite pushback from her peers.

— Black Swan Academy (@BlackSwanAcad) April 5, 2021
There are many more memories to share in the weeks and months ahead. In the meantime, we will redouble our efforts to build schools that prepare students for a "more sane, humane" world. And we will sorely miss Liz Davis's fierce dedication to justice, brilliant words, uplifting spirit, and contagious joy.
---
Elizabeth Davis: storycorps interview

---
Elizabeth A. Davis was interviewed for StoryCorps as part of the National Teacher Initiative in 2011. She talked about her own activism as a teacher, how she engaged her students in learning to stand up for their rights, and the impact of participating in the D.C. site of the National Writing Project. The full StoryCorps interview with Elizabeth A. Davis, audio and transcript, are available here. Listen to excerpts below.
Title IX Complaints in My First Year of Teaching
---
My Own Political Education
---
Engaging Students in Studying and Preserving
Their School's History
---
Students challenge current injustices:
50 years after brown v. board
---
STUDENTS LEARN FROM WHAT WE DO
The full StoryCorps interview with Elizabeth A. Davis, audio and transcript, are available here.
---
Elizabeth Davis: Teachers in My Own Schooling

---
Remarks by Elizabeth A. Davis on May 2, 2015, at All Nations Baptist Church, reprinted below from the WTU e-newsletter
. . . I reflected on my years as a student in the DCPS system and the impact that teachers have had on my life as a student and a career educator in the DC public schools.
I thought about my first grade teacher in North Carolina, Ms. Whitley, who I loved so much that I literally memorized my Jack and Jill reader to prove my reading ability in her class. I remember being selected by Ms. Whitley to be the May Day queen who would lead the procession for wrapping the May pole on May Day. This was a major event and I was proud to be selected as the May Day queen.
I remember Ms. Whitley coming to my house on a Sunday afternoon to let my mother know I needed a white dress and socks for May Day. As I stood, clinging to one of my mother's legs, I watched Ms. Whitley in her crisp, starched dress and white gloves, standing on our porch, talking to MY mother! It was as if God had come to visit. I will always remember that image and how it began shaping my perceptions about the profession of teaching as being the most important profession in the world.
I attended elementary school through 3rd grade in a segregated school system in North Carolina. My mother decided to move to D.C. to avoid having us attend racially segregated schools. I entered the public school system in D.C. on the cusp of Brown v. Board, so school districts were lagging behind on integrating its schools.
After moving to Washington, D.C., I was enrolled in Buchanan Elementary School. I remember my first teacher at Buchanan as well. But it was not a fond memory. I was very quiet and shy with a thick southern accent and amazed about the fearlessness and boldness of my new friends and classmates.
My first teacher at Buchanan, and amazingly the only teacher I can remember, was Ms. Waddy. Although I was very young, I knew that Ms. Waddy didn't like me. I recall having to do a read aloud in the principal's office because Ms. Waddy did not believe the excellent grades on my report card from the South could possibly be equivalent to those at Buchanan and insisted that I was to be put back a grade. The reading and math test I was given proved her wrong so I remained in her class.
I can only remember one other incident during my term at Buchanan. This incident occurred when Ms. Waddy left us unattended to go to the restroom. By the time she returned, the classroom was in total chaos. I must have been the only kid still at my desk because everyone else was up and about, doing cartwheels and tumbles. I was so carried away by the scene that I rose from my seat to watch two boys wrestling on the floor.
Of course, when Ms. Waddy returned, she zoned in me, the only kid still at my desk, but still standing. Her words still linger in my head, "Sit down! Where do you think you are? On a farm?" I'm sure I must have learned something at Buchanan, because I graduated and continued school at Hine JHS and Eastern HS. But the only memories I have of my experience at Buchanan ES were of having to take a reading test in the principal's office and Ms. Waddy's reprimand.
Fortunately, at Hine and Eastern, I had the most amazing teachers who prompted me to never miss a day of school during my entire time in D.C. schools.
My school experience at Hine JHS and Eastern HS included rock star teachers like Ms. Jackson, my English teacher, my math teacher, Ms. Richardson, Mr. Rollins, my science teacher. At Eastern HS, teachers such as Ms. Davenport and Mr. McIntyre helped to repair the damage that Ms. Waddy had done at Buchanan. One thing I garnered from this experience was that the influence of teachers is far reaching and very powerful.