In Memory: Eloise Greenfield: Groundbreaking Author of Children's Literature
We are saddened to share the news that Eloise Greenfield, one of our favorite children's book authors, died on August 5, 2021. Her daughter shared the news with us and added that the family will announce plans for memorial services at some time in the future.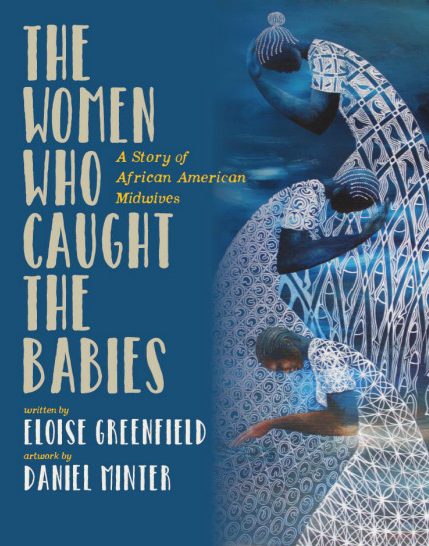 Eloise Greenfield had a profound impact on the field of children's literature throughout her life, starting with Bubbles published by Drum and Spear Press and including the world famous Honey, I Love. Not only did she revolutionize children's literature, she also (in big and small ways) supported generations of African American children's books authors who followed her. Her own work might not have reached international fame if not for the role of activists in the Student Nonviolent Coordinating Committee. (See video conversation below with Judy Richardson.) Greenfield lived her life in service of that beloved community.
Never resting on her laurels, Greenfield continued to break new ground in the field of children's literature. Just two years ago, Greenfield wrote a book that turns the tables on how history is typically presented in children's books. The Women Who Caught the Babies: A Story of African American Midwives is the first picture book we have seen that begins with historic background, written in prose that is accessible to young readers and accompanied by archival photographs. (Most books put the historic context in the back for adults to read.) The book then switches to poetry and stunningly beautiful illustrations — with vignettes from the lives of midwives during slavery, emancipation, and today. Greenfield closes with a poem about the midwife who "caught" her when she was born, Miss Rovenia Mayo of Parmele, North Carolina.
Here is a description of Greenfield's life and impact, adapted from the African American Registry.
Eloise Greenfield was born in Parmele on May 17, 1929, the daughter of Weston W. Little and Lessie Jones Little.
She grew up in Langston Terrace, a public housing development for African Americans in Washington, D.C. which she recalls fondly and describes in Childtimes: A Three Generation Memoir. The library was two minutes from her back door, so she spent a lot of time there. She and the other children in the housing project played games, danced in fire hydrant showers, and jumped rope.
Greenfield graduated from Cardozo Senior High School in 1946 and attended Miner Teachers College in Washington until 1949. Her first job was as a clerk typist with the U.S. Patent Office.
She began to write poetry and then saw that there were far too children's few books that told the truth about African Americans.
"Then and there, I decided to make that my mission," said Greenfield. "I wanted my books to enable Black children to realize how beautiful and smart they are. I wanted to write books that inspired and uplifted them, that made them laugh and be happy."
She married in 1950 and has two children. In the late 1960s Greenfield began to work with the District of Columbia Black Writers' Workshop. She was director of adult fiction (1971-73) and director of children's literature (1973-74). She first wrote humorous rhymes then songs. She then tried three short stories that were rejected, but she kept practicing her writing until she was published.
After receiving 10 rejection letters, Greenfield's first book, Bubbles, was published in 1972 by the Drum and Spear Press. (The press was founded by members of the Student Nonviolent Coordinating Committee-SNCC). In the short clip below, Greenfield recounts the story of submitting Bubbles to Drum and Spear Press after multiple rejections elsewhere. SNCC veteran Judy Richardson is seated on the left of the screen and her daughter Monica to the right.
Greenfield wrote poetry, picture books, and biographies. She won many awards for her books, which include:
Rosa Parks
, (1973),
She Come Bringing Me That Little Baby Girl
, (1974),
Honey, I Love
, (1978),
Grandpa's Face
, (1988),
Night on Neighborhood Street
, (1996),
Water, Water
, (1999),
MJ and Me
,
(1999),
Grandma's Joy
, (1999),
The Friendly Four
(2006),
Paul Robeson
(2009),
When the Horses Ride By: Children in the Times of War
(2010),
The Great Migration: Journey to the North
(2011),
The Women Who Caught the Babies: A Story of African American Midwives
(2019),
Alaina and the Great Play
(2021), and others.
Greenfield stated that her family and her efforts to fight racism were the two most important concerns in her life.
Throughout her life, Greenfield continued to write, speak at conferences, and support the work of other children's book authors.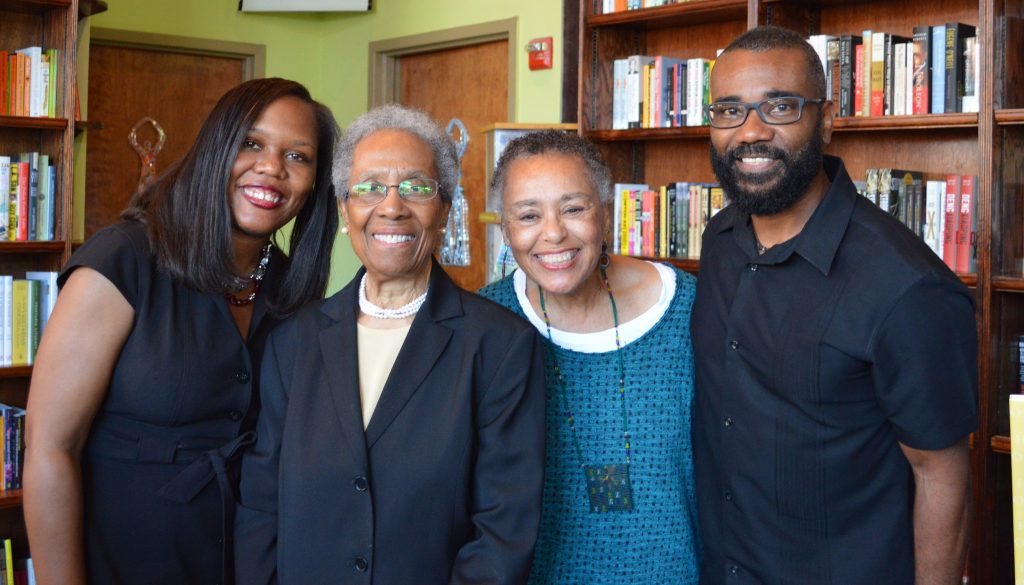 She recorded a rap video with her grandson of "Nathaniel's Rap" from the book In the Land of Words: New and Selected Poems.
In 2016, Greenfield received the Teaching for Change Education for Liberation Award.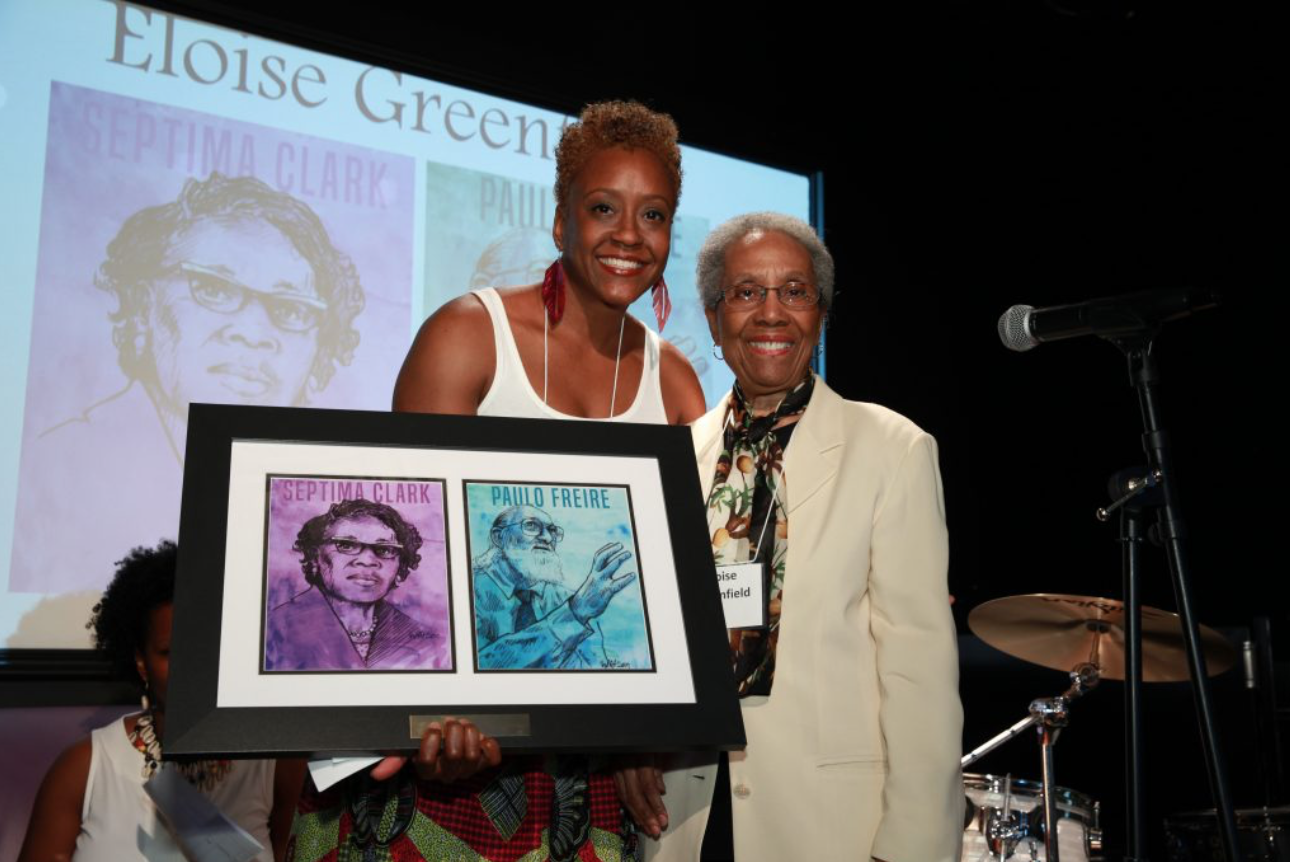 At the ceremony, Greenfield said:
Our work is far from over. All of us — authors, illustrators, educators, and many others — will continue our commitment to this work so that children can see themselves in books, see their beauty and intelligence, see the strengths they have inherited from a long line of predecessors, see their ability to overcome difficulties, challenges, pain, and find deep joy and laughter in books, in characters they recognize as themselves.
Greenfield provided a light and inspiration to continue the commitment she describes above. While it is often said on a person's death that their work will live on, there are few for whom that is so true as Eloise Greenfield. Her influence will live on with her large volume of books, generations who have been raised reading her work, the authors she mentored, and the high standards she set with her creativity, innovation, and integrity.
---