Eloise Greenfield Receives "Education for Liberation Award"
Renowned children's book author and poet honored
Teaching for Change was proud to honor individuals whose work and lived experiences embody the pursuit and interconnectedness of education, multiculturalism, social justice, and democracy with our "Education for Liberation Award" at a celebration of our 25th anniversary on June 29, 2016.
Nzinga Tull, Teaching for Change board member, presented the award to Eloise Greenfield. Tull said,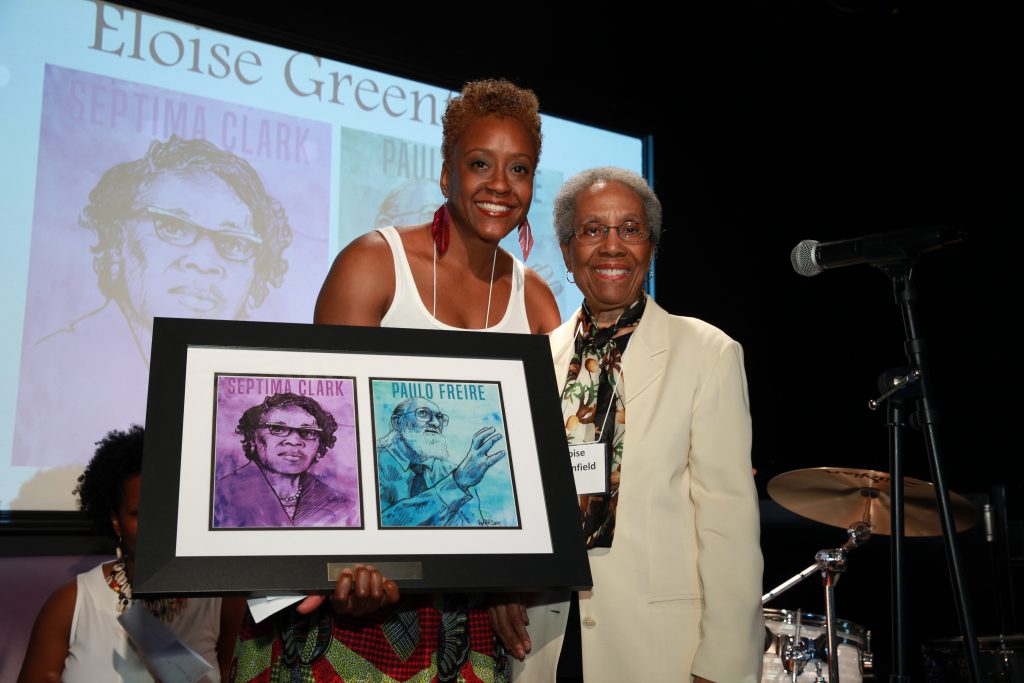 I am part of the generation who was raised on picture books by Ms. Eloise Greenfield and now I am reading them to my nieces and nephews. Greenfield's first book, Bubbles, was published in 1972 by the Drum and Spear Press.
The press was founded by members of the Student Nonviolent Coordinating Committee (SNCC) including Judy Richardson who is here with us this evening. She continued — and still continues — to write books that affirm the identity of children of color, including the best known Honey, I Love. It is my honor to present the Education for Liberation Award to Eloise Greenfield.
Greenfield thanked Teaching for Change for our work to find and promote the best multicultural books for children. Greenfield said,
Our work is far from over. All of us — Teaching for Change, authors, illustrators, educators, and many others — will continue our commitment to this work so that children can see themselves in books, see their beauty and intelligence, see the strengths they have inherited from a long line of predecessors, see their ability to overcome difficulties, challenges, pain, and find deep joy and laughter in books, in characters they recognize as themselves.
Teaching for Change also honored principals Dr. Marta Palacios and Carmen Shepherd, as well as the SNCC Legacy Project with the Education for Liberation Award at the event. The award featured original portraits of educators Septima Clark and Paulo Freire by illustrator Jesse Joshua Watson.
Event guests heard from noted educators Greg Carr (Howard University) and Enid Lee (co-editor of Beyond Heroes and Holidays) as well as legendary go-go performers Ju-Ju and Sweet Cherie.
See photos of the event and awardees.
______________________________________________________________________________
Teaching for Change provides teachers and parents with the tools to create schools where students learn to read, write and change the world. By drawing direct connections to real world issues, Teaching for Change encourages teachers and students to question and re-think the world inside and outside their classrooms, build a more equitable, multicultural society, and become active global citizens.