Enid Lee Presents Major Report on Race and Education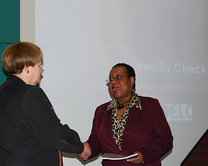 Reality Check, a report examining the effectiveness of a wide range of educational programs and supports for African Nova Scotian students, was presented by Dr. Enid Lee (photo, right) to Nova Scotian Education Minister Marilyn More (photo, left) on December 10, 2009.
The report was produced by educator and international consultant Enid Lee and Clem Marshall. Enid Lee is a Teaching for Change virtual scholar and co-editor of Teaching for Change's publication, Beyond Heroes and Holidays: A Practical Guide to K-12 Anti-Racist, Multicultural Education and Staff Development.
In the report, Enid Lee makes 30 key recommendations aimed to improve opportunity and achievement for Nova Scotia's estimated 4,000 students of African ancestry.
The findings are based on extensive consultations with educators, parents, school boards, Education Department officials, community groups and race relations officials, as well as numerous school visits and classroom observations.
This report is relevant for anyone interested in systemic approaches to creating high quality learning environments for all students.
More information on the Nova Scotian government website.