Eric Velasquez: An Afro-Puerto Rican Illustrator of Our Times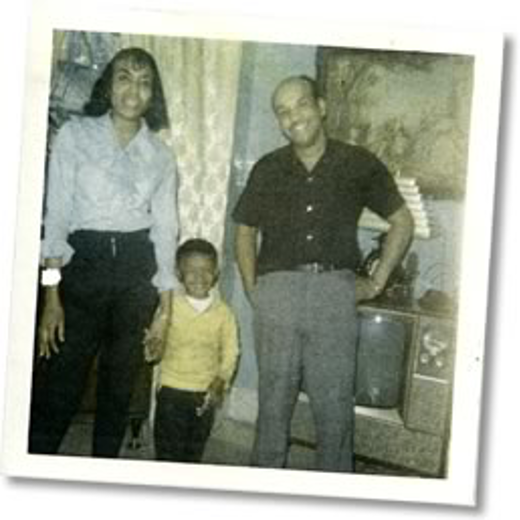 By William Garcia-Medina
Growing up as an Afro-Latino in Puerto Rico, I don't have a childhood memory of having books by authors of color or with characters of color. I could not understand that Black Puerto Ricanness in Puerto Rico had meaning and its own unique experience. I was too young to have a lens for understanding the underrepresentation of Black childhood in Puerto Rico. In the alternative high school I attended, one teacher introduced us to Piri Thomas's Down These Means Streets (1967), but it was lost on me. I didn't have the language to understand Piri's experience, nor do I remember my teacher explaining to us the importance of Piri being Puerto Rican and his experiences with racism. The only kind of Blackness I knew as fact was Black American. Like me, many youths get to high school and find that the boundaries between Blackness and Latinidad have already been demarcated by their own experiences in their families, communities, and society.
When I began my bachelor's degree at the University of Puerto Rico, I could not ignore the racial hierarchies that were blatantly visible before me: The students and professors were predominantly white and came from middle-class backgrounds, whereas the community that the university was located in was predominantly working-class with a significant number of Black residents. How could I, a Black Puerto Rican from a transnational experience, not notice this before? Was it perhaps the looks I would get when I would enter the campus on my mountain bike wearing a du rag and fitted New York Yankees cap, or was it my code-switching from English to Spanish to Spanglish? Or was it my dark skin, tattoos, and refusal to filter my thoughts that seemed to pose a threatening otherness? With this informed curiosity, I started reading more about Black American experiences with fervor and relating to these experiences while living and working in Puerto Rico and being at the university.
When the chance came up to take a weeklong seminar with Juan Flores, I took it. I could not lose out on the opportunity to be part of a conversation on the Puerto Rican diaspora from another fellow New Yorker. Little did I know, that Flores along with Miriam Jiménez-Román would introduce me to their latest publication The Afro-Latin@ Reader (2009) where I would find out about Arturo Alfonso Schomburg, the term "Afro-Latino," and that my experiences had a name. "Afro-Latino," that was me. "Afro-Latino," that was Schomburg — a pioneer and bibliophile of Black culture during the Harlem Renaissance. "Afro-Latino" — why didn't I have this knowledge or representation before? Why did it take The Afro-Latin@ Reader to put Schomburg in the forefront? These rich topics should be taught at the K–12 level rather than waiting until college.
As an educator, I have hope that my story will not repeat itself for future generations. Writers and illustrators like Afro-Puerto Rican Eric Velasquez are changing the landscape for our Afro-Latino children and youth. Velasquez is considered one of the most successful and distinguished Afro-Latino book illustrators. In making the decision to write and illustrate, he explains that he wanted to see himself and other children of African descent represented. Velasquez states,
Consistently not seeing myself represented in the reading material was a big turnoff. Worse was the fact that the few times I did see people of color in any books, they were usually portrayed as slaves drawn as caricatures. All of the children in my elementary school were African American or Latino. Our textbooks were filled with all types of stories-some had an urban setting, however the images consisted of an all-white cast. Oddly enough, some of the children from Latin America identified with the white characters in the stories (especially with the abridged version of Huckleberry Finn). Not only did it inspire them to read the stories but especially if the character was doing something cool, they would show off and say "That's me," even though the character in the book at times was blonde. If you were a child of African descent and attempted to do the same ("That's me" bit) the other children would ridicule and torment you with "That is not you, you are Black!" Why did they take such joy in reminding me that I could not engage in the same fantasy as they did…I would often think: One day I am going to create a story and it is going to reflect my world, my neighborhood, my parents, my friends, and my people ("Interview with Eric Velasquez" 2014).
Illustrated books are important tools that allow students to see themselves, their experiences, and have a way of naming those marginalized experiences. From a pedagogical perspective, the fact that Velasquez has collaborated with Black American writers shows us how to think about social justice in ways that represent our shared histories and cultural production. Illustrated books like those about Roberto Clemente, Celia Cruz, and Junot Diaz's fictional character "Lola" allow children not only to see similar faces, but similar experiences of Afro-Latino childhood and community. Too often, Afro-Latino youth see and read experiences that do not fully encapsulate their everyday life — meaning that because of this, they understand their life, identity, and community to be wrong or uncommon. Eric refused to accept this and found inspiration from within his community.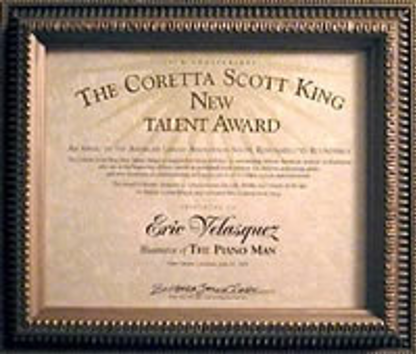 As a young boy, Eric constantly kept himself busy by doodling and drawing, these becoming the building blocks of his future passion. Eric's inspiration for drawing was encouraged by his mother, while his fascination with music stemmed from his grandmother, fueling his desire to further a career in the arts years later. As the son of Afro-Puerto Rican parents, born in Spanish Harlem, his dual heritage of being a New Yorker and Puerto Rican gave Eric a unique cultural perspective. Eric was fortunate to attend the High School of Art and Design and later earned his BFA from the School of Visual Arts in 1983. After graduation, Eric became a freelance artist, trying to make a living out of his passion. With much success, Eric completed over 300 book jackets and interior illustrations. Some of his works include, but are not limited to, Beverly Naidoo's award winning Journey to the Jo'Burg, Chain of Fire; the complete series of Encyclopedia Brown; the complete series of The Ghost Writers; The Apple Classics series; and the cover of the 1999 Coretta Scott King award winner Jazmin's Notebook by Nikki Grimes.
Velasquez has been spearheading a distinctive approach to Black and Latino children's literature that tends to the erasure of Afro-Puerto Ricans. Afro-Puerto Ricans in history have been primarily erased due to a nationalizing of Puerto Rican history that only acknowledges Blackness as part of the history of slavery in the Caribbean. For further reading on the subject, read the work of scholars, Isar Godreau, Zaire Dinzey-Flores, Hilda Llorens, Eduardo Bonilla-Silva, among others (see below).
Latino picture books tend not to use Black characters and vice versa. However, Velasquez has been one of the illustrators to change that to show many different black and Latino immigrants in the same story. Having grown up in Spanish Harlem, Eric writes and illustrates books based on his life growing up. Some examples of these works include Grandma's Records (2004), Grandma's Gift (2013), and Looking for Bongo (2017). In these books, the main character is a Latino of African descent. It reminds Velasquez of how he grew up — every day being around Afro-Latinos and other Black immigrants. The characters are a representation of the African diaspora. In Grandma's Gift, Velasquez narrates a story inspired by his experience as a child with his grandmother. An Afro-Puerto Rican boy called Eric, like the author, is celebrating the Christmas holiday with his grandma by making pasteles, a Puerto Rican savory dish made of green plantains and various root vegetables.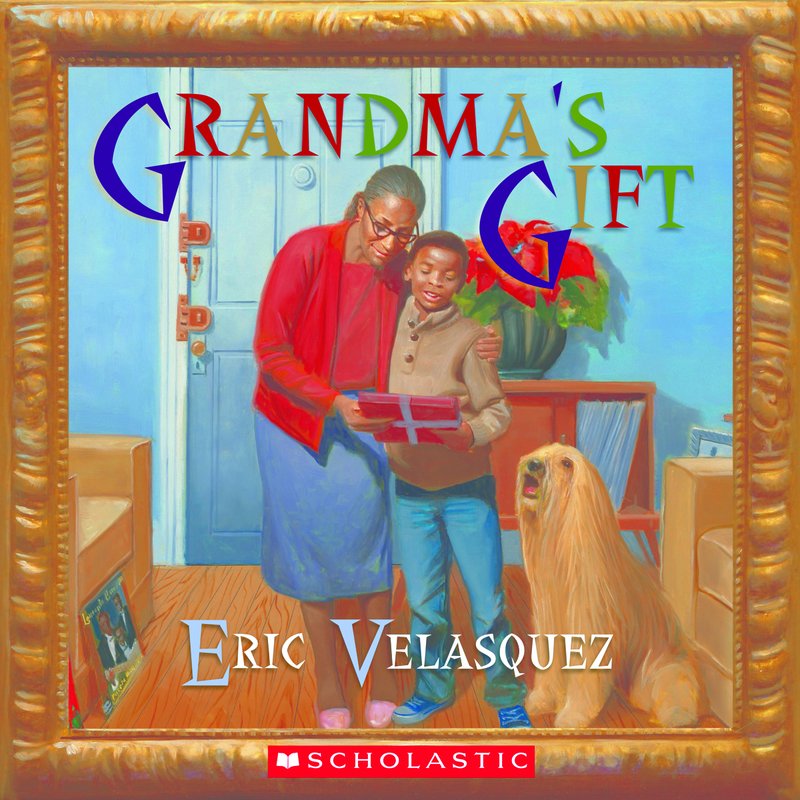 "All the vendors knew that Grandma would buy only the best ingredients for her famous pasteles," said Eric.
Because the pasteles dish has many African influences, Velasquez hints at how Afro-Caribbean traditions are passed from generation to generation, or from his grandmother to him, the grandson. What is interesting about Velasquez's writing style is the way in which he introduces topics about race, racism, and Afro-Caribbean culture in ways that are easier for us to understand. For a sample lesson plan using Grandma's Gift, check out Brian Kelley's curriculum here. Velasquez's illustrated books can be used in the beginning of any Afro-Latino curriculum, thereby underscoring contemporary Black migrations to the United States. In Kansas, myself and Dr. Omaris Zamora, an Afro-Latina professor of Afro-Caribbean literature and cultural studies at the University of Kansas, led a workshop on the slave trade in the Americas by highlighting slave rebellions and Afro-Latino migrations to the United States. The students were blown away, as you can see from a few of their notes to us (below).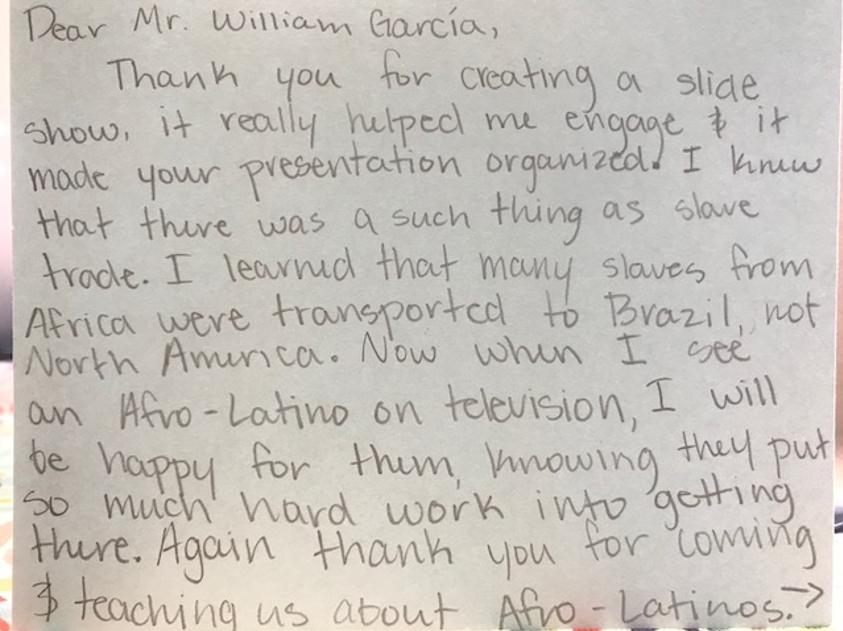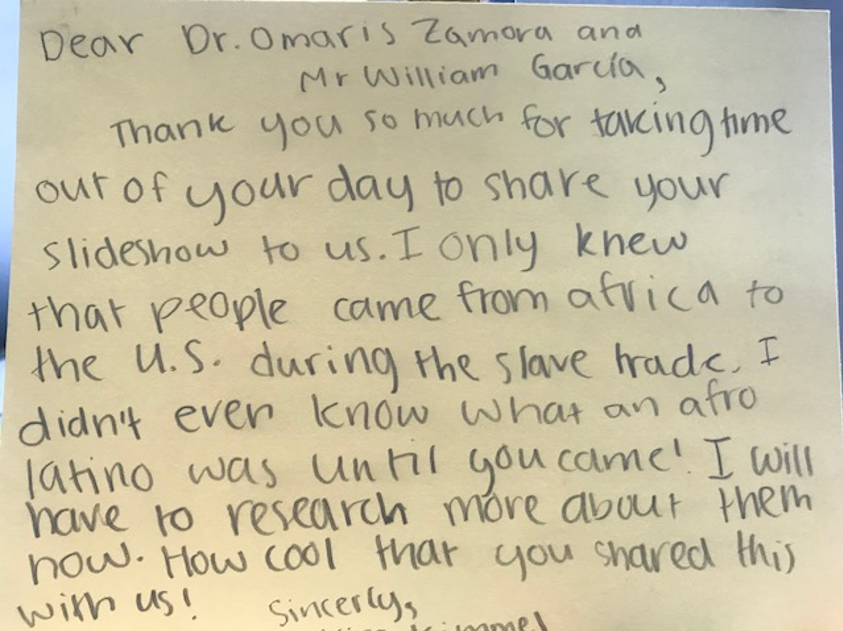 Being able to show them Velasquez's books made an impression, as well as puzzling them with questions: "How come I didn't know about this before?" There is a clear need and want by young people of color to see themselves in public school curriculum much sooner than even 7th grade. By creating and illustrating Black American and Afro-Latino illustrated books, Velasquez proves that one can represent both groups. For example, his picture books Escape: A Story of the Underground Railroad by Sharon Shavers Gale, Jesse Owens: The Fastest Man Alive by Carole Boston Weatherford, Champion: The Story of Muhammad Ali by Jim Haskins, and The Sound that Jazz Makes by Carole Boston Weatherford demonstrate his passion for representing various Black cultures and identities.
The number of Afro-Latino children's book writers is small, and stories surrounding Afro-Latino experiences are also uncommon. His recent success with the picture book Schomburg: The Man Who Built a Library, written by Carole Boston Weatherford, has opened a new chapter in Afro-Latino education in the United States and changing stories about immigration and multiple narratives. I met Eric Velasquez for the first time in 2016, while I was a student at Teachers College-Columbia University. I had the pleasure to speak to him after his fantastic presentation. He was humble, charismatic, constantly smiling, and authentically listening to others. Being around him made me feel a sense of good-heartedness coming from him. I told him that I wished there were more Afro-Latino artists and he nodded in agreement. Eric's books are the ones I feel were missing from my time in school as a young person. Velasquez signed my copy of the picture book Grandma's Gift, in which he wrote: 'Remember to always share the gift!' Eric lives and works in Hartsdale, New York.
William Garcia-Medina is a Ph.D. Candidate in the Department of American Studies at the University of Kansas. Garcia Medina's research currently focuses on Black ethnics and the construction and social reproduction of Black American racial identity discourse in the public humanities. In 2016, he earned an MA in Curriculum and Instruction from Teachers College–Columbia University in New York City with a focus on historical literacies in elementary schools. Garcia Medina also has an MA in history from the University of Puerto Rico-Recinto de Rio Piedras.
---
References
Boston Weatherford, Carole, and Eric Velasquez. 2017. Schomburg: The Man Who Built a Library. Candlewick.
Boston Weatherford, Carole, and Eric Velasquez. 1994. The Sound That Jazz Makes. Walker Books for Young Readers.
Chambers, Veronica, and Julie Maren. 2007. Celia Cruz, Queen of Salsa. Perfection Learning.
Diaz, Junot, and Leo Espinosa. 2018. Islandborn. First Edition. Dial Books.
Dinzey-Flores, Zaire Zenit. 2013. Locked In, Locked Out: Gated Communities in a Puerto Rican City (The City in the Twenty-First Century). University of Pennsylvania Press.
Flores, Juan, and Miriam Jimenez. 2010. Afrolatin@ Reader: History and Culture in the United States. Duke University Press.
Franco Ortiz, Mariluz, Isar Godreau, Hilda Lloréns, María Reinat Pumarejo, Inés Canabal Torres, and Jessica Gaspar Concepción. 2013. Arrancando Mitos de Raiz: Guia Para Una Enseñanza Antirracista De La Herencia Africana En Puerto Rico. Editora Emergente 2nd Edition.
Gayle, Sharon Shavers, and Eric Velasquez. 2011. Escape!: A Story of the Underground Railroad – a Smithsonian Odyssey Adventure Book. Soundprints Corp Audio.
Grimes, Nikki. 2000. Jazmin's Notebook (1st Edition). Puffin Books.
Haskins, Jim, and Eric Velasquez. 2018. Champion: The Story of Muhammad Ali (Reprint edition). Bloomsbury USA Childrens.
"Interview with Eric Velasquez." Center for the Collaborative Classroom, November 24, 2014.
Nadoo, Beverley, and Eric Velasquez. 1993. Chain of Fire. HarperCollins.
Perdomo, Willie, and Bryan Collier. 2010. Clemente! Henry Holt and Co.
Thomas, Piri. 1967. Down These Mean Streets. Vintage; Reprint edition.
Velasquez, Eric. 2007. Jesse Owens: Fastest Man Alive. Walker Childrens.
Velasquez, Eric. 2013. Grandma's Gift. Bloomsbury USA Childrens.
| | |
| --- | --- |
| | This piece is from the upcoming third edition of Caribbean Connections: Puerto Rico, edited by Marilisa Jiménez García, which introduces students to the history, economy, environment, and culture of Puerto Rico through essays, poetry, and fiction. |