Act Now: Reduce the Weight of Test Scores on D.C. Schools
D.C. Residents Have a Critical Window to Give Input on Public School Accountability Measures
As advocates for equity in education, and as a member of the Coalition for DC Public Schools and Communities (C4DC), Teaching for Change is pleased to share this important information for D.C. residents and to support the fight against high-stakes standardized testing. See the end of this page for more information and a bilingual, reader-friendly flyer.
**Update March 10, 2017**
The State Board of Education (SBOE), after receiving input from parent organizations, Ward Education groups, experts, teachers, parents, school leaders and numerous direct conversations with residents, has provided the Office of the State Superintendent for Education (OSSE) with ten recommendations for changes to the Every Student Succeeds Act (ESSA) draft accountability plan. The recommendations, if adopted, would be a substantial improvement over the original plan proposed by OSSE. They reflect the consensus of the SBOE that the weight of test scores should be reduced and additional non-testing measures that encourage a well-rounded education be added, as well as other recommendations.
The public has one more chance to weigh in on the ESSA proposal at the next SBOE meeting on March 15. Please register here to testify at this month's SBOE Public meeting about the accountability plan. Each resident will have three minutes to provide their input and recommendations.
The SBOE will vote on OSSE's final proposal at the end of March.
**Original post February 10, 2017**
by Caryn Ernst and Suzanne Wells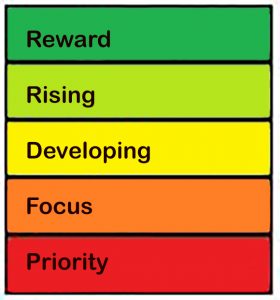 The Every Student Succeeds Act of 2016 (ESSA) gives states the opportunity to reduce the extreme weight on test scores to rank schools, which was the cornerstone of the No Child Left Behind Act of 2001. ESSA allows D.C. to select more meaningful measures of school success, but the current proposal from D.C.'s Office of the State Superintendent of Education (OSSE) sets standardized test scores at 80% of a school's overall rating, with the remaining 20% primarily on attendance and re-enrollment rates. There is 0% given to comprehensive school climate measures that are known to help schools improve and no credit for growth in high schools in this proposal.
Parents and teachers are urging OSSE and the State Board of Education (SBOE) to reduce the weight of test scores to the lowest percent legally allowed—around 55%. Using standardized test scores as the dominant measurement for school quality has had a negative impact on learning environments, has grossly failed to close the achievement gap, and has contributed to growing educational disparities system-wide.
ESSA regulations allow OSSE to submit an accountability plan by either April 3 or September 18, 2017, yet OSSE is trying to submit the plan by April 3. The rushed schedule undermines the ability of education stakeholders to collaborate on developing robust school accountability measures that can help schools improve, and would severely restrict the new school Chancellor's capacity to close the achievement gap.
Make your voice heard NOW, before the Board votes on March 3rd:
Call and Email Superintendent Hanseul Kang to tell her to reduce the weight of test scores in school ratings, and NOT to submit a proposal until September.
Attend OSSE's meetings in February to give feedback on the proposal. Download meeting flyer.
Call and Email your State Board of Education representative (contact information below) and urge them to demand a low weight for testing and insist on measures of a full and appropriate education.  They must vote in favor of the proposal or it goes back for reconsideration.
Share this information with your friends and neighbors, and urge them to take action.
Contact Information for Board of Education Members:
Hansuel Kang, State Superintendent of Education, hanseul.kang@dc.gov, (202) 727-6436
At-large – Ashley Carter ashley.carter@dc.gov
Ward 1 – Laura Wilson Phelan laura.wilson.phelan@dc.gov, (202) 421-4360
Ward 2 – Jack Jacobson, Board Vice President jack.jacobson@dc.gov, (202) 251-7644
Ward 3 – Ruth Wattenberg ruth.wattenberg@dc.gov, (202) 320-7884
Ward 4 – Lannette Woodruff lannette.woodruff@dc.gov (202)-271-8507
Ward 5 – Mark Jones mark.jones@dc.gov, (202) 304-7294
Ward 6 – Joe Weedon joe.weedon@dc.gov, (202) 277-9410
Ward 7 – Karen Williams, President of Board karen.williams5@dc.gov, (301) 641-1926
Ward 8 – Markus Batchelor markus.batchelor@dc.gov
Download and share a bilingual, reader-friendly flyer.
More information at EducationDC.net.