Stories from Our Classrooms Celebration
On June 12, 2016, Teaching for Change celebrated the work of the teachers from our inaugural Stories from Our Classrooms social justice teacher writing group. Every month on a Sunday, social justice teacher writers came together to write, reflect, and share. The event opened with teachers each reading one of the lines below to highlight what they did and why.
Every month on a Sunday we made our students visible.
Every month on a Sunday we reflected.
Every month on a Sunday we put our grading on hold.
Every month on a Sunday we listened deeply to words and silences.
Every month on a Sunday we created a safe place.
Every month on a Sunday we allowed ourselves to be vulnerable.
Every month on a Sunday we explored our identities.
Every month on a Sunday we called home.
Every month on a Sunday we journaled and shared with our hearts.
Every month on a Sunday we brought the voices from our classrooms to life in writing.
Every month on a Sunday we recognized our students' power.
Every month on a Sunday we saw each other as more than teachers.
Every month on a Sunday we GREW.
The teacher writers then described various aspects of the course. One teacher explained why the course is so important:
Education is one of those topics that everyone has an opinion about. Politicians, researchers, reporters, strangers at parties, in-laws–they all know about schools and what they should be doing.
Teaching for Change built this writing workshop around the idea that teachers' voices are frequently missing from the dialogue about schools and education.
Our first step as participants was to embrace the title "Social Justice Teacher Writers."
Throughout this school year we met monthly to find those Teacher Writer voices. With our workshop groups, we supported one another through the often-difficult process of putting something as personal as the practice of teaching into writing. Seed ideas for articles slowly grew into drafts (sometimes watered with tears). Some drafts outgrew their pots and were heavily pruned. As the school year passed and our articles grew, we also grew into our titles "Social Justice Teacher Writers".
As a teacher writer, I have been deeply inspired by the depths of thought and commitment to social justice from each and every member of this workshop. We hope that our pieces will inspire, but also that they will shift the dialogue about education and schooling. We hope to read and to hear more teacher voices in the ongoing conversation about educating the next generation.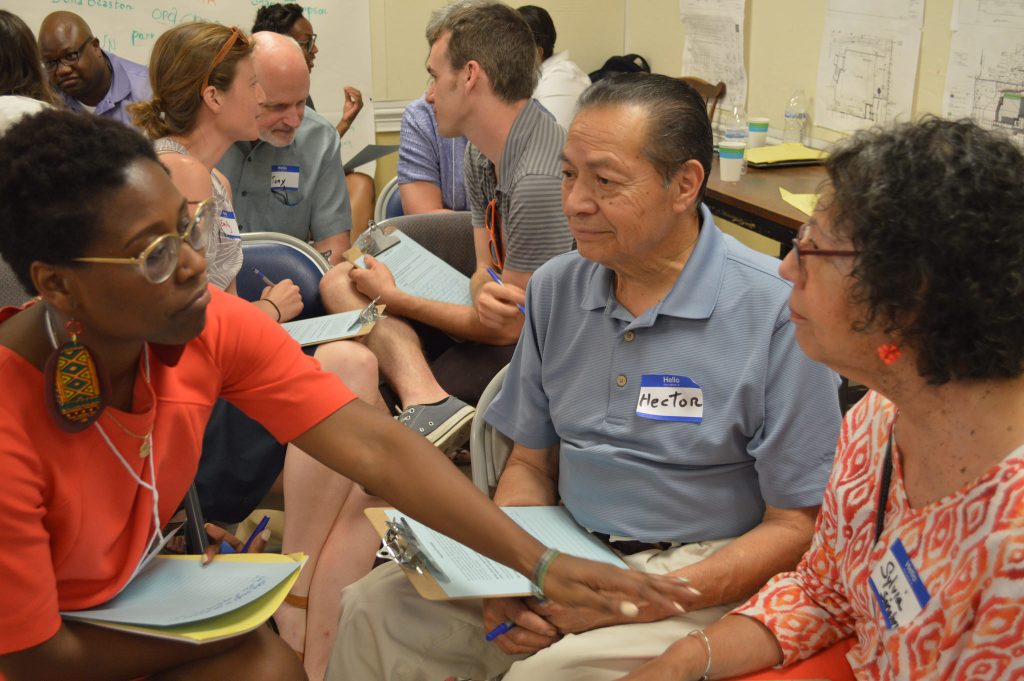 During the event, attendees were invited to experience what the participants did each month at the writing class. Participants were asked to write for five minutes about "a teacher or student who affected the way they think." Then they shared their writing in small groups.
Ashley described the collective understanding they reached about the meaning of social justice and social justice teaching.
Social justice teaching is when pieces of identity that students haul around in their souls are a part of the matters being grappled with academically.  It means wading into the deep, complex, sometimes muddy waters of the human experience and learning how to swim.  It is explicit instruction as well as creating the space for students to advocate for themselves and others
Social justice teaching uses the classroom as a space for addressing and correcting the inequity students encounter in their daily lives and in society at large.
In a social justice classroom:
Everyone has value
Teachers invite, draw out, and respond to student voices, interests, histories and identities
Students gain practice analyzing, generating, and responding to power
The teachers shared a short video about their experiences in the class.

Stories from Our Classrooms participants shared excerpts from their work with the group. Below are the pieces that have been published to date:
We plan to convene a new group of social justice teacher writers in the fall.