Race, Class, and Family Engagement Policy Convening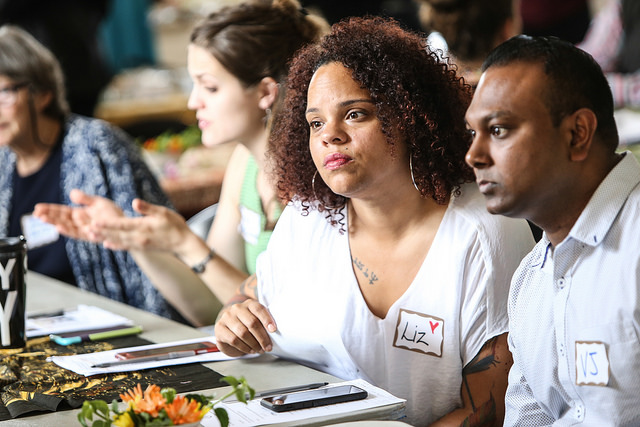 On May 25, 2017, Teaching for Change hosted a policy convening called "Race, Class, and Family Engagement" to nurture dialogue between frontline pre-K through 8 educators and education policymakers and influencers. Educators from our DCPS partner schools shared their strategies for improving family engagement, and recommendations for disrupting racism and classism toward a goal of equity in schools (view slides).
The policy convening was sponsored by the Communities for Just Schools Fund. The Tellin' Stories Family Partners Series is generously funded by the Morris & Gwendolyn Cafritz Foundation and the W.K. Kellogg Foundation.
Dr. Delisa Saunders, representing the American Federation of Teachers, commented: "I enjoyed the whole thing – the fact that people are working on [family engagement] and trying different things, the passion they have. Since I'm at AFT, I'm wondering what we can negotiate."
Another participant shared this takeaway from the event: "The beautiful, organic case you're building for not only investing in meaningful family-school engagement, [particularly] relationship building, but doing it in ways that set the stage for well-deserved and well-needed wealth-building in schools."
Teaching for Change will host a weeklong version of the training series July 17-21 through the Tellin' Stories Race, Class, and Family Engagement Summer Institute. Registration is open and space is limited.
Photography by Jati Lindsay and Allison Acosta. View the complete photo album here.