Family Partner Series Offers D.C. Schools a Fresh Start on Family Engagement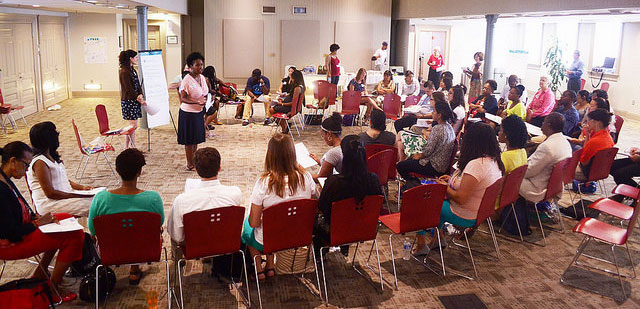 This year, bilingual school counselor Senovia Hurtado has been entrusted with the mission of revitalizing family engagement at Brightwood Education Campus (DCPS), a pre-K through eighth grade school in Washington, D.C. It's her 15th year in DC Public Schools, but her first as a parent coordinator. With a reopened parent center, a supportive principal and colleagues, and a partnership with Teaching for Change, Hurtado is poised to make Brightwood a school that is open and inviting to parents.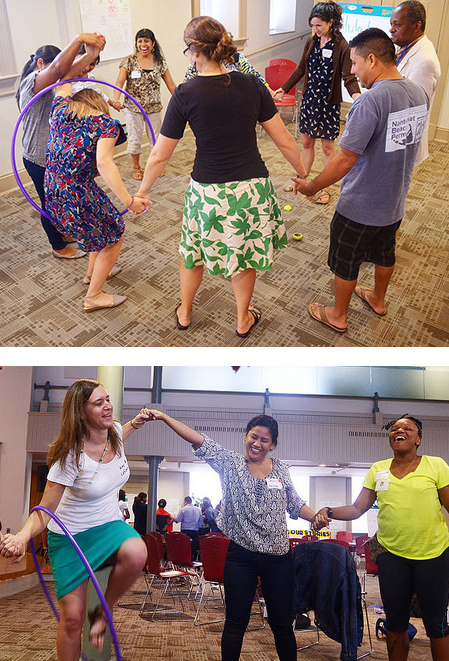 On Thursday, September 4, 2014, Hurtado participated in a Teaching for Change training designed to help schools create strong family engagement programs.
Brightwood is one of eight schools selected to participate in the Tellin' Stories Family Partners Series, based on Teaching for Change's nationally recognized family engagement approach and funded through grants from the W.K. Kellogg Foundation and the Morris and Gwendolyn Cafritz Foundation. The unprecedented series brings teams of parent coordinators, parents, teachers, and staff from local schools together to develop meaningful family engagement strategies for their communities. The school teams also reflect on how race, class, and equity issues impact their school communities and family engagement efforts.
In addition to thinking critically about challenges at their own schools, the Family Partners Teams participated in relationship building activities to break down the barriers within their own group and build connections with other teams.
"Your work is hard, whether you're a parent, teacher, or parent coordinator," said Teaching for Change parent organizer Lena Amick, addressing the school teams. "This series is a chance to take a step back, share what you've done, what you've learned, and build with each other. This series is about skill-building, and about creating a team."
Hurtado hoped to learn more about her new role as parent coordinator and about strategies for creating a welcoming climate for parents and caregivers—particularly for middle school parents. During the four-hour workshop, she and her Family Partners Team envisioned their idea of an ideal school; brainstormed barriers and solutions to parent attendance; and gave critical thought to revamping outreach methods.
Teaching for Change uses the trainings to model effective strategies for meeting with and engaging parents.
"The Family Partners training was amazing. I loved the activities—a lot of trainings just have you sitting there, but this is really interactive," said Quiana Riley, a Brightwood social worker and Family Partners Team member. "I'm able to learn and take the activities back with me for the parents, but I'm also getting ideas from the written portions."
Valerie Stevens, also a Brightwood social worker and Family Partners Team member, agreed.
"Even just having this time is helpful," she said. "We've been together for a while and we're finding out things we didn't know about each other. And for Ms. Hurtado, she knows she's not going to be doing everything by herself. It increases our possibility for success."
The Family Partners Series is a yearlong professional development series for school community members to develop effective family engagement strategies. The training is based on the Tellin' Stories approach, combining research-based strategies with Teaching for Change's extensive experience supporting family engagement.
"I really enjoyed the ice breaker and activities," said Imelda Marroquín, a parent from Thomson Elementary (DCPS). "It was very welcoming and I appreciated hearing about what works at other schools."
With support from the Kellogg Foundation and the Cafritz Foundation, parent engagement teams from eight schools D.C. area were selected to participate in the six-session series and receive coaching from Teaching for Change. The participating schools have diverse strengths and challenges. Some are just beginning to build relationships and welcome parents as partners; some are trying to improve and grow existing partnerships with families; and some are trying to revive the sense of community in their schools.
"I love this training," Hurtado declared even before the inaugural session was over. "I like the activities we've done because I can take them back to my parents, and hearing new ways to engage parents is interesting."
Posted: September 30, 2014