Featured Lessons & Resources
---
---
Civil Rights Teaching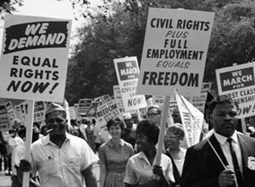 Teaching About Selma: We share here interactive lessons and recommended resources that invite students to step into the history and think critically and creatively about the continued fight for justice today.
Teaching About Freedom Schools: The Freedom Schools of the 1960s were part of a long line of efforts to liberate people from oppression using the tool of popular education.
Teaching About 1963: To support teaching the modern Civil Rights Movement beyond "I Have a Dream," Teaching for Change recommends teaching about the 1963 events that shed light on the everyday people who organized in their communities to struggle for freedom and justice.
---