Fellows, Interns, and Volunteers – Bios
---
Sara Evers, Fellow
Sara Evers has always enjoyed a good story. Going through school she soon realized the history classroom is where the best ones are told! Today it is the construction of stories that interests Sara. Sara will graduate from George Mason University this summer. She will receive a BA in Integrative Studies with a concentration in Curriculum Theory and a minor in Social Justice. She plans to spend her summer working on a research project that involves creating an interdisciplinary high school level course curriculum for The Sandman graphic novel series. Sara is also excited to contribute to and learn from her volunteer placement with Teaching for Change.
---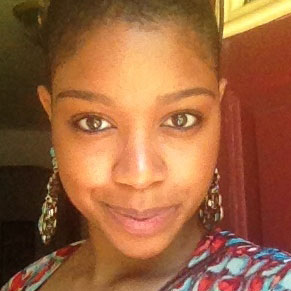 Ravon Ruffin, Fellow
Ravon Ruffin is currently pursuing a MA in American Studies with a focus on museums and material culture at The George Washington University. She comes to Teaching For Change by way of a slew of volunteer and work experience in Richmond, VA, where she also received her Bachelor's in Anthropology at Virginia Commonwealth University. Her passion for cultivating community grew out of her love for working toward greater multicultural competence with the Global Education Office at VCU. Up until her last year she was set to become a U.S. cultural ambassador, when suddenly the possibilities for the museum as the center for these cross-cultural interactions fell into her lap. And the two have been attached at the hip ever since. Ravon's hope is to spur museum education development toward innovative and interactive exhibition. She is informed by Black Feminist thought, visual culture, urban studies and sustainability, pop culture rhetoric and digital media. Originally from Illinois, Ravon looks forward to finding the underground coffee shop scene, give food trucks a chance and overstay her welcome in the city's museums.
---
Katy Swalwell, Fellow
Katy Swalwell is a relatively new transplant to D.C. from Madison, Wisconsin where she was active in the 2011 protests against the Budget Repair Bill. She completed her Ph.D. in Curriculum Theory & Research with a minor in Educational Policy Studies at the University of Wisconsin-Madison where she was lucky to work with the editors of Rethinking Schools, incredible elementary teachers in the Madison Metropolitan School District, and colleagues from activist communities around the world. After two years working at George Mason University in Fairfax, VA, she is now an assistant professor of education in the College of Education at the University of Maryland, College Park. As a high school teacher in rural Minnesota and a boarding school summer program in Connecticut, Katy was grateful for resources like Teaching for Change to develop a social justice social studies curriculum. Now that her focus is on research, she is investigating social justice educational efforts within affluent segregated communities, educational resources for the primary grades from a critical perspective, and teacher activism in relation to educational policies. Katy is the author of several articles published in Teaching Tolerance,
Rethinking Schools
, and academic journals as well as the book 
Educating Activist Allies: Social Justice Pedagogy with the Suburban and Urban Elite
(Routledge, 2013).